Eight years ago, Gabby Jimenez was laid off from her construction safety job. But before long, a unique and somewhat daunting opportunity presented itself. "My friend was dying," Jimenez recalls, "and his wife asked me if I could come care for him."
This would be a completely overwhelming task to some, but for Gabby, it was a "lightbulb" moment. She describes the time she spent helping the man prepare for death as "the most beautiful thing I have ever done for someone else," and says that the experience opened up an entirely new path for her.
Now, Gabby is a certified hospice nurse, end-of-life doula, and conscious death educator, sharing her unique point of view with thousands, including the members of The Hospice Heart, a Facebook community with over 70,000 members.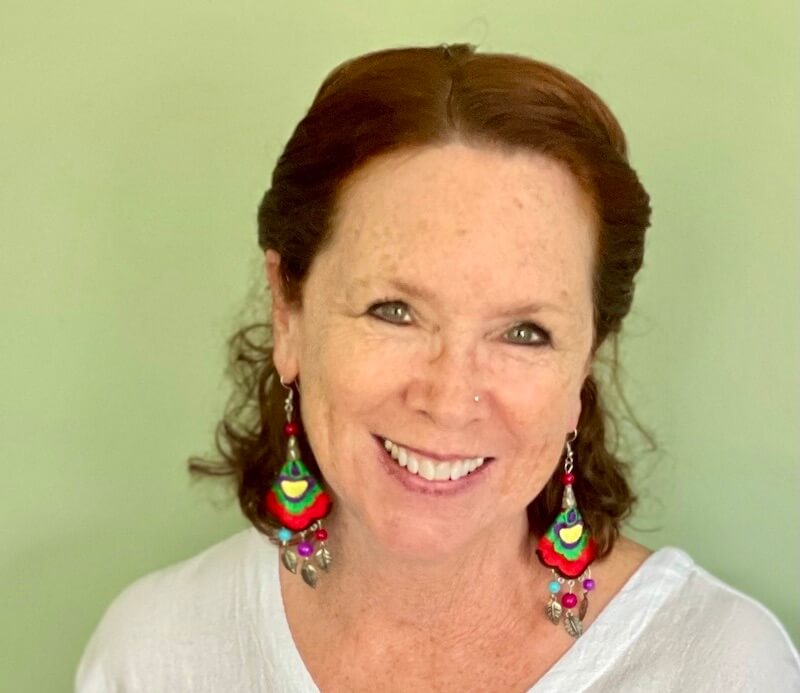 Traditional birth doulas help usher life into the world, offering support and guidance to expecting parents before, during, and after birth. Death doulas, on the other hand, are there for those making their final transition.  
We sat down with Gabby to ask her about her work, what she's learned about grief, and her own self-care routine.
Can you describe, in your own words, what a death doula does?
A death doula holds space for someone who is dying, and is present at the bedside with the intention of reassuring this person that they are not alone. A death doula is a companion for someone who is dying—and for those who will be saying goodbye.
The role I see myself in is that of a 'death choreographer.' I help to create an environment, based on their wants and wishes, that will allow the space and energy to be beautiful and peaceful. Education is key, so I always explain everything in such a way that no one is taken by surprise, and that they all feel confident to participate in the care.
After someone dies, I stay to provide comfort and care for those who said goodbye, checking in on them daily, then weekly, then monthly…
"The role I see myself in is that of a 'death choreographer.'"
How is the role of a death doula different from a hospice nurse?
A hospice nurse is a licensed clinician.
Nurses can administer medications, and can do certain procedures and tasks that can only be done if you have the license to do them. An end-of-life doula cannot do this, even if he or she happens to be a nurse. You have to know your boundaries, and it is very important that you are mindful of that.
You do not need to be a nurse or have any medical background to become a doula; in fact, I believe most do not.
For me, being a doula means starting care at diagnosis, and having more time to help choreograph a beautiful dying process on the individual's terms, honoring their wishes. It means staying at their bedside longer, providing comfort and support to family and friends after someone has died. I cannot do this as a hospice nurse.
What does self care look like for you?
I practice daily self-care rituals and I am a huge advocate reminding others to do the same. Self-care is mandatory in my book.
Every day—especially on a day where I had a death, or had to tell someone their loved one was close—I come home and I sit in the quiet and peace of my home, and I reflect on my day. Mostly it is about honoring each person I met, for their life, and for their death.
How should the average person think about their own end of life plans?
Think about the senses.
Where do you want to be when you die? Who do you want there? What do you want to see, feel, hear, touch? Create a space that allows you to feel safe, comfortable, and cared for.
Talk about it now. Have that conversation now. Let the people you love know what you do and don't want so that they do not have to make those decisions on your behalf.
In order to have your wishes honored, you have to let someone know what they are.
Can you share any wisdom you've picked up about grief or the grieving process?
Grief does not follow a time frame, it doesn't skip holidays or follow some kind of pattern that you can rely on. Grief is inconsistent. And most of all, it never goes away. Just like the love you feel for the person who died, your grief too will stay with you always. Honor how you are feeling, walk through each step one at a time on your terms. Never ever allow anyone to tell you that you should be 'over it' by now.
And if someone asks you how you are, do not tell them you are 'fine.' It is okay to not be fine. Let them help you, reach out to people who love you and let them be there for you.
If you know someone who is grieving, please do not stop checking in.
Stay in touch, even if it means simply sending a text message that says, 'I am thinking of you.' Put the date of the death in your calendar so that every year you receive a reminder. The person grieving has that date etched in their heart. Imagine the comfort you will bring them by saying you remember too.
"The person grieving has that date etched in their heart. Imagine the comfort you will bring them by saying you remember too."
Are there any books on grief you would recommend?
I am most drawn to personal stories. The Hospice Doctor's Widow by Jennifer A. O'Brien is an excellent example of that. Reading her book takes you on her journey and seeing it through her eyes really expresses the different phases and paths of grief, and how they are so unique and individual for each person.
What's the most challenging part of your work?
Seeing people say goodbye is really tough. I don't know how to turn off that part of me that feels their ache, so when they ache, I ache.
No matter how much someone has prepared to say goodbye, when that last breath is taken, it is a huge shock for their survivors. That look they give me, when they realize their loved one has died, stabs me directly in the heart every time.
I have seen hundreds of people die. I have seen twice that many say goodbye. This work is not easy.
What is something about your work that you wish other people understood?
Most people can't understand why someone would want to be around people who are dying. They think it is morbid, or scary, or dark, or emotional. I do not get asked very often how my day was, because people are afraid I am going to tell them.
Dying is inevitable for everyone. It can be incredibly emotional, which is understandable; someone is dying and someone is saying goodbye. But what I see is so much more than death.
I see life, love, culture, and faith, and I witness strength and bravery and kindness and compassion on a level that can only inspire you to want to do better, and live a better, fuller, and more beautiful life.
---
For more from Gabby, check out her work at The Hospice Heart.
Learn more on the Lemonade blog:
How Much Does a Funeral Cost?
Everything You Need to Know About Life Insurance
4 Things to Do After You Say "I Do"