Newlywed life is sweet. But what comes next after you get married?
You've gotten the album back from the photographer, and that slice of wedding cake is chilling in the freezer, waiting to be enjoyed on your one-year anniversary. You've shifted away from planning celebrations to just… living life.
A lifelong commitment comes with taking on some real adult responsibilities. We're going to go through a few items you might want to cross off your post-nuptial checklist.
Here's what we'll be covering:
Changing your name
Getting term life insurance
Merging your finances
Checking off a different tax status
Change your name (if you want to!)
What's in a name? Well, apparently a lot. For the majority of American couples, a name change is an integral step in making a union officially official.
In the U.S., around 70% of women in heterosexual couples change their name after getting married—with the remaining 10% opting for a hyphenated or alternative last name, and 20% keeping their names. Only about 3% of men choose to change their names after marriage. (According to The Knot, around half of LGBTQ+ couples end up going with one partner's last name.)
If you would like to change your last name, there are some bureaucratic hoops to jump through first.
Here's what you should do if you want to change your name, and the order to do it in:
Get ahold of your original marriage license. Your marriage certificate should have been mailed to you automatically after your wedding. Check your mailbox around two weeks after your ceremony. But if you don't receive your marriage license for some reason, you'll need to go to your County Clerk's office to track it down. You'll need either the original license or a certified copy (with a "raised seal") in order to change your name. 
Change your name on your Social Security card. Go to the Social Security Administration's website and fill out the SS-5 form, which asks for basic personal information to confirm your identity before your name is changed officially. 
Change your name on your driver's license or state ID. Once you get your new Social Security card (it'll take around two weeks), the real work begins. You'll need to take a trip to the DMV with your new card and several other forms of identification in order to list your new name on your driver's license. 
Change your name… everywhere else. Your passport, bank and other financial accounts, and payroll should probably be your first orders of business. Once you take care of the big ones, make a list of other places you might want to change your name, and check them off one at a time. Some places might include: voter registration (some states allow you to do this when you get a new license at the DMV), your renter or homeowner insurance policies, the post office, your alumni associations, your doctors offices, and, of course… your social media profiles.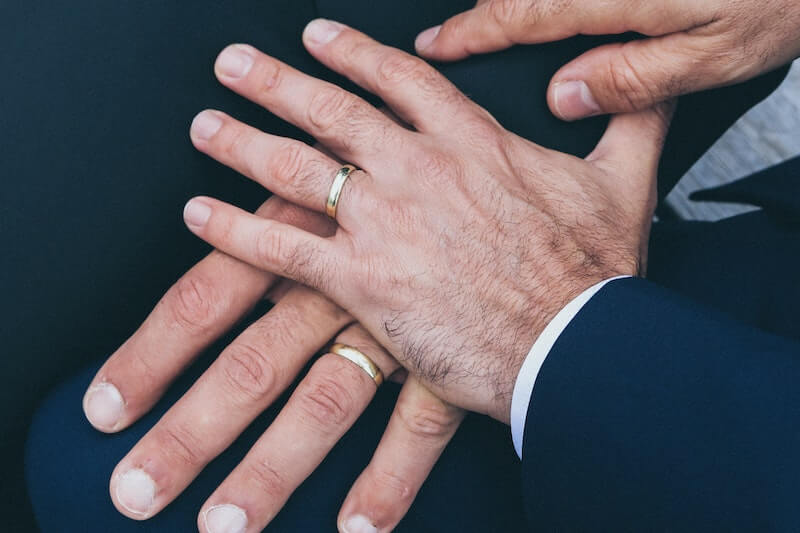 Get term life insurance
Now that you've committed to building a life with another person, it's probably a good time to figure out what happens if "death do you part."
Life insurance is a way to help ensure your loved ones are taken care of if you're no longer around. Taking out a life insurance policy can cushion the financial blow of suddenly losing your income or your partner's—whether it's the two of you, you two plus some kids, or you two and your assorted fur fam.
There are literally dozens of different life insurance products on the market today, but for many people, buying a term life insurance policy might be the most straightforward life insurance option to get the coverage you need.
Term life insurance helps provide financial protection for your family if you were to pass on unexpectedly during a predetermined period of time, or term. Your loved ones can spend this payout, aka 'death benefit,' without limitations, using it for funeral costs, mortgage or car payments, student loans, or any other needs.
We'd be remiss if we didn't note that Lemonade now offers life insurance—term life, specifically—and we think it's a pretty great deal. Lemonade's term life offering provides a one-time, lump sum payment to your loved ones or family members (called 'beneficiaries,' in insurance speak), whom you select, in the event you pass away. Lemonade currently offers terms as long as 30 years, coverage from $50,000 to $1,500,000, and premiums starting at $9/month, if approved.
Before you buy a policy, you might want to chat with a financial advisor, a life insurance agent, or a financially savvy person you trust.
Merge your finances—if you want to!
For richer or for poorer (but hopefully the former)!
When it comes to combining your money with your partner, there is no "one-size-fits-all" arrangement. Around 75% of married couples merge at least some of their financial accounts together, with around 25% of couples keeping their accounts entirely separate. How you want to handle money in your relationship is entirely up to you and your partner, based on your preferences and comfort levels.
Of course, this doesn't have to be an all-or-nothing decision. A TD Bank study found that 42% of couples who had joint accounts also maintained their own separate accounts.
Before getting married, you might want to discuss your relationship's financial future. Go over things like your debt repayment strategy, retirement plans, and long-term financial goals.
Chances are, if you live together, you've already hammered out a budget that works for the both of you, but it never hurts to revisit it once in a while. An open line of communication about your finances helps keep both of you on the same page, and avoids money-related drama down the line.
Setting up a joint bank account is pretty simple. Both of you need to show up to the bank with valid ID; then you can begin the process of opening an account, closing an account, or adding an account holder to an existing account. After that you can order new checkbooks, credit cards, and debit cards, and start spending and saving as a team.
File your taxes
If you're married, you can choose to file your taxes jointly or separately. In most cases, filing jointly tends to make more sense for couples financially. But sometimes, especially if one person in the couple has accumulated a significant number of medical bills during the tax year, it might make more sense to file separately.
Before you sit down to do your taxes for the first time as a couple, it would be smart to meet with a financial advisor. (In addition to how you'll handle the IRS, it's also an opportunity to discuss things like budgeting, paying off student loan debt, and retirement options.)
One important thing to note: Even if you get married at 11:59pm on December 31st, 2021 the IRS considers you married for the entire 2021 tax year, so be sure to fill out your taxes accordingly.
Before we go…
Now that your Caribbean honeymoon (or well-deserved staycation) is over, you and your partner can finally kick back and enjoy the life you've begun to build. Pretty sweet, right?
If you're ready to take the next, next steps, read our first-time homebuyer guide. Kids in your future? Learn how to baby proof your home—or maybe just explore if it's the right time to finally adopt a cat.