At Lemonade, we set out to create an insurance company driven by social good – and that meant no marketing fluff or philanthropic giveaways. Instead, we wanted to build a different system – one that would bring out the best in all of us, and that would have social impact embedded in its very foundations.


That's what the Lemonade Giveback is all about. Since our launch in September 2016, Lemonade has donated over 6.164.548 $ to an incredible range of nonprofits via Giveback. As the Lemonade community grows, so does the potential of our Giveback – from just 50.000 $ in 2017, to over 2.000.000 $ in 2022.
Unlike any other insurance company, we donate all unclaimed premiums to charity. What does that mean? We take a flat fee from your monthly premium, use the rest to pay claims, and give back what's left to causes you care about once a year. So that annual donation doesn't come directly from your pocket – instead, it comes from the good behavior and good fortune of the Lemonade community.

Want to dive deeper? Read on for everything you ever wanted to know about the Lemonade Giveback program- and for the entire list of Lemonade's Giveback charities, scroll down.
Here's a quick preview of what we'll cover:
The Impact of Lemonade's Giveback
Since the Lemonade launch in September 2016, there have been six Givebacks and we donated 6.164.548 $ to dozens of charities. In our first Giveback in 2017, Lemonade donated over 10% of its revenue to 14 Giveback causes, which amounted to 54.174 $. Over time, the Lemonade community as well as the potential of our Giveback have grown, and in 2022, we were able to donate over 1.8 $ million to 59 charities.

The Lemonade Giveback 2022 benefited the following organizations and projects, amongst others:
Charity:Water: 134.909 $ to support water projects that provide clean and safe drinking water to people in Mali.
350.Org: 118.443 $ to support the fight for climate justice.
ACLU: 75.320 $ to support the Reproductive Freedom Project and the Anti-Racism Project.
National Breast Cancer Foundation: 40.014 $ to administer mammograms.
The Trevor Project: 100.727 $ to give lifesaving mental health services to LGBTQ+ youth.
Malala Fund: 23.174 $ to support vulnerable girls enrolled in schools across the Sidama region of Ethiopia.
Gurls Talk: 5.067 $ to provide free and accessible mental health resources to young women and adolescent girls.
We are proud that our Lemonade community has been able to support so many projects and organizations around the world through the Giveback. Here you can find a list of all nonprofits we currently partnered up with in Germany.
How Giveback Makes Lemonade Different
Our Giveback program allows our Lemonaders to support causes they care about. If there's leftover premium, it goes to charities chosen by Lemonaders themselves- so Giveback is baked into our business model.
When your unused dollars go to charity, it's not an extra payment from your pocket. It's simply due to your good fortune and good behavior – your unclaimed dollars roll over to make a difference for someone else in this universe.

The Giveback model predicts that not every group will get a Giveback every year, but we hope most groups will have more good years than bad.
Social impact is a guiding value at Lemonade. We are a proud member of the B-Corp community, and one of the world's only public benefit insurance companies. We want to make it easy for you to do good.
Check out some of the things our Lemonaders are saying about Giveback: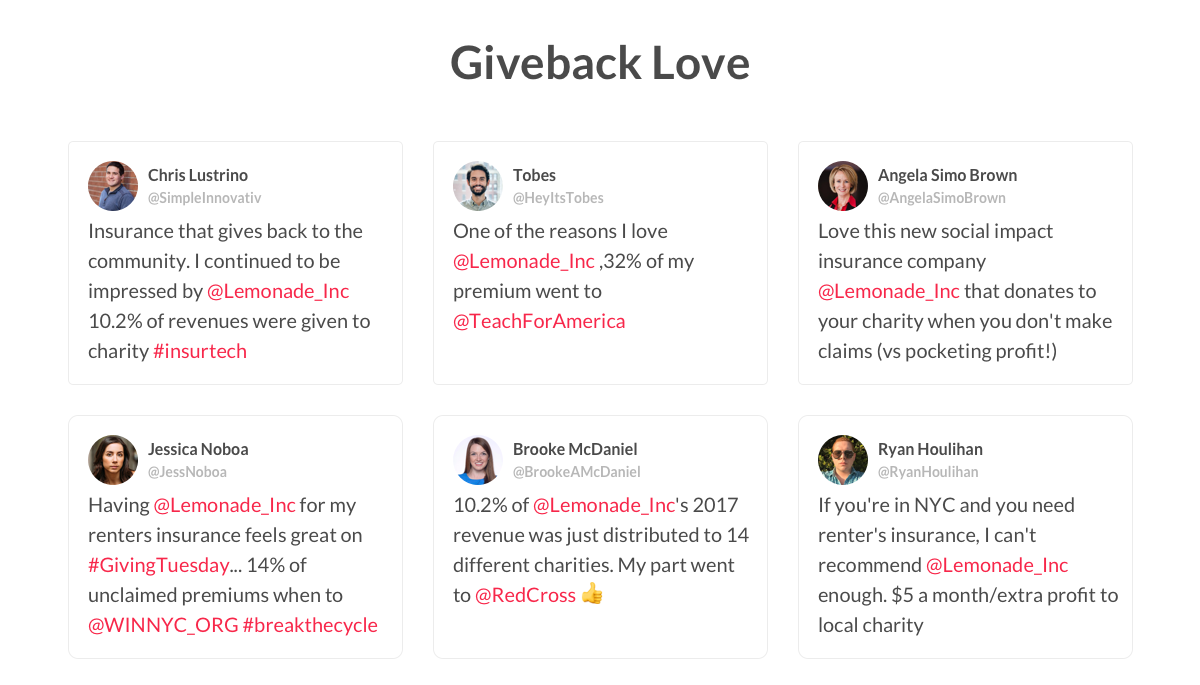 If you already have a Lemonade policy but haven't selected your Giveback cause, make sure you download the Lemonade app. You'll be prompted to pick a cause you care about and will have the opportunity to read more about each one. If you don't have Lemonade yet, scroll through our list of causes below, choose one you're passionate about, and get a Lemonade policy in seconds.
The Lemonade Giveback List of Nonprofits
The Lesbian and Gay Federation in Germany (LSVD) is the largest non-governmental LGBT rights organisation in Germany. They work to help lesbian, gay and transgender people gain recognition as a natural part of social normality and attain full legal equality. The LSVD takes a stand when the interests of LGBT people are affected by the Federal Government, the Bundestag, and the Federal Constitutional court.
Viva con Agua
Viva con Agua de Sankt Pauli e.V. is a nonprofit organization committed to ensuring that all people worldwide have access to clean drinking water. To achieve this goal, they promote water projects and activities at home and abroad. They firmly believe that even serious topics in the world can be treated with joy.
World Vision
World Vision Germany partner with children, families, and their communities to reach their full potential by tackling the causes of poverty and injustice, regardless of ethnic origin, religion or nationality. With energy and passion, they work to empower people out of poverty and promote human transformation.
Start Coding
Start Coding promotes digital education in a hands-on manner to look beyond the surface of digital products. They encourage kids, educators, parents and the elderly to use programming and electronics to design their own creative applications in music, games, making and art in workshops and events across Germany.
ReDi School of Digital Integration
ReDI was founded in 2015 on the belief that technology can break down barriers, and bring people together to build new solutions to old problems. The idea of ReDI was sparked by the insight that amongst the refugee population there are incredible talents eager to learn and eager to contribute, who could help open IT jobs in Germany.
TAFEL
Tons of food is destroyed in Germany every day. The Tafel works to stop food waste, by collecting and distributing leftovers to disadvantaged people nationwide. There are currently more than 940 Tafel in Germany, supporting more than 1.5 million people in need of food – including thousands of women and children.
One Earth – One Ocean
With the "Marine Litter Cleanup" the German NGO One Earth – One Ocean has developed and tested a concept for the collection and recycling of plastic waste from the waters. Special waste collection ships collect the plastic waste, which is then returned to the material cycle.
German Red Cross
The German Red Cross is part of the largest global humanitarian network and provides extensive assistance to people in need, both worldwide and in Germany. Whether in disaster situations, conflict situations or long-term projects, the German Red Cross is always close to the people and is committed to their lives, health, well-being, protection, peaceful coexistence and dignity.
Pro Wildlife
Pro Wildlife is committed to preserving biodiversity and saving wild animals in need. The German organisation supports wildlife conservation projects worldwide, working to preserve habitats and raise awareness around the importance of protecting wild animals. They also engage with lawmakers around containing the exploitation of nature.
Doctors Without Borders
Doctors Without Borders provides emergency medical aid in crisis and war zones and after natural disasters worldwide. They help quickly, efficiently and unbureaucratically – without asking about origin, religion or political convictions. Doctors, nurses, midwives and logisticians work in around 70 countries, treating the sick and wounded, caring for malnourished children and providing clean drinking water.
Reporters Without Borders
Reporters Without Borders promotes and defends the freedom to be informed and to inform others throughout the world. Based in Paris, it has an international network of correspondents in 130 countries. RSF is now one of the world's leading NGOs in the defense and promotion of freedom of information.
German Animal Welfare Organisation
The German Animal Welfare Association is Europe's largest umbrella organization which is committed to animal protection and nature conservation. The nonprofit advocates for the active protection of local animals as well as the end of animal suffering in Germany, Europe and worldwide.
Ozeankind® e.V.
Ozeankind® e.V. promotes environmental education and recycling projects for children. Since 2018, the association has engaged in a wide range of activities and initiatives for increased awareness on how to handle disposable plastic, like regularly organizing international cleanup events.
DKMS
The DKMS (German Bone Marrow Donor Center), is a non-profit organization dedicated to the fight against blood cancer. Its goal is to find a suitable stem cell donor for every blood cancer patient in the world and to improve patients' well-being. In addition, the DKMS supports the development and research of treatment methods for blood cancer.
DEEPWAVE e.V.
DEEPWAVE is a marine conservation initiative founded in 2003 in which marine biologists and ocean enthusiasts come together to "give the ocean a voice". With this in mind, they educate about the ocean's importance for our life on the blue planet and encourage others to get involved in hands-on and politically effective projects for ocean protection during this decade.
Btw, if you don't see your favorite cause on our list, let us know – we'd love to see if we can help support them too through our Giveback program. Drop us a line at [email protected].