Let's be honest: There are more interesting topics than contents insurance. Insurance in general is one of those things you can keep putting off until you have to talk about it.
However, contents insurance, together with personal liability insurance, is one of the most important German insurance policies. Meaning, it's something you definitely shouldn't skip. But what exactly makes these policies so important? Let's assume your beloved laptop or that flat screen you saved up for falls victim to some nasty water damage—in a situation like this, contents insurance would have your back, as well as in many other unfortunate scenarios.
If you don't have a lot of time, feel free to check our summary on "Hausratversicherung", aka contents insurance in German below:
——————-
Your policy protects your "moveable" possessions, meaning everything you'd take with you if you'd move, from damages caused by a fire, tap water, or a burglary.

You can get a basic contents policy for just a few euros a month.

If worse comes to worst, contents insurance could reimburse you up to the amount you could buy yourself a replacement for your damaged or stolen item.

With Lemonade, you can get yourself a policy in just a few minutes from your smartphone or laptop. You can easily extend your basic coverage by adding the Anti-Theft or Extreme Weather Package.
——————-
Ready for a deep dive into the world of German insurance? We'll cover the following topics:
What is contents insurance?
Over time, we tend to accumulate lots of stuff. Even if you prefer buying your clothes and furniture second hand, all of your things combined are probably worth a lot more than you think! Contents insurance, also known as 'home contents insurance', 'household contents insurance' or simply 'household insurance' protects all of your possessions from damage or loss.
So, if your washing machine floods your apartment and ruins your furniture while you're out at a Gerhard Richter exhibition, your coverage will kick in. Contents insurance covers damages, but also has your back in the event of a robbery or burglary. In addition, some contents insurers offer add-ons that will cover you if your smartphone gets snatched while you're hanging out at your favorite café (such as the Lemonade Anti-Theft Package!).
In plain English:
Your contents policy covers your stuff that's normally kept in your home and that belongs to you. However, Lemonade insurance also covers your stuff during trips abroad (for up to 3 months).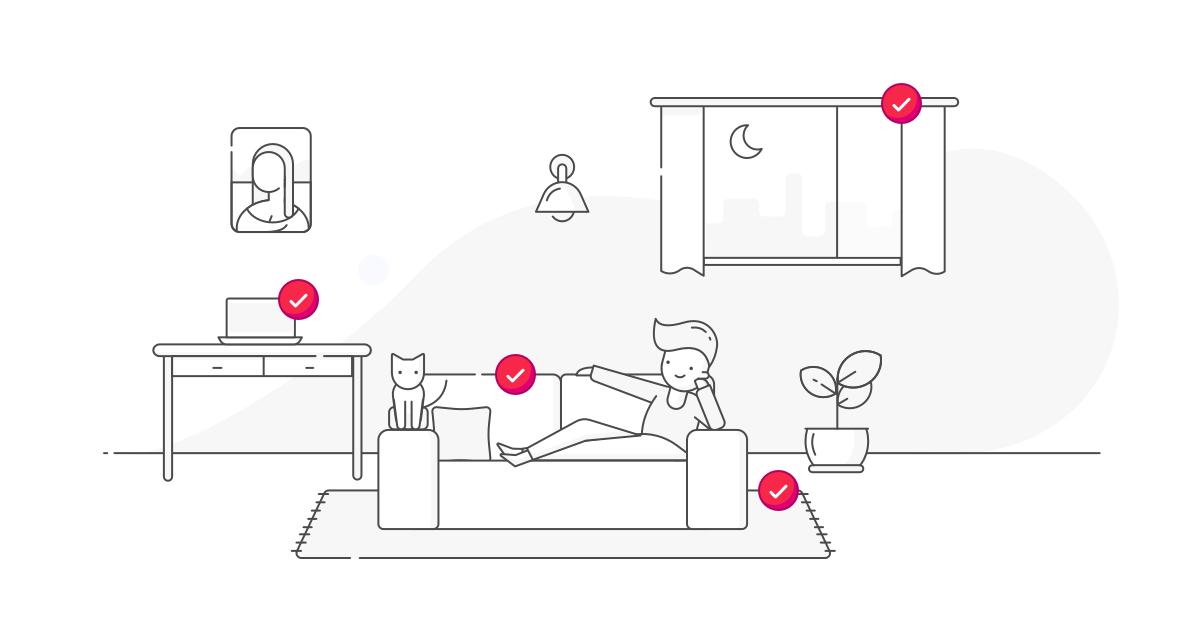 Do I need contents insurance?
Unlike car insurance, both German home contents insurance and personal liability insurance (aka "private Haftpflichtversicherung") are not legally required in Germany, but some landlords might ask for proof of both. According to the German Tenants' Association ("Deutscher Mieterbund") this request isn't technically legally valid. However, reality looks slightly different.
There's lots of competition when it comes to affordable housing – and not only in Berlin. You might want to give yourself an edge on the competition, and consider getting yourself both insurances.
Not to mention, this particular insurance is useful and worthwhile! It could provide you with a safety net in case of an emergency.
Btw, what matters for contents insurance isn't the value of a single item, but the value of all your belongings combined.
Imagine turning your entire apartment upside down and counting every item (like furniture, carpets, clothes, electronic devices, bicycles, and musical instruments) that would fall down. Now imagine that you have to replace all these things because your apartment has been destroyed by fire or water. This would not only be super stressful and devastating, but it could cost tens of thousands of euros to replace your stuff. And that's why your contents policy is so important.
It's already frustrating enough if your locked bicycle is stolen from the subway station, or if someone breaks into your apartment and steals your MacBook. Contents insurance is here to help you out in these kinds of situations.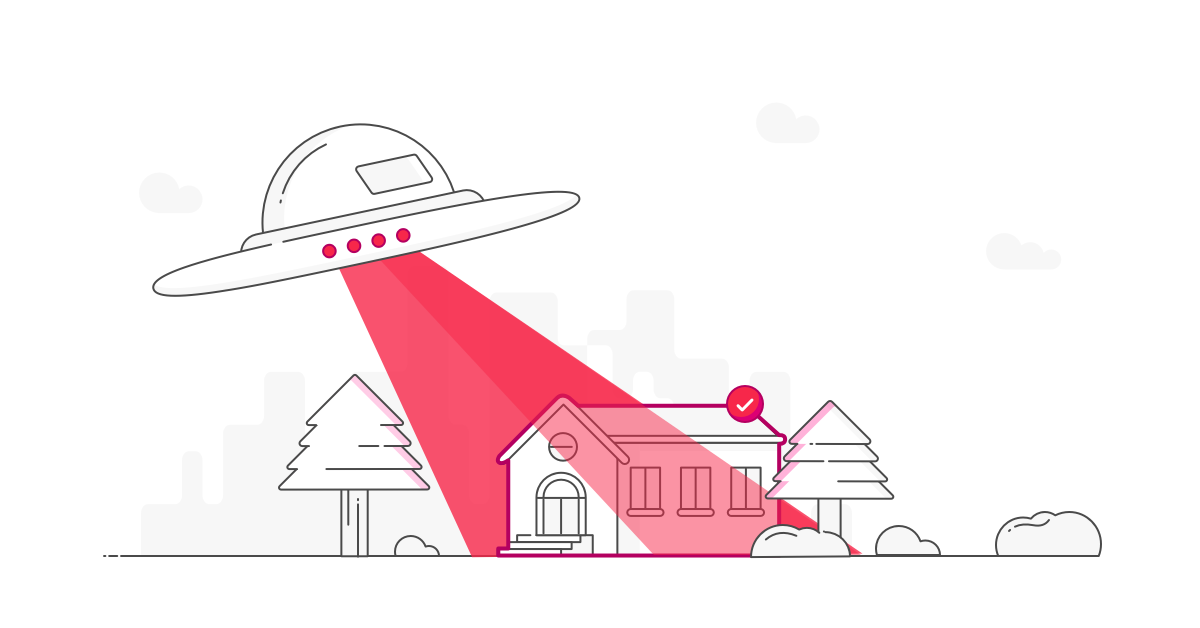 Which items are insured under your contents insurance?
Your policy covers your stuff that's normally kept in your home and belongs to you—from damage or loss. The following things are included in your policy:
Jewelry (like watches, engagement rings, and necklaces)

Designer items (such as handbags)

Furnishings (like furniture, carpets, and lamps)

Bicycles

Musical Instruments

Cameras

Electronic devices (like TVs, laptops, and phones)

Clothing
Tip: Lemonade's basic policy automatically covers items up to a value of 5,000 euros each. If you're the proud owner of a super-light carbon mountain bike or a high-end DSLR camera (that's worth even more than the bike), you can easily add some Extra Coverage for them to your policy. This way, you only pay to cover the things you actually own.
What do you need to receive Extra Coverage? It's simple. Just send us a photo of each high-value item, as well as a receipt or appraisal.
If you don't have any of these on hand, don't worry! After getting a Lemonade policy, your high-value items enjoy temporary protection for up to two weeks. This means, you'll have some time to get your records in order before you submit them to us.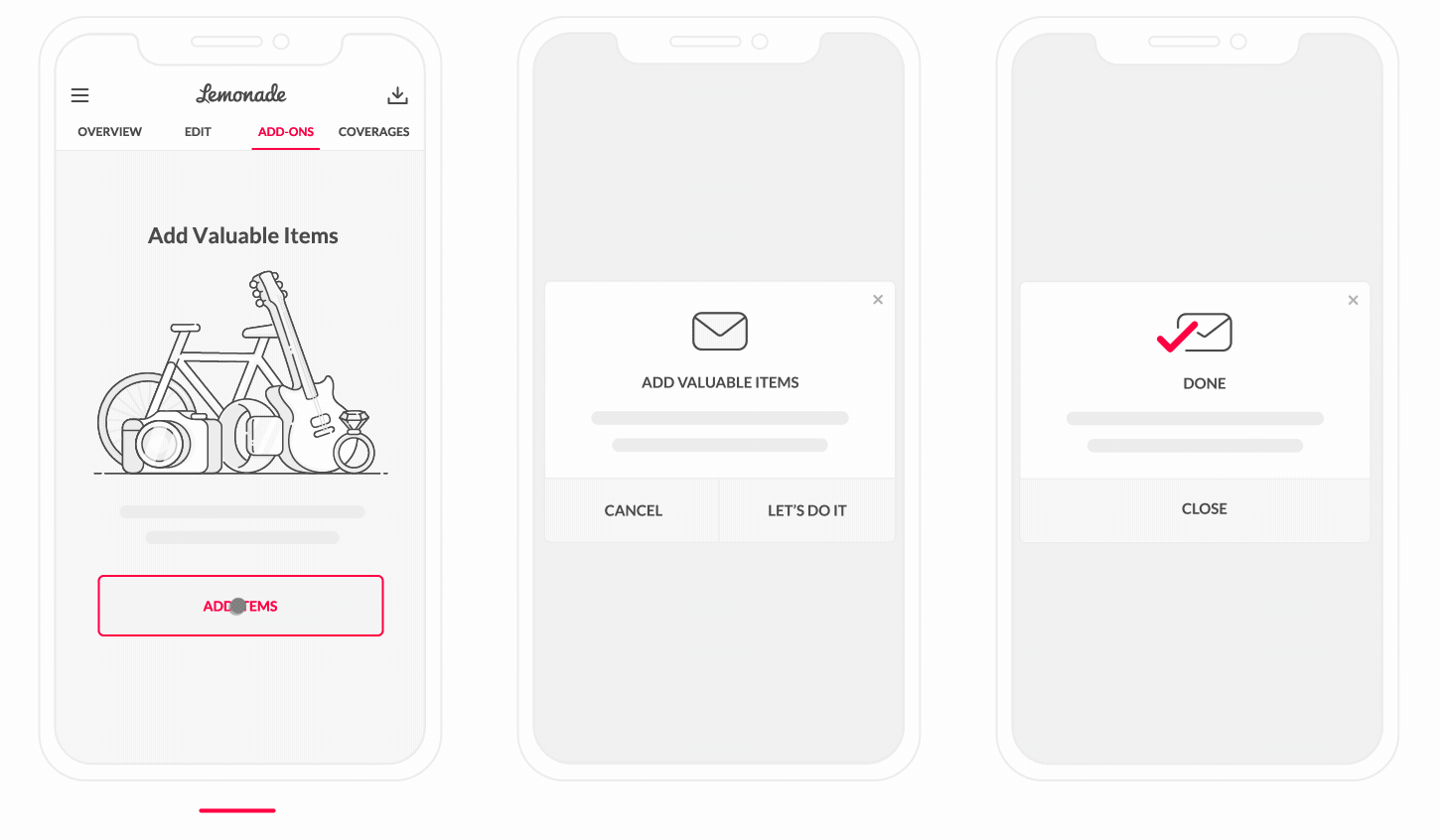 When does contents insurance kick in?
Now for a quick overview of all covered perils (bad things that could happen to your stuff) that your policy could cover:
Burst pipes & leaking appliances
Your contents insurance policy will cover the costs of replacing your carpet if it is destroyed by your overflowing washing machine.
Burglary & vandalism
It also reimburses you if your stuff gets stolen or damaged during a burglary.
Temporary accommodation
In addition, some contents insurance policies will also pay for temporary living costs if your home becomes unlivable for various reasons. Let's assume an electrical outlet catches on fire, and you'll have to temporarily leave your home and stay at a hotel or an Airbnb. Your insurance could help you cover those additional costs! Some insurance providers even pay for further related costs, such as food and parking.
With Lemonade, damages caused by the following factors are covered:
Fire & smoke

Explosions

Burglary, robbery, & vandalism

Windstorm & hail

Collisions by vehicles or aircraft to your home

Water damage caused by an accidental leak of tap water, like burst pipes or a leaking appliance (e.g. your washing machine), or leaking waterbeds and aquariums

Gross negligence
You can find more info in our Policy 2.0, a radically simplified, modernized, and digitized insurance policy made for the 21st century. This means that you can read it and actually understand what's covered and what isn't! Btw, all the info is available in English, tailored to any expat's needs.
What does contents insurance reimburse me for?
Shit happens, and sometimes your belongings might get damaged or even destroyed by the unexpected. Once your claim is approved, your household contents insurance helps pay for repairing your damaged item (if it's salvagable!) or reimburses you with the item's replacement value. Think of the replacement value as the "Amazon price" of how the insurance company values stolen or damaged items. That means Lemonade won't factor how used your item is into the reimbursement.
What's not covered under my contents policy
It can be frustrating if you don't know exactly what is and isn't covered by your policy, especially if you expect something to be covered, and in the end you find out that it isn't.
To prevent this from happening, here's a list of property that are not covered by your policy:
Cash, pets, firearms

Items that you mainly use for your profession

Objects that you have entrusted to others or that do not belong to you

Items that you own illegally

Items that are usually covered by other insurance policies, such as motor vehicles, pets, boats, hunting or professional insurance. Therefore, damage to your car, work equipment such as your laptop or professional camera equipment are not covered.

Damage to property that you have caused intentionally

Damage caused by war, terrorism, civil unrest, or nuclear energy
How much is contents insurance?
According to German online comparison website Check24, a basic household policy could cost just a few euros per month. Lemonade is no different: Our basic insurance coverage starts at just two euros a month.
However, the final cost of your individual policy depends on: how much stuff you own, and its value, if you choose a deductible, or choose to add any extras to your policy. Feel free to read more about our add-ons in the next paragraph.
Additional protection to play it safe
With Lemonade, you're able to adapt your coverage to your individual needs. If you'd like to insure your phone, bike and laptop against theft (outside your home), you can easily activate the Lemonade Anti-Theft Package (from 2 euros/month). Whether you are hanging out at your favorite restaurant or are vacationing in the Black Forest, with the Anti-Theft Package, your things are insured against theft, at home or away.
By adding the Extreme Weather Package to your contents policy, you'll receive even more coverage. Your stuff will be protected against bad weather events such as damage or loss caused by lightning (including overvoltage due to lightning), flooding, weather-related backwater, earthquakes, subsidence, landslides, snow pressure, avalanches, and volcanic eruptions.
How to get a contents policy
The good news is that you don't need much to get contents coverage in Germany—just your address and a solid estimate of how much coverage you will need.
A rule of thumb to make your calculations:
Again, imagine turning your flat upside down and looking at all the objects that fall down – meaning, all of your stuff that's movable and isn't connected to the apartment itself. Now, you would simply estimate the total value of all of these items. This value is your overall coverage, or your insured sum.
If your lifestyle changes—or you get a lot more stuff—and you want to adjust your policy to fit your needs, don't worry! With Lemonade's Live Policy, you can update your coverage directly in the app—wherever you are, with just a few clicks.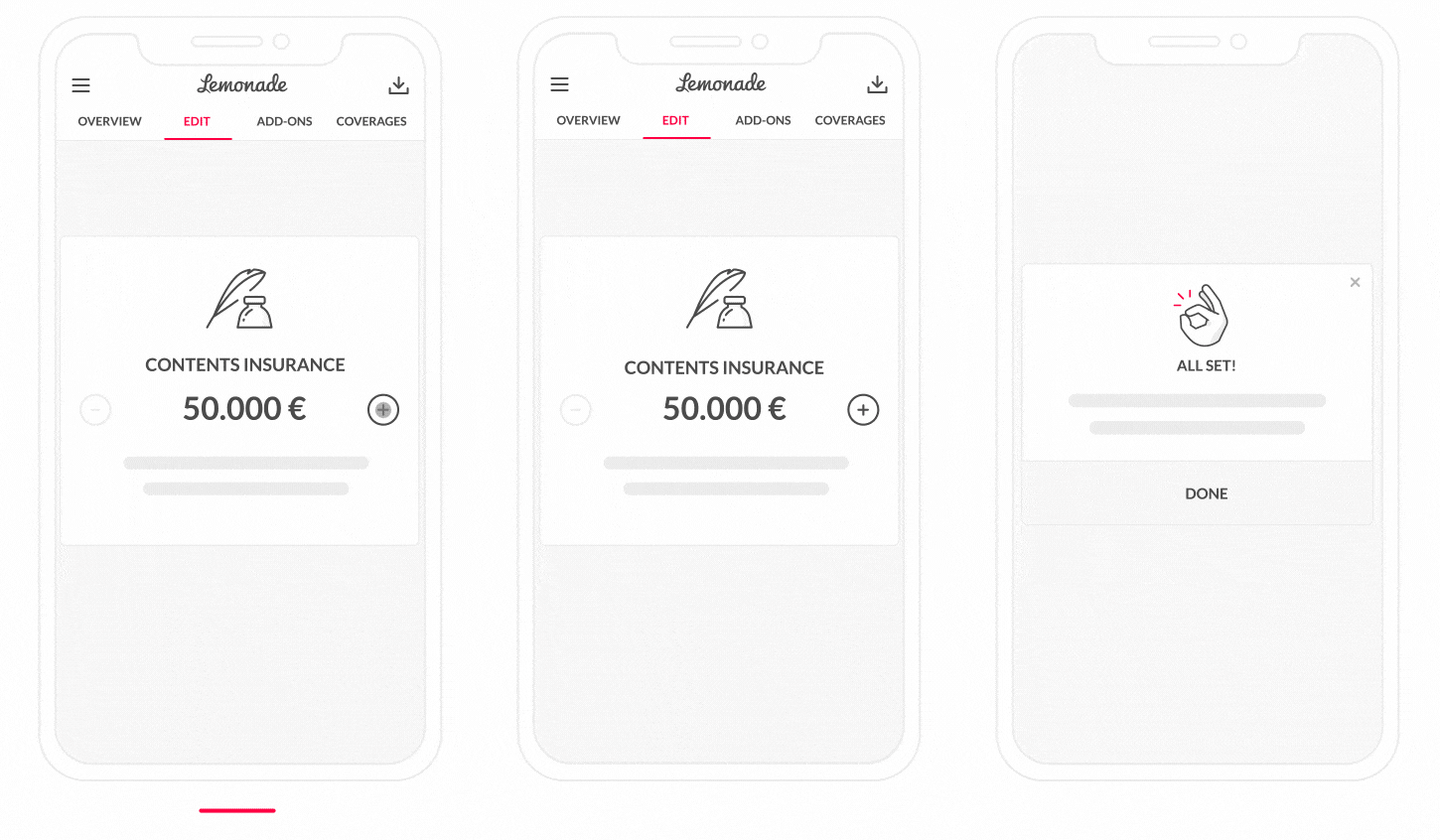 Insured with Lemonade in just a few seconds
Signing up for an insurance policy can be a real hassle. So can filing a claim, which might require filling lots of paperwork. Lemonade's different. With the help of Maya, our charming bot, you can sign up quickly and easily from your couch. Simply answer a few questions and get a quote in less than two minutes. You can also edit your quote and customize your coverage to fit your needs before you decide to purchase a policy.
Who is covered?
You can easily add your children or your significant other (you don't have to be married!) to your policy, as long as you all live together. Just click on the option that applies to you when you create your quote, or get in touch with our customer support team if you want to add them to an already existing policy. However, any roommates will have to get a separate contents policy. They won't be covered by your policy.
Making a difference with the Lemonade Giveback
Lemonade is an insurance company designed for the 21st century. Our business model is based on social good. We believe in generating good karma by balancing profit and purpose. One way we achieve this is through our Giveback program, where we donate a portion of our profits to causes our users care about.
Lemonade Inc. is a Public Benefit Corporation and certified B-Corp. We take a flat fee of the premiums paid, then use the rest of the money to pay claims—and give what's left to charities.