Some people panic just hearing the words "liability insurance". In Dutch, the long phrase itself — Aansprakelijkheidsverzekering — is enough to make anyone break out in a cold sweat.
Fortunately, there's no need to stress. This article will answer all of your questions, and soon you'll be a pro when it comes to liability insurance in the Netherlands.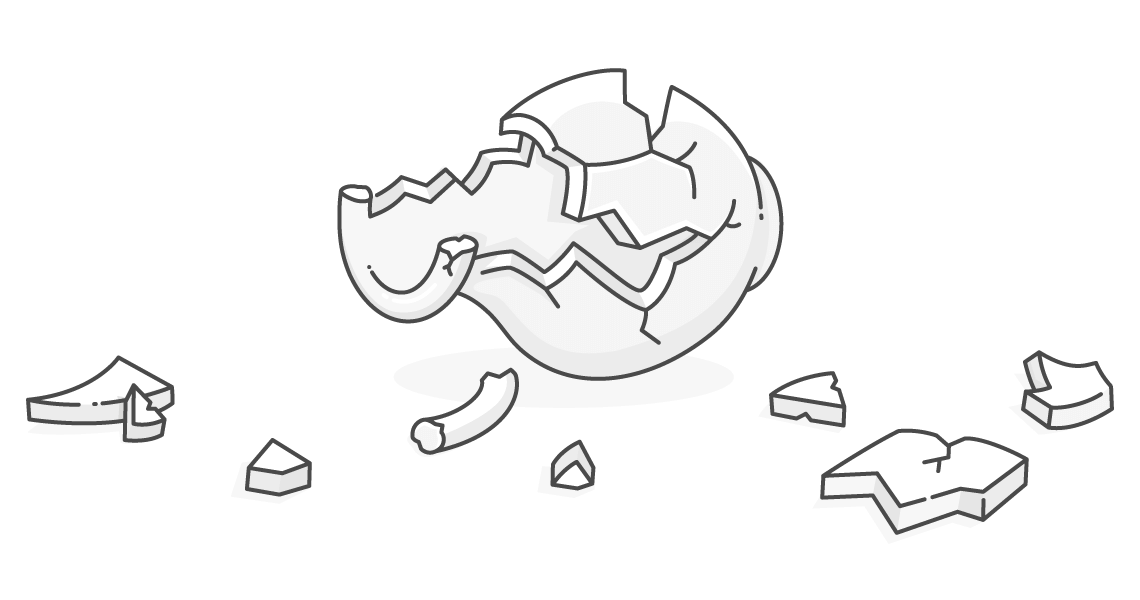 Here's a brief overview:
What is liability insurance, and is it mandatory?
Unfortunately, sometimes bad things happen, and people make mistakes. In those cases, it's nice to be insured. This way you can avoid incurring unexpected expenses if you're liable for damage and have to pay compensation.
Private liability insurance (AVP) covers damage accidentally caused to others. This applies to both material damage and personal injury. In contrast to a third-party insurance for your car or motorcycle, liability insurance for private individuals is not compulsory… but that doesn't mean it isn't a good idea to have it!
There are a number of common situations for which liability insurance provides coverage:
Injury
You accidentally ride your bike into someone, causing them to break their arm.

Your dog gets scared and bites a passerby in the street.
Material damage
While playing soccer, your son misses the goal and accidentally "scores" through your neighbor's window.

You spilled red wine on your mother-in-law's couch.
What is covered by liability insurance?
What is and what is not insured may differ from insurer to insurer. Make sure you know what is important to you so that you get a policy that suits your personal situation. Normally, personal liability insurance provides cover for material damage or personal injury that you cause by accident.
If someone holds you liable for damage, your insurance company will check whether this is justified or not. If not, your insurer will defend you—if necessary, even in court. If you are responsible, your insurer will pay the costs. Most insurance companies also cover damage caused by pets. The amount paid out depends on the situation and on the deductible if applicable.
How high should my coverage be?
Often you can choose your own insured amount. Usually this amount is between €1.25 and €2.5 million. So for example, if someone breaks his arm and you are liable, the medical costs will be insured up to the amount you have chosen. If you have coverage up to €1.25 million and the damage is higher than that amount, the rest will have to come from your own pocket.
So how do you determine the correct amount of liability coverage? Unfortunately, there is no perfect answer to this question and you will have to make your own decision based on how much risk you think you might face.
Tip: The Consumers' Association advises you to insure yourself for a minimum amount of €1.25 million with a deductible of €0. The amount of the excess determines how much you yourself will pay in the event of damage. Liability insurance usually only costs a few euros, but if you want to reduce the cost of your premium, you can always opt for a higher deductible.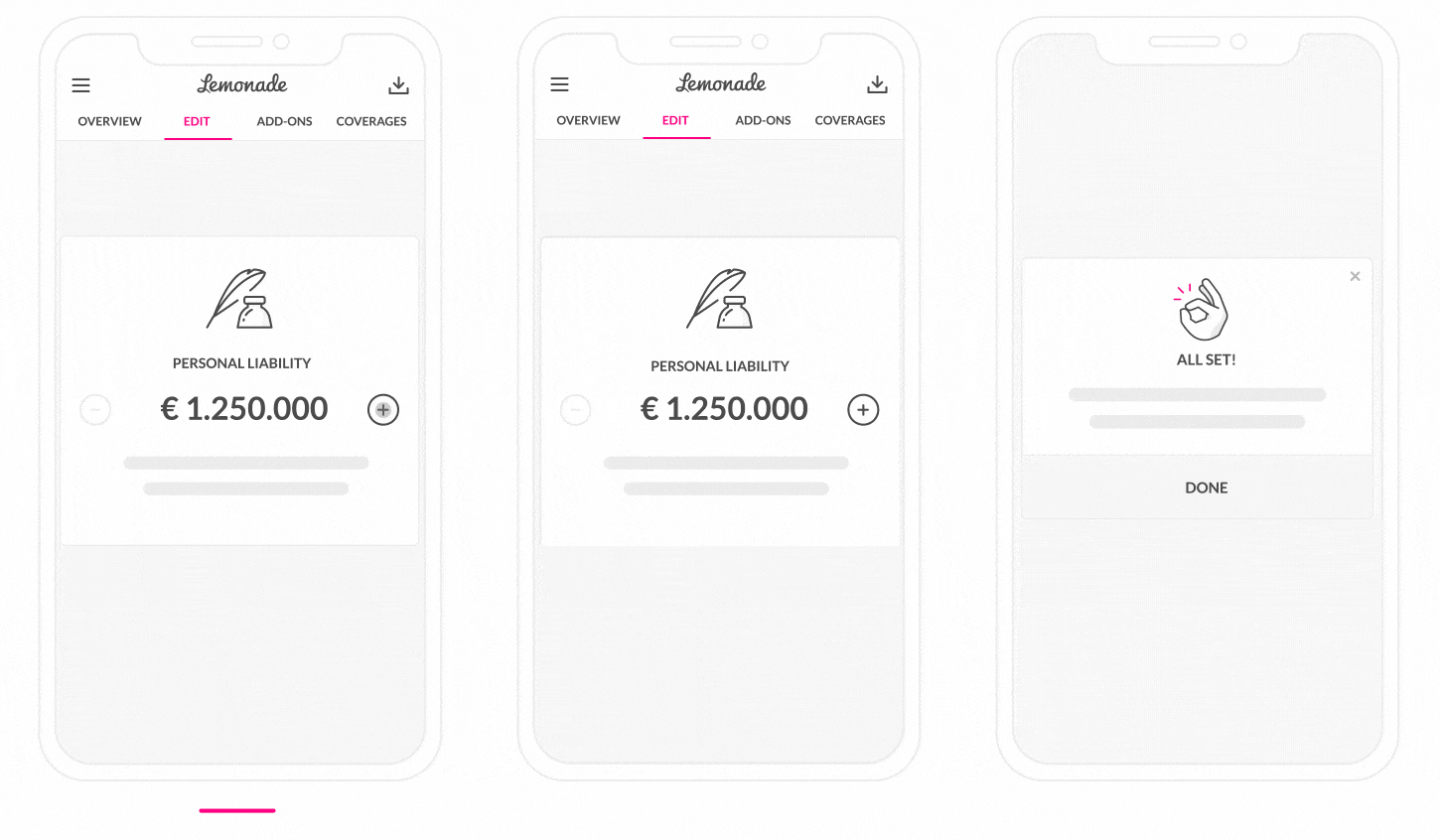 What's not covered?
In most situations, the following items are not covered by your private liability insurance:
Damage that you have caused intentionally will never be compensated by liability insurance.

Rented items are not covered by your liability insurance. Think for example of rented furniture for a party or tools you rent for a renovation.

Things you borrow or willingly hand over to someone else, are not covered. So if you handed something you own to someone else, it's under their responsibility and won't be covered.

Damage that is normally covered by another type of insurance (such as car, yacht, or professional liability insurance).

Damage you cause to persons covered by the same policy. If you and your partner fall under the same liability policy and you accidentally break your husband's smart TV, this is not covered.

Situations involving fraud are not covered.
Partner, children and roommates – who are co-insured?
Most insurers offer different policies for single people and families. Below you can clearly see who is normally co-insured on your liability insurance:
Single individuals
The insurer himself/herself

Guests (if your guest causes damage to third parties)
Family policy
The insurer himself/herself

The partner of the insured

Co-habitating parents-in-law or other family members

Minor children

(Unmarried) adult children if they live at home with the insured person or if they are away from home for study (usually up to the age of 27)
Unfortunately, roommates are excluded from the policy and will have to get their own liability insurance.
Is damage caused by pets covered?
Usually we're sure your cute Golden Retriever or your beautiful Maine Coon won't hurt a fly. But an accident could happen at any moment, whether that means your pet biting a neighbor or shredding their curtains. Fortunately, damage to others caused by your pet is covered by your liability insurance.
Cancelling liability insurance
Nowadays, there are more and more liability insurances that can be cancelled at any point, but there are still many policies that require an annual contract. At Lemonade you can cancel your liability insurance free of charge, whenever you want. It's also very easy to cancel using our app. After you have discontinued your policy, we will refund the unused part of your premium to your account. If you decide to come back, we will simply get a new policy for you. Please note that you may receive a new premium when you sign up again, as our prices change from time to time.
A policy for the 21st century – digital and transparent
With Lemonade's Policy 2.0 you are covered by an insurance designed for the 21st century, transparent and easy to understand. With the Lemonade app, you can apply for a policy in seconds and adjust it — whenever you want — to your needs.
Submitting a claim is just as easy. Just the app and click on "Submit Claim." AI Jim, our chatbot, will then ask you a few questions, and your claim will be processed ASAP. With a Lemonade policy you also make a positive social impact: unclaimed premiums will be donated to a charity of your choice through the Giveback program.
With Lemonade liability insurance you are insured for the following:
Property damage

Injury to others

Damage to rental properties due to fire and water

Damage caused by pets

E-bikes

Boats and vessels

Damage while traveling
Properties
Your liability insurance covers any damage you accidentally cause to someone else's property.
Injury to others
Let's say someone slipped during your housewarming party and got hurt. If he holds you responsible, we'll help you out of this predicament. We will check if this claim is justified and we will defend you—if it comes to that, also in court. If you do turn out to be liable, we will pay the costs for you.
Damage to rental property due to fire and water
We provide coverage for any damage you accidentally cause to a property or hotel room you rent (including the rented furniture), if the accident is caused by fire or water.
Damage caused by pets
Damage caused by your own pets to others is covered by your liability insurance. Please note that we do not cover damage caused by horses, cattle, or wild animals that you own or that are under your permanent care.
E-bikes
More and more Dutch people are switching to an e-bike instead of a normal city bike. They're very convenient (no more sweaty armpits!), but are you insured for damage that you could possibly cause with your e-bike? With Lemonade you have cover for damage you cause with your (electric) bike. But keep in mind that motorized vehicles with mandatory insurance requirements (e.g. mopeds, e-bikes with a maximum speed of more than 25 km/h, e-scooters and segways) are not covered.
Boats and vessels
Lemonade offers coverage for damage you cause with small boats or vessels. Please note: coverage does not apply to boats with a sail area of more than 16 square meters, or with engines of more than 4 HP.
Damage on voyage
The Lemonade liability insurance protects you worldwide (as long as your trip lasts less than 3 months). So if you're on holiday in Venice and accidentally knock over all the snowglobes in a souvenir shop, you're covered.
Tip: You can adjust the insured amount to your individual needs. You can remove the contents insurance from your quote by resetting the coverage to zero, or increase it by clicking on the plus button.
What are you still waiting for? Get Lemonade insurance in a few seconds!