Just the phrase "personal liability insurance" alone can make you anxious or confused – let alone the German translation "Privathaftpflichtversicherung". It's something your parents probably told you is invaluable, but millennials and Gen Z'ers may wonder if personal liability insurance is actually a must-have in Germany.
Spoiler alert: Listen to the older generation! It's advisable for everyone – not only expats – to at least have some personal liability insurance in case life gets messy. Being held liable for the damages of others is not only unpleasant, but can quickly mean financial misery.
But what does that actually mean in concrete terms and what things have to be taken into account? We'll enlighten you in our 101 guide to personal liability insurance in Germany. We promise it's more fun than it sounds.
A short overview of the topics:
What does personal liability insurance mean – is it compulsory?
Unfortunate things happen whether we like it or not. These unlucky events can be quite costly if someone else gets injured or cause material damage in the process. Did you spill red wine all over your new crush's sofa? Did you smash a neighbor's window while practicing your golf swing? Private liability insurance will cover you if you harm others, whether it's property damage or related to their health. But unlike car insurance, private liability insurance is not compulsory.
So far, so good, but what does personal liability insurance cover?
What exactly is insured and what is not depends largely on the policy. For this reason, it is worth taking a closer look at what your policy covers—or rather, what meets your individual needs and what you would like to have covered.
In general, it protects against personal injury and property damage caused by carelessness. If someone makes a claim for damages against you, your insurance company will determine whether it is justified. If it isn't, your personal liability insurer will defend the claim—if necessary, even in court. If you are responsible, your insurance will pay the costs (time value).
Most insurances will also cover damages caused by pets, because pet owners have to pay for the damages of their pets (note, though, that dogs and horses usually have to be insured by a special dog or horse liability insurance). At this point, the coverage you've chosen as well as the deductible are both important.
What's the right coverage?
On average, coverage ranges from between 2 million euros and… 50 million euros (Say whaaat?!). The agreed-upon sum limits the liability of the insurer. Let's say somebody claims 5 million Euros against you because you accidentally caused a multi car collision with your bicycle (medical costs, or compensation for pain and suffering and loss of earnings, can quickly run into the millions). If you were found liable for these costs and you chose a coverage of 4 million Euros, you'd have to pay the difference on your own. Yikes.
But what is the right coverage? Unfortunately, there is no perfect answer to this question, because everyone has to decide for themselves how risky their life is.
Pro-tip: According to Handelsblatt, experts advise you to choose a minimum coverage of 5 million euros to avoid gaps in coverage. Also pay attention to any deductible you may have set. The amount of this deductible determines how much you will have to pay out of your own pocket if a claim is made. With some insurance companies you can set the deductible to zero. However, if you want to pay a lower monthly fee, you can choose a higher deductible.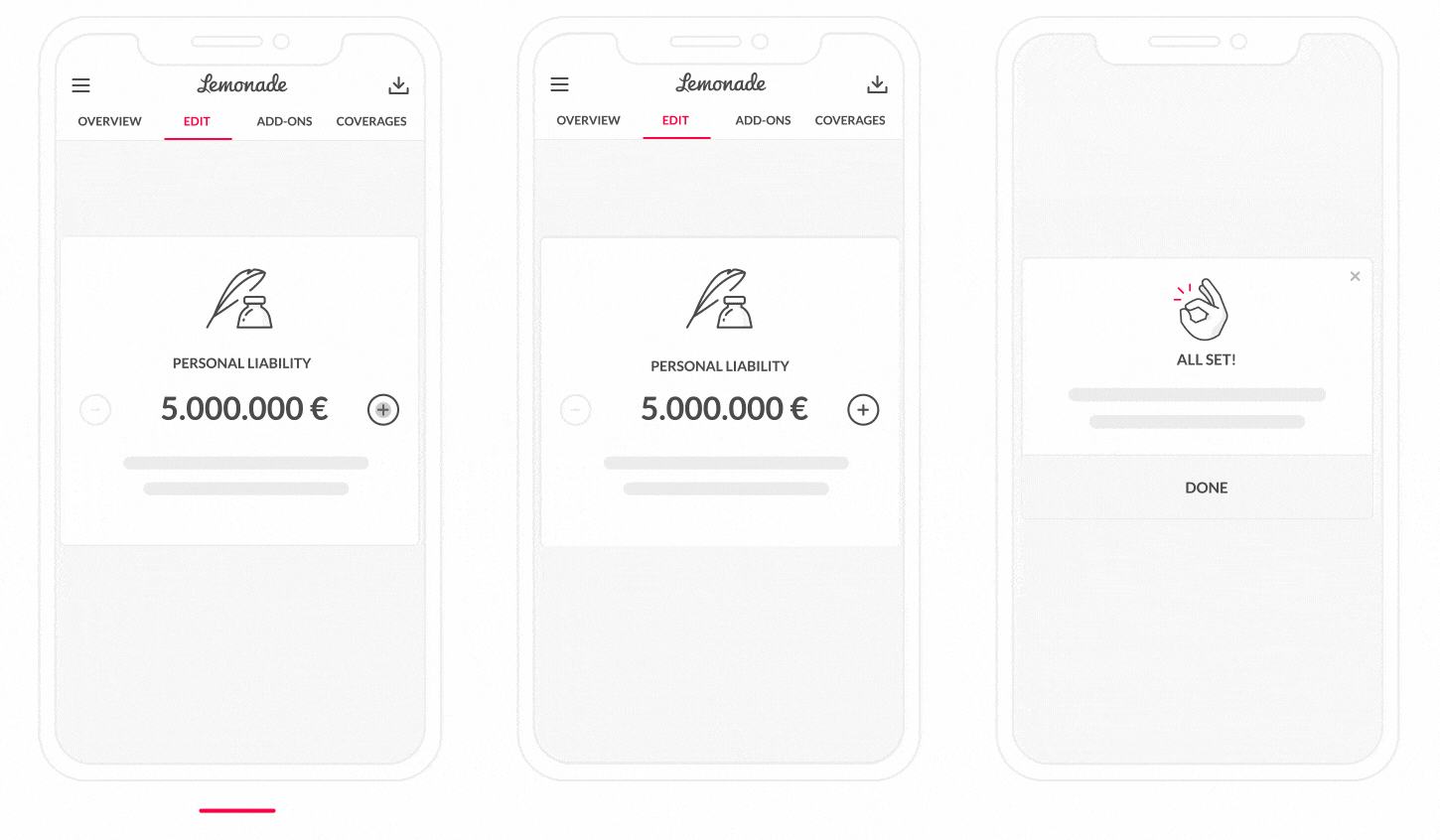 When does private liability insurance not pay for?
Fasten your seat belts and hold on tight because the following information is important. In general, personal liability insurance does not pay in the following scenarios:
Injuries you have inflicted on yourself

Deliberately caused damage

Damage typically covered by other types of insurance (such as motor vehicle, boat, hunting or professional liability). This includes, by the way, e-scooters, which, similar to mopeds, have been subject to mandatory insurance since June 2019.

Damage you cause to other people who are insured under your policy (for example, your partner)

Damage in connection with the commission of an intentional criminal offense or administrative offense
Which extras or add-ons are useful?
In addition to your coverage, additional benefits are particularly important and should be considered according to your own individual needs. These are not necessarily automatically included in the policy. Also, pay attention to exclusions or special insurance conditions and limits of coverage (for example: losing your keys).
Losing your Key
If you lose the key to your rental apartment, some insurers will pay for the cost of a new key and the replacement of locks.
Gross Negligence
German jurisdiction distinguishes between simple and gross negligence. Simple  negligence—i.e. when you couldn't have foreseen the consequences of your actions—is included in every private liability insurance policy. The situation is different from gross negligence. Here, some insurers reduce the benefits. Gross negligence would be, for example, if you sped through a red light and caused an accident.
Damage to Rental Property
If you rent an apartment and you damage a permanently installed item that came with the apartment and is therefore owned by the landlord.
Default on payment cover
If someone else has caused you damage, but is not insured and can't pay for the damage, you'd be left with the costs. A bad debt cover protects you from this situation.
Drones & E-Bikes
Drones and e-bikes are becoming increasingly popular, but that doesn't mean they are automatically included in every policy. Drones are considered to be a motorized aircraft and can be added to some insurers' policies.
Better half, children & roommates – who is insured?
Most insurance companies offer different policies for single people and families. However, your roommates are not covered and they are on their own for their policy. With Lemonade, you can easily add your significant other (no, you don't have to be married) and your children to your policy—as long as you live under one roof. Please note that children under 7 years of age are considered to be incapable of guilt or tort. This means that if your 5-year-old child causes damage, you as a parent cannot be held liable. In road traffic, children up to 10 years of age are considered to be incapable of tort. Nevertheless, in the unfortunate circumstance that actions are taken against you, some insurance companies offer you protection.
Lemonade – A policy for the 21st century 
With Lemonade's Policy 2.0 you are protected by an insurance policy designed for the 21st century, one that/s also transparent and easy to understand. With the help of the app, you can create your own policy in a few seconds and adapt it to your needs at any time—without any paperwork or endless phone calls.  
Submitting a claim is just as easy. Just the app and click on "Submit Claim." AI Jim, our chatbot, will then ask you a few questions, and your claim will be processed ASAP. With a Lemonade policy you also make a positive social impact: unclaimed premiums will be donated to a charity of your choice through the Giveback program. 
Short and sweet – With Lemonade's personal liability policy you are insured against the following:
Property damage

Injury to others

Damage to rental property due to fire & water

Key loss

Damage while travelling worldwide up to three months

Gross negligence

Damage caused by pets (dogs & horses excluded)

E-bike damage
1. Material Damage
Your personal liability insurance protects you in case you damage things that belong to others.
2. Injury to Other People
Someone slipped and hurt themselves at your housewarming party? If they make a claim against you, we'll help you handle this mess. In plain language this means: We check if the claim for damages against you is justified and defend it—in court, if necessary. However, if you are responsible for the damage, we will pay the costs for you.
3. Damage to Rental Property by Fire & Water
Your Lemonade private liability policy covers damage caused by fire and water in the apartment you rent. So, if you accidentally knock over a candle and it burns your landlord's brand new parquet floor, we will have your back.
4. Loss of Keys
If you lose the key to your rented apartment, the costs for the key as well as for changing the locks are covered. However, you are not insured in the case that you lose your office keys while drinking at the end of the day. 
5. Damage While Travelling
The Lemonade personal liability insurance protects you worldwide, as long as your trip lasts less than 3 months. So, if you are on holiday in Venice and accidentally knock over a glass sculpture in the souvenir shop, you are covered.
6. Gross Negligence
Your Lemonade policy also covers damage caused by gross negligence.
7. Damage Caused By Pets 
Damage caused by your own pets or animals that are only in your care are covered by personal liability—but dogs and horses are excluded. Please enquire about special dog or horse liability insurance. However, we do make an exception for service dogs.
8. E-bikes
We also protect you if you cause damage with your e-bike. Please note that e-bikes are divided into pedelecs and s-pedelecs. Pedelecs, i.e. e-bikes that support you up to 25 km/h are insured, but S-Pedelecs are not insured under this policy.
Well, what are you waiting for? Get Lemonade and insure yourself in seconds!