What is the purpose of business?
Fifty years ago, the economist Milton Friedman published a massively influential essay in the New York Times. His message was clear: The social responsibility of business is to increase its profits.
In other words, the sole purpose of a company is to make money. Known as 'Shareholder Theory,' Friedman's 1970's argument became hugely popular—inevitably letting corporations off the hook in terms of any moral responsibility to the greater good.
But in the years since, our world has shifted dramatically—and with it, the way we do business. Amongst harsh economic, racial, and health inequalities, not to mention global climate change and a warming planet, some companies are seeking a better form of capitalism.
Consumers, employees, and the capital markets are all pressing business to "stop being so much of the problem, and start becoming more of the solution."
A new capitalism?
One important step in this direction has been the rise of the B Corporation, a new type of company that's held accountable for social and environmental impact. A B Corp is basically not that different from the German non-profit GmbH, but unlike the latter, it's allowed to pass on profits to shareholders.
This higher standard in regard to public welfare is not just lip service, either—there's a stringent process to make sure that B Corps uphold shared values and practices. This allows mission-driven businesses to better communicate their commitment to society, their workers, and to the natural environment, in a world where everybody claims to be "green" and "good."
True, the C.E.O.-led Business Roundtable took a stand in 2019—suggesting that a modern company can't simply print cash, but "must also invest in their employees, protect the environment and deal fairly and ethically with their suppliers." As a recent follow-up study found, however, this didn't result in much concrete change.
The B Corp certification process, however, is about accountability. Or, as Harvard Business Review describes it, it's a way to stop "corporations donning the persona of a responsible citizen, while continuously performing practices to maximize profit."
How does a B Corporation work?
It began with B-Lab, a 12-year-old nonprofit organization, which was founded with the aim of balancing profit maximization with a social mission.
They created a third-party administered certification, the B Corp Certification (think of it as akin to a FairTrade label) based on a company's verified performance on the B Impact Assessment.
There are only around 3,500 Certified B Corporations, including Lemonade, Ben & Jerry's, Warby Parker, and Patagonia.
The process grades brands on a points system that measures five key areas: Governance, Workers, Environment, Customers, and Community. A total of 150 questions dig into every part of a business, from your supply chain and charitable giving, to employee benefits and customer satisfaction.
For instance: How is your company structured to benefit its employees? Does your product or service address a social or economic problem for or through your customers?
And it goes on: How does your company integrate social and environmental performance into decision-making? What is the total energy used during the last 12 months? What's the company's lowest wage, as calculated on an hourly basis? What's the deal with interns, inclusive recruiting, and health and wellness programs for employees?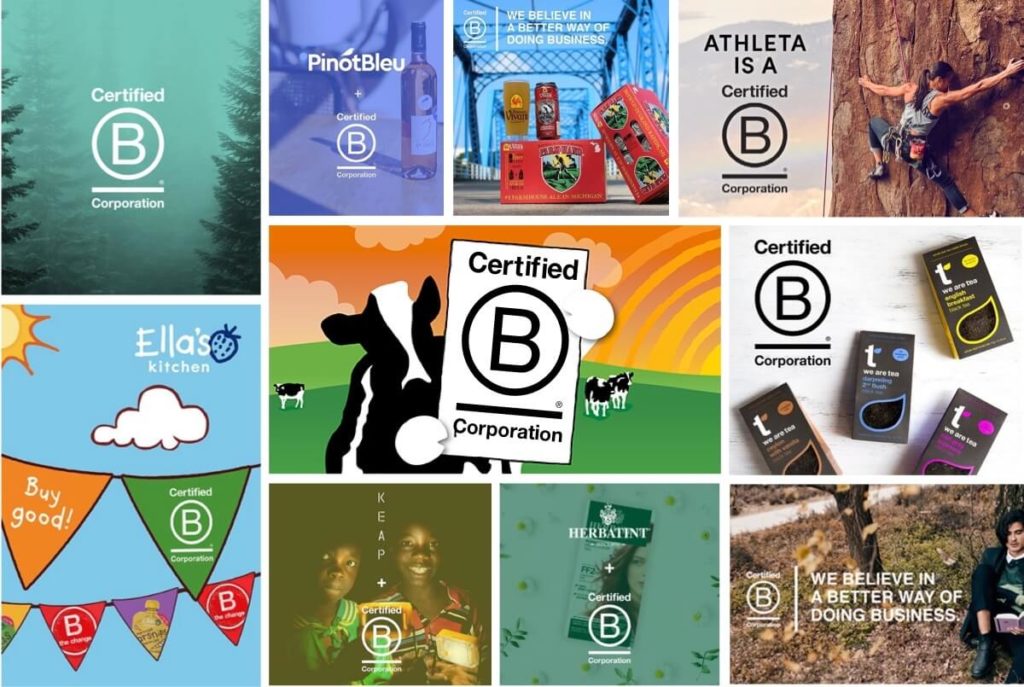 In order to get certified, each B Corp receives a score at the end of the assessment. Companies need over 80 points to ensure B Corp status—so it's not just a pass/fail system, but an evaluation that changes as the company does.
It's also a healthy reminder that socially responsible companies can always evolve, improve, and do better.
Accountability is key
At any stage, companies can be asked to produce supporting documents to verify the long-term validity of claims, which will be checked by the B Lab assessment board. For example, Lemonade was asked to provide data on our energy use, carbon footprint, and waste management.
But companies don't only need to pass the 80-point assessment that B Lab has created.
They also have to adopt a legal framework, explicitly stating that the company will account for all of its stakeholders when making decisions.
A B Corporation recognizes that it needs to be accountable to its employees, the environment, and society at large.
Keep in mind that stakeholders encompass a much broader category than shareholders. While a traditional company might focus purely on the needs of its board or those who own stocks, a B Corp's stakeholders include its employees, its suppliers, and the environment.
By creating an infrastructure for stakeholder-orientated capitalism, B Corps have to acknowledge the multiple impacts of their business beyond just financial performance.
If you're measuring success solely by profit—not taking into account pollution, social unrest, and any inequality your company might be causing—your balance sheet is not painting an accurate picture. Your pockets might be filling up while the society around you suffers.
Becoming a B Corp
It's not an easy process, so being labeled a B Corp actually means something. More than 100,000 businesses have signed up for the B Corp Impact Assessment since its launch in 2006, but only 3,500 companies—brands like Ben & Jerrys, Warby Parker, Patagonia, the Guardian, Kickstarter, and AllBirds, along with Lemonade—are certified B Corps. A few German businesses—including Ecosia, Berlin Organics, Startnext, and goood—have also joined the B Corp movement.
Given how much the media and consumers emphasize the importance of a business having a social mission, you'd think all companies would be rushing to achieve B Corp status. Research from Harvard Business Review suggests that, for most companies, there is a significant gap between the belief that a social purpose should be integrated into an organization and their ability to actually do so.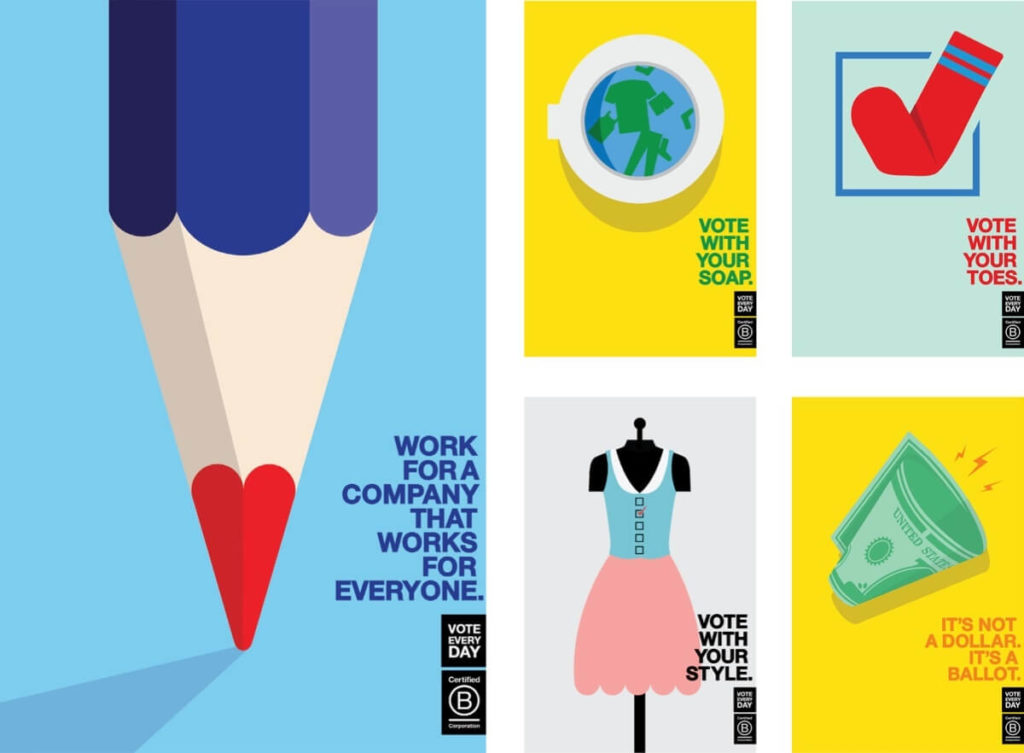 The B Corp process is no walk in the park (though certification itself doesn't cost anything). Jamie Oliver, in a recent interview, compared certifying the Jamie Oliver Group to dealing with the UK's tax service: "It's fucking hard. It makes the Inland Revenue look like pussycats."
As Outland Denim founder James Bartle told Vogue, companies that spend the time and energy to become B Corps generally practice what they preach. "If you don't want to expose the weaknesses in your business, B Corp will be a negative," he notes. "It's a pretty painstaking process to go through for a marketing stunt."
Lemonade was founded to make insurance into a social good, and our choice to become a B Corp, as well as a public-benefit corporation, legally commits us to our double bottom line. That requires being upfront about what we think 'good' is, and is not. Through initiatives like our Giveback program—and our stance on issues like gun control and coal—we strive to align ourselves with our best sense of what's the right thing to do. It's a mission shared by the B Corp community, a club we're proud to be a part of.