How Far Would Americans Go To Care for Their Pets?
We surveyed over 1,000 pet parents to find out.
The relationships we build with pets are priceless, but the care they require is far from cheap. How much are Americans actually willing to spend on their furry friends?
Lemonade commissioned a survey of 501 dog owners and 501 cat owners to find out.
TL;DR
On average, dog and cat owners would spend $6,060 to save their pets in a life-or-death situation. Generation Z pet parents are willing to spend the most ($11,153).

Although owners save an average of $439 annually in order to care for their pets, nearly 42% aren't confident they can afford life-saving treatments for them.

Dog and cat parents would spend an average of $1,907 per year (roughly 4% of their annual income) to pamper their furry friends and give them a high-quality life.
Taking care of your pet's health
Healthcare isn't cheap for pets, but the bills can vary based on ailment and breed. We've assessed the most common diseases and expenditures to see the average monthly costs Americans spend to care for their pets' chronic conditions.
We surveyed dog owners about what chronic conditions their pets suffer from and how much it costs to treat these diseases. Allergies, itchy skin, and arthritis were the top three problems owners said they treat monthly.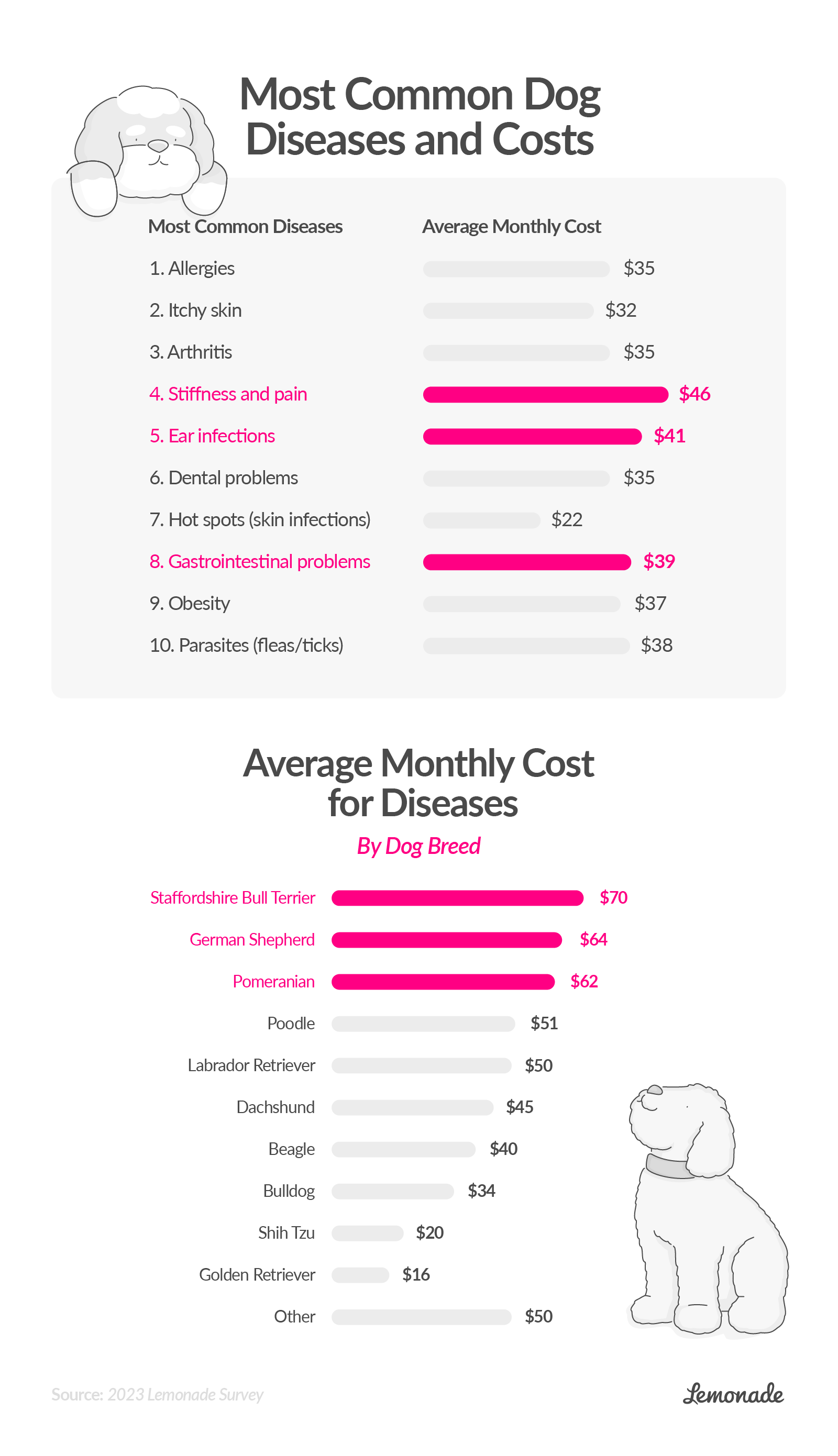 While the ten most common dog ailments reported cost about $30 to $40 per month, stiffness and pain were the priciest issues to manage ($46). Skin infections were the least expensive, at around $22 per month. Also known as "hot spots," these are very common in dogs, especially in the summer heat.
Dogs may also need to be treated for diseases that are less common but much more expensive, like diabetes and cancer. It's something to keep in mind if you've been considering dog insurance. Comprehensive pet insurance gives your dog the coverage they need for preventative, maintenance, and emergency care, from the puppy stage through old age.
According to the survey, the most expensive breed to care for was the Staffordshire Bull Terrier, costing owners $70 per month on average for medical expenses. This intelligent, energetic breed is prone to elbow dysplasia (which can include stiffness and pain—the ailment requiring the most expensive maintenance), certain skin and eye conditions, and seizures.

The Golden Retriever is a friendly breed that was also the most affordable (and perhaps the healthiest). Based on the survey, these popular dogs cost owners about $16 per month, on average.
Turning to our feline friends: Survey results revealed a much broader difference in monthly expenses for cats' different health issues. For example, hyperthyroidism treatments only cost cat parents about $30 a month, but the monthly cost of diabetes care ran upwards of $130.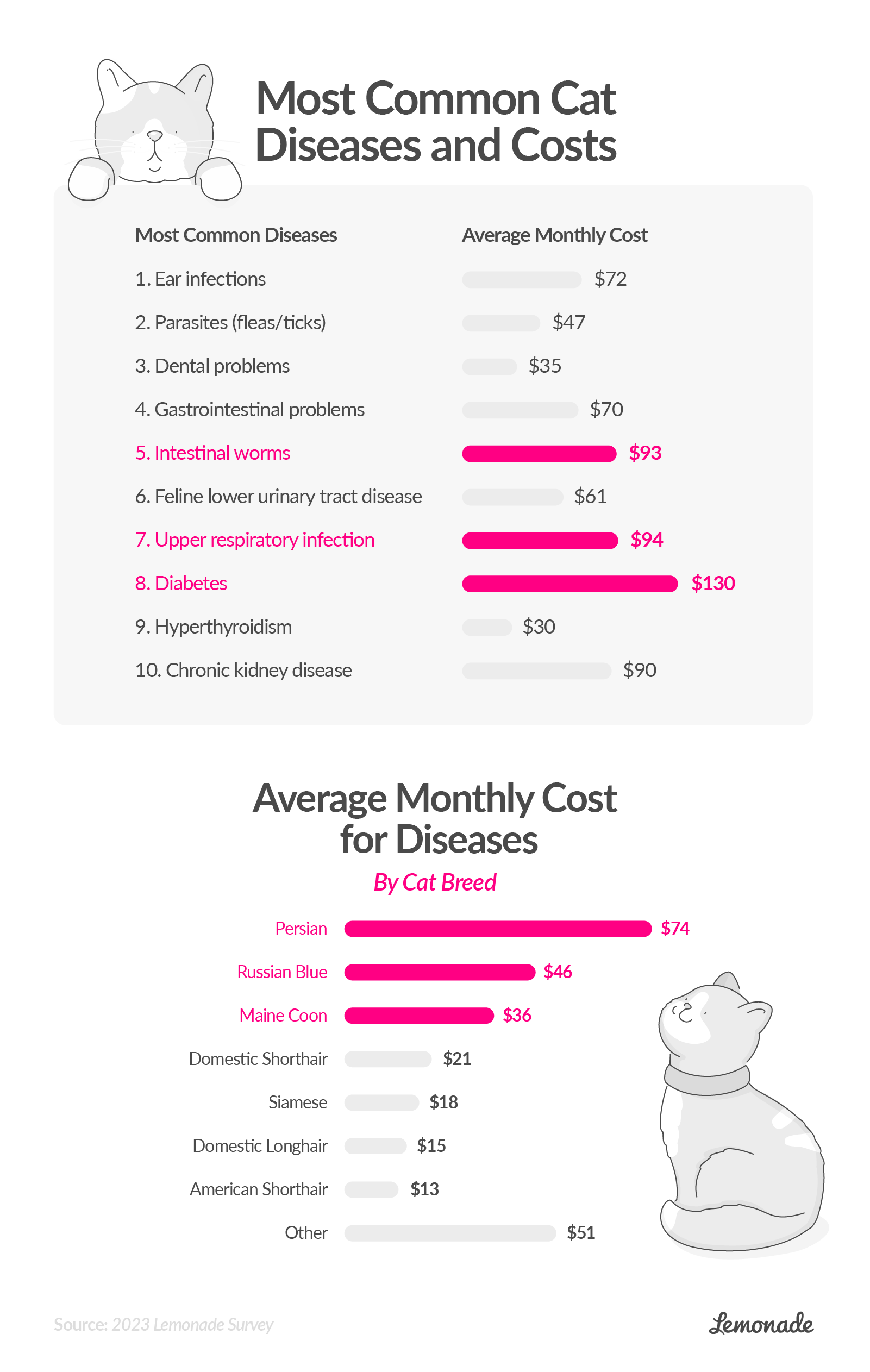 According to the survey, Persians were the most expensive cat breed to care for, with their ailments costing an average of $74 per month to treat. Because of their head shape and long fluffy coats, they're prone to haircoat disorders, dental disease, overgrown claws, and eye discharge.
Medical care for American Shorthair cats cost just $13 each month, making them the most affordable breed, followed closely by Domestic Longhairs ($15).
Giving your pet their best life
Sure, our relationships with our pets are priceless. But how much are owners really willing to spend on their companions?
On average, the dog and cat owners surveyed were willing to shell out just under $2,000 per year (roughly 4% of their income) to pamper their pets with high-quality care.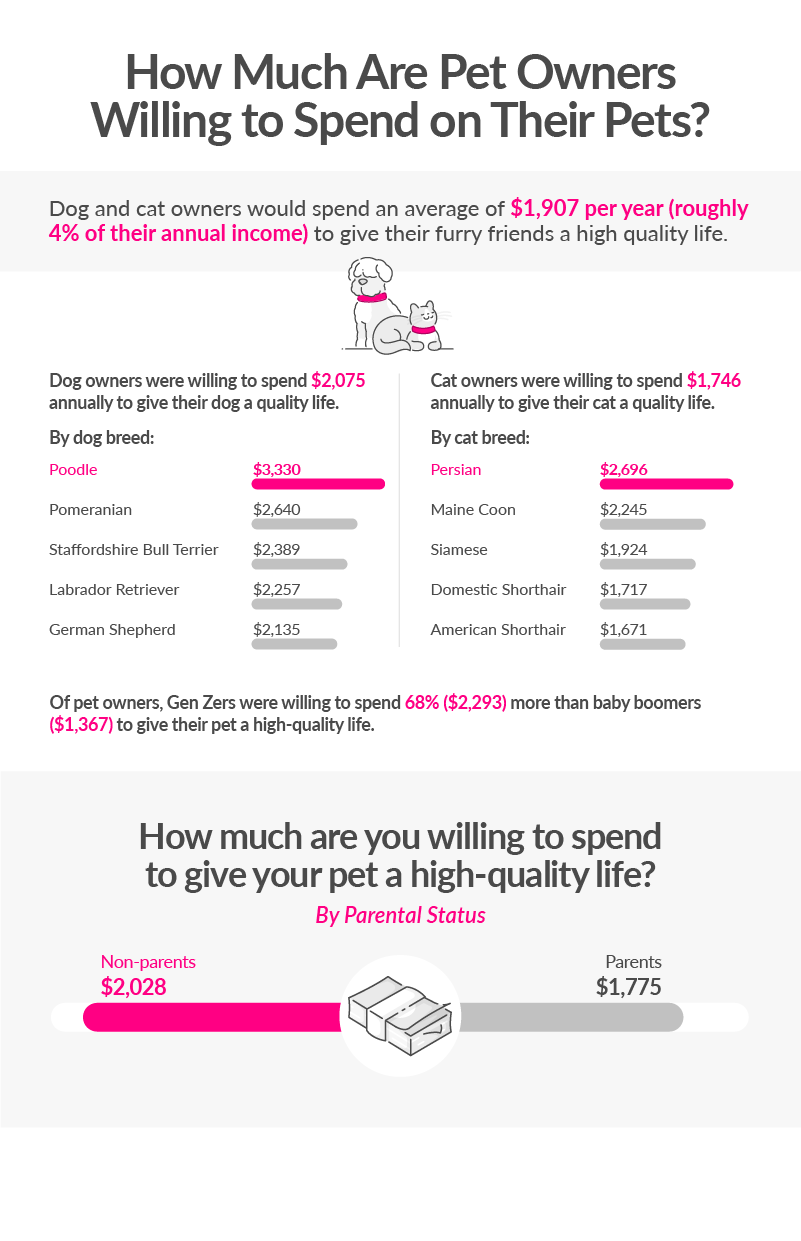 Poodle and Persian owners were ready to invest the most. And Gen Z pet parents, overall, seem particularly generous: Those we surveyed were willing to fork over 68% more than baby boomers to fund their pets' high-quality life.
Fur fam VS. regular fam
One can assume that not having children allows many pet owners to allocate their finances more freely to their non-human companions.
Survey respondents without children budgeted $250 more for their pets each year than those with children did.
On average, pet owners across the board spent more money on their children or partners than on their pets.
That said, those surveyed did admit that they were likely to spend more on their pet in a given year than they were on a parent or sibling. (Sorry, dad!).
Pet owners' financial priorities also tracked with how they spend their quality time. More than half of survey respondents claimed they've spent more quality time with their animals than with their siblings (55%) or parents (53%), while far fewer respondents prioritized time with their pets over their partners (12%) or children (8%).
Pets are a part of the family, so it's no surprise that many owners would do anything for them, including shelling out for pricey life-saving measures.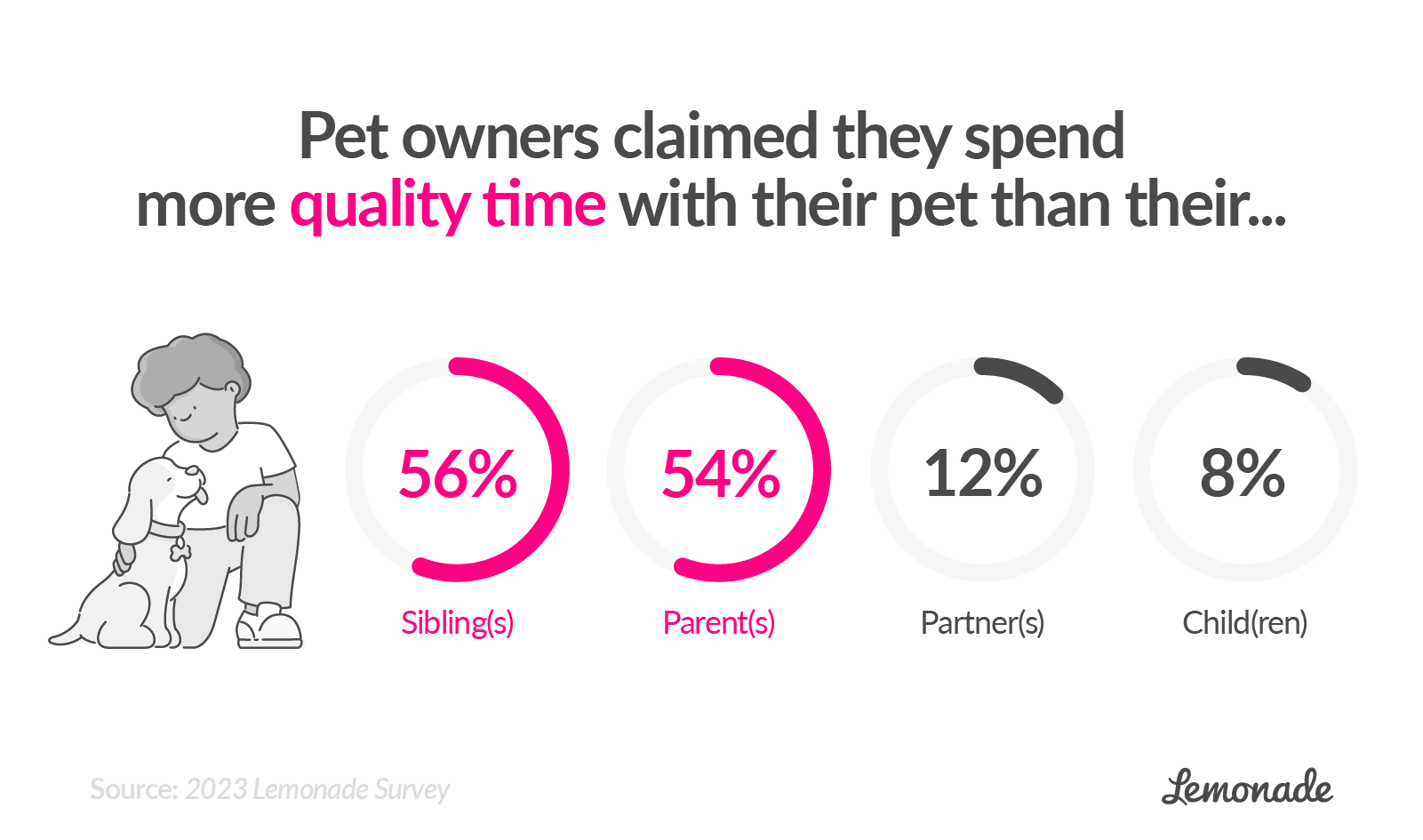 Saving your pet's life
Pampering a pet is one thing, but how much money would people spend to save their pet's life? There was a notable difference between cat and dog owners.
It turns out Americans would shell out an astonishing amount to save their pets: over $6,000, on average, according to the survey data. When analyzed separately, dog owners surveyed were willing to pay $8,292, while cat owners said they'd spend $3,828.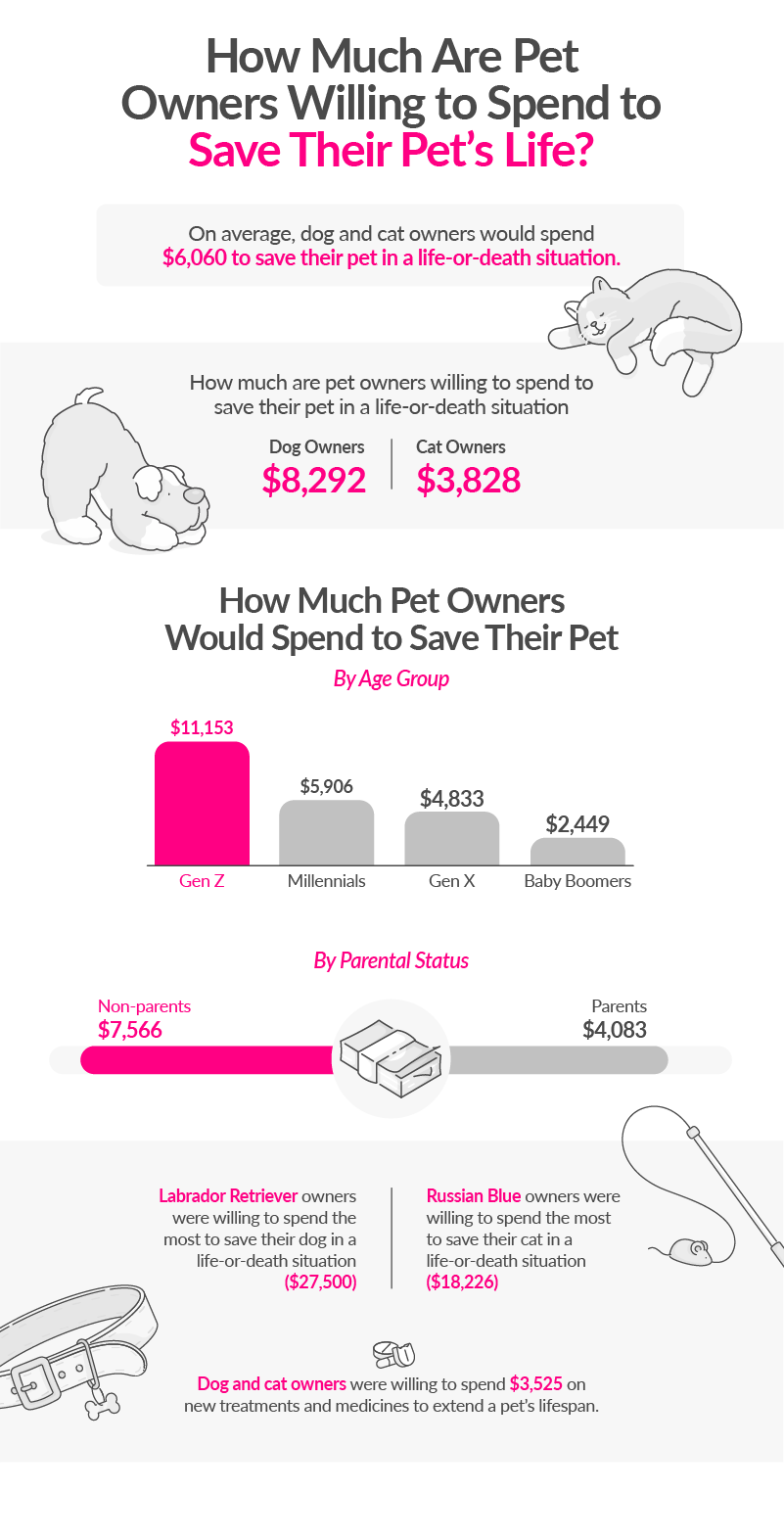 Generally, younger respondents were willing to take a more significant financial hit in a life-or-death situation for their dogs and cats.
Gen Zers would pay almost twice what millennials would to save their pet's life: $11,153 compared to $5,906, respectively
Gen Xers and baby boomers had smaller life-saving budgets, ranging from a maximum of $4,833 to a low of $2,449
Parents would spend far less than non-parents: roughly $4,000 compared to $7,566
Labrador Retriever owners were willing to spend the most to save their precious pups: $27,500. (That's quite a sum, considering these dogs cost their owners about $22,000 over their lifetime.)
Like the Labrador Retriever, Russian Blue cats have had owners willing to put it all on the line in a medical emergency. These pet parents said they'd spend the most money to save their cats: upwards of $18,000.
But on average, all dog and cat owners surveyed would happily spend more than $3,000 to extend their pet's life if new treatments or medicines became available to do so.
Planning ahead by saving
As we've discussed, pet diseases and treatments can be costly. So, what are pet owners doing to prepare themselves for a health emergency?
With 42% of respondents saying they weren't sure they could afford life-saving treatment for their pets, some may have thought it wise to create a pet emergency fund or pet savings account.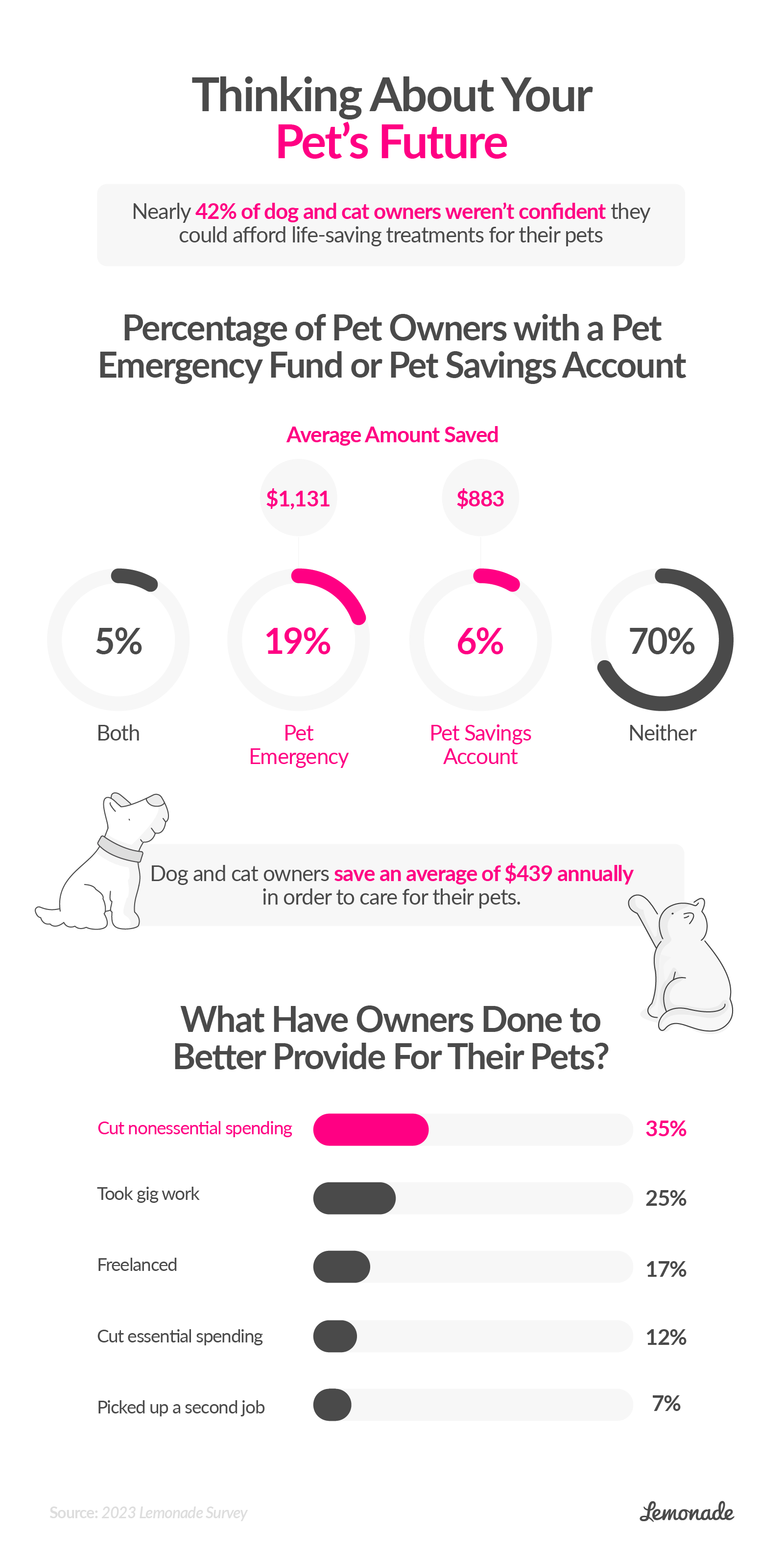 On average, 19% of pet owners have put $1,131 into a pet emergency fund, and 6% have deposited $883 in a pet savings account. A select few (5%) put money into both.
The eye-opening finding, though, is that 70% of pet owners hadn't saved anything for a future pet health crisis, which may result in financial hardships for those faced with emergency pet care costs.
Still, despite the percentage of pet parents who haven't saved a dime, owners on average reported setting aside an average of $439 annually for pet-related spending.
Some might have made that possible by cutting spending elsewhere or picking up additional work—both measures that up to 35% of pet parents have taken to finance their pet's needs.
Insurance can take the bite out of bills, too
Another great option to consider is dog or cat insurance. This can be a much more affordable way to pay for regular checkups and emergency healthcare.
Veterinary bills, especially from animal hospitals, can add up to hundreds or even thousands of dollars. Pet insurance, like coverage offered by Lemonade, gives you peace of mind that you'll have the means to care for your pet and give them their best life.
The average cost of pet insurance varies, but it's estimated to be about $25 per month for a cat and $66 per month for a dog. Get a free quote for your fur baby to learn if it's the right move for you.
Pets are a priority!
Pet ownership is far from cheap, especially for parents of illness-prone Staffies and Persians, cats with diabetes, or any pet who might require expensive cancer treatment.
But there is, evidently, a limit to what people will spend to give their pets a life of luxury. For both cat and dog owners, that's around $2,000 per year, though they were willing to spend much more in an emergency situation.
To best prepare for these financial hits, you could have some money set aside or rely on a secured additional income source. Pet insurance is another option to consider, especially for pet parents seeking who don't want to drain their savings on big-ticket veterinary bills. Here's what you need to know.
Remember that while some might find it harder to afford caring for their beloved pets than others, it doesn't mean they love them any less. Americans prioritize their furry friends as best they can, showing that their love for their fur babies is priceless.
Want to keep these stats on hand? Click below to easily save and share the info.
Methodology: For this study, 1,002 pet owners (501 dog owners and 501 cat owners) completed a Lemonade-commissioned survey about the financial cost of their pets. The survey was run on CloudResearch's Connect platform.
Fair Use Statement: Loving your pet costs nothing, but taking care of them isn't free. If you've enjoyed reading about our findings, feel free to share them with other pet owners. We only ask that kindly provide a link back to this page in doing so, and that your purposes are noncommercial.