How to Buy Lemonade Pet Insurance
Follow these simple steps to get your fur fam covered in no time!
If you're reading this, you've already figured out that being a pet parent comes with a lot of responsibility—and yes, that includes financial responsibility.
You're buying fancy food, running to the vet, and paying for grooming sessions and a cat or dog-sitter when you're away. Pet parents have a lot going on, and those bills add up fast. Buying dog insurance or cat insurance for your furry family member is a smart (and responsible) move to help you cover the costs of health care.
In this piece, we'll break down exactly how you can sign up for a Lemonade policy on your phone or laptop, with plenty of visual guides. We'll also cover waiting periods, and the types of medical records required to set up your account.
Got more than one pet? We love a fur fam! You'll need to sign them up separately so they each get the right coverage and their own policy. You'll also be eligible for Lemonade's 5% multi-pet discount.
Let's get right to it!
Step 1: First thing's first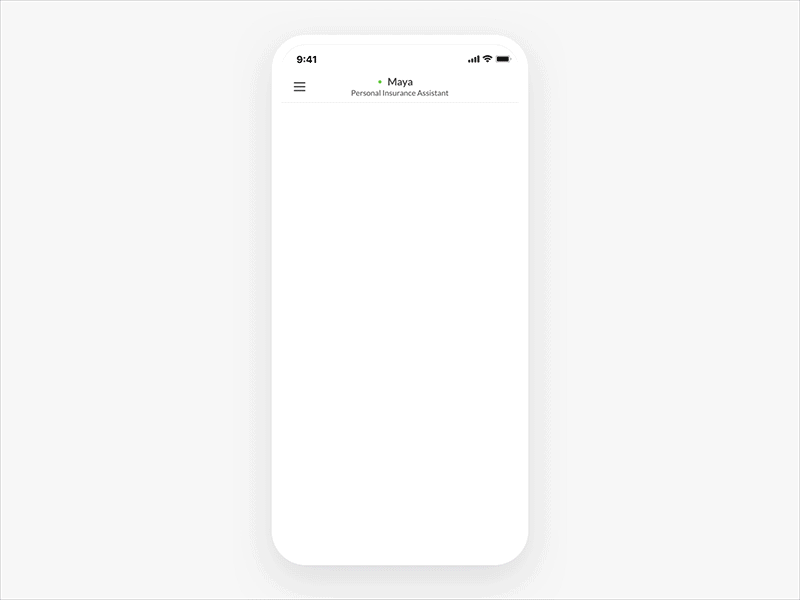 On a mobile device:
Download the Lemonade app on the Apple App Store or Google Play Store. Once in the app, start your account by filling out your name and email address. Then, select Pet Health Insurance. Easy breezy.
If you're using a computer:
See that big, pink 'Get Your Quote in Seconds' button at the top of this article? Go ahead and click it. Enter your name and email, select Pet Health Insurance, and you're ready to go.

Step 2: Meet AI Maya, our Personal Insurance Assistant chatbot. Just follow her lead to get your quote.
Maya will start off by asking a few basic questions to get to know you and your furry friend better. What sort of stuff? Well, information like where you live, whether your pup Luna is a boy or girl, and details on their age, breed, and weight. This helps us design the best coverage for your pet.
Once you've answered all of Maya's questions, your basic quote is ready!
(FYI, Maya can also help you get homeowners, renters, or term life insurance… and if your home or apartment is insured with Lemonade, you can get a 10% bundle discount on your pet's insurance.)
Step 3: Customize your policy. Get what you need and don't pay for stuff you don't want.
The amount shown in your quote is the monthly premium, or how much you'd pay each month for the standard accidents & illness coverage. That means something like a broken leg or an injury from a car accident could be covered, as would a mysterious stomach bug. If your pet has an injury, vomiting, diarrhea, infections, hip dysplasia, cancer, or many other illnesses we hope they never have to experience, a standard policy will help cover the costs of things like:
Diagnostics: Blood tests, x-rays, MRIs, CT scans, and lab work
Procedures: Outpatient, specialty and emergency care, hospitalization and surgery
Medications: Injections or prescription meds
Your premium is calculated based on your pet's breed, age and location (yeah, veterinary care costs aren't the same in New York and California). But you don't have to stop there. If you'd like, before enrollment, you can customize and add to your policy in various ways.
Choose monthly or annual payments. You can select an annual payment plan or a month-by-month payment. Your choice!

Select add-on packages. If you want to get more coverage for your pet, Lemonade offers add-on packages:
Choose the Preventative package if you'd like to be reimbursed for preventative care costs—like vaccinations, and your annual wellness exam, which can help you keep your dog or cat from getting sick.
Go for the Preventative+ if you want even more coverage. This package covers heartworm or flea/tick medication as well as routine dental cleaning, in addition to what's included in the Preventative package.
If you have a puppy or kitten, you'll appreciate our Puppy/Kitten Preventative package, which can help cover 6 vaccines, spay/neuter, microchipping and more.
Consider additional add-ons like vet visit fees, physical therapy, dental illness, behavioral conditions, or end-of-life and remembrance. Here's what they can help cover:

Vet visit fees. Fees vets might charge for their time and labor when you bring your pet in after an accident or illness.
Physical therapy. Physical therapy, acupuncture, and hydrotherapy to help your pooch through the recovery process.
Dental illness. Procedures like tooth extractions and root canals, and treatments for things like gingivitis and periodontal disease.
Behavioral conditions. Vet-recommended therapy and medications for behavioral conditions like anxiety and aggression.
End of life and remembrance. Vet-recommended euthanasia, as well as cremation, and commemorative items to memorialize your pet.
Adjust your co-insurance, annual limit and annual deductible. What does that mean?
Co-insurance is the part of your vet bill that we pay on eligible claims. You'll cover the remainder. So, if you're looking to lower your premium, you can select a lower co-insurance. This way, you'll pay less on your policy—but keep in mind that if something happens, you'll be paying a bigger portion of the cost.
The annual limit is simply the maximum value Lemonade will pay out each year for all your claims combined. Here, you get to pick anything between $5,000 and $100,000. This is another way to lower your premium. The higher the annual limit, the higher your premium ends up being.
Your annual deductible is the total amount you'll need to pay for claims throughout the year. You can choose between $100, $250 or $500. The lower your annual deductible is, the higher your premium will be.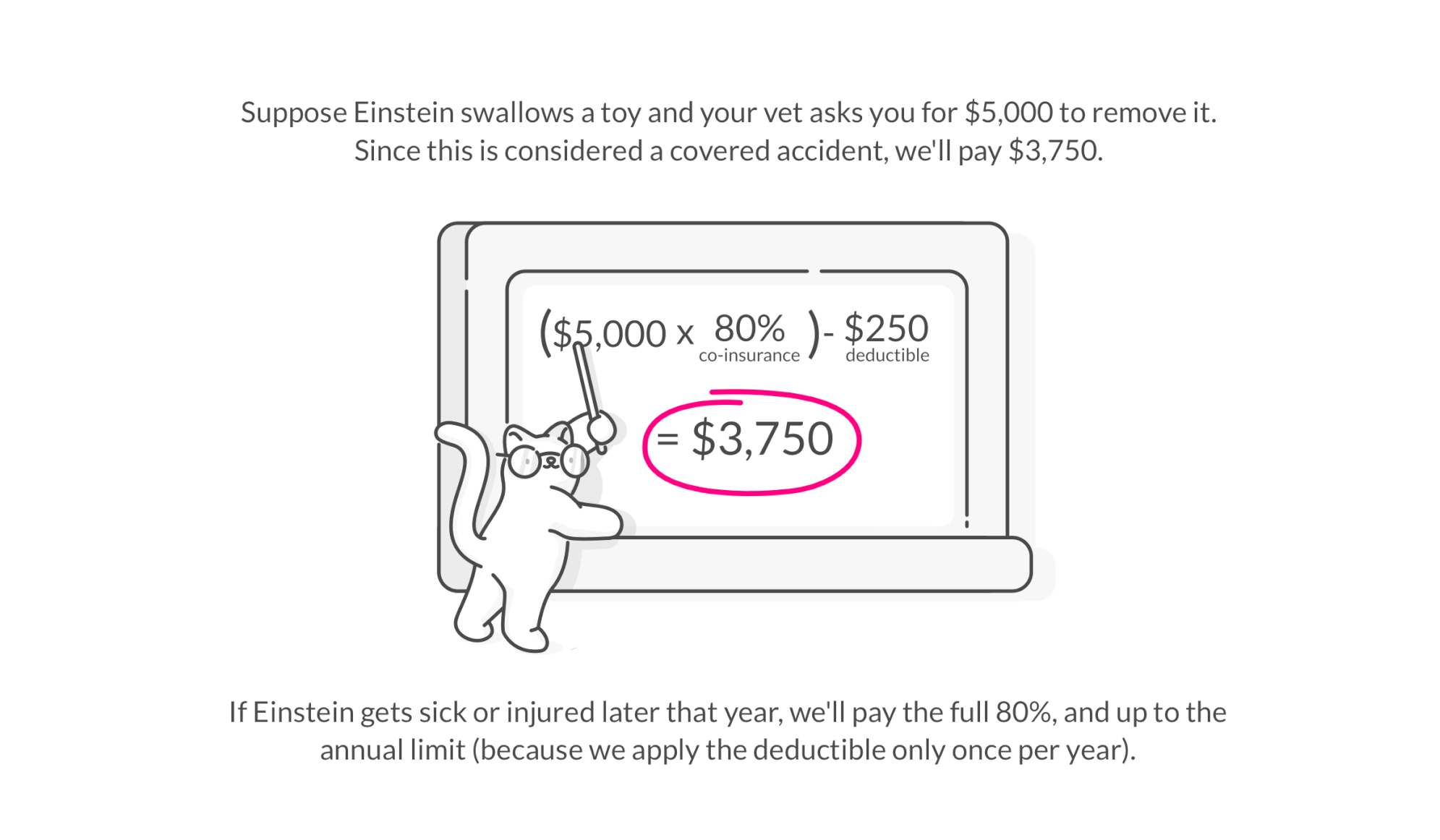 Learn more about customizing your coverages here.
Once you've customized your coverage and provided payment details, a copy of the policy will be emailed to you. Because we can't guarantee that you'll be able to make coverage changes after the first 14 days, or after a claim is filed, it's best to start with the coverage you would want for the lifetime of your pet, and make any downgrades as your policy renews each year.
Step 4: Select your Giveback recipient
While most insurance companies keep the money that wasn't used to pay claims, we donate the leftover premiums to worthy causes through the Lemonade Giveback program.
Simply choose a cause from the list and we'll make sure to donate any unclaimed money from your policy to the organization you picked. We work with nonprofits like PAWS, Humane Society, SPCA, and other animal-focused organizations. But you can pick any cause you care about, from the ACLU to the Trevor Project.
Before you go: Don't forget about waiting periods and medical records!
Congrats! Your little buddy's policy becomes active just after midnight of the day you sign up. But there's a few things to keep in mind.
Your pet isn't eligible for reimbursement the moment you buy your policy. Your new policy has three waiting periods before you can file a claim:
2 days for accidents
14 days for illnesses
6 months for cruciate ligament events
Curious to learn more? We've got more info for pet owners on waiting periods here.
At Lemonade, we require a medical record that includes info that covers the last 12 and a half months of your pet's life (this includes the 14-day illness waiting period on your policy). If your pet is less than a year old, the medical record should include info from birth through the illness waiting period.

Vets refer to these as SOAP medical records. We'll need those records before we can process any claims.
Speaking of claims: Although you can sign up for Lemonade on your desktop, you'll need to download the app in order to file claims—so you might as well do that ASAP! Also, here's a guide to what to do after getting your pet insurance policy.
Now, go high-five your furry friend!