How Much Does Contents Insurance Cost?
Hint: Contents insurance costs much less than you think.
We're going to take a deep dive into how much a contents insurance policy costs—but first, a quick refresher on what that policy actually does.
Think of contents insurance as a safety net. In short, your policy offers you financial help if certain bad things happen to you or your stuff: from burglary to vandalism, fire and water damage, and much more. In exchange, you pay monthly payments (your 'premium') to your insurance company.
But let's talk money: How is Lemonade able to offer such competitive prices? Well, we work hard to lower fraud costs by aligning interests (via our Giveback program, which donates surplus money to charity), and slashing expenses using cutting-edge technology. Overall, the experience is meant to be affordable, intuitive, and even delightful.
TL;DR
Contents insurance starts at £4/month but this might increase depending on a number of different factors. 

Your contents insurance cover has three different coverage types: contents cover (personal property), temporary accommodation, and personal liability. 

You can lower your premium by paying annually, shopping around for a better price, or increasing your excess.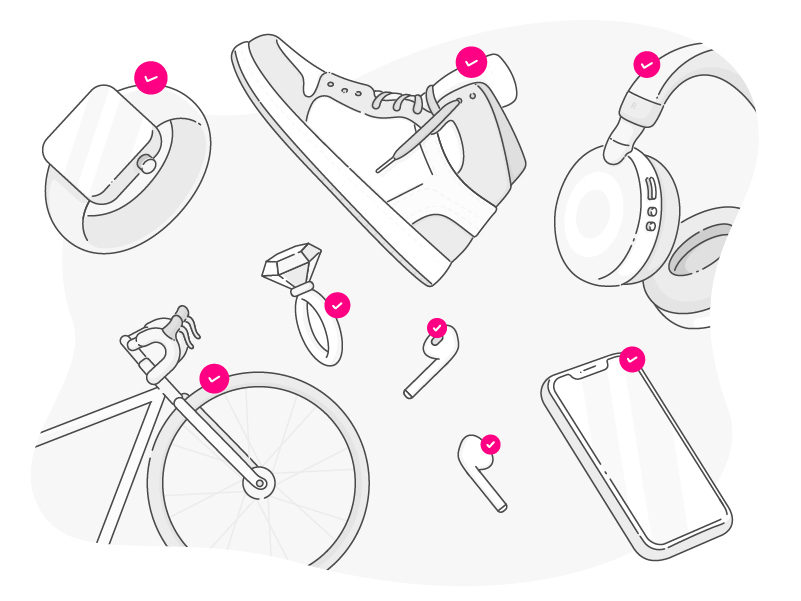 Here's what we'll cover:
Making sense of your contents insurance price
There are 3 main factors that can determine your contents insurance cost. Let's walk through them one by one.
1. The amount of cover you choose
When it comes to content cover, one size does not fit all. With a Lemonade policy, you can adjust your contents insurance policy based on your personal needs and lifestyle. As you might expect, your monthly contents insurance premium may change according to the value of the actual contents that it's protecting.
The average cost of a contents insurance policy is £57 per year, according to Money Supermarket.
At Lemonade, a basic contents insurance policy starts at £4 a month and we offer contents cover ranging from £10,000 to £100,000.

What does this mean? Well, your policy has 3 areas of cover—we'll describe each in more detail a bit further along in this article.
Contents (your personal property), temporary accommodation, and personal liability. When customising your policy you'll be asked to pick cover amounts for these categories based on your own needs—as in, how much stuff you actually own, as well as how much protection you'd need from a temporary loss of accommodation (if you're unable to stay at your place due to a covered peril), or certain types of lawsuits.
But how does this affect your insurance premium?
If you decide your personal belongings are worth around £40,000, you'll most likely pay more than if your stuff was worth £20,000. It makes sense to take an accurate accounting of the value of your stuff, and then choose an appropriate amount of cover. A low amount of cover means a lower premium—savings in the short term, hooray!—but you'll likely regret that decision if it's not enough to properly protect everything you own. Increasing your temporary accommodation and personal liability cover amounts will also raise your rate. That shouldn't be shocking: You're getting more, so you can expect to pay a bit more too.
2. Add-ons you purchase
Purchasing an add-on is a bit like plonking on that factor 50 suncream—it gives you a bit of extra cover if the heat gets turned up. At Lemonade we have four add-ons that are personalised for your life: Theft & Loss; Legal Protection; Accidental Damage; and Accidental Damage to Mobile Devices.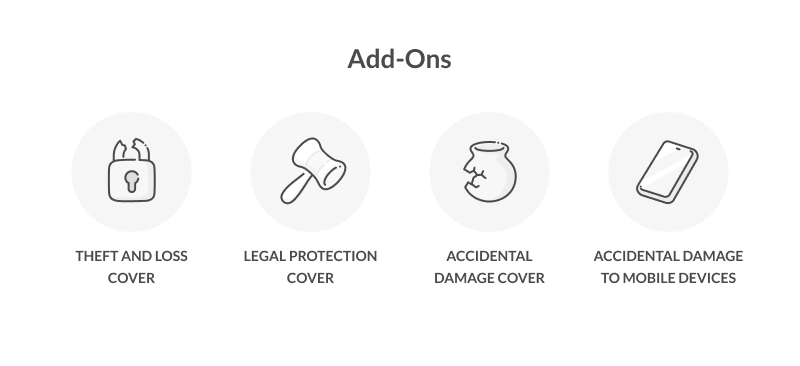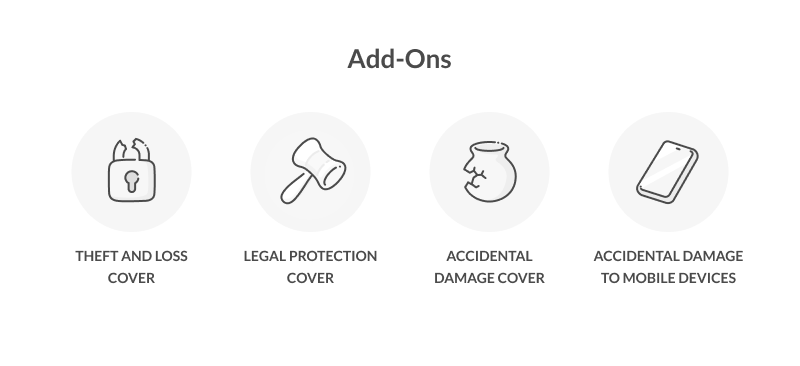 Like many useful things, they'll raise your cost slightly. But these add-ons may well be worth it when your mobile phone screen breaks, or if you trip onto your laptop while holding a glass of red.
3. The amount of excess you set
An excess is an amount of money (that you choose when purchasing a policy) that will be subtracted from any future insurance claims payouts. So if your £1,000 watch was stolen, and your excess was £250, your insurance company would likely pay you £750 under a covered claim. Think of an excess as your participation in the damage or loss. You're saying, "I commit X pounds to any claim, and my insurance company will cover the rest."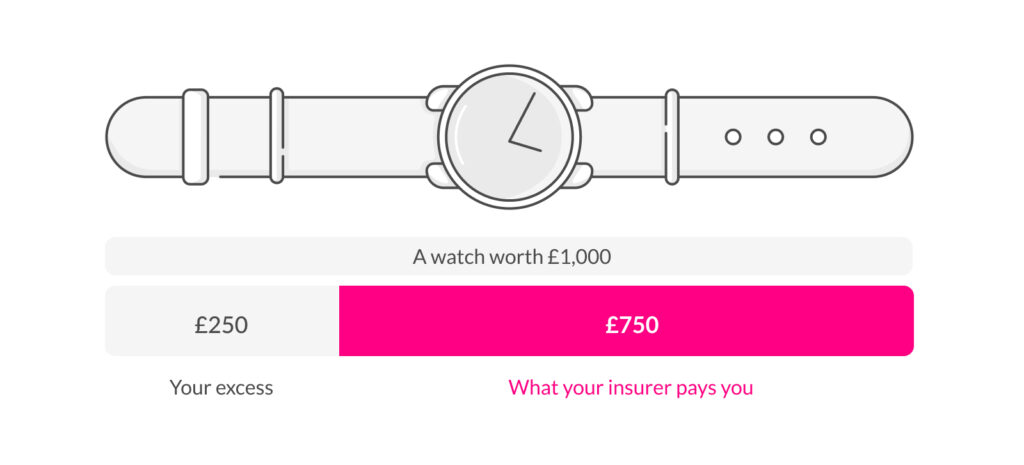 The higher your excess is, the lower your premium could be— but keep in mind that a higher excess also means you'll pay more out-of-pocket in the event of a claim.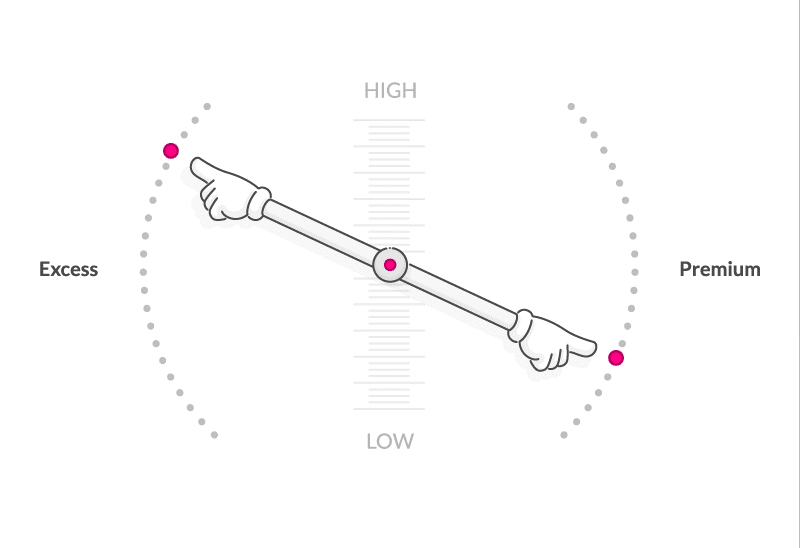 It's important to know that you can't make an insurance claim for anything lower than your excess. If the replacement cost of your item is lower than your excess, there's no point in making a claim since your insurance company won't be able to reimburse you.

Let's say you signed up for your contents insurance with a £250 excess—again, that's how much you've agreed to contribute towards your claims—and your £175 noise cancelling earphones were stolen while you fell asleep on the Northern Line. Because the value of your headphones is lower than your excess, you wouldn't be compensated for the loss.
Adding additional cover for expensive items
If you own items valued at over £2,000 apiece, they're also covered by your contents insurance— but you'll want to add some additional cover in your insurance policy. This is called high-value item cover.
This extra cover makes a lot of sense for high-value items like: watches, musical instruments, certain paintings, sculptures, artworks, and jewellery—amongst other things. While your base policy will offer some protection for these items in a covered claim, adding them as high-value items increases the amount you could be compensated above the built-in £2K limit, up to the full worth of your engagement ring or Fender guitar.
Adding this additional cover is simple, and can be done via the Lemonade app—though you'll likely need to provide appraisal documentation or other proof of purchase for specific high-value belongings. Spoiler alert: High-value cover will also increase the cost of your monthly premium.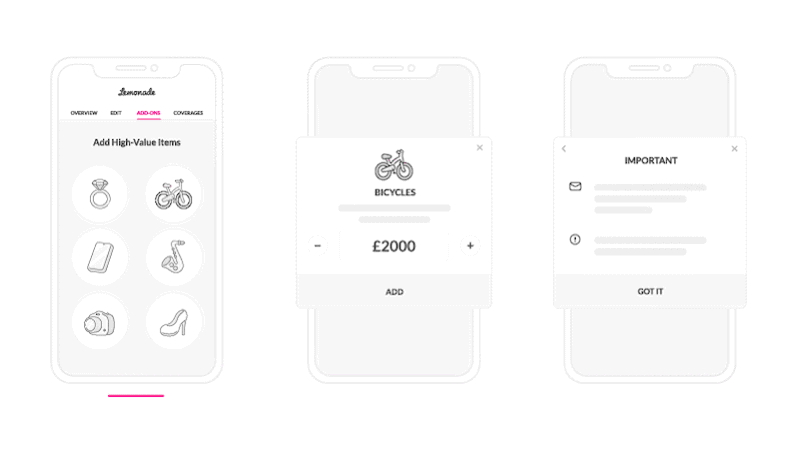 How can I lower my contents premium?
Everyone wants to save money. Here are some ways to lower your premium without completely sacrificing the protection you'll get.
Pay annually, as some insurance providers (Lemonade included) offer a discount for this.
Adjust down the amount of cover you've selected—but keep in mind that if you go too low, you could find yourself underinsured if the time comes to make a claim. You can update your coverage limits at any time, all through the Lemonade app.
Go ahead and choose a higher excess (the amount you agree to pay out-of-pocket toward any covered claim). You're rolling the dice a bit here, though. If you don't end up filing any claims—hey, you'll come out ahead! But if you do suffer a loss, you'll end up paying more out-of-pocket.
So, what are you getting for your money?
There are more reasons to buy a contents insurance policy than you probably thought. Again a typical insurance policy covers three main areas. Let's break it down.
Contents
This category of cover helps you pay for losses to your property (a laptop, a couch, a necklace) caused by a whole range of different scenarios, from fires, lightning, smoke, explosion, burglary, robbery, and vandalism to civil unrest, windstorms, hail, earthquakes, flooding, collision by vehicles, aircraft, falling objects, and water damage.
Temporary accommodation
This portion of your policy may kick in to cover the additional living expenses you would face if your home is temporarily unlivable due to a covered peril. So, if an electric fire or water damage from a burst pipe forces you out of your flat, your policy can help cover the cost of a hotel and some additional expenses.
Personal liability
This component of your contents insurance policy gives you valuable legal protections. If one of your friends gets hurt in your flat, goes to the hospital, and then decides to sue you (nice mate, right?), your liability cover will kick in for both medical payments and legal fees.
Does contents insurance cover theft?
A basic contents insurance policy will cover theft from your actual home, but not theft that occurs away from home. For that, you'd need Lemonade's Theft and Loss add-on.
Again, your basic policy does cover you for burglary, robbery, or vandalism at home—things involving illegal entry into your place. But if you want protection against theft that might happen on the train, or at your favourite cafe, you'll want this important add-on.
What the cost of contents insurance doesn't cover
Unfortunately, contents insurance cover isn't the be-all and end-all. It doesn't cover every type of damage or loss you might encounter in your daily life. For instance, your policy won't cover:
Your power, water, or heat going out in your flat in the dead of winter
A place to stay because your flat got infested with bed bugs (eek!)
Losing the AirPods your housemate lent you
Car bashes and general car-related damage
Zombie attacks
Rule of thumb: If it's not a listed peril on your policy, it's not a covered loss. So make sure to read your policy closely!
How much contents insurance do I need?
So you've now seen the benefits of picking up some contents insurance. But what coverage amounts should you choose?
When you sign up for contents insurance you'll be asked to pick coverage amounts for your policy's three coverage areas.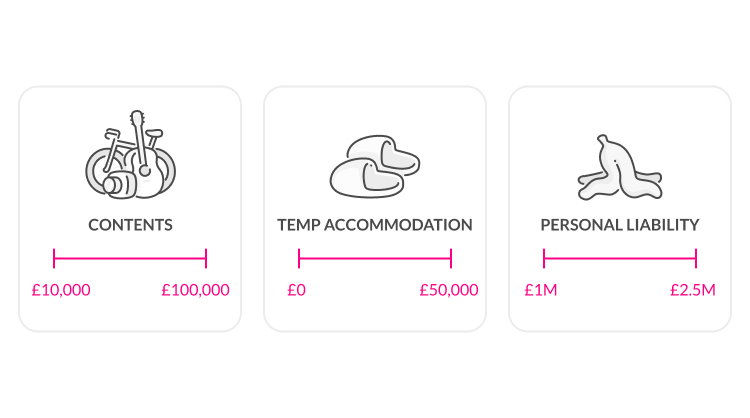 Again, let's go nice and easy, category by category.
Contents
Look around your house or flat, and mentally calculate the value of all your stuff. Include clothing, and furniture, but also your bicycle, jewellery, electronic gadgets, books, and other valuables.
Here's a helpful exercise to follow:
1. Spend an afternoon slowly walking around your place, and take a video of everything you have
2. Make a list of your most expensive items and estimate how much they cost
3. Figure out how much your bulk items (like clothes) are worth
4. Add this up to determine how much cover you'll need
Always round up to the nearest £10,000. So, let's say you have roughly £18,000 worth of items—pick £20,000 for your contents cover.
Standard policies start with £10,000 of contents. Upping your cover to £30,000 is usually the safer thing to do, and it likely won't cause your premium to skyrocket.
If you've got specific, expensive items—like a diamond ring, a camera, a Gibson guitar, a fancy Bianchi bike, or certain types of fine art—you can add additional cover for these high-value belongings.
Temp Accommodation
Temp accommodation covers your living expenses if you're ever forced out of your home due to a covered peril.
So, if a fire wreaks havoc on your apartment, your policy may help cover the costs of a hotel room and additional expenses (such as food and laundry). At Lemonade, you can set a temp accommodation limit anywhere between £0 and £50,000. The best way to work this out is to consider all of the expenses you might rack up beyond your normal daily budget (such as a place to stay, food, laundry, your commute) if your home were to become unlivable for an extended period of time.
Personal Liability
If someone gets hurt on your property and decides to take legal action, the Personal Liability portion of your policy may help cover damages you're legally required to pay. At Lemonade you can pick a personal liability cover limit of anywhere between £1M and £2.5M.
To figure out the right amount of personal liability cover that fits your needs, you'll need to consider how much of a hazard you are to the outside world in your day-to-day life. It really all boils down to your level of risk. Do you have a dog, who is normally friendly, but one day might bite a stranger? Do you host smashing parties where someone might be apt to get literally smashed? Have you got an inflatable pool in the garden?
Before we go…
We hope by now you've got a handle on what contents insurance actually does—and perhaps you've been pleasantly surprised to learn that the monthly rates aren't likely to bankrupt you. The nice thing about carrying a policy is that once you've signed up, you can essentially set it and forget it—until life throws you one of those inevitable curveballs, and your contents cover steps in to help save the day.