Guard Your Gems: Your Guide to Jewellery Insurance
How to choose the best cover for your fav gems.
TL;DR
Your contents policy can help reimburse you if your jewellery (or any other precious item) is lost or damaged due to  fire, water damage, burglary, etc, or 12 other named perils (basically, the bad things that we'll cover).  

To cover your valuable items worth over £2K, you'll need to purchase high-value item cover, which you can add when you sign up for your policy, or later on. 

To get full cover for even more, you'll want to purchase Theft and Loss add-on.
They say the best things come in small packages.
So, if the worst thing were to happen to those packages, you're going to want the right protection.
But what does jewellery insurance cover? And what's the best way to protect your gems?
Just like your dream bespoke engagement ring, the right choice depends on your preferences and lifestyle. We're here to help you get the best cover for the contents of your jewellery box.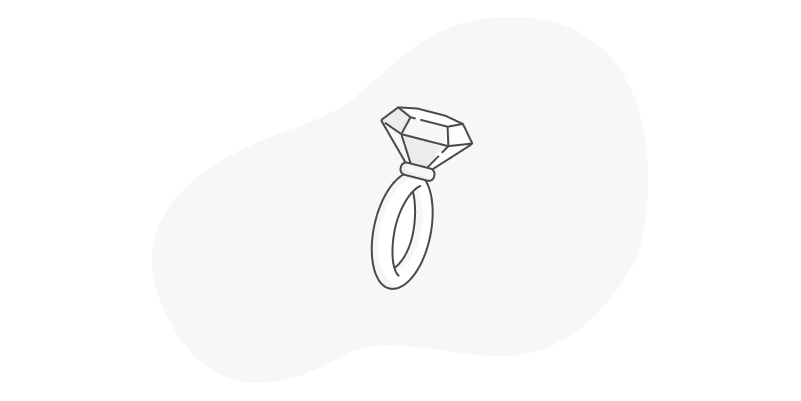 Here's what we'll cover, in plain English:
What's the best way to insure my jewellery?
There are a few different ways you can cover your jewellery under your contents insurance policy. Here's a breakdown:
Your base contents policy
Whether you're looking to protect your handy Apple Watch or a bracelet your nan gave you, your standard contents policy (sometimes called home contents insurance) has you covered.
Your policy can help reimburse you if your jewellery (or other stuff like your phone, laptop, bike, and camera) is lost or damaged due to fire, water damage, or burglary. So, if your ring is stolen at the gym, or your earring collection is damaged in a fire, your policy can help pay you back (as long as you've included the right add-ons).
Here's a complete list of perils that are covered:
| | | | |
| --- | --- | --- | --- |
| Fire | Lightning | Smoke | Explosion |
| Burglary | Robbery | Vandalism | Civil unrest |
| Windstorms | Hail | Earthquake | Floodings |
| Collision by Vehicles | Water damage | | |
Not the 10 plagues
Which peril should you be most worried about?
Well, theft is the most common reason Lemonaders file claims for their jewellery, by far and you'll notice only burglary and robbery are listed above.
What your contents insurance doesn't cover
While your policy has your back for many unexpected situations, it doesn't cover wear and tear.
So if your antique watch's crown stops turning, your policy can't help you out. That's because insurance is there for any 'sudden and accidental' damages—and an antique watch on the brink isn't exactly unexpected.
Same goes for redipping your bling. If your favourite bracelet doesn't sparkle like it used to, or your cufflinks have dulled, your policy doesn't cover a fresh polish.
Understanding the limits of your contents insurance
If you file a claim for stolen jewellery, your insurer can only pay you a maximum of £2,000 per individual item under your base policy (this is called a 'sublimit' or 'coverage limit,').
You may not think your jewellery collection is worth much, but it adds up.
Imagine you have two gold necklaces, an old charm bracelet, your grandpa's ring, and a set of diamond studs. Individually, these items may cost more than £11,500 a piece—but if you lose your entire jewellery box, your insurer can only pay up to £2,000 per item, and you'll have to pay out-of-pocket to replace the items—that is, unless you have high-value item cover for them.
Why only up to £2,000?
Insurance companies don't want to assume you own expensive things, because they don't want to charge you for cover you don't need. If insurers assumed everyone owned a £5,000 watch or item of jewellery, every policy would be much more expensive.
And when you get your policy, you can usually choose an excess between £100 to £500. If your insurance provider approves your jewellery claim, they'll subtract that fixed amount from your payout.
So if your £10k watch is stolen, and you have a £250 excess, your insurer will pay you £1,750 for your watch (the sublimit). But let's say your £1,000 ring is stolen, your insurer will pay you up to £750 for that ring (the replacement cost, minus excess).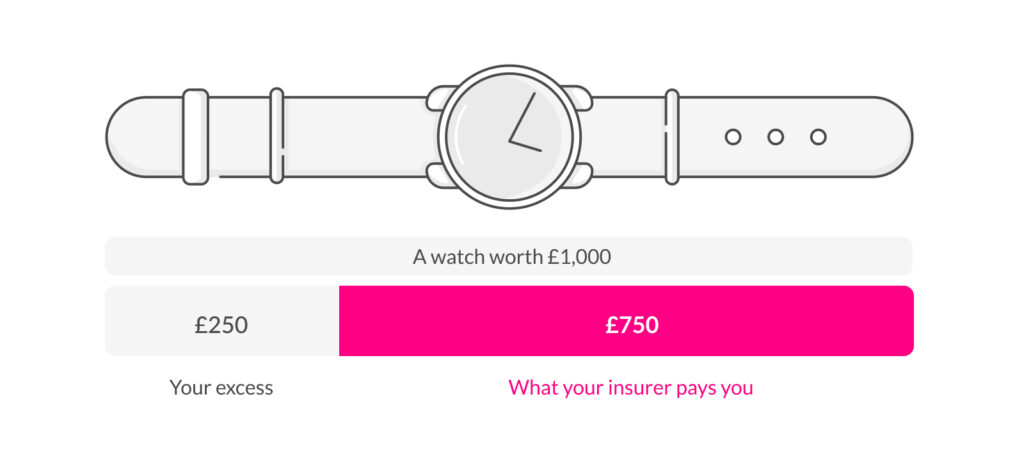 What about getting cover for big ticket bling? That's where adding high-value items comes in.
Adding high-value item cover
High-value item cover is extra cover in your contents policy for precious items, like your jewellery, camera, fine art, musical instruments, or bikes.
To get high-value item cover (also known as adding a "specified item"), you need to add each individual item you'd like to insure.
"I recommend scheduling any piece of jewellery you own that's worth more than £1,000," said Ana S., an Underwriter at Lemonade. "Because high-ticket items are more likely to be stolen."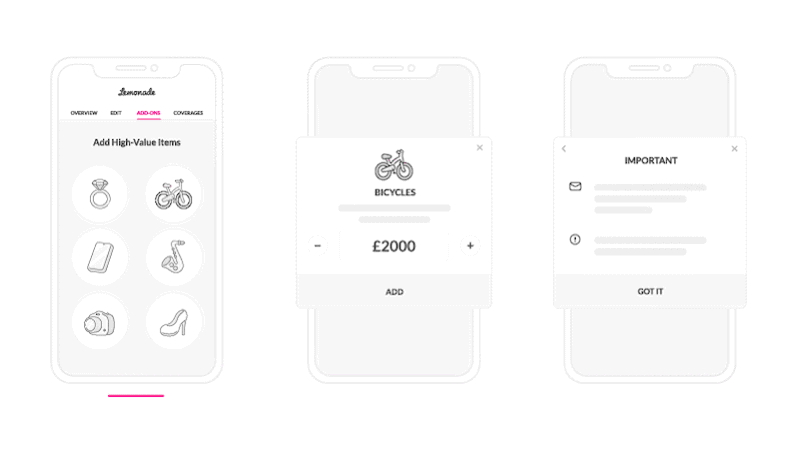 Who's covered by jewellery insurance?
Are items from your housemate, sister, or significant other's jewellery box covered under your policy?
TL;DR: Your standard policy covers everyone living with you who is related to you by blood, marriage, or adoption.
So, if your sister also happens to be your housemate, her bling is covered too. If all of you and your sister's jewellery is stolen in a break-in, your insurer can pay you up to £2,000 per item for both of your collections. If you're worried about anything falling through the cracks, adding high-value item cover to your high-value jewellery is the best way to make sure you're getting enough cover for everybody's stuff.
But what if your housemate is your sister at heart, but not by blood?
While some of your shared items (read: your small living room couch, rug, etc) are covered, your housemate's personal things aren't, including their jewellery. We recommend that you each get your own jewellery insurance policy, so you both have enough insurance cover for your jewellery, and the rest of your stuff.
And when it comes to your significant other, your policy doesn't automatically cover them unless you're officially married, or in a legally-recognized civil union. But no worries–you can add them as an 'additional insured' for an extra cost. If you go down this route, just keep in mind that it may be cheaper (and easier) for each of you to get your own policy.
How much does jewellery insurance cost?
Your policy price is as unique as you are. Contents insurance starts at £4/mo, but your price will vary depending on several factors, including:
Your excess
How much cover you have
Whether you add on high-value item cover
How many add-ons you've picked
If you want to get as much cover as possible for your jewellery, you should think about adding Theft and Loss cover, which gives your precious items, like your engagement ring worldwide cover. Another great part of this cover is accidental loss—if you misplace your wedding ring, you'd be covered. Keep in mind that these add-ons will bump up the price of your premium a bit.
And if you choose a low excess, high cover amount, and add high-value item cover, your policy will be a bit pricier, because you're taking on a higher risk. Thankfully, there are lots of ways to customise your cover with Lemonade, so it suits your needs and your budget.
Here's your complete guide to how much your contents insurance costs.
Is it worth it to get high-value item cover for my jewellery?
Well, that depends.
Ask yourself how much you're willing to pay out-of-pocket if you lose your big-ticket jewellery. The average cost to cover jewellery at Lemonade is £x per month, and the average value of covered jewellery is £7,401.75.
In other words, if you own a watch worth £5,000, you'd likely pay around £3.81/month to avoid a £5,000 expense down the line. It's up to you to decide whether that gives you some peace of mind, or if you'd rather take your chances.
How do I add jewellery to my policy?
If you simply want a basic Content insurance policy, apply with Lemonade in less than 2 minutes.
Simply download the Lemonade app, answer a few questions, and get insured in seconds.
If you want high-value item cover:
Figure out which pieces of jewellery you want high-value cover for, and determine how much each piece of jewellery is worth.
If you don't want to know the value of your jewellery (because, say, your fiancé bought it for you), you can provide your insurance company with the purchaser's contact info. They'll take it from there.
If you've owned your piece of jewellery for less than 5 years, you can simply provide a receipt. If you've owned it for more than 5 years or don't have the receipt, you'll need to get a jewellery appraisal, or valuation, which is a professional certificate that states how much your jewellery is worth.
This is an important step, since the high-value item cover can pay you up to the full value of the item, and the value of jewellery tends to change over time. We'll lay out how to get an appraisal in the next section.
Once you have your receipts or appraisals ready, it's go time. Just follow these steps to cover your jewellery:
1. If you already have a Lemonade policy, skip to the next step. If you don't have a policy, download the Lemonade app, tap 'Check Prices,' and answer AI Maya's simple questions. When she asks if you own any valuable jewellery, cameras, bikes, or fine art worth more than £2,000 each, answer "yes".
2. In your quote or policy view on the Lemonade app, tap the high-value item cover button under 'Add-Ons,' and indicate how much your jewellery is worth.
3. Open up the email you get from Maya, and click 'Add High Value Item Cover '
4. Answer a few questions, and send over a pic of:
Your jewellery
The appraisal/receipt
Your jewellery on top of the appraisal/receipt
5. Our Underwriting team will get back to you to let you know the status of your request via email. You can always add more items later.
BTW, if you tell AI Maya you need high-value item cover while getting a quote (see step #1 above), Lemonade will automatically grant you temporary cover for 14 days after your policy's start date (the effective date of your policy).
This protects your items while you send over the necessary info, and our team reviews it.
If you can't submit your info within 14 days, your temporary cover will expire, but you can add high-value item cover whenever you can. Take note that if you add high-value item cover after you get a policy (aka, you answer 'no' when AI Maya asks if you have expensive items), this temporary 14-day cover won't apply.
How do I get a jewellery appraisal?
If you bought the piece of jewellery less than 5 years ago and you want it insured, a receipt is sufficient to get cover. If you bought the piece more than 5 years ago, you'll need to have it appraised by a professional.
Simply head to your local jeweller, and ask them for an appraisal on your jewellery that includes the:
Name of insured (your name, or the name of the person on your policy who owns that piece of jewellery)
Insured's address
Date of appraisal
Value of the item
Detailed description of the item
Name and signature of the appraiser
Appraiser's info (address, phone number, and email address)
Make sure your appraisal:
Was done in the last 5 years (if not, you'll need to get a new one)
Is written in English
Was completed in person (not online)
Avoid getting your appraisal from the jeweller who sold you the piece of jewellery.
"Jewellers tend to overvalue jewellery you bought from them," said Ana S.
How do I file a claim for my jewellery?
In the event of a claim with Lemonade just follow these steps:
1. Open the Lemonade app on your phone. If you don't have it, download it and sign in with the email you used when getting your Lemonade policy.
2. Hit the pink 'Claim' button in the top right-hand corner.
3. Meet our claims assistant, AI Jim. He'll verify your contact info, and ask for more details about what happened.
4. Digitally sign a Pledge of Honour to verify everything you tell us about your claim is truthful and honest.
5. Explain exactly what happened in a short video recording. Pretend you're talking to a friend, and tell us the details, such as when and where the incident happened.
6. Provide any relevant documents, such as a receipt (if you don't have high-value item cover), photos or records (if your jewellery was damaged), or a police report (if your jewellery was stolen).
7. Check to make sure all of the information is accurate in the claim summary.
8. Enter your bank account information, so we know where to send the money if your claim is approved.
Keep on shining
Bravo; you're now fully armed with the knowledge you need to make the right coverage decisions for you. If you have any more Q's about jewellery cover, reach out to our superb Customer Experience team at [email protected].
And if you're feeling empowered by your newfound knowledge, keep it goin' with these helpful guides: