The following words are from Christine Malata, a Digital and Communications Specialist for the environmental nonprofit 350.org, one of Lemonade's Giveback partners.
Did you know that Earth Day has been observed annually on April 22 for the past 51 years? This impactful event really needs to be celebrated on a daily basis; after all, we are dependent on this gorgeous celestial body in order to survive. This year's celebration is built around a simple idea—'Restore our Earth'—a fitting theme for the pandemic era, when restoration and recovery are on all our minds.
2020 was an eye-opening year, to say the least. Early in the pandemic, 350 (along with CAN International, The Climate Reality Project, Greenpeace and many other organisations) called on governments to respond to Covid-19 with a #JustRecovery. In an open letter, we asked that governments around the world recover from the pandemic in bold and specific ways:
Put people's health first—no exceptions.
Provide economic relief directly to the people.
Help workers and communities, not corporate executives.
Create resilience for future crises.
Build solidarity and community across borders. Do not empower authoritarians.
However, one year into this unprecedented global event and we've seen the stark difference in responses between countries worldwide. A number of vaccines have been approved around the world, but the rollout is highlighting further inequities within countries and between nations.
While we haven't quite seen the #JustRecovery from the pandemic that we'd hoped for, the principles behind our proposed goal—to stop the spread of the virus and restore nations to some sense of normality—can also be applied to how countries might avoid the worst effects of climate change and transition to a better future.
Climate change does not just affect certain nations that live by the shores, or nations that are often prone to earthquakes, floods, and fires. The effects of climate change are happening all around us, and to all of us.
And sadly, some of the natural disasters that happen seasonally in some locations are now happening more frequently, or at a larger scale. Just look at Bangladesh, which last year was hit by Cyclone Amphan.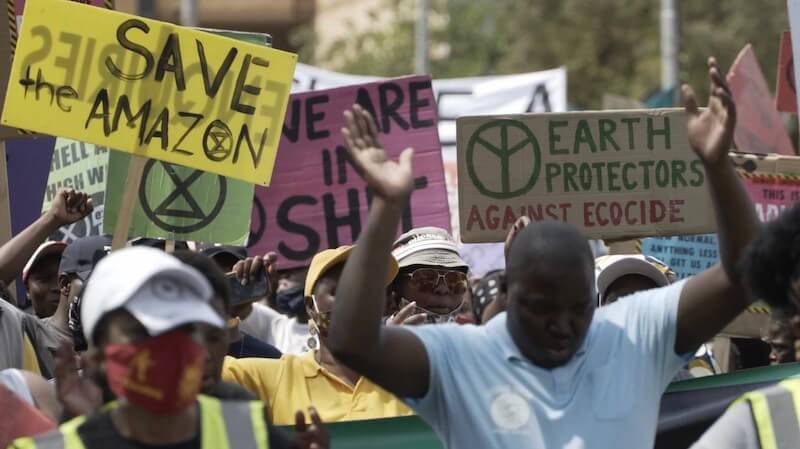 The reality is that climate change has been caused by human activity. That has a domino effect, leading to a series of devastating events in many areas around the world. 350's work cuts across countries and regions, with the goal of creating an international movement of people who are fighting climate change.
I'm based in Johannesburg, South Africa, so the 350 campaign closest to home is one that's pushing Standard Bank and Sumitomo Mitsui Banking Corporation of Japan to cut their funding for the East Africa crude pipeline. If this 1,443km pipeline is funded, local communities will be displaced, and this destructive project will present great risks to the surrounding environments—pollute the water sources and the wetlands in both Uganda and Tanzania.
So the big question is: What can we actually do about all this?
Are we a global community willing to take on the climate emergency and apply #JustRecovery principles to effect real change? Together, we need to build people power in order to halt the climate crisis, taking collective action. We need to start restoring what we can now in order to build the global movement to recover and bring an end to this urgent crisis that the entire planet faces.
There is still time. Here are two concrete actions you can take, right now, to get involved:
This year's Earth Day must be more than simply bringing awareness to the world's environmental problems; that awareness needs to be coupled with action.
Whether it's communities gathering to mobilize while celebrating the day, or one single person adding their voice to an important campaign, we all have a part to play when it comes to restoring our earth.