After twenty months in market, we thought it would be nice to share some updates about our growth, national and team expansion, Henry the cat, our squad structure, and some things that still don't work well, like our loss ratio.
The gist of it
In the last six months alone, we closed our $120M financing round led by SoftBank, launched 10 new states, completely rewired our claims team, reshaped our production team, launched the world's first open source insurance policy, announced we're going global, and shipped more than 570 product changes.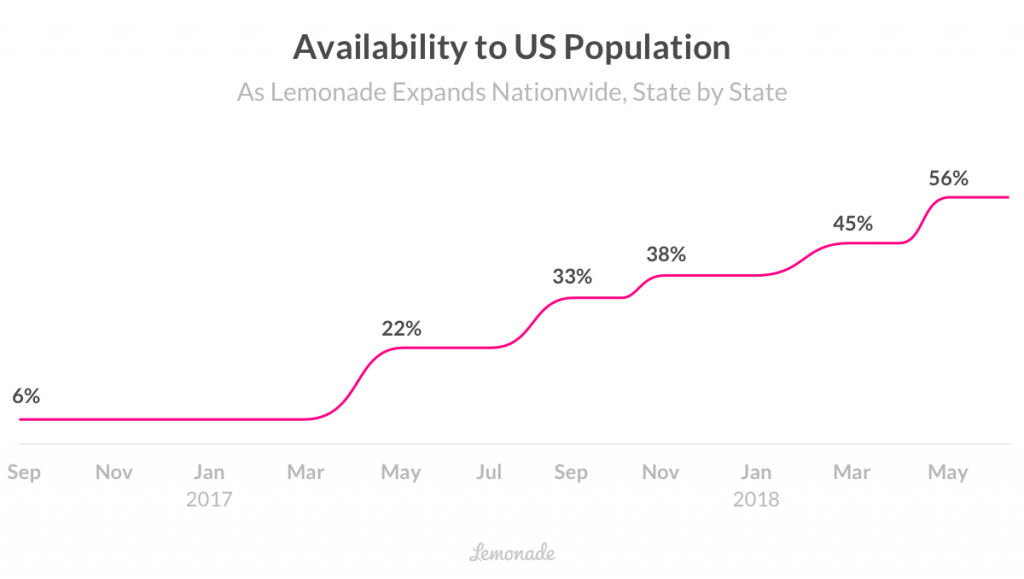 I never thought that writing these transparency posts would become such a fun ritual. Entrepreneurial life hardly lets you take a moment to reflect on the good and bad moments, so when it does happen, it's a real treat. I especially love the fun facts that often come up while doing the background research.
One of these nice findings revealed itself as we looked at the last six months compared with the same period last year. As it turns out, we grew the business by a ludicrous 1,000%. In fact, we sold the equivalent of last year's total revenue in just one quarter (Q1 2018).
In the first half of 2017 we sold 16,000 policies. Today, only 12 months later, we have sold more than 200,000 policies!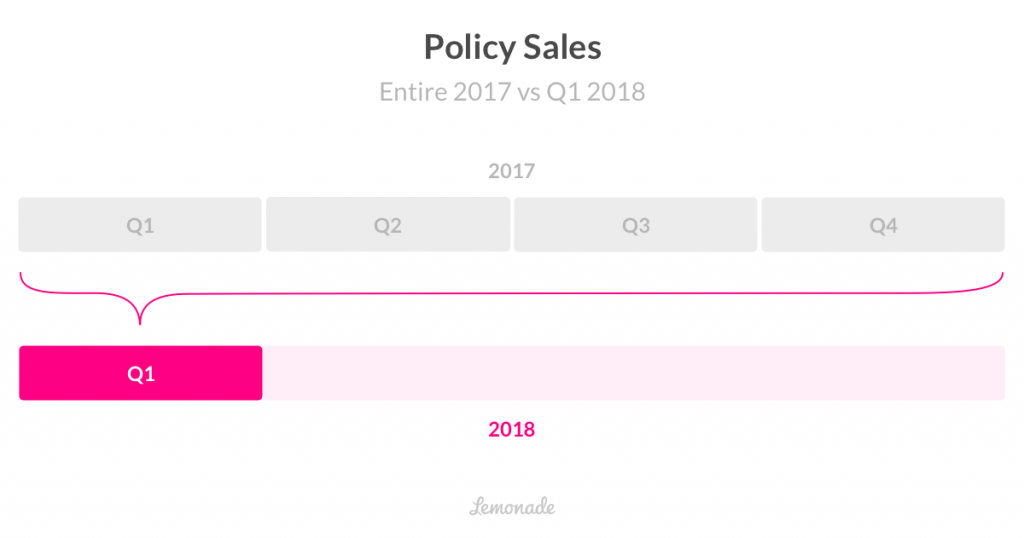 Our ability to automatically tailor the best coverage for our users improved, and as result, our average policy value among new users grew by 50% in the last six months alone. We've now hit our sixth straight hyper growing quarter. From the day we launched, our average growth rate has been about 100%, quarter over quarter.
But we're not planning to keep growing at this rate forever, and will gradually start to slow down the growth curve in order to get to a more balanced, healthy, and profitable book of business.
Loss Ratio
One of the things we still didn't get right is our Loss Ratio (the percentage of premium that's paid out in claims). It's still in the red, and about 60% higher than where we'd like it to be. The good news is, for the first time, we've reached the point where we have enough data to take action and bring it down. Fixing our Loss Ratio requires fine tuning the machine, tweaking product, pricing, and filings, but we're already seeing encouraging results.
Rewiring claims

Our bot continues to handle a lot of our claims in seconds, sending the ones it can't handle to our claims team. Unlike bots, which can scale to infinity and beyond, our human team was struggling to keep up. Despite the fact that we received very few complaints, we should have done a better job of communicating and getting claims settled quicker. Back then, our median time for manually settling a claim was around 11 days. That may sound reasonable to some, but we couldn't let it pass.


Instead of focusing on damage containment, we decided to shift our focus to customer happiness. But that's easier said than done. Eventually, we were required to do a complete rethink of how we handle claims.
We started by renaming the team to Claims Experience (CLX) and assigning the following mission statement:
Next, we changed the claims process and structure, like this:
Claim advocates
Our Claim Advocates are customer experience specialists who are measured by customer happiness. They are selected and trained to help us provide a high level of empathy and radical transparency to our customers. This is a big challenge when, in many cases, you have to say "no" to customer claims.
Claim Advocates are, by and large, representatives of our customers' interests, not ours.
Dividing into squads
Our claims team used to be comprised of a single group of claim specialists (adjusters) who are experts in handling both simple and complex claims. Now, with the introduction of our claim advocates, the specialists team gets to invest their time in professional claim management, leaving the communication to our advocates. Next, we assigned our claim squads separate areas of responsibility around loss types: theft, fire, etc. This allows them to become domain experts and increase their efficiency dramatically.
Redefining KPIs
To make sure everyone is aligned on what's important, we redefined the claim team's targets, moving customer experience, speed, and efficiency, to front and center.
Results
We're still implementing some of these changes, but the positive impact can be seen already: the median time to settle a manual claim has dropped from 11 days, down to 1. Yes, you read that right. Most of our recent claims are settled in one day, and many paid instantly! And since we can only pay valid claims, even when we have to deny a claim, we've seen incredible feedback about the overall experience!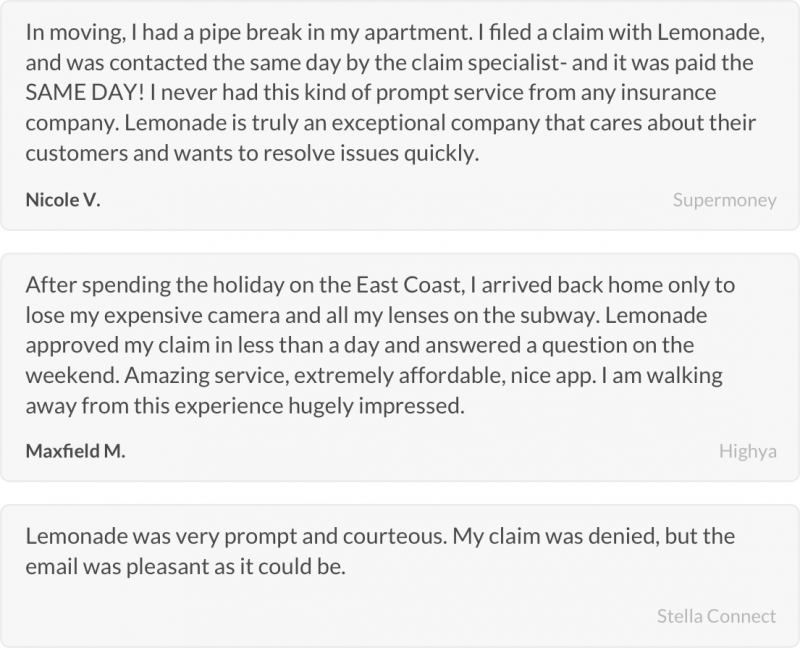 Measuring happiness
There are two popular indicators used for measuring customer satisfaction. CSat (Customer Satisfaction, 1-5 stars) and NPS (Net Promoter Score, likeliness of recommending a service to others) are widely used by many industries, insurance included, to measure how frustrated or satisfied customers really are. Nowadays, NPS is considered the most predictive of the two. NPS ranges between -100 (you're in trouble) to +100 (your customers would marry you if they could).

In the US, insurers who interact with their customers only through digital means have an average NPS of -4 (ouch). The top insurers in the US have an average NPS of under 20, which isn't great, to say the least (Source: Bain/Research NPS Survey 2017).  
Our Customer Experience (CX) and Claims Experience (CLX) teams, together with our bots, have one primary objective: surprise customers with great service, simplicity, and transparency. Our CX team now answers help requests in just under 45 minutes (median time), and continues to improve on customer satisfaction with an NPS of 70! (anything above 69 is referred to as 'World Class'), equal to the likes of Amazon and Apple (based on publicly available estimates).
One other indicator of customer happiness is renewal rate. As customers reach their first anniversary, we're seeing a stable 97% renewal rate for another year of great Lemonade service.
We're making progress on the automation front as well, with an 8x improvement in our CX efficiency. Each of our CX reps currently support more than 12,000 customers; in comparison, we estimate that each State Farm agent supports only ⅓ as many customers.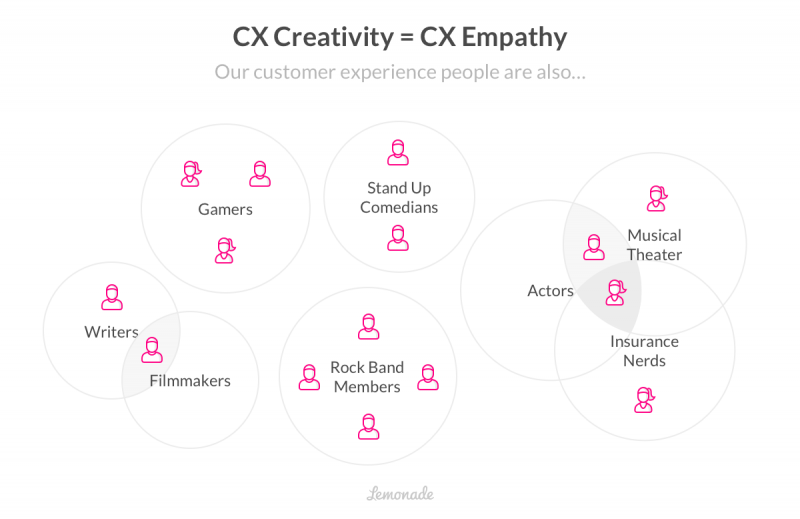 Our AI Maya bot is also making great strides, with 19% of support requests handled by the bot from start to finish, with a satisfaction score of 4.53 stars out of five, proving bots can provide exceptional service as well.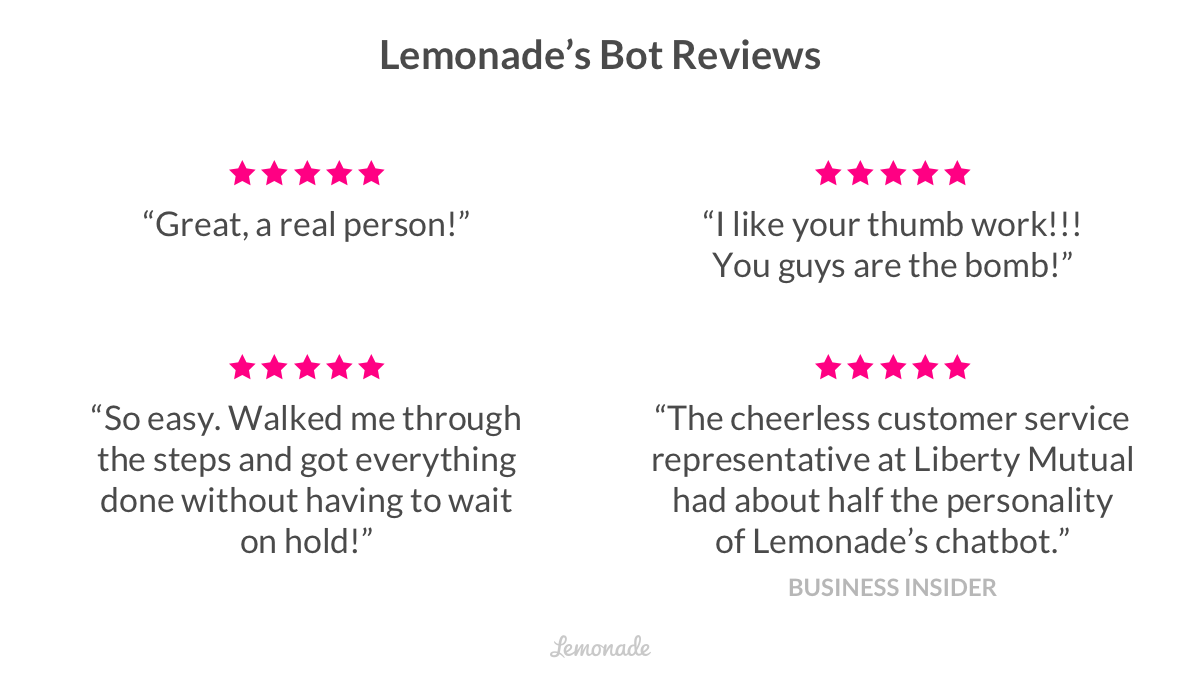 Squads 2.0
About 10 years ago, the 'squads' concept came to life. Originally introduced by Spotify, squads were the new way to organize development teams as autonomous groups of cross-disciplinary people, working together towards a common goal, with little to no bottlenecks along the way.
We love the squads structure (thanks Spotify!) and use them to the extreme, spiking them with our own special sauce, which I'll talk more about in future posts. Each of our squads is led by a product manager who works closely with a designer, as well as backend, frontend, and testing engineers. We're now running five squads that focus on the most important drivers of our business, and with the help of our internal bot automation, our team now averages 7 product changes per day!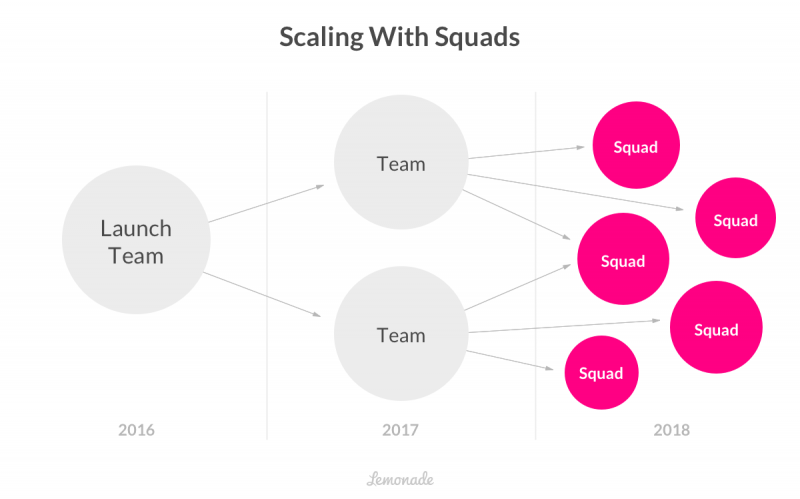 Efficiency
In case you didn't get a chance to read about our Automation Index, it's the way we measure how efficient we are in solving scalability challenges with lines of code, rather than manual labor. Automating labor-intensive, repetitive, or slow moving tasks is the best way for us to speed up and improve our customers' experience, and using Cooper, our internal bot, these tasks become exponentially faster, easier, and accessible. In the last 12 months, albeit almost doubling our headcount, our Automation Index continued to improve. Our automation index is now at 2,000 – more than x4 better than same time last year.

Lemonade Policy 2.0
A month ago, we released Policy 2.0, the world's first open source insurance policy, that was rewritten for the 21st century. Why rewrite something that every insurance company has been using for decades? Simply put, because it wasn't written with human customers in mind. Industry standard policies are 40+ long pages, written in medieval legal language that no one can really understand. It ignores the stuff people own today, like bikes, laptops, and mobile phones and at the same time, covers property that the founding fathers had in their living room cabinets. 
But beyond drafting a new policy, we are seeking out the wisdom of the crowd. We invited competitors, insurance nerds, tech geeks, and the general public to have their say and take part in creating the first collaborative insurance policy.  (Available for edits and download on Github)
Alright, that was fun! Back to work. Talk soon.