Lemonade Car's Tree-Planting Program, Explained
You drive, we plant. It's as simple as that.
One of the most exciting aspects of Lemonade Car is our commitment to planting trees to help clean up the effects of your vehicle's carbon emissions.
While this all sounds neat, you're probably wondering: How exactly does it work? How many trees will be planted, and where will they be located?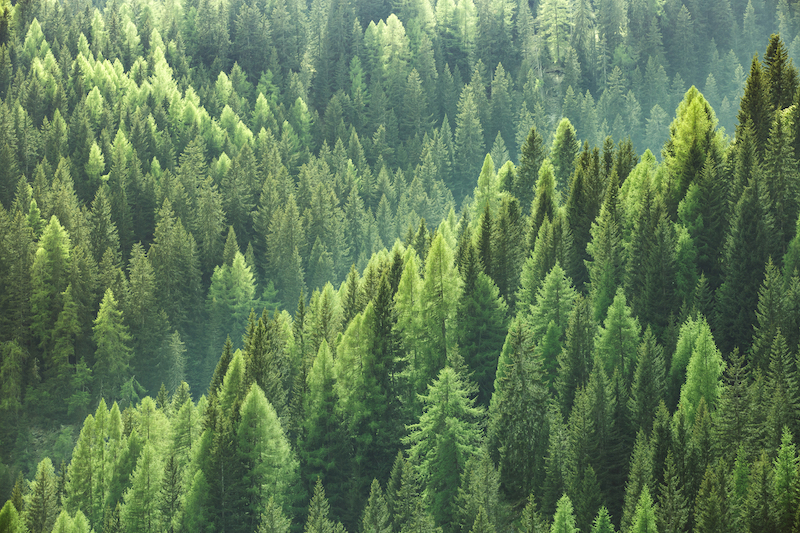 The calculations that go into determining the number of trees planted can get deep in the mathematical weeds.
But the TL;DR here is that we take into account your car's mileage, as well as how many miles per gallon it gets. Other factors include fuel type—does your tank take regular gas or diesel? Is your car a hybrid? Then, we estimate what's known as the Tree Absorption Rate (TAR), which predicts how much carbon a particular tree will absorb over its 100-year lifespan.
Processing all of these figures gives us a specific number of trees to plant. For instance, Lemonade estimates that a gas-powered car getting 25 miles-per-gallon would require 4 trees to be planted to clean up for every 10,000 miles driven.
When you buy a Lemonade Car policy and drive with the Lemonade app, you'll be enrolled in our tree planting program and receive updates as to when and where trees are being planted based on your mileage. That means if you're ever in the neighborhood, you can feel free to stop by and give a hug to a birch, fir, or sequoia that you might have had a hand in planting.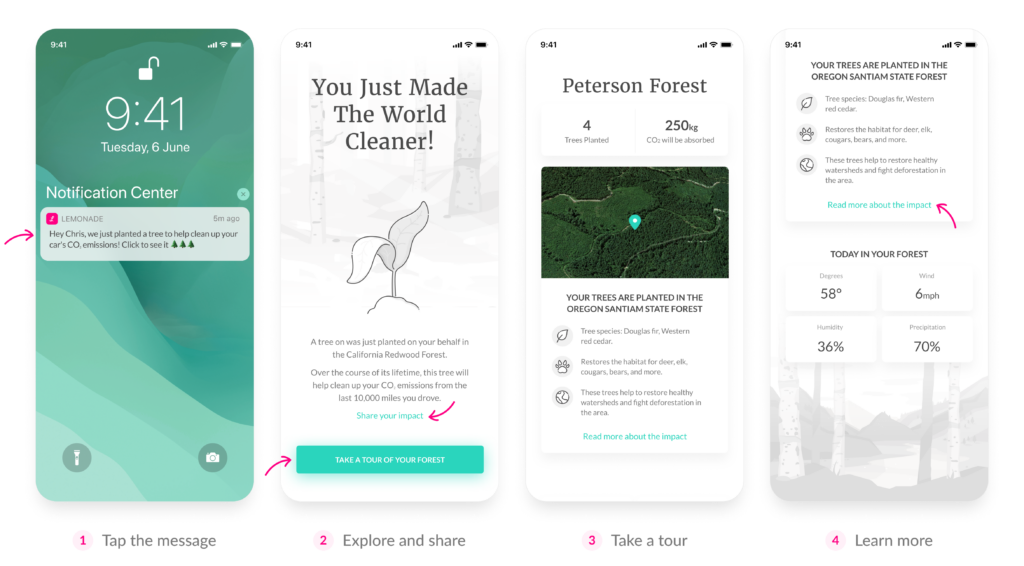 Here are some of the regions we'll be reforesting—click for some info about each.
Why are trees so important?
Everyone loves trees—they enliven neighborhoods, provide shade, and inspire poems you're forced to memorize in 6th grade. They also absorb carbon in the atmosphere, of course. But their importance goes even further.
Here's a brief list of some additional benefits of trees, including a few unexpected ones:
Bolstering biodiversity
Lowering the blood pressure of people who walk or hike through highly forested areas
Helping fix broken small water cycles
Removing PM 2.5 particles from the air, which can lodge in the heart and lead to health complications
Directly helping to create or sustain jobs in forestry and environmental conservation both stateside and internationally, including for indigenous tribes and peoples.
If that's not enough for you, check out this comprehensive list of 27 things trees and forests do for the planet, from bird biodiversity to cancer drugs.
Lemonade's reforestation locations
Here's where Lemonade Car will be focusing our tree-planting efforts in the United States.
California Redwood forests
What type of trees?
Sugar pine, California Redwood, Birch, Dogwood, Cedar, Giant Sequoia, and Walnut.
What'll they help do?
Restore the habitat for pacific giant salamanders, red-bellied newts, raccoons, bobcats, elk, and more lovable creatures.
As a bonus—especially salient in the age of extreme weather and climate change—plants in these areas will help reduce the risk of catastrophic fires and floods.
Oregon's Santiam State Forest
Shoutout to our Oregon drivers: As you drive, we help with reforestation efforts right in your backyard the Oregon Santiam State Forest.
What type of trees?
Douglas Fir, Western Red Cedar.
What'll they help do?
Restore the habitat for deer, elk, cougars, bears, and other animals. They'll also push back against deforestation overall, while helping build back healthy watersheds in the region.
Watersheds throughout the Pacific Northwest
What type of trees?
Grand Fir, Maple, Adler, Cedar, Dogwood, and Willow.
What'll they help do?
These trees will rejuvenate the habitat for robins, seagulls, squirrels, deer, raccoons, salmon, stellar jays, and other species.
They'll also aid in reducing water contamination, lowering toxicity, protecting salmon spawning grounds, and improving the food supply for orcas.
Don't forget to bundle up…
In addition to incredible coverage for your car, Lemonade also offers renters, home, pet, and term life insurance—and you'll be eligible for sweet bundle discounts. Our always lovable chatbot Maya can help.