At Lemonade, we set out to create an insurance company driven by social good, and that meant no marketing fluff or philanthropic giveaways. Instead, we wanted to build a different system—one that would bring out the best in all of us, and that would have social impact embedded in its very foundations.
That's what the Lemonade Giveback is all about. Since our launch in September 2016, Lemonade has donated over $8,160,775 to an incredible range of nonprofits via Giveback. As the Lemonade community grows, so does the potential of our Giveback—from just $50,000 in 2017, to over $2,000,000 in 2023.
Unlike any other insurance company, we donate unclaimed premiums to charity. What does that mean? We take a flat fee from your monthly premium, use the rest to pay claims, and give back what's left to causes you care about each July. So that annual donation doesn't come directly from your pocket. Instead, it comes from the good behavior and good fortune of the Lemonade community.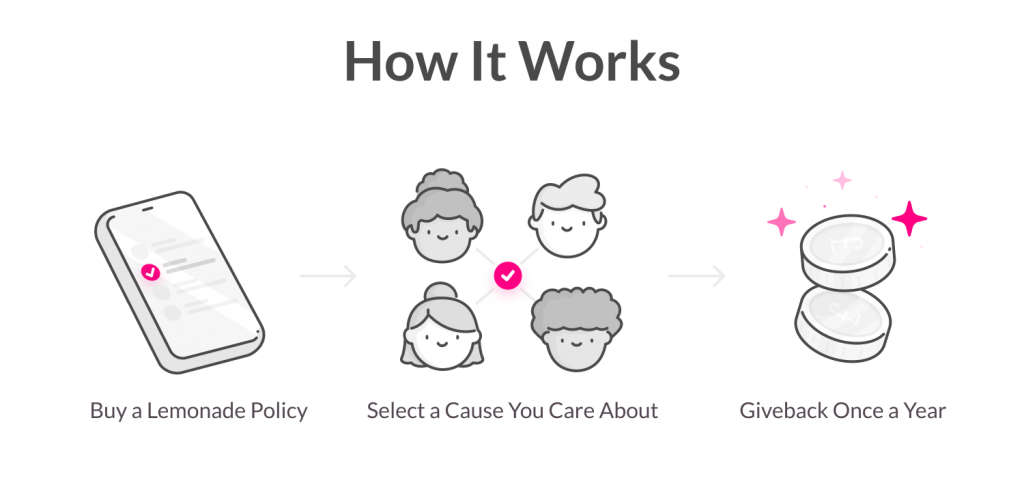 Want to dive deeper? Read on for everything you ever wanted to know about the Lemonade Giveback program. And for the entire list of Lemonade's Giveback charities, scroll down to the bottom.
Here's a quick preview of what we'll cover:
The Impact of Lemonade's Giveback
Let's take a look at our impact since the start of Giveback. With 81 partners in five countries, our nonprofits fall under a variety of categories (Mental Health, LGBTQ+, Civil Rights, Climate, Health, Global Poverty, Animal Rights and Education). The range of causes we've been able to support these past years is extraordinary.
Since our first Giveback, we have funded 43 clean water projects via Pencils for Promise and Charity: water, providing clean water for 12,300 people. Our partnerships with Teach for America, Robin Hood, and Women In Need have enabled us to support 763,411 students in underserved schools, and a total of 67,497 veterans have received mental health support via Objective Zero.
Lemonade has a strong focus on our climate, and our community has donated $3,221,316 directly to 17 different climate organizations over the years, and planted  305,562 trees to date.
Giveback also helped build one of the first ever 3D-printed homes for a Latin American family in need (in partnership with New Story), and distributed 615, 206 meals to underserved communities.
How Giveback Makes Lemonade Different
Our Giveback program allows our Lemonaders to support causes they care about. If there's leftover premium, it goes to charities chosen by Lemonaders themselves- so Giveback is baked into our business model.
When your unused dollars go to charity, it's not an extra payment from your pocket. It's simply due to your good fortune and good behavior – your unclaimed dollars roll over to make a difference for someone else in this universe.

The Giveback model predicts that not every group will get a Giveback every year, but we hope most groups will have more good years than bad.
Social impact is a guiding value at Lemonade. We are a proud member of the B-Corp community, and one of the world's only public benefit insurance companies. We want to make it easy for you to do good.
Check out some of the things our Lemonaders are saying about Giveback: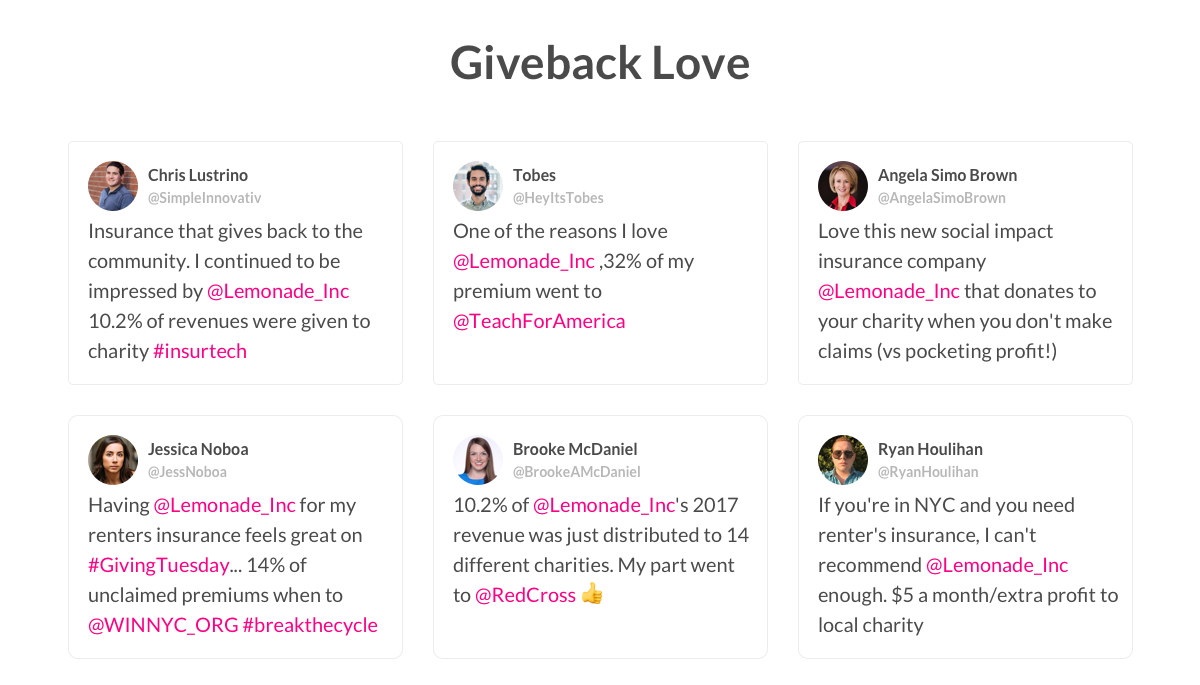 If you already have a Lemonade policy but haven't selected your Giveback cause, make sure you download the Lemonade app. You'll be prompted to pick a cause you care about and will have the opportunity to read more about each one.
If you don't have Lemonade yet, scroll through our list of causes below, choose one you're passionate about, and get a Lemonade policy in seconds. If you get a policy through one of the links below, you'll automatically be assigned that cause for your Lemonade Giveback.
Lemonade's Giveback causes
350.Org
A21
ACLU
Alliance For The Great Lakes
American Forests
American Red Cross
Best Buddies
Born This Way
Care
Shatterproof
Charity: water
City Year
Citymeals On Wheels
Coalition For Rainforest Nations
Code To Inspire
Crisis Text Line
Cure Childhood Cancer
Direct Relief
Earthday.Org
Emma's Torch
Feeding America
Gurls Talk
Habitat For Humanity
Malala Fund
March For Our Lives
Meet
National Breast Cancer Foundation
New Story
Pencils Of Promise
Spca International
Teach For America
The Ali Forney Center
The American Heart Association
The Humane Society
The Objective Zero Foundation
The Ocean Agency
The Trevor Project
Thorn
To Write Love On Her Arms
UNICEF USA
WIN (Women In Need)
Youth Speaks