At Lemonade, we set out to create an insurance company driven by social good, and that meant no marketing fluff or philanthropic giveaways. Instead, we wanted to build a different system—one that would bring out the best in all of us, and that would have social impact embedded in its very foundations.
That's what the Lemonade Giveback is all about. Since our launch in September 2016, Lemonade has donated over $6,164,548 to an incredible range of nonprofits via Giveback. As the Lemonade community grows, so does the potential of our Giveback—from just $50,000 in 2017, to over $2,000,000 in 2022.
Unlike any other insurance company, we donate unclaimed premiums to charity. What does that mean? We take a flat fee from your monthly premium, use the rest to pay claims, and give back what's left to causes you care about each July. So that annual donation doesn't come directly from your pocket. Instead, it comes from the good behavior and good fortune of the Lemonade community.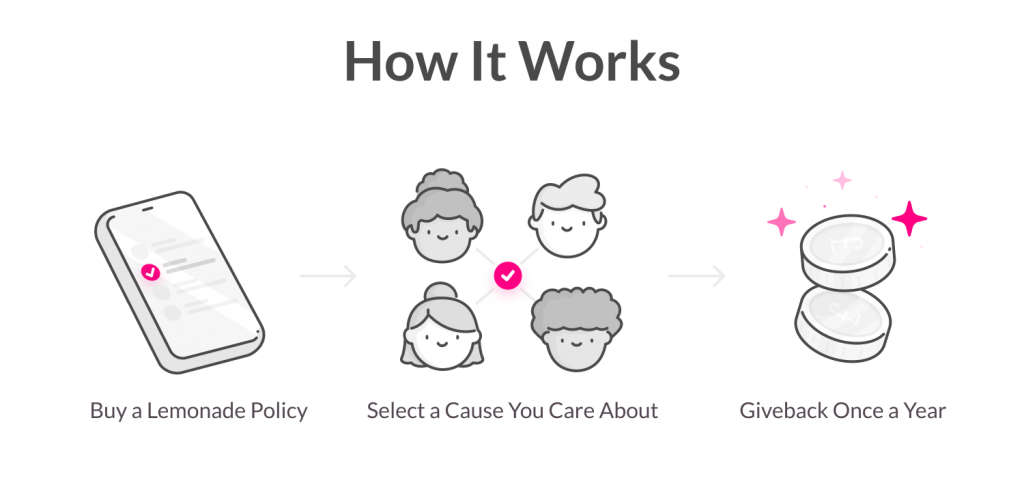 Want to dive deeper? Read on for everything you ever wanted to know about the Lemonade Giveback program. And for the entire list of Lemonade's Giveback charities, scroll down to the bottom.
Here's a quick preview of what we'll cover:
The Impact of Lemonade's Giveback
Let's take a look at our impact since the start of Giveback. With 81 partners in five countries, our nonprofits fall under a variety of categories (Mental Health, LGBTQ+, Civil Rights, Climate, Health, Global Poverty, Animal Rights and Education). The range of causes we've been able to support these past years is extraordinary.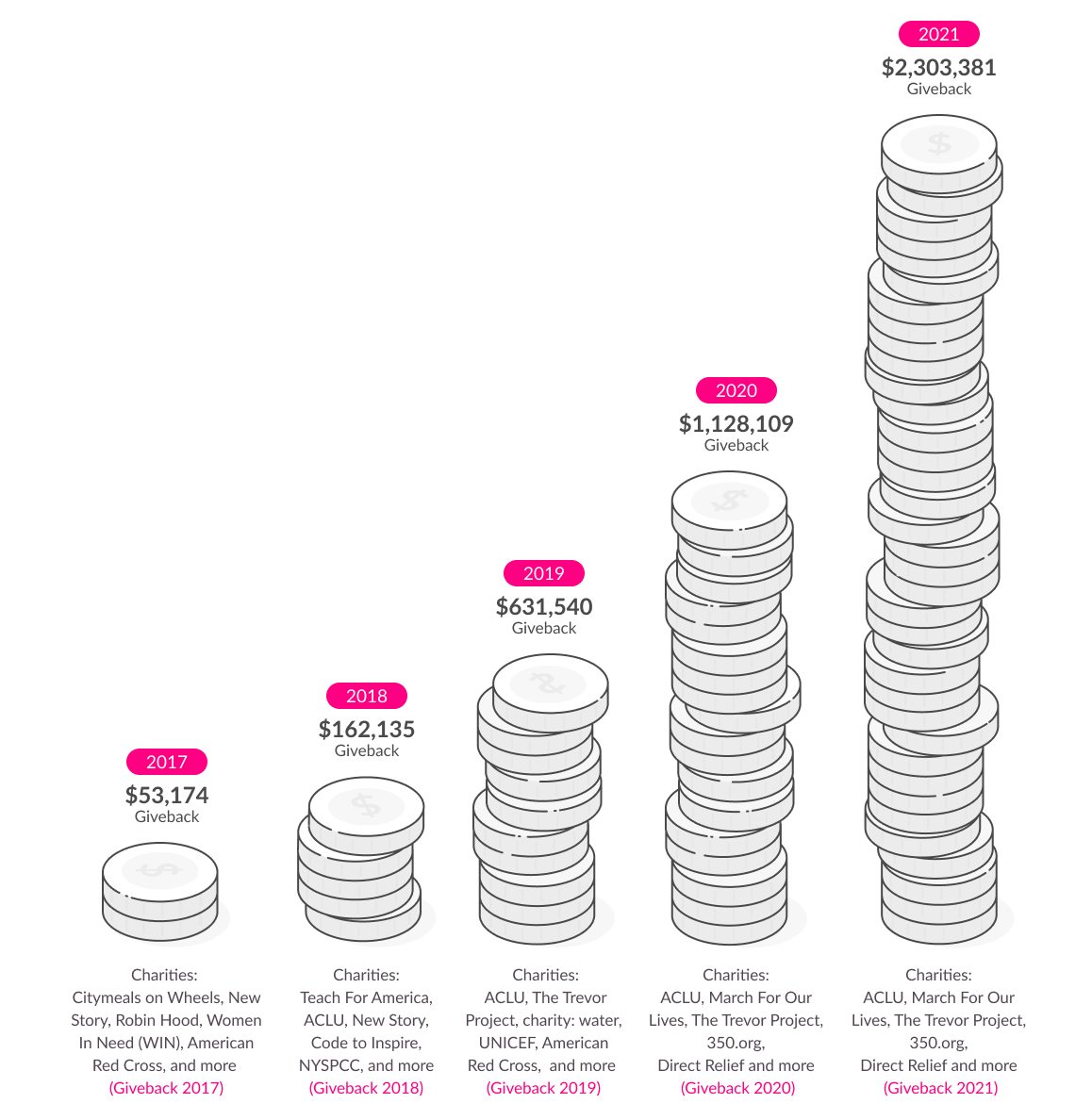 Since our first Giveback, we have funded 19 clean water projects via Pencils for Promise and Charity: water, providing clean water for hundreds of people. Our partnerships with Teach for America, Robin Hood, and Women In Need have enabled us to support 587,788 students in underserved schools, and a total of 32,124 veterans have received mental health support via Objective Zero. 
Lemonade has a strong focus on our climate, and our community has donated $815,408 directly to 17 different climate organizations over the years, and planted 280,844 trees to date. 
Giveback also helped build one of the first ever 3D-printed homes for a Latin American family in need (in partnership with New Story), and distributed 390,075 meals via Feeding America. 
How Giveback Makes Lemonade Different
Our Giveback program allows our Lemonaders to support causes they care about. If there's leftover premium, it goes to charities chosen by Lemonaders themselves- so Giveback is baked into our business model.
When your unused dollars go to charity, it's not an extra payment from your pocket. It's simply due to your good fortune and good behavior – your unclaimed dollars roll over to make a difference for someone else in this universe.

The Giveback model predicts that not every group will get a Giveback every year, but we hope most groups will have more good years than bad.
Social impact is a guiding value at Lemonade. We are a proud member of the B-Corp community, and one of the world's only public benefit insurance companies. We want to make it easy for you to do good.
Check out some of the things our Lemonaders are saying about Giveback: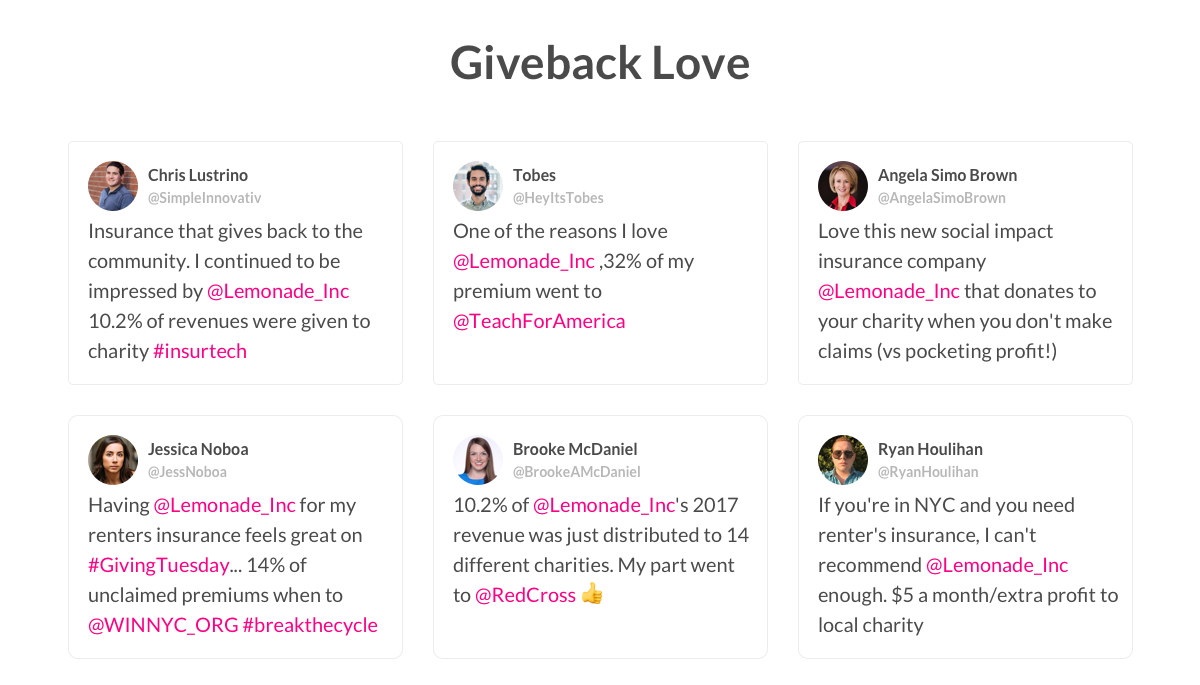 If you already have a Lemonade policy but haven't selected your Giveback cause, make sure you download the Lemonade app. You'll be prompted to pick a cause you care about and will have the opportunity to read more about each one. If you don't have Lemonade yet, scroll through our list of causes below, choose one you're passionate about, and get a Lemonade policy in seconds. If you get a policy through one of the links below, you'll automatically be assigned that cause for your Lemonade Giveback.

The Lemonade Giveback List of Nonprofits
A21
A21 is on a mission to end slavery. Fueled by radical hope, A21 strives for a future where human beings everywhere will be rescued from bondage and completely restored. Their aim is to eradicate human trafficking through awareness, intervention, and aftercare.
ACLU
Since 1920, the ACLU has defended and preserved the individual rights and civil liberties guaranteed by the Constitution and US laws for all Americans. Their recent initiatives have focused on family reunification, restoring voting rights, safeguarding access to abortion, and supporting equal rights for LGBTQ+ people.
Ali Forney Center 
The Ali Forney Center (AFC) was created in memory of Ali Forney, a gender-nonconforming homeless teen who was murdered on the streets of Harlem at the age of 22. The AFC Drop-In Center is the nation's first 24-hour drop-in program, where LGBTQ youth can come for meals, showers, clothing, HIV support, mental health services, and case management at any time – day or night.
Alliance for the Great Lakes
The Alliance for the Great Lakes works to ensure the Great Lakes remain safe and healthy. From clean-ups to classroom visits to their annual 'Great Blue Benefit,' they utilize a community approach to push initiatives that protect the Great Lakes for today and tomorrow, such as the federal ban on microbeads in personal care products.
American Forests 
American Forests has been restoring forests for more than 140 years and is currently active in all 50 states. They strive to create healthy and resilient forests that deliver essential benefits for climate, people, water, and wildlife. Some current initiatives include creating forest solutions for climate change, restoring critical habitats, and creating healthy watersheds.
American Red Cross
The American Red Cross prevents and alleviates human suffering in the face of emergencies. They're world leaders in disaster relief, blood donation, health and safety courses, programs for veterans and their families, and international aid. From days of service to local initiatives, the American Red Cross is there to help in the face of disaster.
Best Buddies
Best Buddies utilizes their community of volunteers to create opportunities for people with intellectual and developmental disabilities. They've organized chapters of Best Buddies in middle schools, high schools, and colleges that operate as student-run friendship clubs to help students pursue integrated employment, leadership development, and inclusive living.
Born This Way Foundation is committed to supporting the wellness of young people, and empowering them to create a kinder and braver world.
CARE is a major international humanitarian agency delivering emergency relief and long-term international development projects. Founded in 1945, CARE is nonsectarian, impartial, and non-governmental. It is one of the largest and oldest humanitarian aid organizations focused on fighting global poverty.
Center on Addiction
Center on Addiction believes the solution to the American substance use and addiction issue lies in prevention, treatment and government action. They work to empower families, advance effective care, shape public policy, and eliminate the stigma surrounding addiction in American culture.
City Year was founded in 1988 as a national service program to unite young adults from diverse backgrounds for a demanding year of full-time community service. City Year has grown from 50 corps members in Boston to more than 3,000 members serving in 29 US cities, as well as in South Africa and the UK.
Citymeals on Wheels
Citymeals helps provide weekend, holiday, and emergency meals to elderly New Yorkers who can no longer shop or cook for themselves. Their Mobile Food Pantry program delivers weekly bags of grocery staples to New York's most at-risk elderly, and their Fresh Produce program supplements regular meal deliveries with fresh fruits and vegetables from local farmers.
Code to Inspire
Code to Inspire is the first coding academy for girls in Herat, Afghanistan. By offering coding courses, access to technology, professional resources, and job placement, they enable women in Afghanistan to seek employment. CTI changes women's lives by empowering them as they develop financial and social independence.
charity: water
charity: water's mission is to bring safe, clean drinking water to every person in the world. They work with local experts to fund their community-owned water projects. From hand-dug wells to purification systems to BioSand filters, charity: water has changed the lives of thousands of communities in more than 25 countries.
Crisis Text Line provides free, 24/7, high-quality text-based mental health support and crisis intervention by empowering a community of trained volunteers to support people in their moments of need.
CURE Childhood Cancer
Since 1975, CURE has worked to increase the survival rate of all children with cancer, the leading cause of death by disease in children. They've helped transform the survival rate from 20% to nearly 80%. CURE conquers childhood cancer through funding targeted research and supporting patients and their families.
Cycle for Survival accelerates progress in rare cancer research, bringing new and better treatment options to people around the world. 100% of every dollar supports pioneering research and lifesaving clinical trials led by Memorial Sloan Kettering Cancer Center (MSK), the world's oldest and largest private institution dedicated to revolutionizing our understanding and treatment of cancer.
Direct Relief Coronavirus Response
Direct Relief's Covid-19 response efforts support people who are the least fortunate and most vulnerable to obtain needed care from local nonprofit health centers and clinics in medically underserved areas. The chronic challenges, vulnerability, and lack of cushion that exist in such communities — most often communities of color — are intensified when emergencies of any type arise, which the Covid-19 pandemic has once again shown.
Emma's Torch 
For refugees coming to America, one of the hardest parts of the transition can be finding a new job. Founded in 2016, this non-profit social enterprise provides top-notch culinary training to refugees and has helped them find meaningful careers in the food industry. Emma's Torch partners with some of the largest refugee resettlement and advocacy organizations in the world.
Today, Feeding America is the nation's largest domestic hunger-relief organization—a powerful and efficient network of 200 food banks across the country. As food insecurity rates hold steady at the highest levels ever, the Feeding America network of food banks has risen to meet the need, feeding 40 million people at risk of hunger, including 12 million children and 7 million seniors.
Habitat for Humanity partners with people in your community, and all over the world, to help them build or improve a place they can call home. Habitat homeowners help build their own homes alongside volunteers and pay an affordable mortgage. With your support, Habitat homeowners achieve the strength, stability and independence they need to build a better life for themselves and for their families. Through our 2020 Strategic Plan, Habitat for Humanity will serve more people than ever before through decent and affordable housing.
Malala Fund
The Malala Fund was founded by Malala Yousafzai, the Pakistani activist for female education and the youngest Nobel Prize laureate. The international organization champions every girl's right to free, safe, quality education. With more than 130 million girls out of school today, they're breaking down barriers that hold girls back.
March For Our Lives
The youth-led nonprofit harnesses the power of young people across the country to fight for sensible gun violence prevention policies that save lives.
MEET
MEET brings together young Israeli and Palestinian leaders to create positive change through technology and entrepreneurship. By having students work together using innovative problem solving, MEET hopes to foster better relations that will help create a positive social and political impact in the Middle East.
National Breast Cancer Foundation
NBCF's mission is to help women now by providing help and inspiring hope to those affected by breast cancer through early detection, education and support services.
New Story
New Story builds safe homes for families in need, which enables them to focus on income and pursue a higher quality of life. They've built over 1,600 homes for families in Haiti, El Salvador, Bolivia, and Mexico. With their 3D home printer, they've recently cut the costs and production time for building homes –  in just 24 hours, they build a home for $4,000.
NYSPCC
The New York Society for the Prevention of Cruelty to Children (NYSPCC) focuses on providing best practice counseling, legal, and educational support to NYC's most vulnerable children. Through a healthy mix of innovation and compassion, NYSPCC responds to the complex needs of abused and neglected children.
Objective Zero 
A mission-driven tech start-up, Objective Zero seeks to connect service members, veterans, their families, and caregivers to suicide prevention support and resources.
The San Bruno Mountain Watch organization leads community-based ecological restoration programs that protect and care for the mountain's diverse habitats, and provides environmental education opportunities for students of all ages. Volunteer-built Mission Blue Nursery providing thousands of plant restoration efforts on the mountain as well as sustainable landscaping projects in local cities.
The Humane Society of the United States fights to end suffering for all animals. We work to stop large-scale cruelties such as animal fighting, puppy mills, factory farming and the wildlife trade. Along with our supporters and volunteers, we work to pass anti-cruelty laws, end the extreme confinement of farm animals, stop animal cosmetics testing, halt cruelty to wildlife and bring veterinary services to underserved communities. Along with our affiliates, we care for tens of thousands animals each year through our rescue teams, direct care programs and sanctuaries.
The Ocean Agency 
When it comes to ocean conservation, the issues are as huge as the ocean itself.  The Ocean Agency uses a combination of creativity, technology and powerful partnerships to raise the awareness and support necessary for ocean conservation and to help fast-track action.
Pencils of Promise
Pencils of Promise (PoP) builds schools, programs, and global communities for the 250 million children who lack basic reading, writing, and math skills worldwide. A data-driven organization, PoP helps kids view their education as a powerful tool to change their lives and the world.
PERIOD. 
PERIOD is a nonprofit that gives women access to the period products they need to feel confident and clean every menstruation cycle, no matter their income. The largest youth-run nonprofit in women's health, PERIOD. was founded by a group of young activists, who are united by the belief that menstrual care is a basic right.
Robin Hood
Robin Hood finds, funds, and creates programs and schools for families in NY's poorest neighborhoods. Since 1988, Robin Hood has raised more than $2.5 billion to provide hundreds of New Yorkers with vital services such as shelters, soup kitchens, and job training programs.
Save the Bay
Save The Bay protects, restores, and celebrates the San Francisco Bay. They protect the Bay from pollution and invasive shoreline development and aim to inspire the next generation of environmental leaders by educating students through community and educational programs.
Shatterproof
Shatterproof reduces the devastating impact of alcohol and drug addiction on families across the U.S. By mobilizing families affected by addiction they allow individuals to make their voices a part of federal and state advocacy battles, help to shatter the stigma surrounding addiction and provide support to other families dealing with addiction.
SPCAI
SPCA International (SPCAI) works to stop the abuse and suffering of animals through innovative programs that serve both animals and their human caretakers. Their mission is for all animals to live a life free of cruelty and suffering. SPCAI supports independent animal shelters and promotes the safety of animals through alliance building, information networking, and national and international programs.
Teach for America
Teach for America's mission is to enlist, develop, and mobilize some of the most promising future leaders in the United States to provide outstanding education for kids. They believe a child's life should not be determined solely by the circumstances he or she was born into.
Thorn
Thorn targets sex trafficking and sexual abuse. They believe every new platform and technology has the potential to enable an abuser, so Thorn utilizes that same tech to stop sexual abuse and sex trafficking. They build powerful products, lead new programs, maintain essential resources, and develop awareness campaigns to tackle the issue from all sides.
To Write Love On Her Arms
To Write Love on Her Arms (TWLOHA) is a nonprofit movement dedicated to presenting hope and finding help for people struggling with depression, addiction, self-injury, and suicide. TWLOHA exists to encourage, inform, and inspire, and invests directly in treatment and recovery by donating to more than 100 organizations that align with their values.
Together We Rise
Together We Rise strives to improve the lives of children in foster care who often find themselves neglected by the public. Through their fundraising and network of passionate volunteers, Together We Rise gives foster youth the resources they need, and educates volunteers on issues surrounding the foster care system.
Trevor Project
The Trevor Project is the leading national organization providing crisis intervention and suicide prevention services to lesbian, gay, bisexual, transgender, queer & questioning (LGBTQ) young people under 25. Donations go to advocacy efforts, training for a record number of crisis counselors, and strengthening the 24/7 Lifeline.
UNICEF is mandated by the United Nations General Assembly to advocate for the protection of children's rights, to help meet their basic needs and to expand their opportunities to reach their full potential.
Women In Need
Women in Need (WIN) transforms the lives of homeless women and their children in NYC by providing a holistic solution of safe housing, critical services, and the programs they need to succeed on their own. By empowering women to regain their independence, WIN helps them and their children build new opportunities and a better future.
Youth Speaks
Youth Speaks works with young people to find, develop, and present their voices as creators of societal change by combating illiteracy, isolation, alienation, and silence. They produce local and national youth poetry slams, festivals, and reading series, alongside comprehensive arts-in-education programs.
350.org
350.org is building a global grassroots climate movement to fight for a safe climate and a better future. Their online campaigns, grassroots organizing, and mass public actions bring together a global network active in over 188 countries.
Btw, if you don't see your favorite cause on our list, let us know – we'd love to see if we can help support them too through our Giveback program. Drop us a line at [email protected]