I'm excited to announce that Lemonade Car is now available in our first market, Illinois, and will soon become available in many more states as we begin our nationwide rollout.
Lemonade Car is our biggest project ever, and the team working on it is the largest ever assigned to a single Lemonade product. We built new technologies, created an experience we believe customers will love, and organized entire teams to handle tows, repairs, body shop services, as well as help support the 24/7 roadside assistance and emergency services we now offer.
Going into this project, we were lucky to have the Lemonade technology infrastructure as a platform to build upon, which allowed us to accelerate the project, and get from start to finish in just under 12 months.
I'm sure you can't wait to see what we've built, so let's jump right into it.
Lemonade Car was designed with the following principles in mind:
Use tech to make car insurance fairer
Design a best-in-class experience
Do right by the environment
Create great value for loyal customers
Pricing fairness
Car insurance rates can be at best inaccurate, and at worst unfair. Traditionally, car insurance premiums are often calculated based on the average of the worst and best drivers, so safe drivers pay too much, and reckless drivers too little.
Most insurers don't have the tools to accurately measure how people drive, so the good drivers among us end up subsidizing the worst.
Our phones, on the other hand, know a great deal about us. They have advanced sensors that can track motion, location, and behaviors. Using the phone's accelerometers, smart algorithms can help determine the number of miles driven, as well as how safely people drive.
Cars are also becoming smarter, with many new models enabling real-time access to high frequency driving data, while older vehicles allow drivers to plug in low-cost hardware devices that stream driving data to the cloud. Technology like this, often referred to as telematics, is the heart of Lemonade Car, and over time, will help us provide the most precise, personalized, and fair prices.
Using this technology, we're able to provide greater discounts to low-mileage and safe drivers.
Best-in-class experience
Getting insured with Lemonade Car only takes a couple of minutes, and is the best buying experience we've ever built. But, having the app on your phone while driving is where it really shines. Using a combination of motion sensors and GPS signals, our app can detect collisions in real time and help drivers get emergency services as well as 24/7 roadside assistance (free!) that arrives, like magic, at their location.
But, at the end of the day, we're in the 'paying claims business,' and so much of our attention was focused on building that service. Filing a Lemonade Car claim is easy, and fast. Being involved in an accident can be very stressful, so we designed the claim process with that in mind.
Assessing damage, obtaining repair estimates, and getting progress updates are all done through the Lemonade app. We also help our customers collect the most important information at the scene, handle tow and transportation if needed, and complete the claim when it's safer, and more convenient.
As with the rest of our products, our customers can choose to get real time help through our app, or from our team of claims advocate superstars. Using Lemonade's backend technology, claim advocates are able to handle more claims in a shorter period of time and with greater efficiency than traditional insurance systems.
They use Blender, our insurance operating system, to automate many of the otherwise time-consuming, manual tasks needed when handling car claims.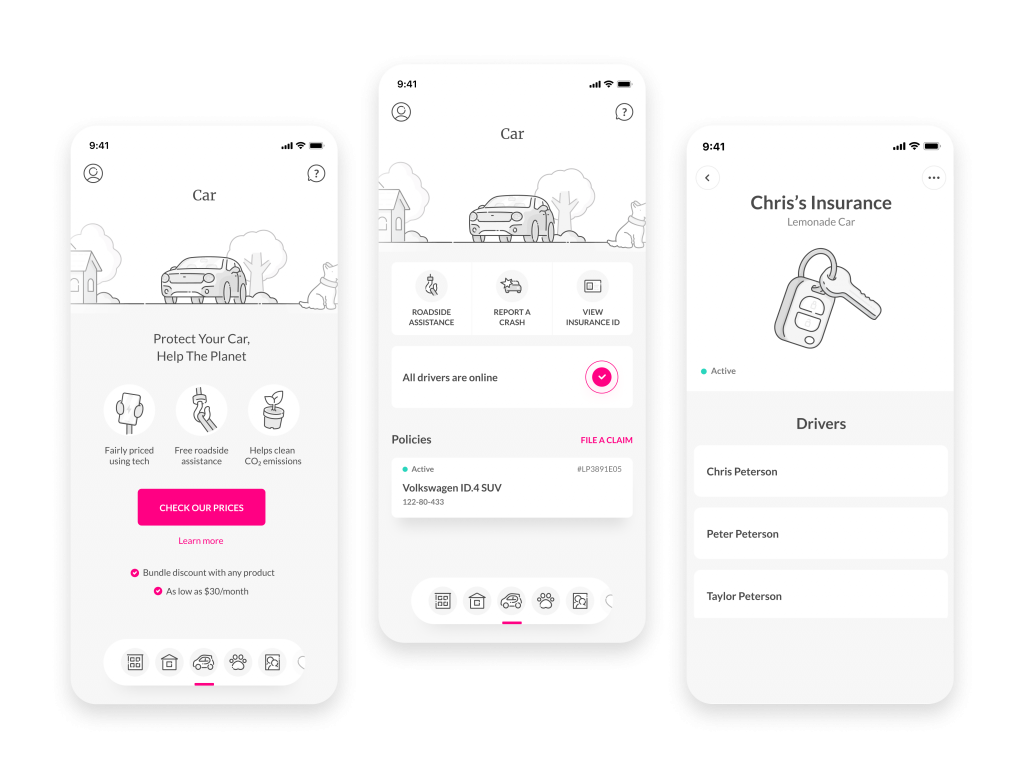 Environmentally conscious
We've always been passionate about our double bottom line, and how a for-profit business can do good. As a Public Benefit Corporation and a certified B-Corp, we believe social impact and business are mutually reinforcing. You can't do one well without the other, and with Lemonade Car, we're taking this to the next level.
In 2018, after realizing insurance companies are the second largest investors in fossil fuels, we announced that we'll never invest in fossil fuels and other polluters. We became the first US insurer to publicly commit to this, and called on our partners in the industry to follow suit. I'm sad to say that as far as we know, Lemonade is still the only US insurer to take this stance, while other U.S. insurers have hundreds of billions of dollars of investments in coal, oil, and gas.
But car insurers can do even more. If there are incentives put in place for customers to buy environment-friendly cars and drive less, there's a chance to lower car pollution levels, even if by a tiny bit.
Here's what we plan to do with Lemonade Car:
Reward low-mileage drivers with great rates
Provide special rates and coverages for EVs and hybrid cars
Plant trees to help clean up after our customers' CO2
There are many studies on the subject of trees as a means to offset CO2, and there are as many opinions on the subject as there are studies. It is estimated that a tree, if planted in the right location and given the right support, can absorb about 48 pounds of carbon dioxide every year, and about 4,000 pounds of CO2 throughout its lifetime. That's about half of what a typical car releases into the atmosphere every year.
Using the personalized data collected by our app, we'll calculate and track the CO2 generated by each of our customers' cars, factoring in car model, year, and miles driven. We will then work with nonprofits from around the world and fund tree planting to help compensate, over time, for these emissions.
Planting trees helps reverse deforestation, which by itself accounts for 15% of CO2 emissions. But trees are not the only way we and our customers will make an impact. In addition to these activities, the Lemonade Giveback will continue to support causes that promote renewable energy, environment-friendly projects, and climate activism.
Great value when combined with other Lemonade products
Building on our strategy of providing customers with all their insurance needs as they go through life, we're introducing great new bundles for new and existing customers who buy more than one product. We've made bundles simple, affordable, and hassle-free.
Here's how our bundles work:
We've made bundle discounts automatic: No need to call and haggle
Automatic bundles can save customers hundreds of dollars every year. For example, Lemonade Renters customers who add Lemonade Car can practically get their renters policy for free (the discount on Car will often be more than they're paying for Renters).
But, there's more. Stay tuned for news about Lemonade Car coming soon! In the meantime, take a glimpse under the hood here.