If you've ever browsed your Instagram explore feed, you've probably watched videos of soap cutting, slime crunching, or frozen paint smashing.
And maybe, just maybe, you found them to be (oddly) satisfying.
Why are these videos so popular? They're part of a trend that has taken over social media. And the internet has noticed.
In fact, Instagram named Oddly Satisfying the fastest-growing Instagram niche in 2018. And according to Google, slime became the biggest DIY trend in 2017, causing a national shortage of glue in the US.
On average, at least one video with an #OddlySatisfying hashtag is posted on Instagram every minute, and there's been a dramatic spike in Google searches for these videos over the past couple of years.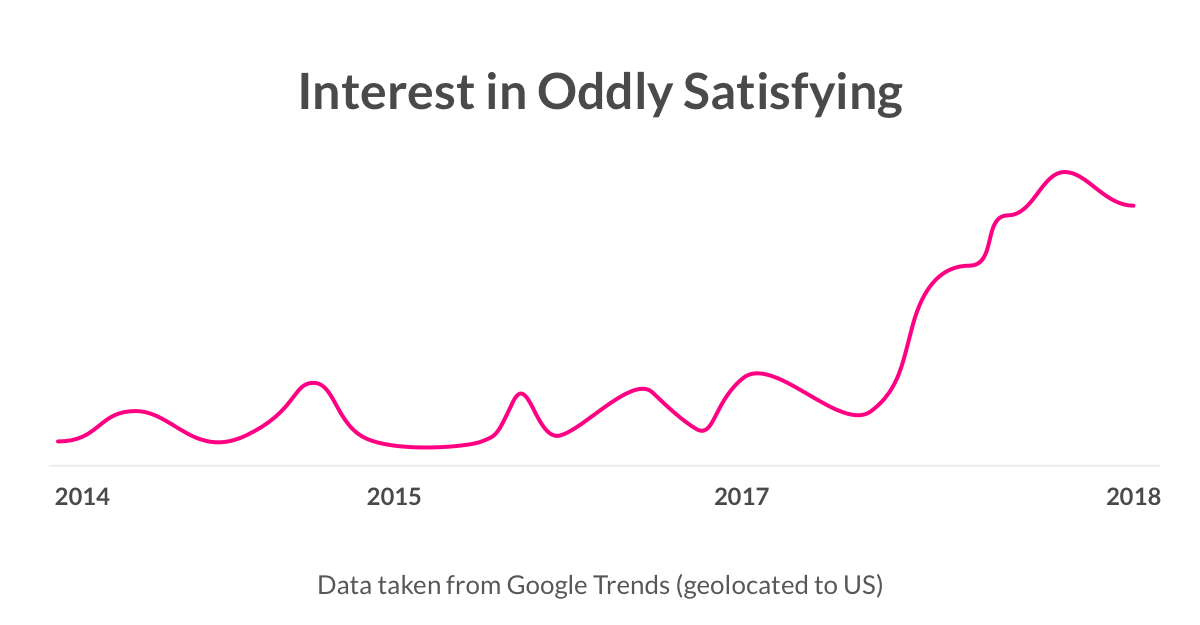 So what's going on?
This trend didn't spring out of nowhere; no trend is a coincidence. Social media is a diary of our collective unconscious – The things that billions of social media users find appealing reflects our wider sentiments, preferences, and desires.
So, all of this begs the question: Why are Oddly Satisfying videos trending? And, why now?
The psychology behind Oddly Satisfying videos
These videos are everywhere, and scientists and professors are catching on. Several have set out to determine the scientific reason these videos elicit autonomous sensory meridian response (ASMR), a tingling sensation on the skin that causes positive emotions.
According to Professor Robert Colombo, watching Oddly Satisfying videos cause the release of chemicals in the brain that bring about happiness and positivity – namely, serotonin and dopamine.
These are the same neurotransmitters that fire when humans eat sugar, have sex, or get a notification on their phones.
In fact, "there have been numerous reports that watching oddly satisfying videos help make people feel relaxed and calm," according to Sabrina Faramarzi at Wired.
A study conducted at Swansea University that surveyed ASMR enthusiasts concluded that a vast majority of them reported watching ASMR videos to relax, destress, and get a better night's sleep.
But why do these videos make us feel relaxed? Dr. Anita Deak of the University of Pecs attributes this to the 'mirror neuron theory,' which holds that watching someone perform an action elicits the same neurological response as performing that action ourselves.
So, in essence, we get pleasure from Oddly Satisfying videos as if we were actually cutting soap or crunching slime ourselves. They serve as a form of microtherapy that satisfies and relaxes our brain and body.
In fact, several viewers reported that these videos causing a tingling feeling on their scalp (which some describe as a 'pleasurable headache') that slowly moves down their neck and spine. These videos are basically a shortcut to a blissed-out, meditative state.
But just as with other types of satisfaction, not every person has the same neurological and biological response to Oddly Satisfying videos. In the same survey conducted at Swansea University, researchers found that around half of those surveyed experienced ASMR while watching these videos, while the other half don't.
Test out if you experience ASMR – here's an oddly satisfying video to watch for yourself:
View this post on Instagram
Behind the rise of Oddly Satisfying videos
Okay, so ASMR videos reduce stress and anxiety. But why have they caught on now, rather than 5 years ago?
First off, it's no secret that stress and anxiety have increased dramatically – nearly 4 in every 5 Americans experience the physical symptoms of stress daily. (Gallup)
Mix that with the rise of phone addiction and desire for instant gratification, and you've got the perfect recipe for the rise of Oddly Satisfying.
These videos provide an instant hit of stress relief and relaxation, anytime, anywhere, all from the comfort of your phone.
Not to mention, this stress relief is completely complimentary, requires no trip to the doctor, and is free of any hormones or side effects.
Basically, it taps into several of the token millennial's desires.
Based on this, it seems like the Oddly Satisfying trend will continue to grow as we become even more stressed out, crunched for time, and addicted to our phones.
The best Oddly Satisfying Instagram influencers
So, now we know that Oddly Satisfying videos have some pretty surprising health benefits. Who should you follow on Instagram so you can reap these benefits?
View this post on Instagram
Annette has been painting since she was a young girl, and recently transformed her talent into an Oddly Satisfying sensation. She slices and smashes frozen paint of all shapes and colors – from (what looks like) pink oreos to purple fish tails and mini waffles.
View this post on Instagram
Sandtagious posts beautiful sand cutting videos using vibrant colors, interesting shapes, and unique methods. Pro tip: make sure to turn the sound on while watching their videos!
View this post on Instagram
Texas native Brittany Zick uses acrylic paint, oils, and other additives to make her hand crafted fluid art. On her Instagram, she showcases her finished artwork as well as her creative process.
View this post on Instagram
Hayden, the artist behind @paint_mixings, chops up globs of creatively-shaped paint and mixes them. She also pours cups of paint onto blank canvases, which creates beautiful patterns.
View this post on Instagram
Shameless plug alert: Lemonade's Instagram features everyday items dunked in pink paint. From broken laptops to fake house plants and old bike seats, pulling these items out of the fish tank of paint in slow motion makes for some pretty mesmerizing stuff.
Get oddly satisfied
Turns out, Oddly Satisfying videos are an unexpected source of stress relief, a sleep aid, and a respite from heavy, contentious content on social media. With our stressful schedules, they might just be exactly what we need to get an instant hit of relaxation, oddly enough!
We'd love to hear your favorite Oddly Satisfying accounts, and what you think of the psychology behind oddly satisfying. DM us your thoughts at @Lemonade_Inc – who knows, you might even be featured in our next post!