I gripped the broken laptop and slowly dunked it in a vat of pink paint. The paint dripped from the silver hardware, drooling off the keyboard. Next, we submerged a Slinky. Then an old briefcase.
It was just another day at the Lemonade office—but what did this have to do with insurance?
Nothing… and that was the point.
Donkey asses and clouds…
Three months earlier, we had set out to answer a simple question: Why would anyone follow an insurance company on Instagram? 
Up until then, our Instagram feed consisted of user-generated photos, but it didn't pass what we call the 'Who Cares Test.' As the name suggests, we constantly ask ourselves if what we're creating will excite anyone, or give them a reason to care.
Our IG account shouldn't look like an insurance company runs it—since most people don't care about the industry on a personal level.
So we went back to the drawing board, and started by researching what worked for other brands. But Shai, Lemonade co-founder and COO, wisely reminded us not to mimic other companies, because we're not like them. 
Next, we had a series of free-for-all brainstorms, to think up content that isn't directly related to insurance, and creates a uniform aesthetic on our feed.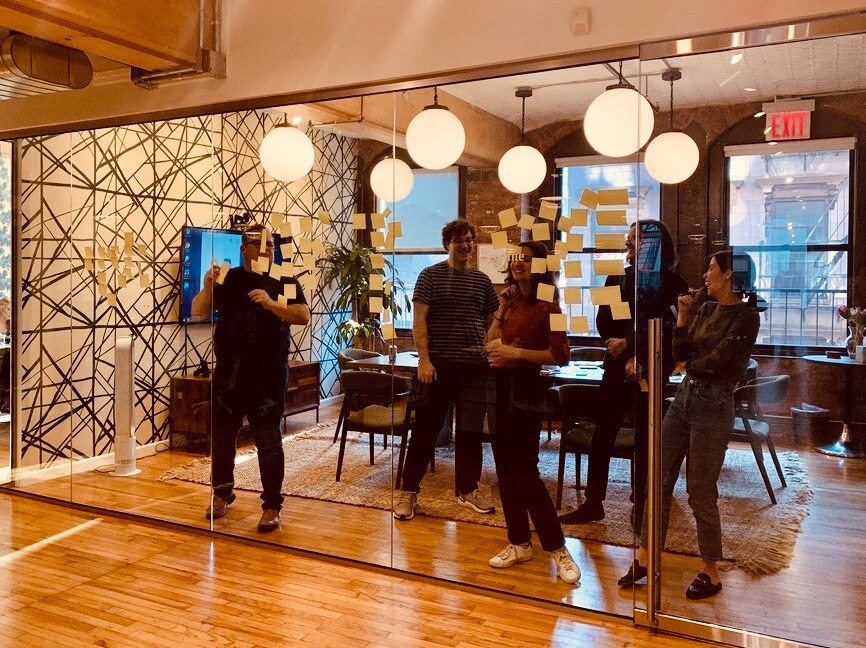 We threw around crazy ideas, from a feed full of donkey asses to photographs of clouds around the world. But nothing stood out.
To get unstuck, one of Lemonade's backend engineers recommended we turn to design thinking, a data-driven technique that helps conjure creative ideas from thin air. Design thinking encourages tactics like 'silent brainstorming' to make sure everyone's voice is heard equally, without wasting time. It also suggests bringing in new perspectives to encourage out-of-the-box ideas, so we created a brainstorm group of product managers, designers, and storytellers.
We pulled up the slide below, which lists popular Instagram elements on the left, and Lemonade brand elements on the right, and asked people to 'mash' them up. This exercise would elicit unexpected and wacky ideas, according to design thinking.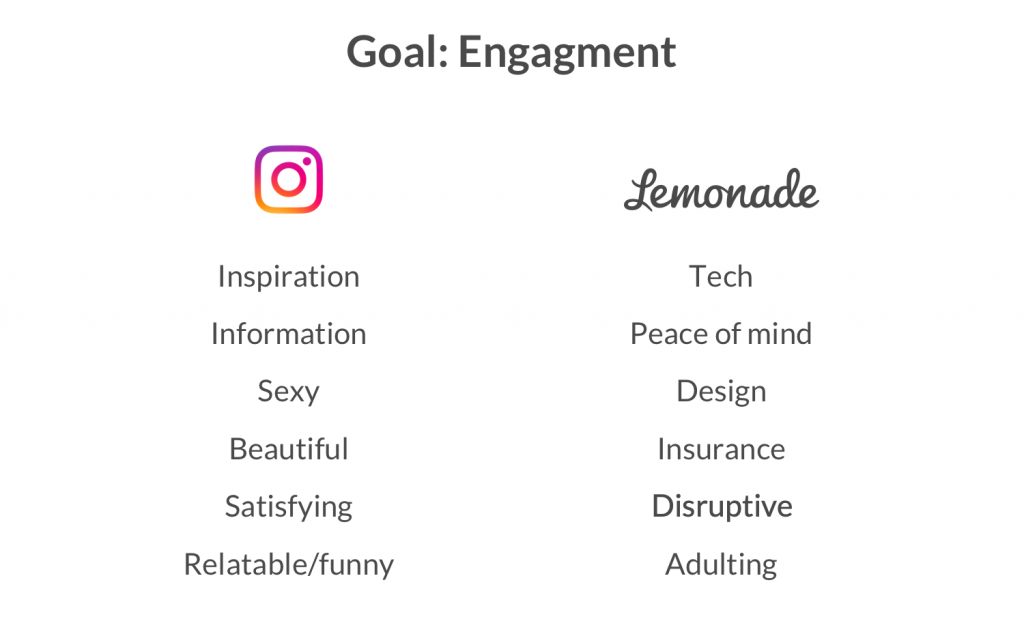 Our resulting mashups ranged from the generic ('beautiful design') to the unexpected ('satisfying insurance') and bizarre ('sexy adulting'). The point was to build off of each idea, to gradually evolve into a creative concept we could be proud of.
Soon enough, everyone was mulling over one idea in particular: "Dip things in paint." 
"I think it would look cool to watch paint drip off of an item," explained our product manager. 
"We could make the paint pink, for Lemonade 'covering' your stuff," I added.
"Let's make it Oddly Satisfying, so we can be part of that huge niche on Instagram," suggested our  product designer.
But how would we know if this would look as cool as it did in our minds?
One very pink idea
Design thinking cautions to never land on an idea until you build a prototype. 
We set up shop in the attic of Lemonade's Tel Aviv office one pre-COVID morning, and dipped things like white roses and a rubber duck. Funny enough, not many people questioned what we were doing; scrappily making an offbeat video is essentially the norm at Lemonade.
When we presented the initial footage to Shai, we were confident that our idea was not only strategically sensible, but also visually satisfying and realistic to produce. 
But would it be valuable enough to pass the Who Cares Test? Would it ignite curiosity and intrigue from our audience? Could it scale?
After seeing the prototype, he said seven magical words: "I love it… when do we film?"
And so the fun began. We gathered over 70 items to dip, some sourced from Team Lemonade, and others from local thrift shops. Our inaugural 'Dipping Day' was an invigorating mess, in every sense of the word.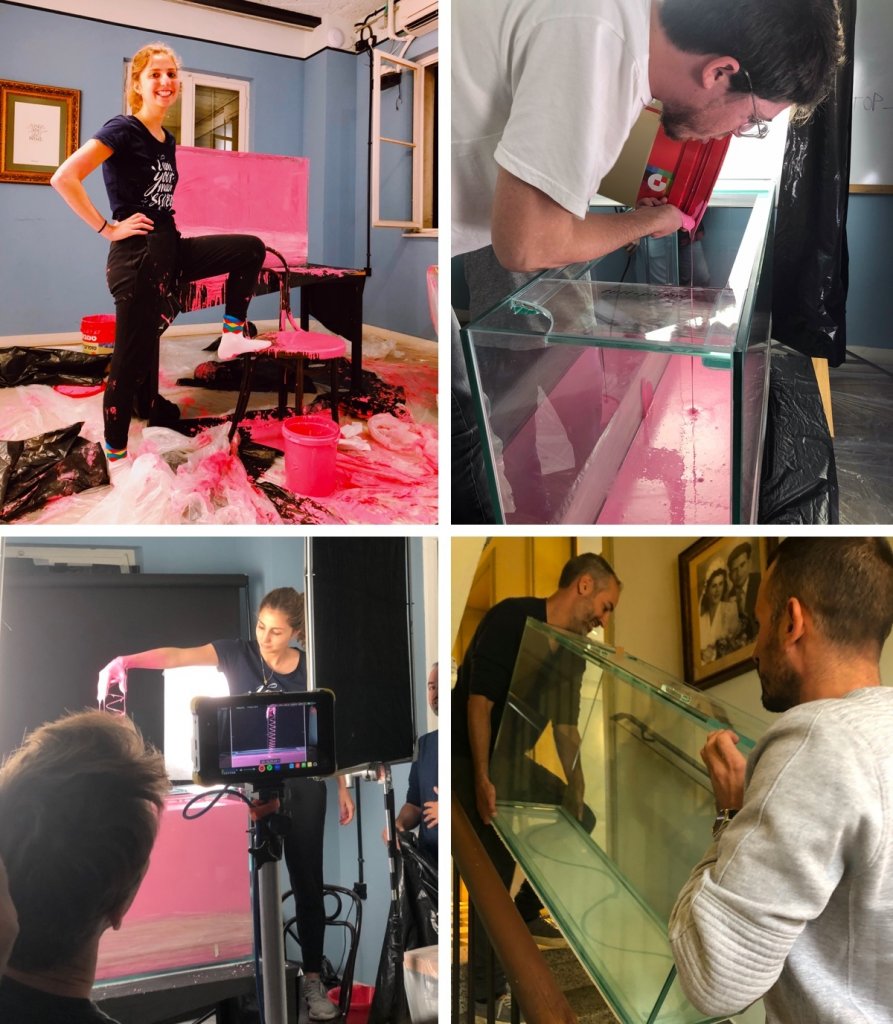 Telling an #OddlySatisfying story
Would it be a hit? On social media, you don't know until you try. 
We lightly edited the videos to make them Oddly Satisfying, while still retaining their DIY spirit. 
And when we set out to write killer captions, some resonated better than others. Clever puns about items didn't engage our audience, but stories about our ethos and company culture did.
We used specific dipped items as conversation starters, sharing stories of the items, crazy behind-the-scenes, and our list of 52 deep questions that we use at team lunches.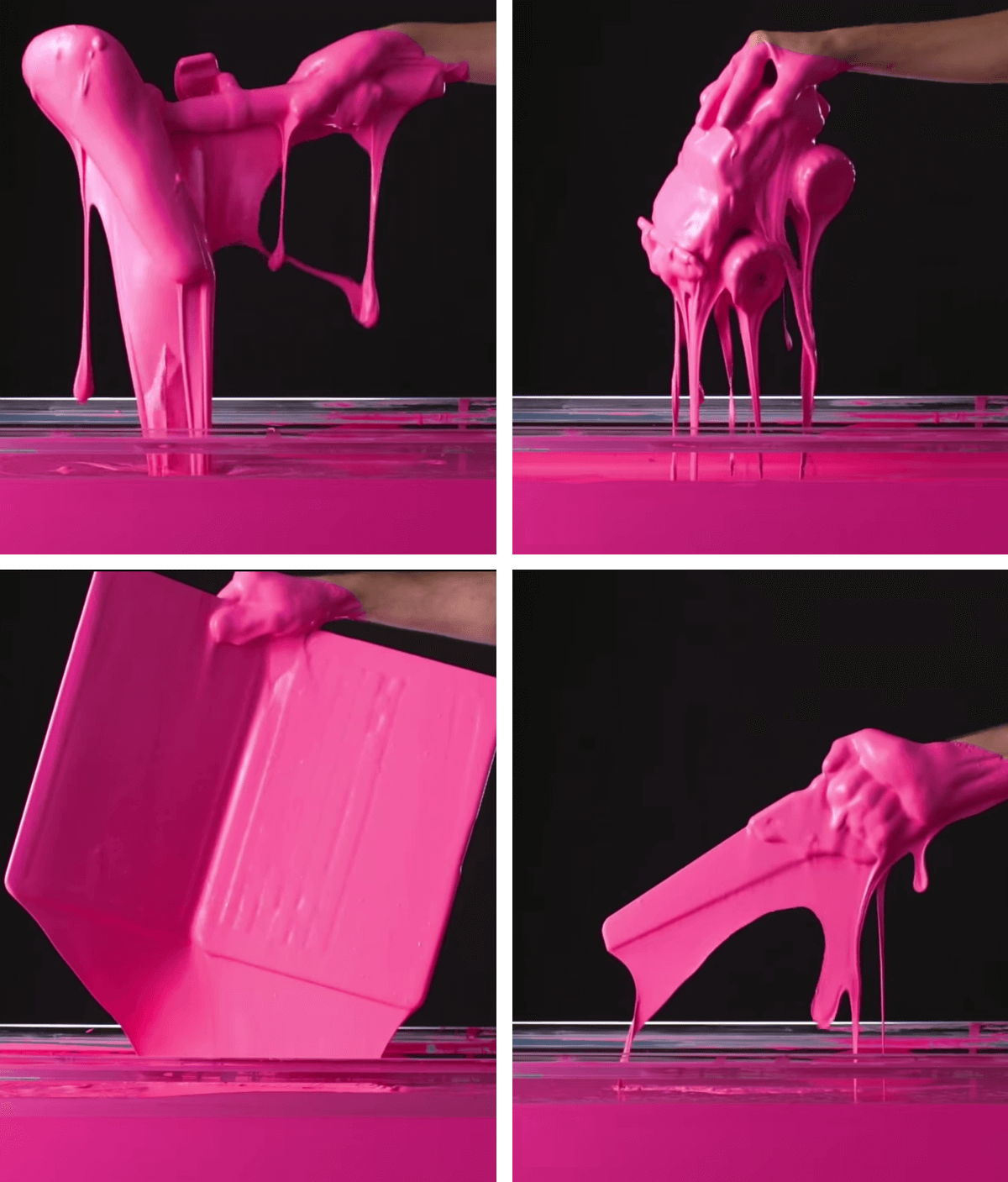 To support our Giveback partners, we periodically changed the colors of the paint to draw attention to important causes—using blue to spotlight World Water Day with our partner charity: water, and grey to highlight 350.org's efforts to rein in the polluting powers of coal.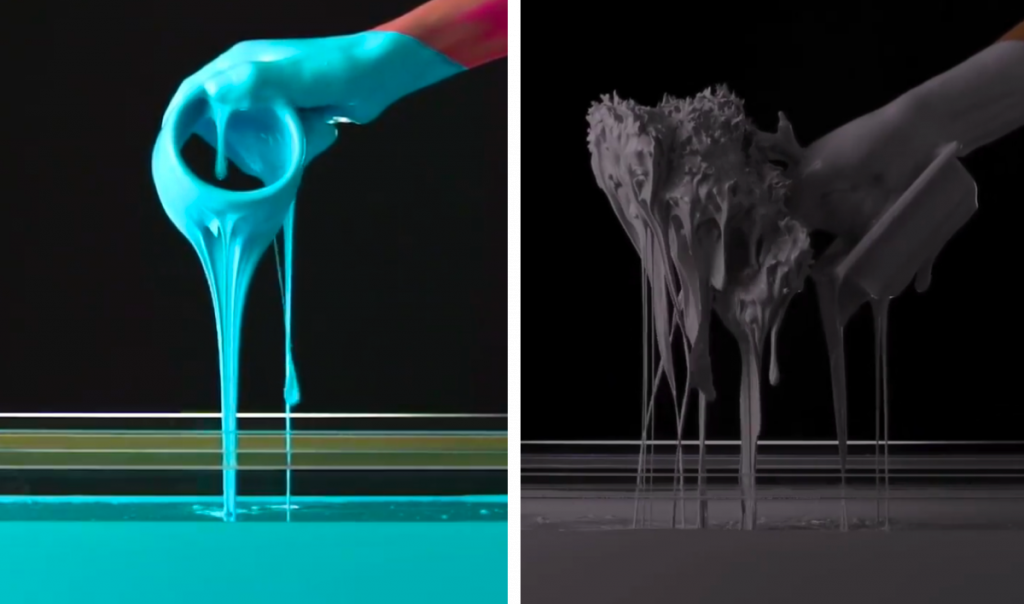 We also forged online connections with Oddly Satisfying artists and curators. They helped our videos get even more exposure by reposting when we shared something new they loved. This brought thousands of new followers, who soon became engaged community members.
When one door closes…
After six months of posting dipping videos, our audience grew fatigued.
How many times can you watch items being dipped in pink paint before it gets… a little old?
It was time to pivot to our next phase. We decided to stick with an artistic, visual concept, since that's what Instagram is for. We'd have to hit a specific sweet spot: homemade, not focused on insurance, and reflective of Lemonade's unique culture.
To come up with a new concept that wouldn't fatigue our audience, our creative team riffed off of this design thinking-driven prompt: 
If you had one  photo of a man sitting on a toilet, how would you edit and repost it to create variation—to make people stop and pay attention every time? 
This led us down a rabbit hole of ideas. We iterated on several, and even produced some.
But then Covid-19 flipped the world upside down, and we were suddenly faced with the new challenge of working from home.
How could we produce Instagram videos while quarantining? 
We were also extremely aware of the new economic reality. So many creatives were being hit hard by the pandemic. Was there a way we could support artists in our community during these tough times? 
From 'Covered' to 'Connected'
While all of these restrictions seemed, well… restricting… having a clear focus actually liberated us to come up with a wild idea within a specific framework. 
We landed on a concept that excited everyone: Why not keep with the "dripping" theme, and ask artists around the world to create an  interpretation of the drip, in their own style?
We'd commission artists around the world to start with a drip that begins at the top of the frame, and ends at the bottom, using Lemonade Pink predominantly (hex code: #ff0083). The rest would be up to them.
This free-for-all prompt and creative freedom allowed each artist to make something completely different— yet all unified by a single pink drip. Not only that, but this simple idea also opened up tons of possibilities to use art as a platform for issues Lemonade cares about.
We can't give away too much yet, but we're also commissioning pieces dedicated to our Giveback causes to highlight some of the most important issues of our time. We also launched a new online publication, #FF0083 to put a bigger spotlight on the artists we work with, sharing behind-the-scenes details, personal stories, and creative inspirations.
This new experiment—which we're calling #ConnectedByLemonade—is version 2.0 of our Instagram feed, rather than a replacement.
It's a way to experiment with tons of exciting mediums and techniques, and collaborate with artists from around the world—from a French motion designer to an Italian graphic designer. 
Our Instagram has always been a playground for exploration. #ConnectedByLemonade is the natural evolution, because our virtual art gallery is no longer about us—it's about a community of people who love art, design, and giving back. You can't get much more Lemonade than that.
View this post on Instagram