Why would anyone follow an insurance company on Instagram?
Two years ago, we set out to find out. Up until then, we had been posting photographs on Instagram, but it didn't pass what we call the 'Who Cares Test.' They didn't excite anyone, or give them a reason to care.
We went back to the drawing board with a series of free-for-all brainstorms, where our only rule was: Don't try to sell insurance. We threw around ideas–ranging from a feed full of donkey asses to photographs of clouds around the world—but nothing stood out.
We needed a new creative solution. One of Lemonade's backend engineers recommended a brainstorm driven by design thinking, a data-driven technique that helps conjure new ideas from thin air.
Harnessing the power of design thinking
Design thinking instructed us to bring in a diverse group from different departments, backgrounds, and ages to avoid groupthink and encourage out-of-the-box ideas. So we created a brainstorm group of product managers, designers, and storytellers.
The brainstorm was silent, to make sure everyone's voice was heard equally without wasting time or fixating on one idea too quickly.
We kicked off with a specific prompt, to avoid losing focus: the slide below, which lists popular Instagram elements on the left, and Lemonade brand elements on the right.
We asked the group to mash the terms up and generate as many ideas as possible, without getting caught up on whether or not they were practical. The more ideas we'd have, the greater our chance of coming up with something crazy.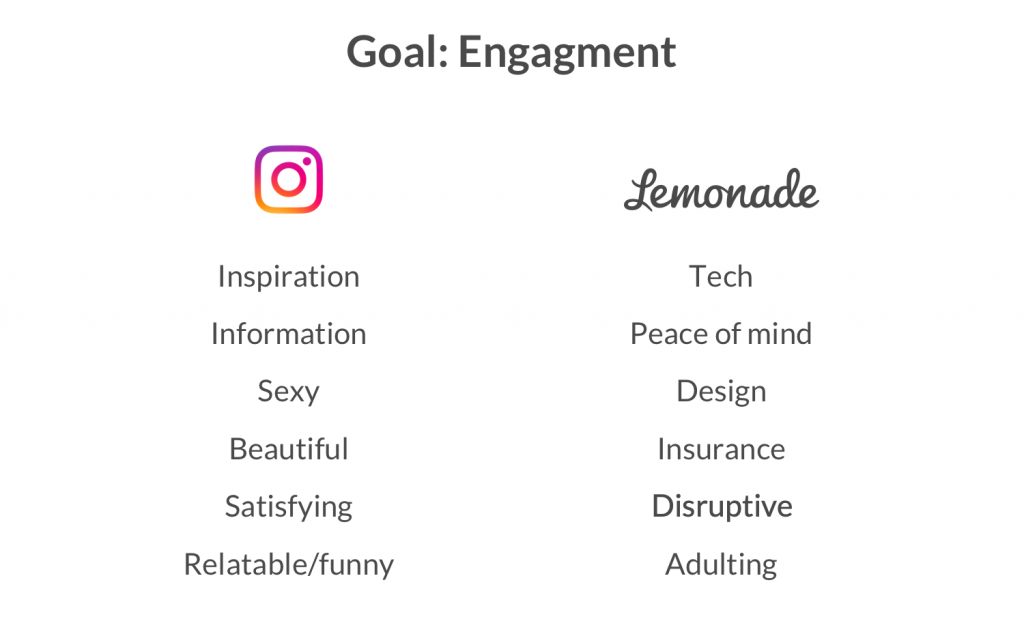 Our resulting mashups ranged from the generic ('beautiful design') to the unexpected ('satisfying insurance') and the bizarre ('sexy adulting'). Rather than narrowing them down, design thinking encouraged us to expand and build off of each. So we read the mashups silently, and jotted down more ideas they sparked.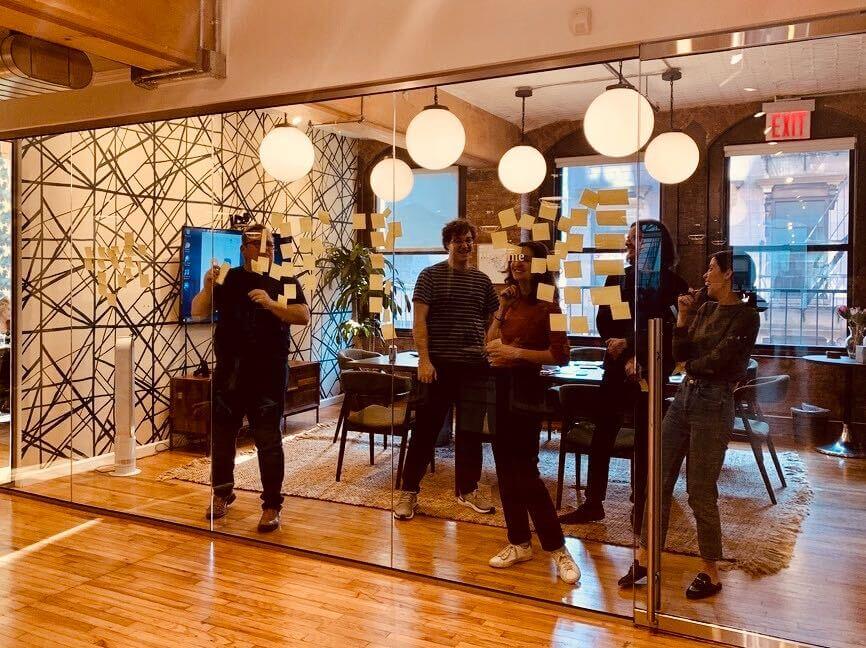 To build consensus, we voted on our favorites from among the 80+ written on Post-It notes. This time, we did try to keep practicality in mind… What could we actually produce?
The concept with the most votes? "Dip items in pink paint."
One very pink idea
Design thinking cautions to never land on an idea until you build a prototype. So we gathered a plastic bin, gallons of pink paint, and a black background, and set up shop in the attic of Lemonade's Tel Aviv office one pre-COVID morning. We were ready to dip tons of random items.
But would the content pass the Who Cares Test? Would it ignite curiosity from our audience? Could it scale?
After seeing that the idea worked, we decided to move forward. And the fun began.
We sourced over 70 items from Team Lemonade and local thrift shops, from a briefcase to dusty records to a pile of Slinkys. 'Dipping Day' was an invigorating mess, in every sense of the word.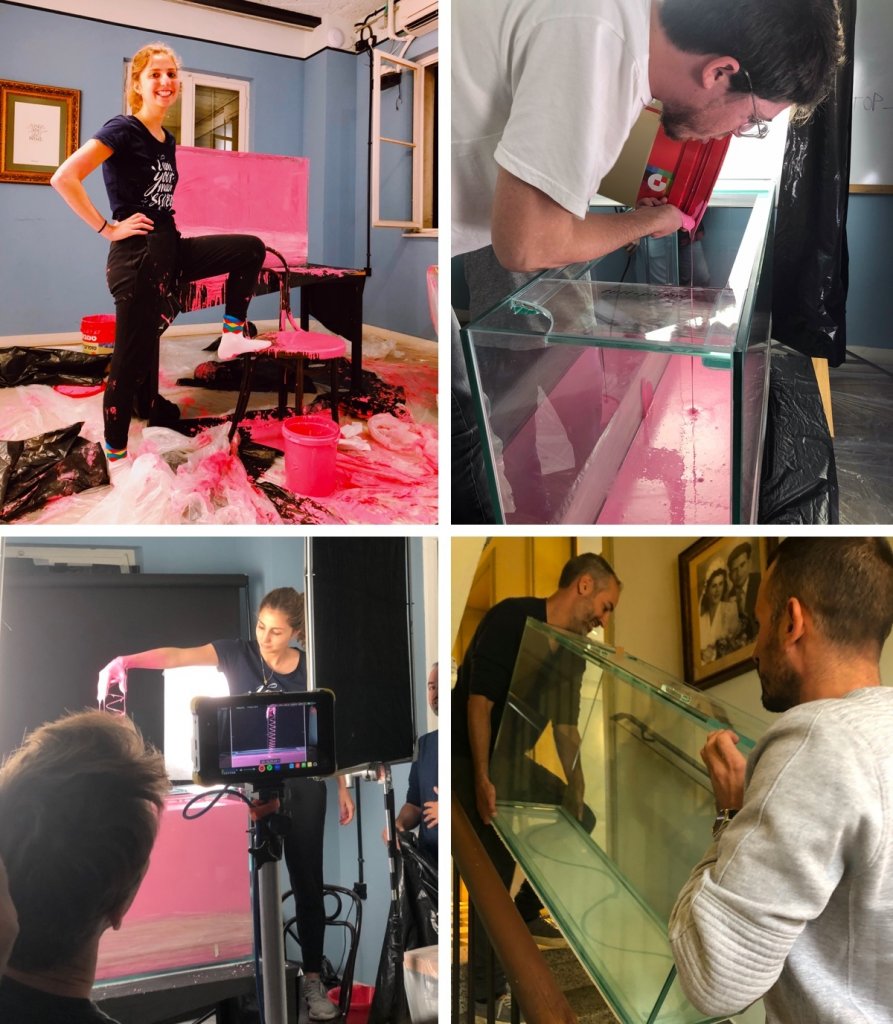 Telling an #OddlySatisfying story
We lightly edited the videos to make them Oddly Satisfying, while still retaining their DIY spirit. And then we set out to write captions. Some resonated more than others.
Puns about the dipped items didn't engage our audience, but behind-the-scenes stories about our company culture did. So we used captions to offer a transparent look at Lemonade—sharing the stories behind the items, or our list of 52 deep questions that we use at team lunches. We also asked our followers what we should dip next.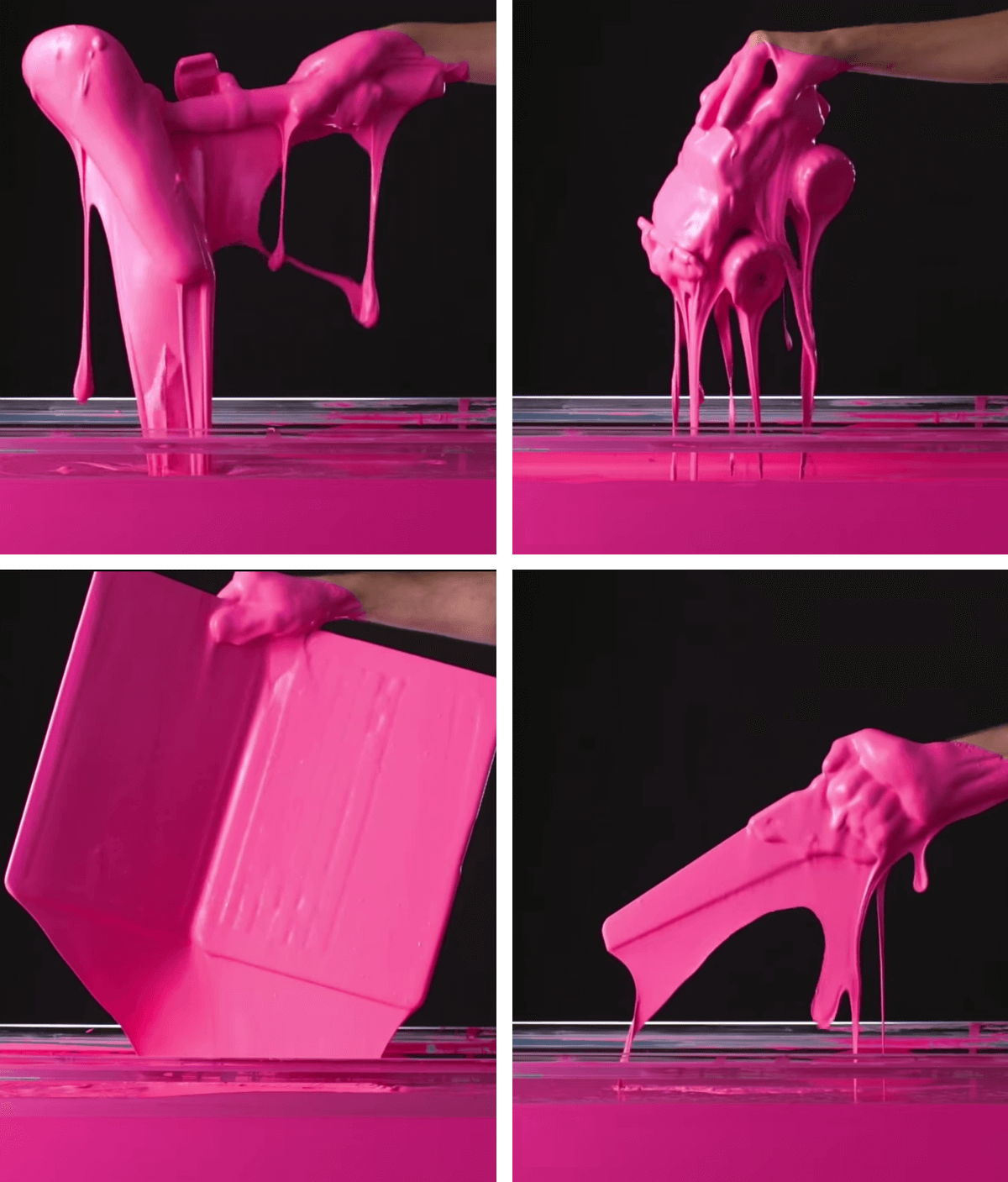 To support our Giveback partners, we periodically changed the colors of the paint —using blue to spotlight World Water Day with our partner charity: water, and grey to highlight 350.org's efforts to rein in the polluting effects of coal.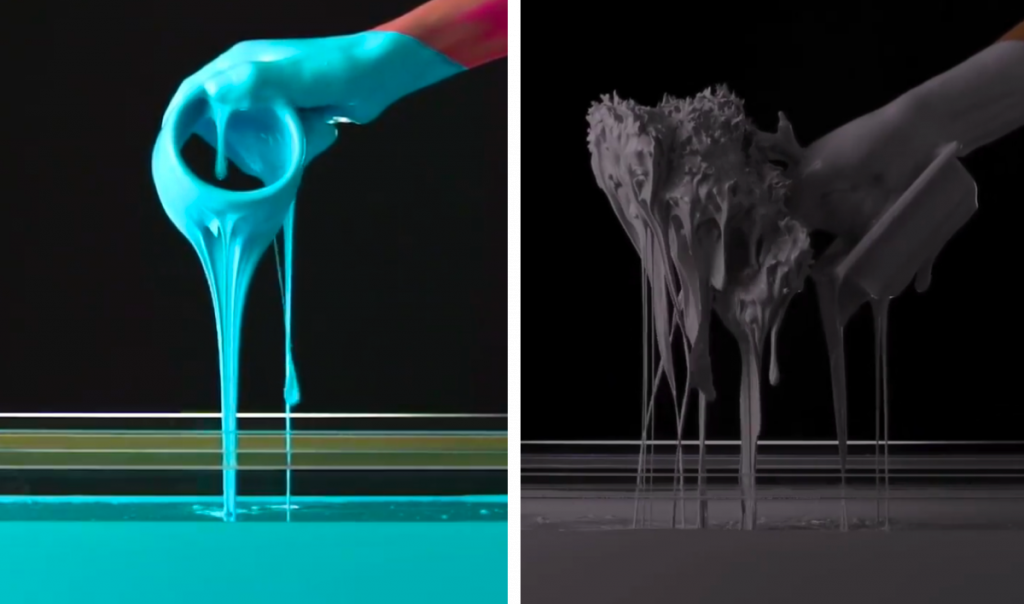 We also forged online connections with Oddly Satisfying artists and curators, who helped our videos get exposure by reposting. This brought thousands of new community members.
When one door closes…
But after six months of posting dipping videos, our audience grew fatigued. How many times can you watch items being dipped in pink paint before it gets… a little old?
It was time to pivot. But we wanted to stick with an artistic concept, and create something that's both homemade and not focused on insurance.
To come up with a new concept, our creative team riffed off of a prompt inspired by design thinking: If you had one photo of a man sitting on a toilet, how would you edit it to make each and every post different from the next?
This led us down a rabbit hole of ideas. We iterated on several, and even produced some.
But then Covid-19 flipped the world upside down, and we were suddenly faced with the new challenge of working from home.
How could we produce Instagram videos while quarantining? And since creatives were being hit hard by the pandemic, how could we support artists in our community?
From 'Covered' to 'Connected'
While all of these restrictions seemed, well… restricting… having a clear focus and specific framework was actually liberating.
We landed on a new concept: Stick with the "dripping" theme, and ask artists to create an interpretation of the drip, in their own style.
We commissioned artists around the world to start with a drip that begins at the top of the frame, and ends at the bottom, using Lemonade Pink predominantly (hex code: #ff0083).
What happens in between is up to them. This creative freedom allows each artist to make something completely different— yet unified by a single pink drip.
This time, we'd use these art pieces to not only spotlight and support our Giveback causes, but also the artists themselves. We launched a new online publication, #FF0083, to share behind-the-scenes details of each piece, as well as info on the artists' creative inspirations and side projects.
Instagram has always been our playground for exploration. This new feed is the natural evolution, because our virtual art gallery is no longer about us—it's about a community of people who love art, design, and giving back. There's nothing more Lemonade than that.