Detroit Homeowners Insurance Guide
Get your home covered in Motor City.
A lively mix of different cultures and traditions, Detroit boasts a vibrant art scene and renowned, eclectic cuisine. The city's economy is rebuilding, making it an affordable place to buy a home.
Savvy investors know when to pay attention to a city, and Detroit is getting noticed in a big way. Detroit's startup scene is booming, bringing jobs and economic opportunity to the city. While much of the innovation centers around the automotive industry, many life science and technology companies are popping up in and around Detroit.
In Detroit, homeowners insurance would cover you financially if something were to happen to you, your property, or your stuff. Let's say someone breaks into your home while you're on a weekend hike in Belle Isle Park, or your friend twists their ankle after getting too excited while watching the Lions in your living room. The right homeowners insurance policy could offer you financial protection if something terrible (or just plain inconvenient) were to happen.
Here's what we'll cover:
What does Detroit homeowners insurance cover?
Detroit has a lot going for it. Affordable housing, low taxes, friendly people, and fantastic food all make it clear why Motor City is a great place to be. You'll find some beautiful places in and around the city, such as the Detroit International Riverwalk, Blue Heron Lagoon, Rouge Park, the Prairie Pathway, and the Stone Bridge Nature Trail. Picturesque trails, woodlands, bird-filled marshes, and the relaxing shores of the Detroit River are just some of the natural wonders you'll find in Detroit.
However, there is also the risk of natural disasters that come along with the city's beauty. In Detroit, floods, tornadoes, severe thunderstorms, power outages, and snowstorms are all unfortunate possibilities.
It's worth noting that while no insurance policy can cover you from every single potential mishap, the right homeowners policy has coverage options that can keep you financially afloat through a myriad of typical situations.
You might know that home insurance coverage is a good (and necessary) idea, but you may not have a grasp on all the moving parts. We've got a very extensive, plain English guide here, so feel free to dive deep into the specifics—but for now, we'll break down the basics for you here, so you can get a handle on what a policy covers in general.
Dwelling
Dwelling coverage helps pay for damages to the structure of your home. So, if your pipes burst next winter, causing a water backup and damaging your walls, or a windstorm blows over a tree and damages your home, you're covered.
Other Structures
If one of the dangers mentioned above causes damage to your driveway, fence shed, or other structures on your property, your home insurance policy will have you covered.
Loss of Use
If you can't live in your home due to covered losses, your loss of use coverage can help pay for a temporary place to stay and basic living expenses such as food, laundry, parking, etc.
Personal Property
Personal property coverage protects your stuff both inside and outside your home. So, if your couch is ruined due to a burst pipe, or your laptop is swiped at a coffee shop in Corktown, homeowners insurance has your back. With Lemonade, if your insurance claim is approved, you'll receive the replacement cost of your personal belongings back in your pocket.
Liability coverage
If your neighbor slips and falls on an ice sheet on your driveway, you could be held liable. If someone is injured on your property or anyone on your policy causes damage to someone else's property or stuff, your insurance company should have you covered.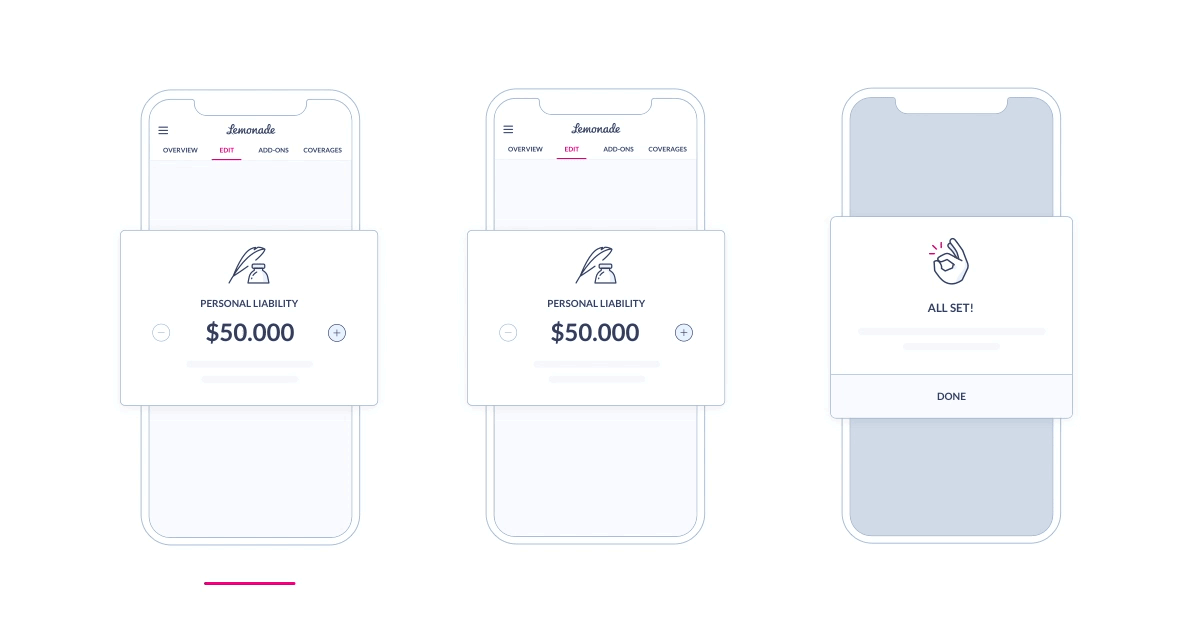 Medical Protection
If your neighbor needs to go to the hospital because of that slip and fall, your coverage will kick in to cover the medical expenses. Home insurance covers you if a guest gets injured at your place or if you accidentally cause injury to someone outside your home.
What are home insurance rates in Detroit?
There isn't a standard policy price for homeowner's insurance for residents of Detroit. Of course, the owner of a Palmer Woods mansion will pay a different monthly premium than a college student who owns a two-bedroom home in Lincoln Park.
According to Bankrate, Michigan residents can get a pretty good deal when it comes to homeowners insurance. In Michigan, insurance on the average home will cost around $1,288 per year. In comparison, the national average for homeowners insurance is $1,383. How much your home insurance costs depends on your coverage limits, your insurer, your property, your credit score, and your deductible.
What are the different types of homeowners insurance?
Lemonade offers two types of homeowners insurance policies: one for single-family homes (called HO3 in insurance-speak) and one for condo insurance (HO6). There are minor differences between the two, and you'll choose the right policy depending on the type of home you're looking to insure.
A key difference is that homeowners own and are responsible for everything on their property (home, garage, fence, etc.). Condo owners with HO6 policies are only responsible for the outermost walls of their unit, inward.
The best neighborhoods to be a homeowner in Detroit
North Rosedale Park
North Rosedale Park is a Detroit neighborhood with a noticeable sense of community. The area boasts a 4-acre park and an active Community House with recreational activities for the whole family. Catch a performance, enroll in fitness classes, or try some enrichment classes. Volunteering through the neighborhood civic association brings pride to North Rosedale Park residents, and there are numerous ways to get involved.
The average cost of a home in North Rosedale Park is $185,000, according to Realtor.com, making it an affordable option for home buyers and renters. You'll find lots of Colonials and Tudors on the neighborhood's tree-lined streets. Recent streetscaping efforts have improved North Rosedale Park residents' accessibility to public transportation options.
Hungry for the best vegan food in Detroit? Look no further than North Rosedale Park's Detroit Vegan Soul. Don't miss their addictive mushroom gravy and yummy vegan bacon cheeseburgers. If authentic Caribbean flavors are your jam, head to Island Spice Caribbean for delicious Jamaican Jerk dishes your taste buds will long remember.
Bloomfield Hills
An upscale neighborhood, Bloomfield Hills is a northern suburb of Detroit with an average home price of $594,000 according to Zillow. Ranked one of the top five wealthiest areas in the US, Bloomfield Hills features lovely, well-kept homes on large properties. Tudors, Craftsman-style homes, and sprawling ranches can be found in Bloomfield Hills.
Residents of Bloomfield Hills enjoy the best of suburban life, with great schools and ample green spaces, all within close distance of Detroit. Catch a tour of historic Cranbrook House and Gardens, with 40 acres of gardens and picturesque properties. Don't put your camera away just yet – nearby Cranbrook Japanese Gardens is a serene botanical garden with many walking paths and beautiful birds.
For fine dining on a special occasion, visit Joe Muer Bloomfield Hills for delicious seafood and steaks. Eddie Merlot's Prime Aged Beef and Seafood is another option, known for upscale food and on-target wine pairings. Looking for a more casual place to eat? Head to The Moose Preserve Bar and Grill for burgers and fries, or try their cowboy mac and cheese – you won't be sorry!
Livonia
Livonia lies just west of Detroit's city limits. You'll find charming Capes, Colonials, and split-level homes on well-maintained properties in Livonia, where average home prices are $278,000 according to Zillow. Quality schools, lots of local parks, and low crime rates make the area especially desirable.
Livonia residents have their pick of leisure activities. Greenmead Historical Park, known as Greenmead Farms to locals, is a lovely place to spend a few hours on weekends. Go antiquing at Town Peddler and Yesterday's Antiques and Collectibles. You can also race radio-operated cars, helicopters, or drones at Dirt Burner Racing.
There are lots of great spots to grab a bite in Livonia. Mitchell's Fish Market is an upscale fish restaurant and bar with the freshest fish around, served every way you can imagine. Mexican family-owned restaurant Las Palapas features authentic south-of-the-border flavors and generous portions. Sheesh is a flavor-packed Lebanese restaurant that serves lamb, kebabs, shawarma, and appetizing salads galore. If you still have room left for something sweet, head to French Toast, a Cajun bistro with brunch, sandwiches, desserts, drinks, and more on the menu.
Bagley
Bagley is located in Northwest Detroit and has well-kept, modest homes. The average price of a home in Bagley is $177,700 according to Realtor.com. Located near the University District, you'll find a range of apartments and single-family homes in Bagley, including Tudors, Capes, Colonials, and some historic unique brick homes.
Bagley has a reputation for friendly, involved neighbors who enjoy a quiet quality of life. It also offers residents an easy commute to many other Detroit neighborhoods. You'll find the historic John N. Bagley House in the neighborhood, among the oldest surviving French Renaissance Revival mansions in Detroit. Residents hang out at Bagley Community Pocket Park or Bagley Memorial Fountain on weekends.
Bagley's Livernois Corridor is home to Detroit's "Avenue of Fashion," with great shopping, a summer Jazz concert, and an open house that welcomes shoppers to get to know its diverse shops.
For delicious eats in Bagley, you'll have a hard time choosing between the many tempting options. Kuzzo's Chicken and Waffles features Southern comfort food favorites and waffle combos served all day. Come hungry! Local favorite Lou's Deli has been making show-stopping deli sandwiches to Detroiters for over 50 years. If you've got a sweet tooth, visit Good Cakes and Bakes, featuring organic, fresh ingredients and a line of vegan cakes that will wow you!
These Detroit businesses will make your house a home
POST is based in Detroit, and creates custom furniture out of reclaimed wood. The owners are known for their excellent customer service and attention to detail. Post by Mutual Adoration features hands-on craft workshops where you can try your hand at creating memorable items like wooden bowls, frames, woven art, and planters.
Random facts that make Detroit great
Detroit's Belle Isle has been open since 1884. It features an aquarium, conservatory, and zoo, and is the largest island park in the United States!
Local favorite beverage Vernors originates in Detroit and is the oldest brand of ginger ale in the US.
Before it was Motor City, Detroit was known for its salt mines! Over 1,500 acres of salt mines and deposits lie 1,200 feet under Detroit's surface. The Detroit Salt Mine can be toured by visitors.
Strike! Bowling is more popular in Detroit than anywhere else in the country, with the most registered bowlers in the United States.
Paving the way: Detroit is the first city to pave a mile of road with concrete. Woodward Avenue between Six Mile Road and Seven Mile Road was paved in 1909 at a cost of $14,000. Today, that project would cost closer to $1,000,000.