Michigan Homeowners Insurance Guide
Cover your home in the Great Lakes State.
Whether you live not far from Detroit or have a view of Lake Superior from your window, you deserve the best homeowners insurance coverage in Michigan.
Homeowners insurance would cover you financially if something happened to you, your property, or your stuff. Let's say someone breaks into your home while you're camping out for the weekend at Huron-Manistee National Forest, or your friend twists their ankle after getting too excited while watching the Pistons in your den. The right homeowners insurance policy could offer you financial protection if something unfortunate (or just plain inconvenient) were to happen.
What does Michigan home insurance cover?
Michigan has a lot to offer. The state boasts a steadily growing economy, a reasonable cost of living, and nation-leading universities. There is variety, from big cities with thriving culture and arts scenes to open farmlands and verdant forests. Add to that a stunning natural landscape, distinct seasons, an active outdoor lifestyle, and, of course, lakes galore, and it is clear why the Great Lake State is a fantastic place to live.
However, there are also some natural risks along with the state's natural beauty. In Michigan, floods, severe storms, winter storms, wildfires, tornadoes, drought, and though highly uncommon, earthquakes are possible in Michigan.
It's worth noting that while no insurance policy can cover you from every single potential mishap, the right homeowners policy can keep you financially afloat through a myriad of typical situations.
You might know that a home insurance policy is a good (and necessary) idea, but you might not have a grasp on all the moving parts. We've got a very extensive, plain English guide here, so feel free to dive deep into the specifics—but for now, we'll break down the basics for you here, so you can get a handle on what a policy covers in general.
Dwelling
'Dwelling coverage' helps pay for damages to the structure of your home. So, if your pipes burst next winter and damage your walls, or a windstorm blows over a tree and damages your home, you're covered.
Other Structures
If one of the dangers mentioned above causes damage to your driveway, fence shed, or other structures on your property, your homeowners insurance has you covered.
Loss of Use
If you can't live in your home due to covered damages, your' loss of use coverage can help pay for a temporary place to stay and basic living expenses such as food, laundry, parking, etc.
Personal Property
Personal property coverage protects your stuff both inside and outside your home. So, if your couch is ruined due to a burst pipe or your laptop is swiped at a coffee shop, homeowners insurance has your back. With Lemonade, if your insurance claim is approved, you'll receive the replacement cost of your personal belongings back in your pocket.
Liability coverage
If your neighbor slips and falls on an ice sheet on your driveway, you could be held liable. If someone is injured on your property or anyone on your policy causes damage to someone else's property or stuff, your insurance company should have you covered.
Medical Protection
If your neighbor needs to go to the hospital because of that slip and fall, your coverage will kick in to cover the medical expenses. Home insurance covers you if a guest gets injured at your place or if you accidentally cause injury to someone outside your home.
How much is home insurance in Michigan?
There isn't a standard policy price for homeowner's insurance for residents of Michigan. Of course, a Lake Geneva mansion will pay a different monthly premium than a college student who owns a two-bedroom home in Ann Arbor.
According to Bankrate, Michigan residents can get a pretty good deal when it comes to homeowners insurance rates. In Michigan, the average cost of homeowners insurance is around $1,120 per year. In comparison, the national average for homeowners insurance is $1,477. How much your homeowners insurance costs depends on your coverage limits, your insurer, your property, and your deductible.
What are the different types of homeowners insurance?
Lemonade offers two types of homeowners insurance policies: one for single-family homes (called HO3 in insurance-speak) and one for condo insurance (HO6). There are minor differences between the two, and you'll choose the right policy depending on the type of home you're looking to insure. A key difference is that homeowners own and are responsible for everything on their property (home, garage, fence, etc.). Condo owners with HO6 policies are only responsible for the outermost walls of their unit, inward.
Some of the best places to buy a home in Michigan
Larkin Charter Township
Larkin Charter Township, located in Midland County, is the number one best place and the best suburb in Michigan to buy a home, according to Niche.com, and the fourth best place to buy a house in the entire United States. The township also makes the top twenty for best places to raise a family in Michigan, coming in at eighteen.
The public school system is unbeatable with a high level of learning. Larkin Charter Township was rated A+ in housing, as an excellent place to raise a family and for high-quality public schools. Family-friendly attractions and outdoor spaces include Grandma's Pumpkin Patch, Larkin Township Park, and Midland City Forest Park, 520 acres of pine trees and hardwoods.
In a tiny place with a population of only 5,368, it is easy to see how Larkin Charter has a small-town community feel. The average value of a house in Larkin Charter Township, according to Zillow, is $184,386.
Berkley
Berkley is a burgeoning city that has become a hot spot for supporting small businesses. According to Niche.com, this suburb of Detroit is the second-best suburb and the third best place to buy a home in Michigan. Berkeley also makes the top ten, ranking seven for best places for young professionals in Michigan.
Inside Berkley, residents enjoy arts and culture in locations such as Berkley Historical Museum and the plentiful parks in the surrounding suburban areas, including Oxford Park, Angell Park, Jaycee Park, and more. Just a short drive away to the south of Berkley, there are family-friendly attractions like the Detroit Zoo, where you can see the Arctic Ring of Life with acclaimed Polar Bears and Seals, or the Cotton Family Wolf Wilderness.
Because of its proximity to Detroit, it is perfect for commuters who want to enjoy the benefits of the big city without being too close to all of the noise and action. The average value of a house, according to Zillow, in Berkley is $278,112.
Royalton Township
Also known as "the fruit belt of Michigan grape country," Royalton Township is a flourishing community. Located in Berrien County, it is the number two best place to live in the county. According to Niche.com, Royalton Township is the fourth best place to purchase a house in Michigan. The township is rated an A+ for being a great place to raise a family.
A few miles southeast of St. Joseph, Royalton Township's eastern boundary is the St. Joseph River. The St Joseph River is excellent for fishing, boating, or hiking along the many trails that are a part of the St. Joseph River Water Trails, which stretch about 67 miles, and include multiple river, stream, and lake access points.
The community enjoys scenic winding paths that lead down to the river, rolling wetland habitats, and trails featuring spectacular wildflowers at Royalton Township Nature Trail. Royalton Township is a prime residential area and an attractive place to live and work. The average value of a Royalton Township home, according to Zillow, is $47,926.
East Grand Rapids
This suburb of Grand Rapids is a quaint, walkable community located in Kent County. According to Niche.com, East Grand Rapids is the number one best place to live in the Grand Rapids area. It is deemed the third-best suburb and the fifth-best place to purchase a house in Michigan. This lake city boasts the picturesque Reeds Lake encompassed by the Reeds Lake Trail. John Collins Park, Waterfront Park, and Hodenpyl Woods are just a few of the local natural attractions of lakeshores, wetlands, and wooded wetlands that residents enjoy in East Grand Rapids.
This city loves to nurture its natural beauty, which you can admire at the Calvin Ecosystem Preserve & Native Gardens. There are also museums, gardens, and much more to enjoy in this city on a lake. The typical value for a home in East Grand Rapids, according to Zillow, is $537,502.
Michigan real estate brokers to follow on Instagram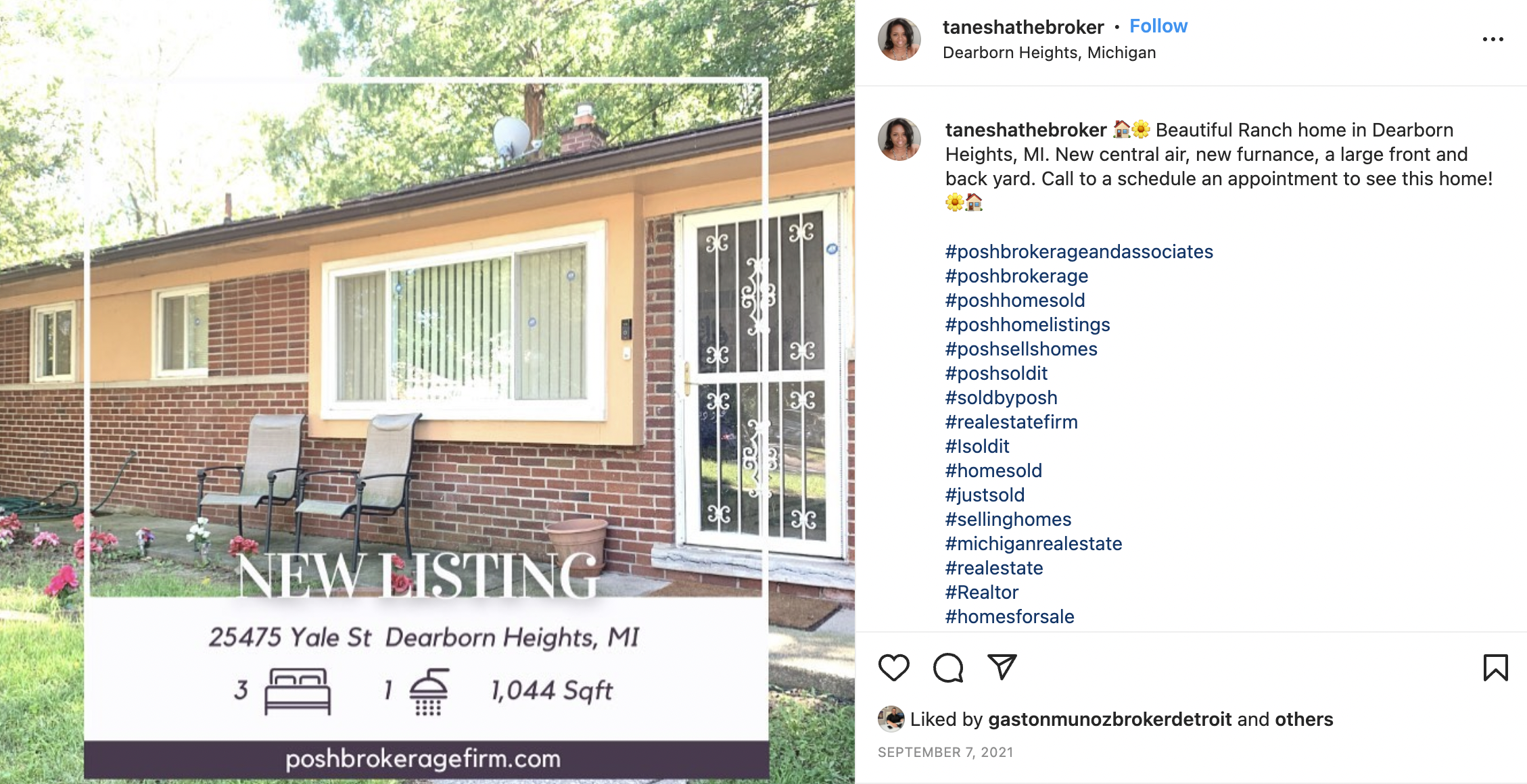 Tanesha Jones is a Michigan real estate broker and principal associate broker for Posh Brokerage and Associates. Her listings include a beautiful ranch home in Dearborn Heights, a spacious colonial Belleville home, and a lovely Beaconsfield bungalow. Check out her new listings and condo stories! taneshathebroker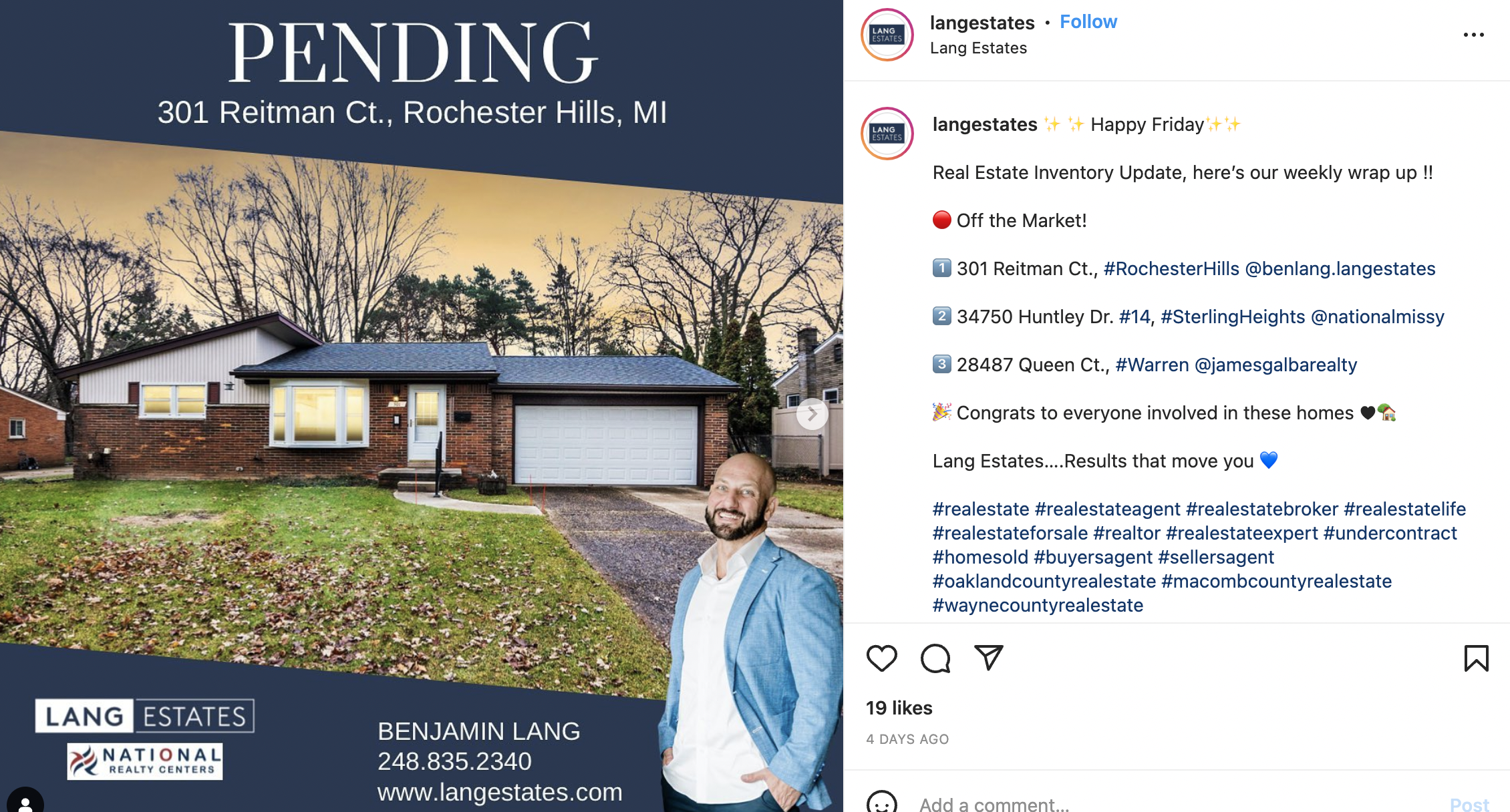 This Metro Detroit-based real estate team is committed to "changing people's lives, one dream come true at a time." Lang Estates has listings in charming Rochester Hills, Grand Blanc, Clinton Township, Madison Heights, Southfield, and more. Don't miss out on the open house events! langestates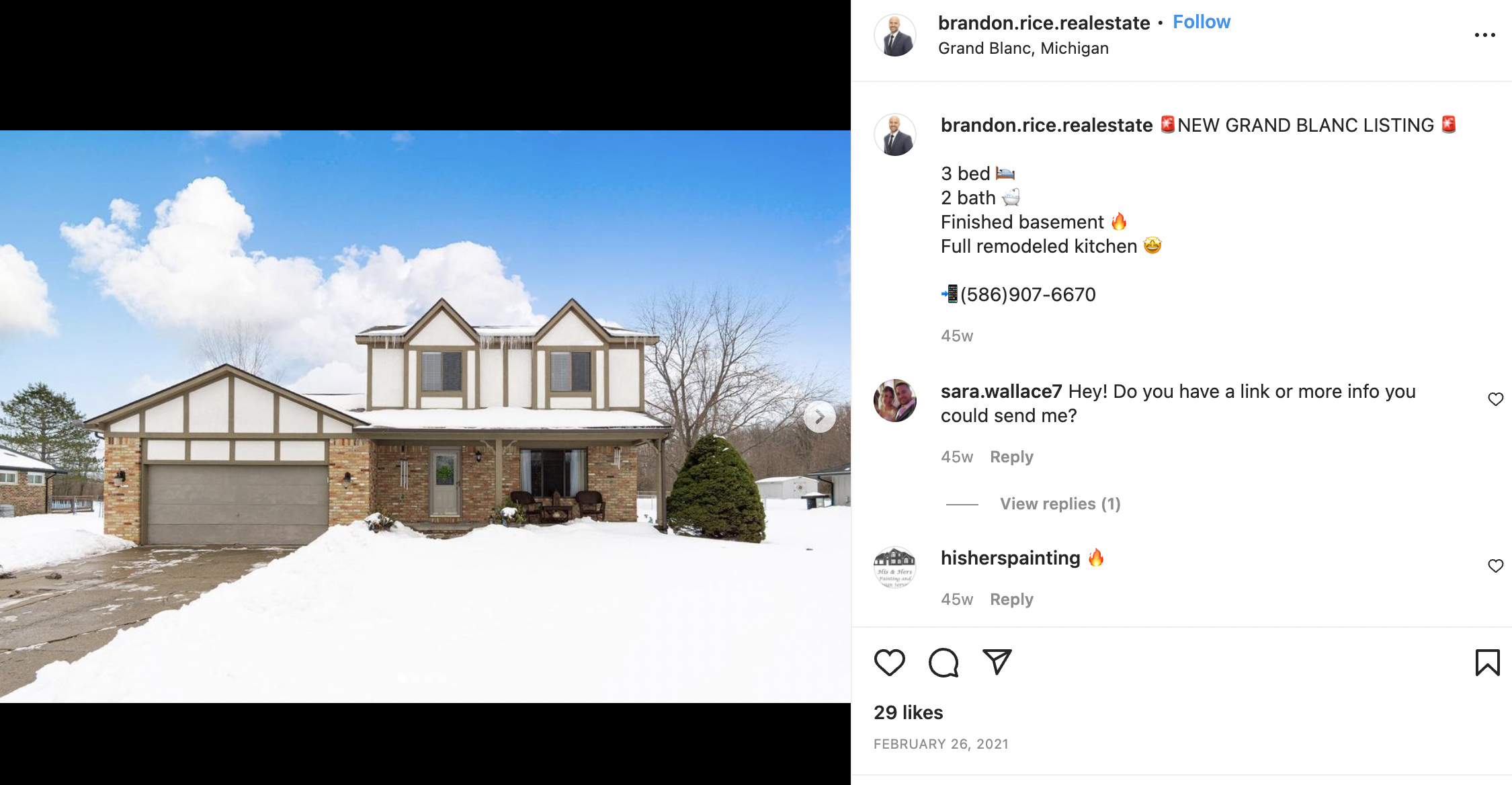 Brandon Rice is a highly rated and recommended realtor at The Wentworth Real Estate Group. His listings in Grand Blanc include spacious ranch condos, quaint homes in the highly sought-after Indian Hills neighborhood, and fully renovated homes. Make sure you read his reviews! brandon.rice.realestate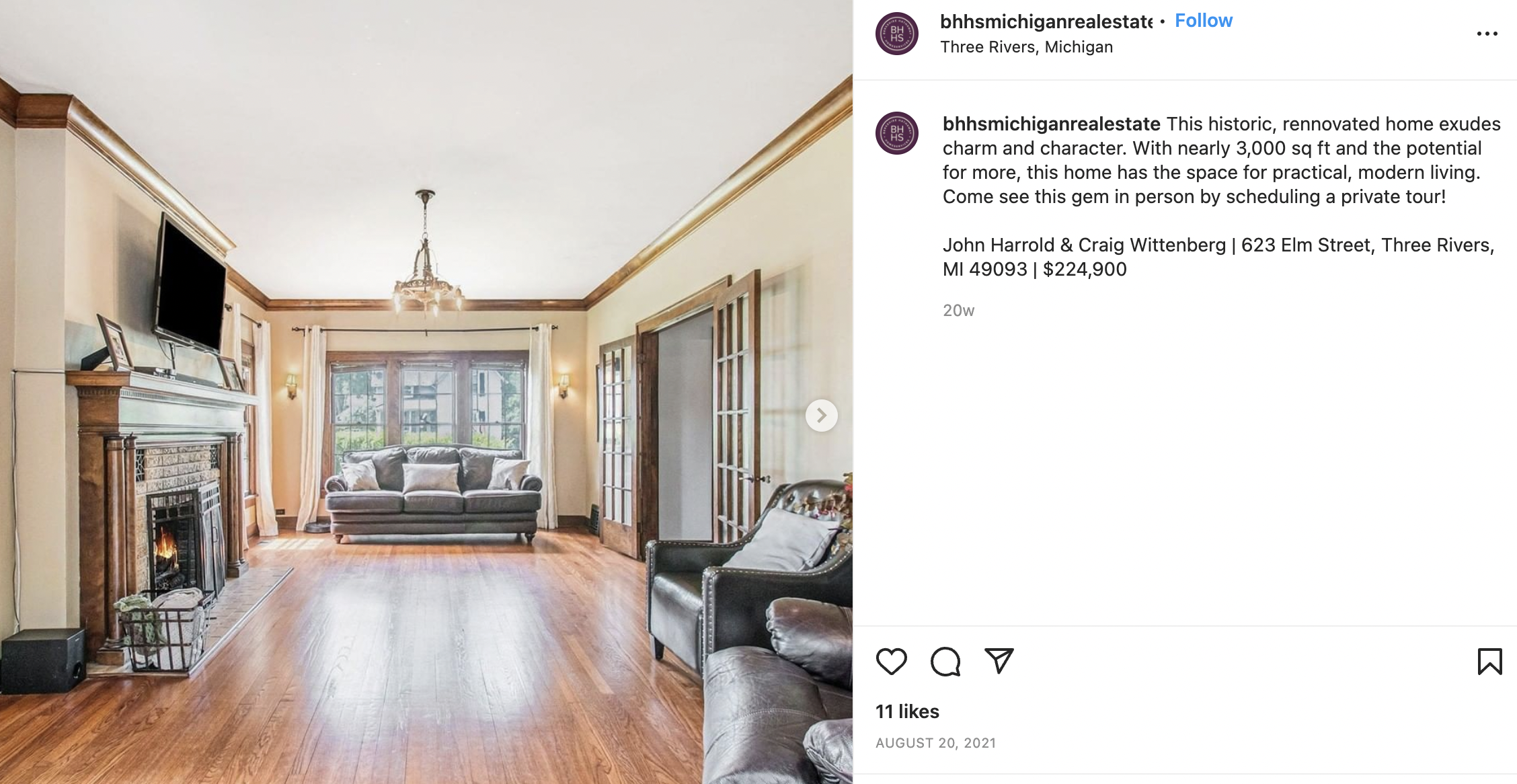 Proudly serving the entire state of Michigan, Berkshire Hataway Homeservices is the third-largest brokerage in Michigan and has 44 locations in the state. Their listings include a magnificent, secluded home in the sought-after "The Meadows of Grand Blanc' subdivision of Grand Blanc, a spectacular well-maintained East Grand Rapids home, or a breathtaking Lake Michigan home with unparalleled views! bhhsmichiganrealestate
Random facts that make Michigan Great
Home of the Greats
It is no secret that Michigan is the Great Lake State. It earns this nickname as the only state that touches four of the five Great Lakes, making it the longest freshwater coastline of any state in the nation. No matter where you are in Michigan, you are no more than 85 miles from one of the Great Lakes.
Automotive capital
Did you know that the automotive assembly line was invented in Michigan? Detroit has long been recognized as "Motor City," historically the heart of the American automotive industry and the world's automotive capital. The rest of the world adopted the mass-production model that Henry Ford pioneered there.
Capitol history
Have you ever wondered why Detroit isn't the capital of Michigan? Well, it was. The state has had two capital cities and three capitol buildings. Originally, Detroit was the capital, and then it was moved to Lansing in 1847. This move was not without drama. At some point, Ann Arbor, Grand Rapids, Jackson, Marshall, and Shiawassee Township were all contenders.
The cherry on top
Each state has an official fruit, and Michigan's is the cherry. A Michigan bill (House Bill No. 5574) designated cherries as the official state fruit. The debate was not clear-cut, as cherries were up against blueberries for the honor. Since the state is the country's leading producer of tart cherries and due to the annual National Cherry Festival held in Traverse City, cherries won.