Homeowners Insurance Add-Ons You Should Know About
Want to be fully covered? Consider these policy additions.
Your base home insurance should give you plenty of protection, but there are still some things you won't be covered for. That's where policy add-ons come in.
Add-ons—referred to as riders or endorsements at some other companies—are changes and additions you can make to your homeowners policy in order to fill those potential coverage gaps. They'll give you extra coverage for stuff like your swimming pool, buried utilities, and more.
Insurance policy add-ons allow homeowners to expand their coverage based on where they live, the stuff they own, and the unique characteristics of their home. The right add-ons to your policy can create a wider umbrella from protection, so you'll be at less risk of losing money if unfortunate things happen.
Curious about your base policy? No problem, you can get the big picture of your base homeowners insurance coverages here.
So now, without further ado, here's a breakdown of the most frequently used insurance endorsements, aka add ons, which you can purchase on top of your base policy at Lemonade:
Swimming Pool Coverage
Insurers consider a swimming pool an "attractive nuisance," a feature of your home that presents high risk. As such, injuries that occur in or around it won't be covered by your basic homeowners policy (nor will any accidents related to pool accessories like a diving board or water slide).
Since pools bring a serious risk of people hurting themselves, it's important to know whether or not your homeowners insurance will cover you if a guest slips and breaks their leg. Often, coverage for injury related to swimming pools will be automatically excluded on your policy. You can likely add it for an extra charge—but make sure to ask.
That said, your basic homeowners insurance policy will generally cover damage to the structure of your above-ground, in-ground, or portable pool itself, depending on the cause. You can read more about that here.
Equipment Breakdown Coverage (EBC)
Equipment Breakdown Coverage (EBC), also known as Appliance Coverage, makes your existing homeowners or renters insurance more robust, covers additional damage to electronics and appliances that you own like your 85-inch television, as well as things like your dishwasher, washing machine, refrigerator, dryer, AC system, home gym set-up and more.
So, if there's a mechanical or electrical breakdown, EBC may provide up to $100,000 in coverage on almost any home appliance.
With a standard policy, your stuff is covered from a set of named perils—things like fires, windstorms, or vandalism. So your home stereo system would be covered if it was destroyed in a fire or stolen by a burglar. But your basic policy doesn't cover damage caused by or resulting from electrical failure or mechanical breakdown. That's where EBC comes in.
Adding EBC can help protect most of the electronics and appliances in your home. If you're adding EBC to your renters policy with Lemonade you'll pay around $2/month extra on your policy (approx $24/year), and with homeowners or condo insurance you'll pay around $3/month ($36/year).
Lemonade offers Equipment Breakdown in AR, AZ, CT, GA, IL, MI, NJ, NM, OH, OK, OR, PA, RI, TN, VA, and WI—both for new policyholders and for those who are renewing a policy. You can add this endorsement to your Lemonade policy when you apply for a quote or on the app if you already have a policy. FYI, the deductible on EBC-related claims is set at $500.
Buried Utility (BU)
Buried Utility (BU) coverage, sometimes known as Service Line Coverage, is an add-on available to your homeowners insurance that covers underground utility lines—like water, sewage, or gas lines—as well as underground wires like electrical cable or power lines on your property.
Lemonade provides coverage up to $10,000 for loss or damage to buried utility lines due to a leak, tear, break, or collapse caused by any of the following:
A mechanical breakdown
Artificially generated electrical current
Wear and tear
Freezing
Weight of people, animals, or equipment
BU with Lemonade costs only $3.25/month. Keep in mind that you'd have a $500 deductible applied to each BU claim.
Water Backup
There's often confusion around whether or not water damage is covered by homeowners insurance.
Here's a good rule of thumb: If the water damage was caused by something sudden or accidental (like a burst pipe), your homeowners insurance can help cover the damage. However, if the water damage was caused by poor maintenance or general wear and tear—or if there's flooding from the outside of your home, even if it's related to a major storm—you probably won't be covered.
Think of it this way: It's less about the type of water damage, but rather why the damage occurred in the first place.

If you want to make sure you're amply protected from water damage, you can purchase Water Backup coverage. This endorsement will cover your stuff if a pipe or sump pump backs up and creates water damage in your home (note that the pipe itself wouldn't be covered by this endorsement, just your damaged floors or your belongings.)
Water Backup coverage offers limits of either $5,000 or $10,000. For $5,000 you'll be typically paying around $9 a month on your policy, and for $10,000 around $13.50 a month (again, these are estimates).
Foundation Water Damage
This covers damages to the foundation of your home due to water leakage or seeping; it means extra protection in case water collects at your foundation and causes cracks or leaks from underground.
Scheduled Property (aka Extra Coverage)
Insurance companies have maximum amounts that cap how much coverage you'll get for certain valuable items, like jewelry.
Have a few very big ticket items? When it comes to jewelry theft, for example, your base policy will only cover you up to $1,500. If your jewelry collection is worth more than that, you'll need to purchase a scheduled personal property endorsement, known at Lemonade as Extra Coverage (it just rolls off the tongue more easily).
For valuables like jewelry as well as bikes, cameras, fine art, and musical instruments, purchasing a scheduled personal property endorsement will help protect them even more. You'll get coverage for accidental damage or accidental loss, and be able to claim up to the replacement cost of the item—without having to pay any deductible!
You can read more about Extra Coverage here.

Extended Reconstruction Cost
Extended Reconstruction Cost add on offers additional coverage for cases where the cost of rebuilding your home ends up higher than expected.
Extended replacement cost coverage can come in handy if there was a total loss of your home and the cost to repair ends up exceeding your policy's dwelling coverage amount. We offer ERC for either 25% or 50% on top of your dwelling coverage.
You may be wondering, "Why wouldn't we just increase the dwelling coverage on the policy? Wouldn't that be cheaper than adding an entire new endorsement?"
Good question. It's actually more economical for you to add Extended Replacement Cost coverage because this coverage will only kick in after your full Dwelling limit is exhausted.
Let's say a severe wildfire in Southern California consumes thousands of homes. Contractors who fix wildfire-related damages are in high demand. Labor costs are obviously a part of the home's reconstruction costs; after a large-scale disaster, inflated labor costs can increase the reconstruction costs past the policy's previously calculated Dwelling coverage limit.
If you have an ERC endorsement, though, it would kick-in to cover the difference between your dwelling coverage and the actual costs to rebuild your home. It's something to consider if you live in an area prone to catastrophes that could destroy homes, including windstorms like hurricanes or tornadoes.
State-by-state add-ons
The following endorsements are applied automatically to policies in the relevant states. You don't have to add or choose anything yourself—but if you live in any of the places below, it's good to know you have the coverage!
Mine Subsidence (IL, IN, OH)
This add-on covers residents of some Midwestern states from damage caused by collapsing, man-made underground mines.
Sinkhole (TN)
Covers Tennessee residents from damage caused by a hole in the ground which formed due to moving water and dissolved rock.
Liquid Fuel Oil & Lead Liability (CT, NJ, MA, RI)
This coverage gives homeowners coverage for costs required to deal with liquid fuel oil that escapes from a fuel system, or the emergency response costs related to the threat of a liquid fuel oil spill.
Oil Tank Coverage (MA)
This add-on for Massachusetts residents covers homeowners in the event their fuel tank leaks. Homeowners with this coverage will be covered up to $50K for damage to their stuff and the cost to clean up, plus up to $200K for damages incurred by others as a result.
Before we go…
You have the power to refine your homeowners insurance coverage so it truly reflects your needs. If it's been a minute since you've taken a good hard look at your coverage, pull up your homeowners declarations page for a concise summary.

When it comes to your coverage, you're never alone. Lemonade is here for you 24/7 to provide our policyholders with fast customer support, online, and through our easy-to-use mobile app.
Don't have a Lemonade Homeowners policy yet? Click below to get your quote.
Which states currently offer homeowners insurance?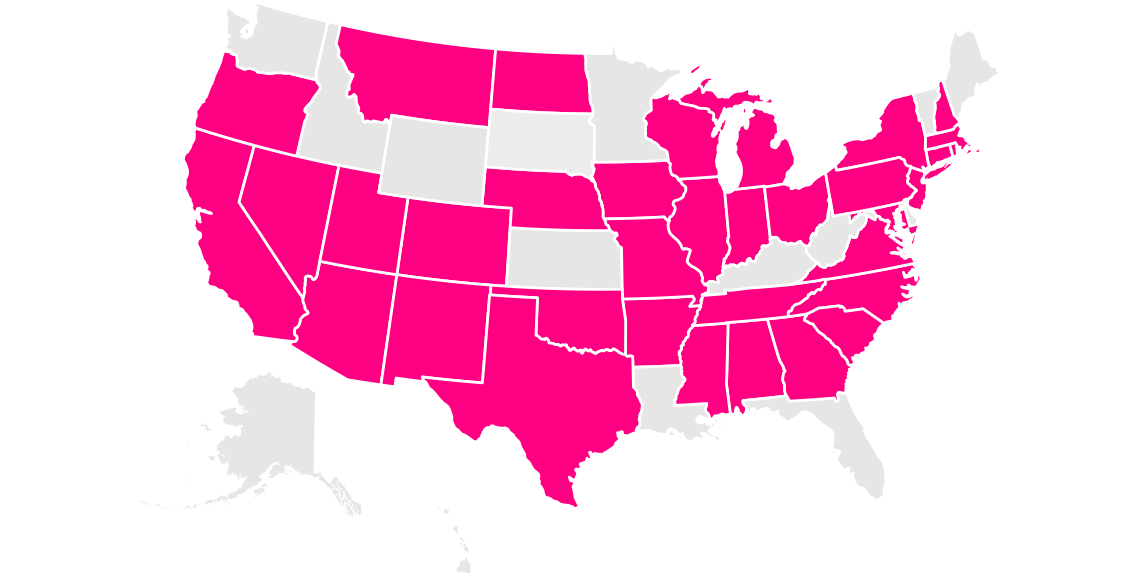 Arizona, California, Colorado, Connecticut, Georgia, Illinois, Indiana, Iowa, Maryland, Massachusetts, Michigan, Missouri, Nevada, New Jersey, New York, Ohio, Oklahoma, Oregon, Pennsylvania, Tennessee, Texas, Virginia, Washington, D.C. (not a state…yet), and Wisconsin.