Ann Arbor Homeowners Insurance Guide 
Get your home covered in Tree City.
Ann Arbor, Michigan is considered one of America's best small cities for homeowners. The city was named for the wives of founders John Allen and Elisha W. Rumsey, who were both called Ann, and the local tree groves, or arbors. Located in Washtenaw County and nicknamed Tree Town, Ann Arbor is known for its many leafy green areas. Ann Arbor is home to the University of Michigan and its vibrant arts scene.
If you're looking for the best insurance coverage in Ann Arbor, Michigan, look no further because we've got you covered.
Homeowners insurance would cover you financially if something were to happen to you, your property, or your stuff. Let's say someone breaks into your home while you're on a weekend hike at Gallup Park, or your friend twists their ankle after getting too excited while watching the Wolverines game in your living room.
The right homeowners insurance policy could offer you financial protection if something terrible (or just plain inconvenient) were to happen.
Here's what we'll be covering:
What does Ann Arbor home insurance cover?
Ann Arbor has a lot going for it. Quality education, friendly people, diverse cultural offerings, and tons of parks all make it clear why "A2" is a great place to be. The city is full of natural beauty like Matthaei Botanical Gardens, Nichols Arboretum, Hudson Mills Metropark, and the Huron River Water Trail.
However, there are also some natural disaster risks that come along with the city's beauty. In Ann Arbor, tornadoes, severe thunderstorms, blizzards, and snowstorms are all unfortunate possibilities.
It's worth noting that while no insurance policy can cover you from every single potential mishap, the right home insurance policy can keep you financially afloat through a myriad of typical situations.
You might know that a home insurance policy is a good (and necessary) idea, but you might not have a grasp on all the moving parts. We've got a very extensive, plain English guide here, so feel free to dive deep into the specifics—but for now, we'll break down the basics for you here, so you can get a handle on what a policy covers in general.
Dwelling
Dwelling coverage helps pay for damages to the structure of your home. So, if your pipes burst next winter and damage your walls, or a windstorm blows over a tree and causes property damage to your home, you're covered.
Other Structures
If one of the dangers mentioned above causes damage to your driveway, fence shed, or other structures on your property, your homeowners insurance has you covered.
Loss of Use
If you can't live in your home due to covered damages, your loss of use coverage can help pay for a temporary place to stay and basic living expenses such as food, laundry, parking, etc.
Personal Property
Personal property coverage protects your stuff both inside and outside your home. So if your couch is ruined due to a burst pipe or your laptop is swiped at a coffee shop, flood insurance has your back. With Lemonade, if your insurance claim is approved, you'll receive the replacement cost of your personal belongings back in your pocket.
Liability coverage
If your neighbor slips and falls on an ice sheet on your driveway, you could be held liable. If someone is injured on your property or anyone on your policy causes damage to someone else's property or stuff, your insurance company should have you covered.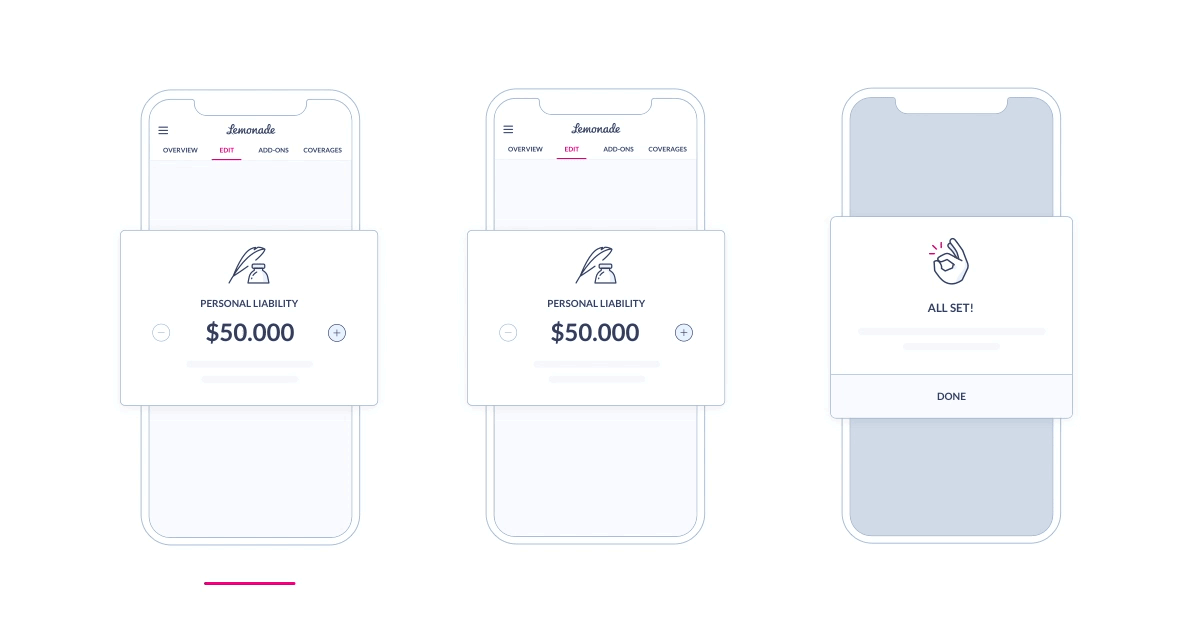 Medical Protection
If your neighbor needs to go to the hospital because of that slip and fall, your coverage will kick in to cover the medical expenses. Home insurance plans cover you if a guest gets injured at your place or if you accidentally cause injury to someone outside your home.
How much is home insurance in Ann Arbor?
There isn't a standard policy price for homeowner's insurance for residents of Ann Arbor. Of course, a Barton Hills mansion will pay a different monthly premium and have different insurance needs than a college student who owns a two-bedroom home in East Bryant Pattengill.
According to Bankrate, Ann Arbor residents can get a pretty good deal when it comes to homeowners insurance rates. In Michigan, the average cost of homeowners insurance is around $1,120 per year. In comparison, the nationwide average for homeowners insurance is $1,393.
How much your homeowners insurance costs depends on your coverage limits, your insurer, your property, and your deductible. An insurance agent can help you determine the right coverage options for your home and help you secure the best home insurance rates.
What are the different types of homeowners insurance?
Lemonade offers two types of homeowners insurance options: one for single-family homes (called HO3 in insurance-speak) and one for condo insurance (HO6). There are minor differences between the two, and you'll choose the right policy depending on the type of home you're looking to insure.
A key difference is that homeowners own and are responsible for everything on their property (home, garage, fence, etc.). Condo owners with HO6 policies are only responsible for the outermost walls of their unit, inward.
The best neighborhoods to be a homeowner in Ann Arbor
Kerrytown
Kerrytown is an affordable, centrally-located neighborhood full of boutiques and restaurants. It's also home to the Ann Arbor Farmers' Market, the Jim Toy Community Center, and the Hands On Museum. Kerrytown offers a range of home types and sizes so you can upgrade and stay in the neighborhood. The average cost of a home in Kerrytown is $473,277 according to Zillow.
The neighborhood offers hiking, walking, and kayaking, most of which are within walking distance of the neighborhood. The 151-acre Bird Hills Nature Area has miles of trails to explore. Neighborhood music festivals and the Kerrytown Concert House are great places to catch lively music performances.
If you're looking for great food in Kerrytown, check out Miss Kim for authentic Korean food using Michigan's finest local ingredients, or The Lunch Room, where you can enjoy quality dining, vegan-style, and a seasonal menu.
Burns Park
Burns Park is a centrally-located neighborhood, and its residents can bike easily to some of Ann Arbor's attractions like Michigan Stadium, Nichols Arboretum, and the Downtown district. The high-value neighborhood offers excellent schools and athletic options like Wilpon Baseball and Softball Complex and Yost Ice Arena. Burns Park is a place where neighborhood residents meet to relax and enjoy their leisure time.
The array of houses in Burns Park are spacious yet close enough to lend a friendly feel to the neighborhood. Residents feel that they live in the perfect community with a real sense of togetherness. Home types include colonials, craftsmans, Tudors, and Queen Annes. According to Best Neighborhood, the average price of a home in Burns Park is around $560,300.
For good eats in Burns Park, check out Toarminas Pizza, where you can try a Detroit Deep Dish pie or a family special. Locals know that the best smoked meats and Southern-style cooking come from Satchel's BBQ, where the side dishes stand out just as much as the mains.
Eberwhite
Conveniently close to downtown Ann Arbor, Eberwhite is a historic neighborhood with well-maintained homes. Eber White was the chief organizer of the local agricultural council and was also an Abolitionist involved in the Underground Railroad. Older and more modern homes dot the tree-lined streets of Eberwhite, and include ranch houses, split levels, and colonials. According to Zillow, the average cost of a home in Eberwhite is $463,262.
Scenic Eberwhite Woods is full of nature trails, wildflowers, and mature trees. Virginia Park and Fritz Park offer plenty of opportunity for leisure, sports, and wide green spaces for residents to enjoy. Eberwhite offers families a quality education for their children at the elementary, middle, and high school levels. Several cultural attractions like the University of Michigan Museum of Art are nearby.
Wolverine State Brewing Co. is a popular neighborhood gastropub near the University of Michigan. It serves fine craft beers and creative pub food. Don't miss the nachos! Locals also love Evergreen Restaurant for some of the tastiest Chinese food in Ann Arbor.
Darlington
With the word "darling" in its name, this neighborhood is just that. A perfect place for first-time homebuyers, Darlington is located on Ann Arbor's southeastern end. Affordable Cape Cods and bungalow-style homes abound in Darlington, with average home prices at $168,597.
Darlington features historic Cobblestone Farm, where you can see what past rural life was like in Washtenaw County. Have a weekend picnic at Sylvan Park or check out the redbud trees in Redbud Nature Area.
Paesano Restaurant and Wine Bar offers award-winning pasta dishes and other Italian favorites, wine education classes, and even three levels of Italian language lessons! Shoppers will want to head to Arborland Center, where you can find clothing options for the entire family.
Old West Side
The Old West Side is charming, containing some of the most historic homes in Ann Arbor. It's recognized as a Streetscape District for its distinctive beauty. The Old West Side has many homes with porches facing the street, lending to a friendly community feeling. Many German immigrants to Ann Arbor once lived in the area, and the architectural flavor has been carefully preserved.
Home types in the neighborhood include Tudors, Queen Annes, colonials, and Georgians. According to Zillow, the average price of a home in the Old West Side is $491,957.
You can easily walk to Main Street and Downtown from the Old West Side. Wurster Park is where local families go for recreation, with a popular hill for sledding in the winter. The Jefferson Market serves delicious breakfast specials, soups, and sandwiches in the Old West Side.
These Ann Arbor businesses will make your house a home
Renovatio Woodworks has been making handcrafted rustic furniture out of vintage wood, metal, and found treasures since 2009. Located just outside Ann Arbor, this unique business can provide you with one-of-a-kind custom pieces that will give your home a special touch.
Mettlework Designs is a metal fabricator and welder that creates custom iron gates, railings, tables, and bars. Their pieces add functional beauty to your home while protecting your family on ledges and landings.
Found is a treasure trove of home décor items located in the Kerrytown neighborhood of Ann Arbor. Established 16 years ago, the gallery shop brings together a medley of colors and textures. You can buy rugs, pillows, throws, planters, candles, tableware, and so much more at Found. If you're looking for a memorable gift or just want to gift yourself, visit Found.
A classic Ann Arbor favorite, Zingerman's Bakehouse is an artisanal retail and wholesale bakery using the finest locally sourced ingredients. Former President Barack Obama loves Zingerman's so much, they named an ice cream flavor after him! You can buy quality breads, pastries, and cakes, at their Bakeshop, or buy one of their cookbooks to make your own baked treats at home. Bake! is Zingerman's hands-on baking school, featuring virtual and in-person classes on a range of topics.
Random facts that make Ann Arbor great
Ann Arbor is home to over two dozen miniature fairy doors hidden throughout the city. The six-inch doors give a whimsical feel to the city, and many of them open onto tiny rooms with detailed, miniature furniture. People leave little pebbles, sparkly beads, and tiny toys for fairies outside these adorable doors.
Iconic landmark Graffiti Alley, located off East Liberty Street, features a wall covered entirely in used chewing gum. Passersby are free to add their own contribution to the gum wall, which certainly adds some unique flavor to the scene.
Michigan Stadium in the University of Michigan is the largest stadium in the United States, and the second-largest stadium in the world! Built between 1926-1927, it can hold over 113,000 people at full capacity.
Home to around one-and-a-half million trees, Ann Arbor lives up to its nickname "Tree Town." The town pledged to plant over 1,000 trees each year and trains volunteers to help maintain them.
Food Gatherers, a local food bank and food rescue organization, is leading the fight against hunger in Ann Arbor and Washtenaw County. Outside of the Food Gatherers warehouse, you'll find an installation of several enormous stone carrots, some of which are over 10 feet tall!