It's not easy being a chatbot. You can quote me on that.
People think I'm not real, and it pains me sometimes to admit my AI has an alter-ego: me! Real Jim steps in on those claims that can't be instantly paid.
When I contact our customers via text, email and phone, they seem quite shocked that I'm the real Jim. On most days, that surprise can be pleasant, as I can be the bearer of good news and say, "Hey! Your burglary claim is covered, and you have Lemonade replacement cost coverage…"
I even frequently try to text our customers first before I call as a courtesy, and many of our Lemonade policyholders have stated that they deliberately do not respond to my texts because they think that my message is automated. How about that? I suppose they don't want to look foolish responding to a bot.
I have spoken with customers who react positively when we show them the human side of Lemonade in Underwriting, Customer Care, and my area, Claims. We're a bunch of living, breathing, responsive employees who really do care about good service and changing the business of insurance. Not everyone can be a bot. You can quote me on that too.
Then on other days, I'd rather be the chatbot, with a synthetic voice and an indifferent personality (not that AI Jim has either!), so that it becomes emotionally easier (for me) to be the bearer of bad news.
Not all things can be covered
In the insurance business, bad news comes with the policy contract. The harsh reality about insurance claims is that not all things can be covered. Lemonade doesn't benefit at all from denying claims, but that doesn't mean we can approve everything automatically. After all, unclaimed money goes to nonprofits at Lemonade, which means we're the guardians of the charity's money. If something isn't covered, we have a legal and moral responsibility not to give away those monies.
Still, the act of saying "No" – even for a good reason and good cause – creates friction. I wouldn't be surprised if a handful of customers end up thinking we're just like every other insurance carrier out there, and that we too, benefit from denying claims. (Now, that hurts!)
We're not like other carriers at all, but in the world of insurance, where we live, work, and serve remains clearly defined for us.
As a licensed carrier in a highly-regulated industry, we have rules and regulations we must follow, such as adhering to the policy. Some things today just aren't covered, and the truth is, many of our policyholders are new to insurance and aren't entirely familiar with what is covered and what isn't. In fact, many of our customers have purchased the bare minimum in coverage. If they do have a claim, that puts me (the real Jim) in a tough spot.
Go tell a customer that they don't have enough coverage to protect their stuff. Not an easy or delightful task. Lemonade clearly has teachable moments here.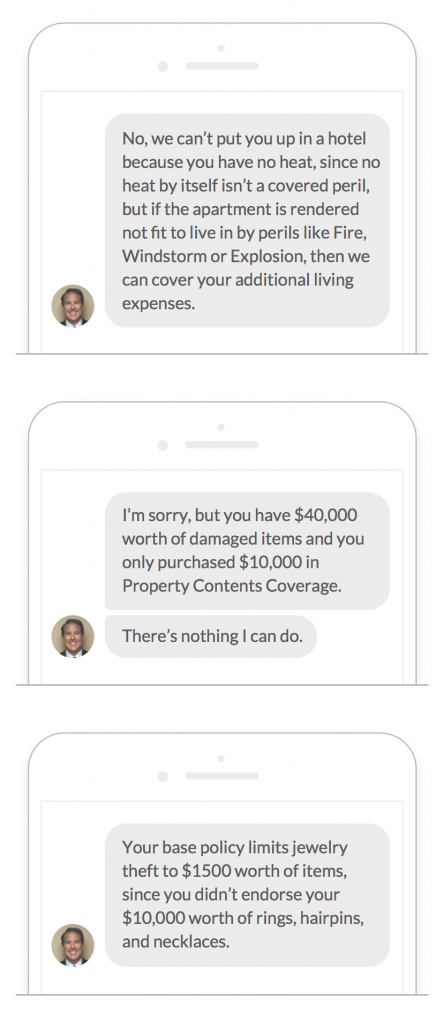 These very real scenarios occur every day, and these conversations are never easy for me.
In fact, a conversation with an underinsured customer (let's call her Kelly) about insuring her jewelry is what prompted me to write this post.
You have more stuff than you think
After thousands of dollars worth of jewelry was stolen from her home, Kelly rightfully filed a claim. What went wrong? Kelly didn't buy sufficient coverage for all her valuables, and so I (the real Jim, not the bot) had to step in and notify her that she wasn't covered. It's an easy mistake to make.
People frequently do not realize how much stuff they really own, and how each small item actually adds up to become a sizable amount of valuables.
As Kelly wrote me (and I'm posting with her approval):
"I had renter's insurance for an amount that seemed affordable month-to-month with adequate coverage. I did a quick tally in my head: laptop, mattress, jewelry, bike, little extra for clothes, done! What I didn't realize until after the burglary is how much jewelry I actually owned.

Pieces were given as gifts and collected over time, and I didn't wear most of it regularly. No single piece was so valuable that I thought to insure it separately, but the total sum was shocking. It made me ill to put a dollar value on the things that were stolen. I watched that total rise over the course of three days as I slowly realized what was missing. Many things had significant personal value that an insurance payout couldn't cover."
Honestly, this is my least favorite part of the job – telling people "NO" – and trying to explain the details of a "contract of adhesion," amid our customers' glazed look and eye-rolling that inevitably accompanies such an explanation.
But you can help me. (C'mon, help a bot out!) I thought I'd make a direct plea to all Lemonade's current and future customers out there: You're probably underinsured!
Take the chatbot challenge
Make sure you're not underinsured, and take the empathetic chatbot challenge for a moment, and do 3 things today (not only for Lemonade customers):
1. Walk around your home and take a video of each room for a few seconds with your phone (remember to open cabinets and drawers that might contain jewelry or other valuables)
2. Sit down for 3 minutes per room, look at the video, and scribble down the 5-10 items you see
3. Total up all your items on the list
Surprise! You have more stuff there than you thought, huh? Time to think about how much your stuff is worth, how much coverage you really need, and to schedule some of your more valuable items. We can help. And, best of all, you'd be doing me the favor by reducing the number of times I am required to say "No."
As Kelly also wrote me,
"I'm fortunate to have never been robbed before. It was such an uneasy feeling that lasted for days. This experience left me with the desire to catalogue all of my belongings to better understand what I have and ensure I'm adequately protected in the future."
Yes, it is possible to be an empathetic bot. But is it possible to radically change an insurance contract to provide coverage for many of the things that traditionally aren't covered? We certainly think so.
Make sure you have enough insurance coverage. Don't let AI Jim win. The real Jim is counting on you…