How to File a Claim After Your Stuff Gets Stolen
Lemonade's no stress, no fuss guide to theft claims.
If you're here because your stuff just got snatched, let's cut to the chase:
If you'd like to learn more about Lemonade's claims process, kudos. With this guide, you'll be fully prepared if someone steals your stuff.
Theft is a pretty common occurrence – in fact, 48% of Lemonade claims involved theft. And when your stuff gets stolen, the last thing you'll want to do is scramble to call your insurance company.
At Lemonade, filing a claim is easy and instant. Our #1 priority is to get back to you as quickly as we can, while applying our usual (big) dose of empathy and love.
Our bot, AI Jim, speeds up easy parts of your claim, so we pay the majority of simple claims instantly. If your claim is more complex, we'll send it to our (human) claims team for a more thorough review.
Want details? Here's how to file a theft claim with Lemonade, step by step.
Head to the Lemonade App
To file your claim, open the app on your phone. If you don't have it, download it and sign in with the email you used when getting your Lemonade policy.
A few notes here:
Always call the police or emergency services before making your claim.
If your phone was stolen, ask a friend or family member to use their phone to access the Lemonade app.
Meet AI Jim
1. Once in the Lemonade app, hit the pink 'File a Claim' button in the top right-hand corner.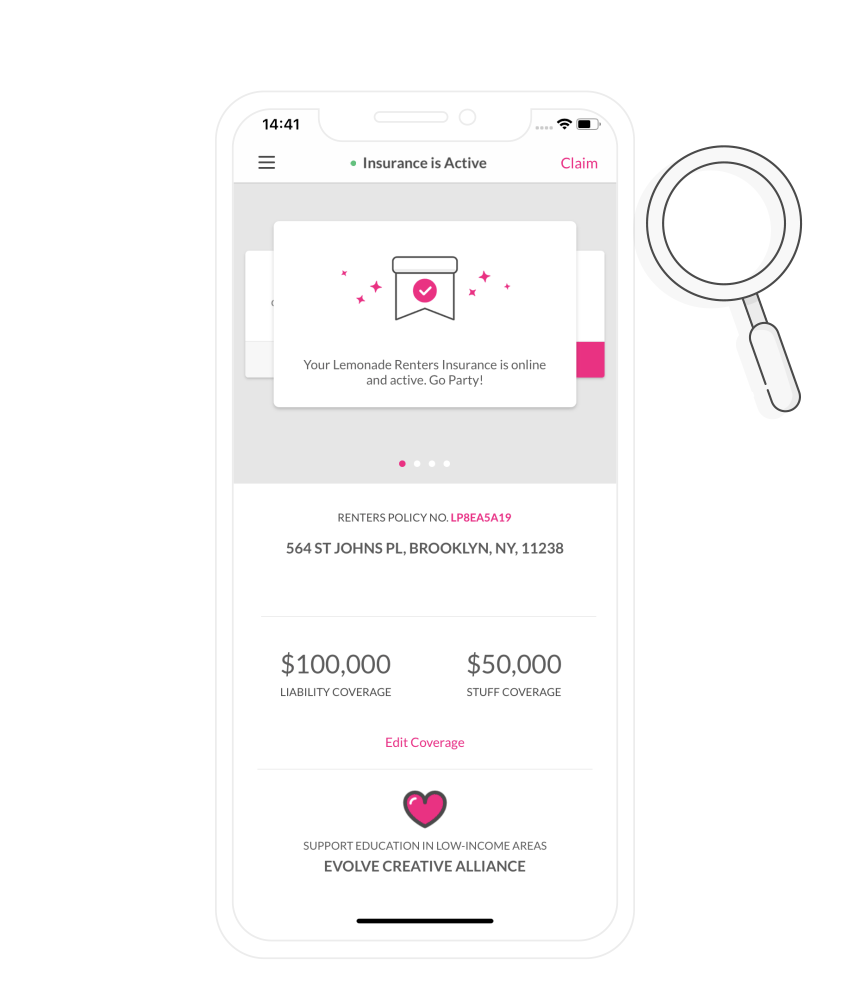 2. Meet our claims expert, AI Jim. He'll start off by verifying your contact info and asking for more details about what happened.
3. Digitally sign a Pledge of Honor to verify everything you tell us about your claim is truthful and honest. It will also remind you that your unclaimed premium doesn't go towards Lemonade's profit — it goes to your chosen Giveback cause.
4. Explain exactly what happened in a short video recording (because who really has the energy to type out a report?). It should only take about a minute. Pretend you're talking to a friend, and let us know the details, such as when and where the theft happened. Your video is completely confidential – we'll only use it in order to review your claim.
A few notes:
Take a deep breath. There's no big rush here. Since AI Jim is a bot, he won't get impatient if it takes you a while to gather the info you need.
If you make a mistake when entering your info, you can always go back and correct your response by tapping on the pencil icon in the right-hand corner of the chat bubble.
Scan your police report
Next, take a photo of your police report via the app.
How do I get a police report?
If your stuff was snatched, the police should be your first call. You should ask for:
A copy of your police report with stolen items and corresponding values listed
Incident number
Precinct
Officer name
If you forgot to take a copy of the report at the time of the theft, visit your local police department's website and follow their instructions on how to get a copy.
A couple of notes:
All theft claims require a police report. The quicker you upload the report, the greater the chances you'll have your claim paid fast!
We can't access or retrieve a police report on your behalf, and we need it to approve your claim. You'll need to take a photo or fill out the details of the police report to complete your claim.
Tell us everything that was stolen
1. Next, we'll need to know what was stolen, and confirm you owned these items. AI Jim will ask you to list out the following:
Item name
Item price (in $)
When and where you bought it
2. You'll also need to prove you owned these items. Receipts are the best way to do so, or you can use email order confirmations as proof of purchase.
A few notes:
We know not everyone saves their receipts – so if you don't have them, a member of the claims team will follow up with some instructions.
If you can't find your receipt, you can pause your claim, go away and search for it, and then return to where you left off in your claim process.
Pro tip: Make sure to keep your receipts on the more expensive stuff you buy, say $250 and up, in case you ever have to file a claim. Even if you don't have the receipt, keeping a note of where and when you purchased more expensive items will help us help you.
Finish up
1. Next, you'll see a full summary of the information you've provided. Before you submit your claim, check to make sure all of the information is accurate.
2. You'll be asked to enter your bank account information, so we know where to send the money if your claim is approved.
I filed my claim, what now?
After you file your claim, you'll find out right away if it's approved instantly (with the help of AI and 18 anti-fraud algorithms).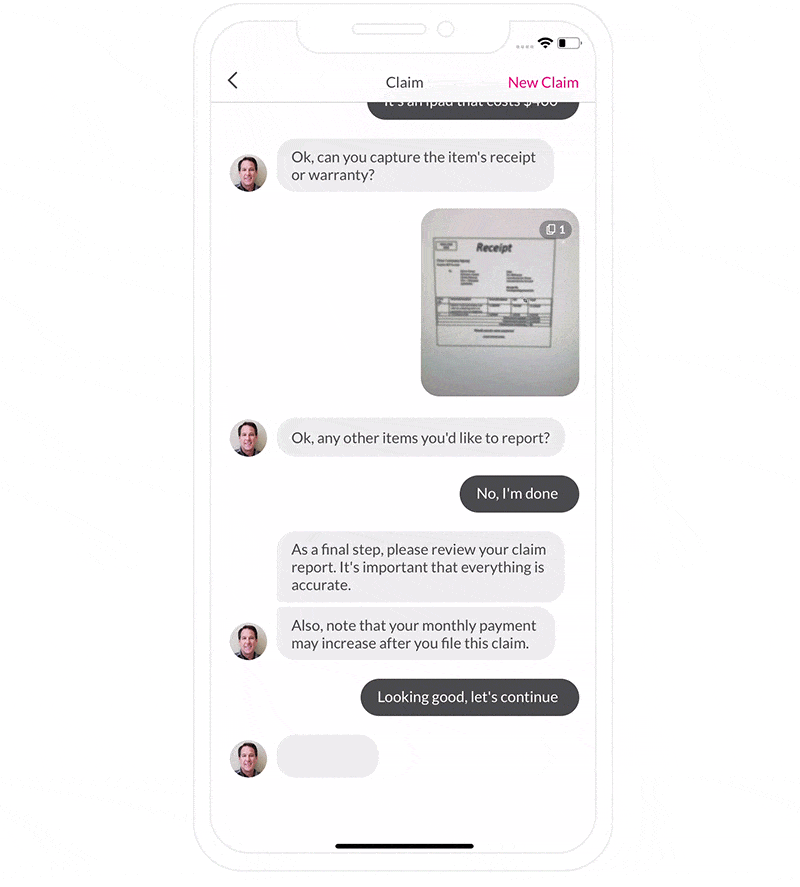 If your claim can't be handled by AI Jim, it will be passed over to our dedicated claims team. A claims specialist will get in touch within an hour after you submit your claim letting you know what else we need.
Although it can be stressful waiting to hear about your claim, rest assured that our #1 priority is getting back to you as quickly as we can. We'll reach out if any follow-up documentation is needed, or with next steps.
Take note that particularly complex claims or high-value claims may require a field investigator from our Special Investigations Unit, which may lengthen your claims process.
What happens if my claim is approved?
After you file your claim, you will be asked to enter your bank account wire information. You'll either find out instantly whether your claim has been approved, or you'll get an email once the team has looked into your claim. Once your claim is approved, we'll issue payment, minus the amount of the deductible, directly into your account (it might take 1-2 days for the funds to appear).
What if it isn't approved?
Unfortunately, not every claim will be approved. If your claim is denied, we'll let you know why. Some common reasons we deny claims are:
The item is not covered by your policy
You sent us incorrect details
The claim amount is lower than your deductible
The incident took place before your policy start date
The silver lining
At the end of the day, Lemonade is here to help you feel safe and at ease in the event something happens. We work to provide a shockingly great claims experience through empathy, transparency, availability and speed. So at least when something does happen, your claims experience is as hassle-free as possible, because after all – who really needs the added stress?
Stay safe!