What Renters Insurance Does (and Doesn't) Cover
From theft to personal liability, your policy is versatile.
Renters insurance covers you and your personal property against things like theft, fires, vandalism, windstorms, and injuries someone might sustain at your place.
But the devil, as they say, is in the details—so how can you know what's covered and what isn't by your renters insurance policy?
It doesn't help that the name itself can be confusing; it's often not clear that renters insurance also covers your valuables—computer, iPhone, bicycle, diamond ring, etc—even when you're not at home. The entire renters insurance thing could use a rethink and a reboot, which is kinda our whole deal here at Lemonade.
Pressed for time? Here's a quick look at what renters insurance covers and what generally isn't covered:
| Category | Covered by Renters Insurance? |
| --- | --- |
| Theft | Yes |
| Fire | Yes |
| Vandalism | Yes |
| Water damage | Sometimes |
| Hurricanes | Mostly, but not flooding |
| Windstorms | Yes |
| Floods | No |
| Earthquakes | No |
| Undocumented items | No |
| Appliance breakdown | No, unless you purchase Equipment Breakdown Coverage |
| Your roommate's stuff | No |
| Damage to or theft of your car | No |
| Damage from pets or pests | No |
| Property damage to the building where you live | No-covered by landlord insurance |
What we'll do in this article is unpack the basics of renters insurance, all without any technical jargon. We like to keep it simple. While you might not end up gossiping about renters insurance at the next party—at least you'll have a handle on how these policies can help make your life a little easier.
Here's a quick preview of what we'll be discussing: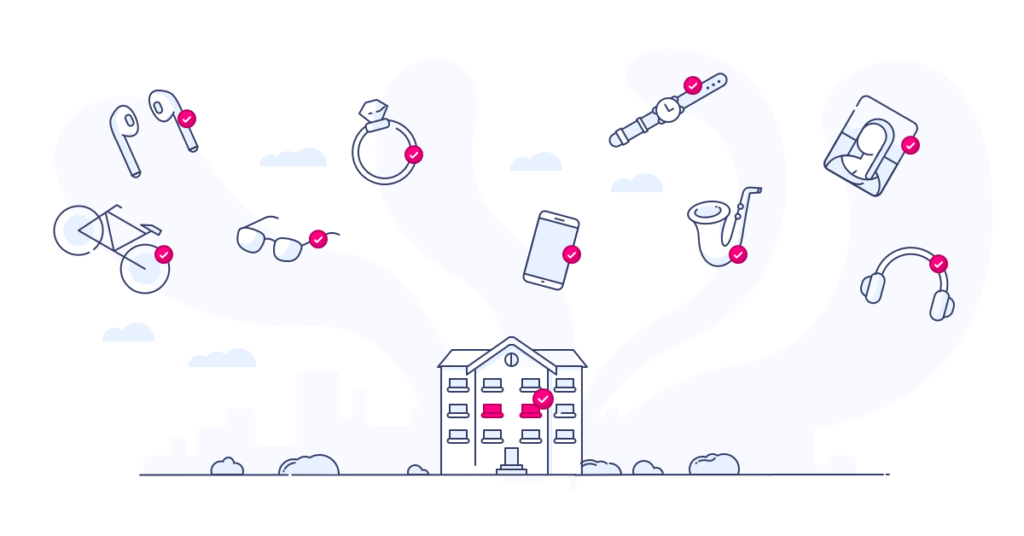 What is renters insurance?
In plain English, renters insurance offers you financial help if bad things happen to you or your stuff.
Consider rental insurance to be a safety net. It'll kick in and help if there's loss and damage from designated "perils," which include theft, fire, vandalism, certain types of water damage, and many other inconvenient things.
We say that an insurance policy "covers" you from unfortunate incidents, like fires, or bites from an out-of-control dog. But that's just an expression, since the insurance company itself isn't preventing those things from happening… instead, it's providing financial compensation for related damages if they do happen.
If your entire apartment is damaged to the point where you're unable to stay there, renters insurance can compensate you for the nights you might need to spend at that Holiday Inn.
And if someone else is injured at your place while visiting, it can even help with their possible medical or legal fees.
How does renters insurance work?
In exchange for the protection renters insurance provides, you'll make monthly or yearly payments (known as your 'premium') to your insurance company. Your premium depends on a range of factors, like where you live, the amount of coverage you purchase, your claims history, and more.
Should you file a claim, your renters insurance company may compensate you for any covered losses over your deductible, the amount you pay before you receive compensation from your insurer. (Read more about deductibles below.)
So when does your renters insurance protection come into play? Let's take a closer look at what a standard policy covers.
Basic renters insurance coverages
A typical renters insurance policy (also known as an HO4 policy) has three main coverage categories:

What does all that mean, exactly?
1. Personal property
Personal property coverage helps you recover the cost of lost or damaged valuables if your property is lost, damaged, or destroyed by a covered loss.
Standard policies cover named perils: very not-fun occurrences like kitchen fires, lightning, windstorm, hail, smoke, vandalism, theft (at home or elsewhere), freezing, damage from aircraft or vehicles, and riots, to name a few.
That means that if your clothes, furniture, electronics, or jewelry are damaged or destroyed by a named peril, your renters insurance policy can help cover the costs.
Just keep in mind that if the stuff in your apartment belongs to your landlord, it isn't covered under your policy. That would mean any furnishings that came with the place, as well as certain appliances.
It's also important to remember that renters insurance won't cover stuff that's stolen in an area under construction, and while you're covered for most of the expensive stuff you own, it's only up to a certain amount. For jewelry, musical instruments, and other valuables worth over $1,000, you'll want to tack on some Extra Coverage (more on that below).
And your renters insurance policy doesn't extend to any of your roommates' personal belongings; they'd have to get their own individual policies.
2. Temporary living expenses
If covered perils cause your place to become unlivable, you might need to hole up in a hotel for a while. The good news is that most renters insurance policies will cover these and other expenses under your loss of use coverage, possibly including cash you need to spend on food and laundry.
3. Personal liability coverage & medical bills
Renters insurance coverage extends to instances in which someone gets hurt at your place in an accident—whether that means hospital bills or legal fees from a lawsuit. It also extends to certain damages that you may cause when you're away from your home.
What to know about coverage limits, deductibles, and Extra Coverage
Limits & deductibles
When you file a claim on your Lemonade Renters insurance policy, it's important to keep coverage limits and your deductible in mind.
Your deductible is the set amount you've agreed to contribute to every claim before you'll receive compensation for your loss. When you sign up with Lemonade you'll be able to pick a deductible between $250 and $2,500. (A lower deductible will equal a higher monthly premium, since you'll owe less out-of-pocket in the event of a covered claim.)
Each category of coverage also has its own limits, and occasionally sublimits. For instance, you can choose $10,000 of personal property coverage. If your apartment is robbed and all your belongings are taken, your insurer would compensate you for the loss up to that $10,000 limit (after taking your deductible into account).
Did you say sublimits?
Without getting too into the weeds here: Certain types of property have additional sublimits, and this may vary depending on what state you live in.
Portable electronics theft, in all states other than California and New York, is limited to a certain amount. In general, the theft of cash (or even crypto!) is only covered up to a maximum of $200. And jewelry theft is only covered up to a maximum of $1,500, unless you "schedule" specific items of jewelry, which we'll explain below.
Let's get a little Extra
So now you've got a pretty good idea of what renters insurance covers. But what if you want to amp up the coverage you have for certain specific items that are especially valuable? In insurance terms, such additional coverage is known as scheduled personal property coverage.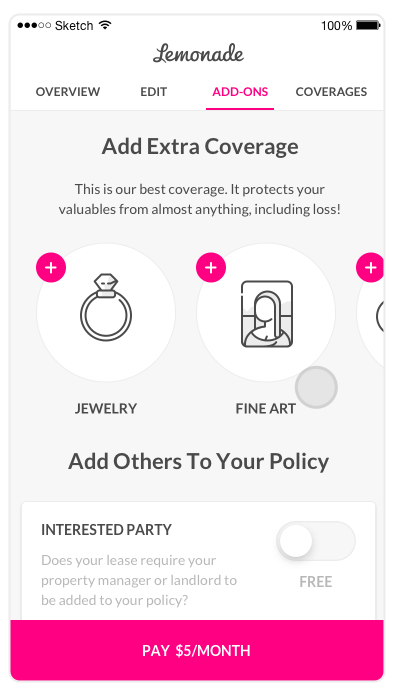 Because "scheduled personal property coverage" is a real mouthful, at Lemonade we simply refer to it as 'Extra Coverage.'
For an extra charge, can apply to add Extra Coverage to jewelry as well as valuables like bikes, cameras, fine art, and musical instruments.
While these items already enjoy a certain amount of coverage on your base policy, Extra Coverage comes with extra perks:
Deductible-free claims
Coverage for accidental damage
Coverage for "mysterious loss" (as in "I haven't seen my engagement ring in three weeks and I'm starting to think it's…gone")
While these things may need appraisals or other proof of purchase—more on all that here—the process is extremely easy using the Lemonade app.
Does renters insurance cover appliance malfunctions?
Your basic renters policy protects your electronics and appliances against certain "perils," but not against every type of damage.
For instance, if your washing machine has an electrical failure your base policy wouldn't help. But if you want to add on those extra protections, you can purchase Equipment Breakdown Coverage (EBC).
Also known as Appliance Coverage, this is an endorsement to complement and enhance your renters insurance and provide coverage for many additional types of damage. Keep in mind, though, that this coverage only applies to appliances that you own (not your landlord).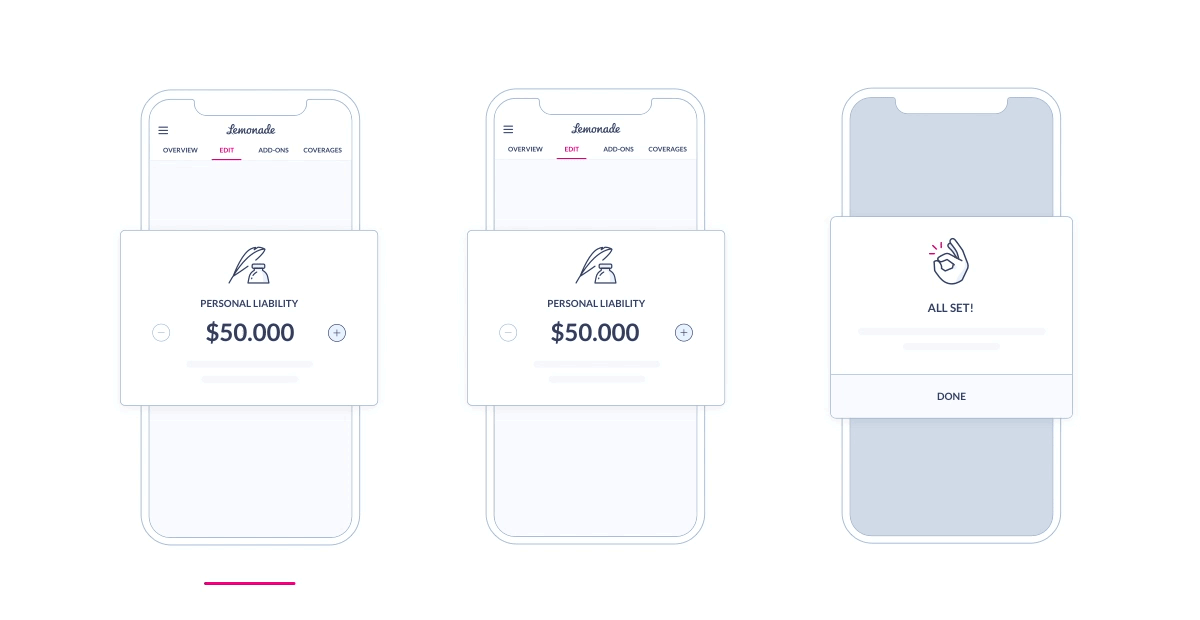 Does renters insurance cover hurricanes?
Yes, for the most part. Hurricanes are sort of strange. In some states, like Rhode Island, you'll have a Hurricane Deductible in your standard Lemonade renters insurance policy. In others, like New Jersey, some policies may include a separate, mandatory, or optional hurricane deductible in the insurance policy. Still other renters insurance policies, like California, don't even mention the word 'hurricane' in their policy.
A hurricane is basically a giant windstorm (which is covered as it's one of those named perils), rain (not covered, unless wind blew off your roof and it starts raining in your apt), and possibly flooding (not covered).
Bonus: if for some reason, your place becomes uninhabitable renters insurance offers perks like reimbursement if you need to stay in a hotel, or any expenses above what you'd normally have to pay on a daily basis.
Moral of the story? If you live in an area where they get past the "C's" when naming the next hurricane (see here for more info), you should probably take a look at your policy or contact your insurer and see what your options are.
Does renters insurance cover water damage?
Your renters insurance policy may cover water damage, depending on the cause.
While flooding from the outside isn't covered, you'd generally be covered for property damage caused by flooding within your apartment, as long as it's caused by a named peril. So if your pipes burst and your stuff gets damaged, you'd likely be eligible for a claims payout.
Renters insurance can also help cover the costs of water damage you cause to others. So if you leave the water for your bathtub running too long and it causes a leak in your downstairs neighbor's apartment, your personal liability coverage could kick in to help pay for any damages.
What isn't covered by renters insurance?
Renters insurance is pretty awesome, but it's not a cloak of invincibility. It won't protect you against every crappy thing that can happen on a daily basis, so it's good to know what's not covered by your policy.
Natural disasters like floods or earthquakes
Is your apartment in a place where flooding, sinkholes, or earthquakes strike on the regular? Basic renters insurance generally won't cover damage from such natural disasters.
But there's no need to move out of San Francisco, or South Beach, or whatever beautiful-but-disaster-prone area you call home. You can purchase a separate flood insurance policy through other insurers; meanwhile, Lemonade offers standalone earthquake coverage in certain states.
While flooding refers to weather-related events, issues that involve water damage to your place that aren't caused by mother nature are most likely covered by Lemonade renters insurance. In other words, you're not covered for flooding from the outside-in, but your insurance policy has your back during flooding from the inside-out, like burst pipes, leaky AC units, a flood in your apartment after your upstairs neighbor forgets to turn off their bathtub, causing it to overflow, and so on.
Note that certain natural disasters (like volcanic eruption, wildfire, or tornados) will indeed be covered by a renters insurance policy. But damages and related expenses from certain occurrences—like widespread power outages—won't be.
Car-related theft
You park your Volvo at the corner and leave your phone on the passenger seat. If someone pulls an old-fashioned smash-and-grab to get your iPhone X, renters insurance has your back for the device.
But renters insurance won't cover damage to the car itself, like your broken window (for that, your car insurance coverages could come in handy). The same applies if some drunken prankster decides to rip off your rearview mirror for fun. And actual theft of your entire car, or certain parts, would not be covered as "personal property" under your renters policy.
In fact, renters insurance doesn't cover 'motor vehicles' in general—but it will cover certain classes of e-bikes. Motorized devices used for health purposes, like motorized wheelchairs or scooters, may also be covered.
Undocumented items
While we trust you and know you'd never lie or falsify anything, ever, an insurance company does require some amount of proof that an item you're filing a claim for actually existed, and was in your possession.
Keep receipts, if you think of it, or try to take pics of your valuables on your phone (save them in the cloud, too, in case it's your phone itself that's stolen).
Your roommate's belongings
You're super responsible, and you have a Lemonade renters insurance policy. But you live with three other guys who don't.
If their stuff gets damaged or stolen, your policy can't come to their rescue (unless any of them are a blood relative, your spouse, or an adopted child). If your roommates aren't up to speed on why renters insurance is an awesome idea, well… you can school them yourself after finishing this article, right?
Short-term rentals
If you're allowed to sub-lease your pad through homeshare services like Airbnb, it's important to know that your renters insurance generally won't cover you for these short-term rentals.
That said, platforms like Airbnb do offer standalone homeshare insurance policies, so it's well worth looking into those options if you're planning to sublet.
Damage from pests
Sorry, Lemonade renters insurance won't kick in for damage related to mice, rats, or insects.
Extermination costs also won't be covered—that's generally your landlords responsibility. And what about that scourge of all scourges, the one whose name we're almost reluctant to utter… bed bugs?
Treatment can be really expensive and time-consuming, and renters insurance won't cover the costs for that. But here's a bunch of info on how to keep bed bugs out of your home and out of your life.
Mold
Mold is covered only when it's a result of one of those named perils we mentioned above. For example, let's say that there was a fire at your place and the water used to put out your fire created a serious mold situation in your place – any resulting damages/losses are covered. Another example where you're covered is if your AC unit suddenly breaks, flooding your place and creating a moldy mess ruining your stuff. Your Lemonade renters insurance will also have your back.
However, cases where mold creeps up over time isn't covered. So that gross stuff growing in your shower or underneath your sink? You should address it asap because it isn't covered under your policy. That'd be considered negligence – something that your insurance company will never cover.
Pet damage to your home
Some damages and losses caused by your animal friends to your apartment aren't covered by your standard renters insurance policy. Why's that? Well, it's kinda like mold. As soon as you're aware that something may be an issue, it's your job to make sure it's fixed. So renting with a pet (no matter how perfect they are) is a bit of a risk. Accidents happen. Literally. As do a bunch of other unexpected things when you share your roof with your furry (or scaled) BFF.
The only aspect of having a pet that is covered by your insurance is when they bite others or ruin other people's stuff. In that case, your medical payments and/or personal liability will kick in. Just keep in mind that most insurance companies don't cover high-risk breeds, or dogs with a history of biting.
Most property damage to your physical home
Renters insurance doesn't cover the physical building that holds your stuff. That's what your landlord's insurance is for.
So, if your building has roof leaks, it's your right as a renter to demand your landlord provides a dry roof over your head. Before you sign a lease, it's worth asking about your landlord's insurance, as well as what their protocol is if something happens to the apartment's actual structure.
However, in certain circumstances your renters insurance would indeed kick in. For instance, if your actions lead to damage to your rented apartment due to fire, smoke, an explosion, or certain water damage.
Some common misconceptions about renters insurance
Here's two areas where people often get things wrong about renters insurance.
You might think that, since your landlord has insurance, that covers damage to your stuff. Not so. Your landlord's policy covers the physical structure of their building and any furnishings/appliances the landlord may own inside, like the fridge or stove… but it doesn't cover you or any damages that occur to your MacBook, digital camera, or single-speed bike.
Perhaps you're one of those people who only head to their apartment to crash after a long day of work (or a long night of fun). Why get renters insurance if you're basically never at home? The reason is that your policy has your back whether you're at your apartment or at a bar, coffee shop, airport, party boat, skate park, mall, subway car, silent rave, therapist's office… you get the idea.
Can you update coverage once you've already purchased a policy?
Of course! Because we like to make life simple, Lemonade's Live Policy lets you update your own coverage, anytime, on the Lemonade app. No agents, no waiting on hold, no stress.
Getting your renters insurance quote
The price you're offered for renters insurance—known as your quote—depends on a constellation of factors. Your premiums could be affected by where you live, the condition of the building, your own personal history, and the coverage amounts you set for yourself.
For instance, renters insurance rates for a spotless new loft in Brooklyn will be different than they are for a spacious studio apartment in Dayton, Ohio, in a building that hails from 1932.
If you want more coverage, it's going to…cost more. (Shocking!) Let's say you want to protect $10,000 worth of your valuables. Increasing your personal property limit to $40,000 would bump your premium up.
Adding Extra Coverage for certain valuables will also incur extra costs, but you'll probably be grateful that you chose to do so if your engagement ring or vintage guitar goes missing or gets damaged.
The easiest way to find out what your own rate would be is to apply for a quote.
We honestly think the Lemonade sign-up experience is a delight. Our charming AI bot Maya will walk you through all the specifics and get you a quote in minutes.
You might even enjoy the process… and who knows, maybe you'll actually find yourself talking about how awesome renters insurance is at your next party.
Is Lemonade renters insurance available where I live?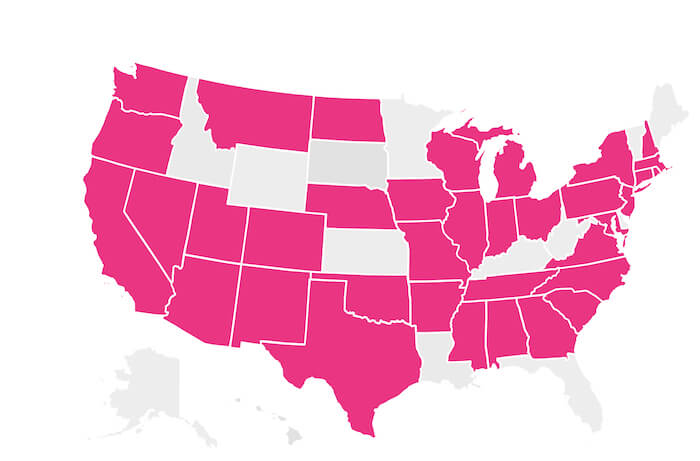 These are the States we currently offer renters insurance in:
Arizona, Arkansas, California, Colorado, Connecticut, Florida, Georgia, Illinois, Indiana, Iowa, Maryland, Massachusetts, Michigan, Missouri, Nevada, New Jersey, New Mexico, New York, Ohio, Oklahoma, Oregon, Pennsylvania, Rhode Island, Tennessee, Texas, Virginia, Washington, Washington, D.C. (not a state… yet), and Wisconsin.
Still not sure what amount of coverage is right for you? Check out our easy guide to how much renters insurance I need?