What Does (and Doesn't) Renters Insurance Cover
From theft to personal liability, your policy is versatile.
Renters insurance covers you and your personal property against things like theft, fires, vandalism, windstorms, and more—as well as injuries someone might sustain at your place. It helps provide a bit of peace of mind in an unpredictable world.
However, your policy won't cover everything that might come your way—damage due to flooding or earthquakes, for instance, is excluded.
But the devil, as they say, is in the details—so how can you know exactly what's covered and what isn't by your renters insurance policy?
Here's a quick preview of what we'll be discussing:
What is renters insurance?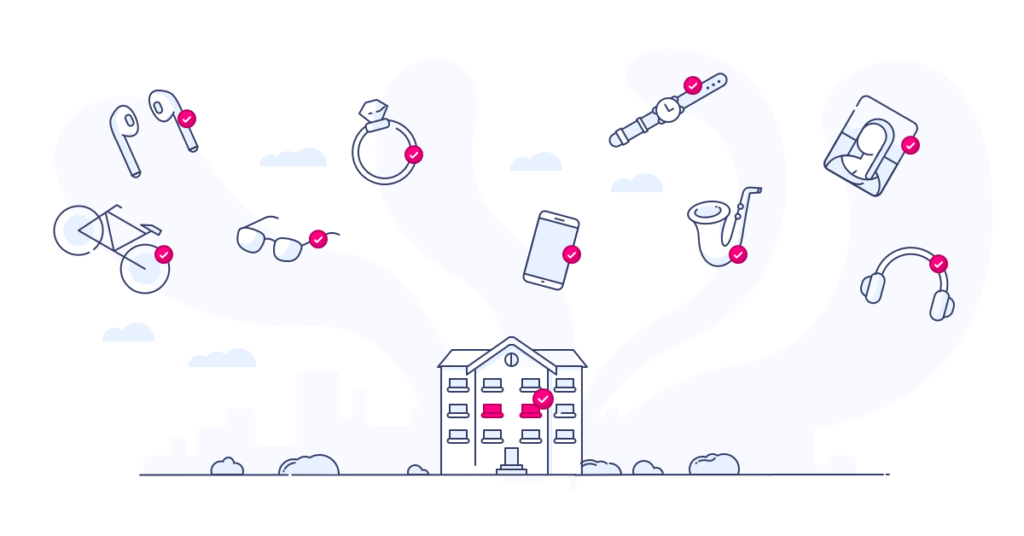 Renters insurance offers you financial help if certain unfortunate things happen to you or your stuff.
Think of your policy like a safety net that'll kick in and help if there's loss and damage from designated "perils," which include theft, fire, vandalism, certain types of water damage, and more.
Also, if your entire apartment is damaged to the point where you're unable to stay there, renters insurance can typically compensate you for the nights you might need to spend at a hotel as well as other additional living expenses.
And if someone else is injured at your place while visiting, it can even help with their possible medical or legal fees.
How does renters insurance work?
In exchange for the protection renters insurance provides, you'll make monthly or yearly payments (known as your 'premium') to your insurance company.
Your premium depends on a range of factors, like where you live, the amount of coverage you purchase, your claims history, and more.
Should you file a claim, your renters insurance company may compensate you for any covered losses—minus your deductible, which is the amount you agree to pay out-of-pocket before you receive compensation from your insurer.
When you sign up with Lemonade you'll be able to pick a deductible between $250 and $2,500. A lower deductible will equal a higher monthly premium, since you'll owe less out-of-pocket in the event of a covered claim.
What does renters insurance cover?
Your renters insurance policy will cover your personal property against various damages, like theft or fire.
It will also help with additional living expenses in the event that you're forced out of your home for specific reasons, and can kick in to cover medical or legal bills if someone is injured at your rental (or if you cause accidental damage at someone else's place).
Let's take a look at some common scenarios and whether or not they'd fall under your renters insurance coverage:
| Category | Covered by Renters Insurance? |
| --- | --- |
| Theft | Yes |
| Fire | Yes |
| Vandalism | Yes |
| Water damage | Depends on the cause |
| Hurricanes | Mostly, but not flooding |
| Windstorms | Yes |
| Floods | No |
| Earthquakes | No |
| Property used for commercial purposes | No |
| Appliance breakdown | No, unless you purchase Equipment Breakdown Coverage |
| Your roommate's stuff | No |
| Damage to or theft of your car | No |
| Damage from pets or pests | No |
| Property damage to the building where you live | No, that'd be covered by your landlord's insurance |
Basic renters insurance coverages
A typical renters insurance policy (also known as an HO4 policy) has three main coverage categories: Personal Property; Temporary Living Expenses (also known as Loss of Use); and Personal Liability & Medical Bills.

What does all that mean, exactly?
Personal property coverage
Personal property coverage helps you recover the cost of lost or damaged valuables if your property is lost, damaged, or destroyed by a covered loss.
Standard policies cover named perils: very not-fun occurrences like kitchen fires, lightning, windstorm, hail, smoke, vandalism, theft (at home or elsewhere), freezing, damage from aircraft or vehicles, and riots, to name a few.
That means that if your clothes, furniture, electronics, or jewelry are damaged or destroyed by a named peril, your renters insurance policy can help cover the costs. The same might even go for food loss.
Temporary living expenses
If covered perils cause your place to become unlivable, you might need to hole up in a hotel for a while. The good news is that most renters insurance policies will typically cover these and other expenses under your loss of use coverage, possibly including cash you need to spend on food and laundry.
Personal liability coverage & medical bills
Renters insurance coverage extends to instances in which someone gets hurt at your place in an accident—whether that means hospital bills or legal fees from a lawsuit.
It also extends to certain damages that you may cause when you're away from your home, like if you accidentally smash your friend's pricey glass coffee table while visiting.
Coverage limits and sublimits
Each category of coverage has its own limits, and occasionally sublimits.
For instance, you can choose $10,000 of personal property coverage. If your apartment is robbed and all your belongings are taken, your insurer would compensate you for the loss up to that $10,000 limit (after taking your deductible into account).
Certain types of property typically have additional sublimits, and these may vary depending on what state you live in.
Portable electronics theft, in all states other than California and New York, is limited to a certain amount. In general, the theft of cash (or even crypto!) is only covered up to a maximum of $200.
Jewelry theft is only covered up to a maximum of $1,500, unless you "schedule" specific items of jewelry, which we'll explain below.
Scheduled personal property coverage for your valuables
What if you want to boost the coverage you have for certain specific items that are especially valuable? In insurance terms, such additional protection is known as scheduled personal property coverage.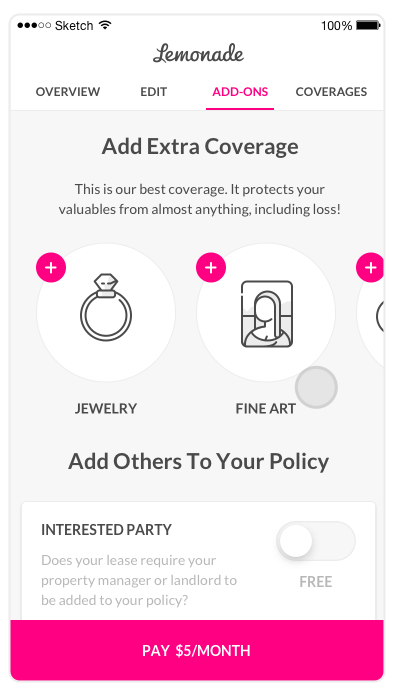 Because "scheduled personal property coverage" is a real mouthful, at Lemonade we simply refer to it as 'Extra Coverage.'
For an extra charge, can apply to add Extra Coverage to jewelry as well as valuables like bikes, cameras, fine art, and musical instruments.
While these items already enjoy a certain amount of coverage on your base policy, Extra Coverage comes with extra perks:
Deductible-free claims
Coverage for accidental damage
Coverage for "mysterious loss" (as in "I haven't seen my engagement ring in three weeks and I'm starting to think it's…gone")
While these things may need appraisals or other proof of purchase—more on all that here—the process is extremely easy using the Lemonade app.
What renters insurance doesn't cover
Renters insurance is pretty awesome, but it's not a cloak of invincibility. It won't protect you against every crappy thing that can happen on a daily basis, so it's good to know what's not covered by your policy.
The following things are not covered by renters insurance:
Earthquakes, or flooding due to weather (though you can always purchase separate flood insurance)
Widespread power outages (in most states)
Theft of your car, or car parts (though renters insurance would cover belongings stolen from inside your car)
Your roommate's stuff
Things that occur during a short-term rental (like if you Airbnb your apartment)
Damage from or removal of pests, including mice, rats, ants, and bed bugs
Mold, unless it results from certain causes
Damage to your apartment caused by your pets
Most property damage to your physical rental (that's what your landlord's insurance is for)
FAQs about renters insurance
Does renters insurance cover appliance malfunctions?
Your basic renters policy protects your electronics and appliances against certain "perils," but not against every type of damage.
For instance, if your washing machine has an electrical failure your base policy wouldn't help. But if you want to add on those extra protections, you can purchase Equipment Breakdown Coverage (EBC).
Also known as Appliance Coverage, this is an endorsement to complement and enhance your renters insurance and provide coverage for many additional types of damage. Keep in mind, though, that this coverage only applies to appliances that you own (not your landlord).
Does renters insurance cover hurricanes?
Yes, for the most part.
Hurricanes are sort of strange. In some states, like Rhode Island, you'll have a Hurricane Deductible in your standard Lemonade renters insurance policy. In others, like New Jersey, some policies may include a separate, mandatory, or optional hurricane deductible in the insurance policy. Still other renters insurance policies, like California, don't even mention the word 'hurricane' in their policy.
Moral of the story? If you live in an area where they get past the "C's" when naming the next hurricane (see here for more info), you should probably take a look at your policy or contact your insurer and see what your options are.
Does renters insurance cover water damage?
Your renters insurance policy may cover water damage, depending on the cause.
While flooding from the outside isn't covered, you'd generally be covered for property damage caused by flooding within your apartment, as long as it's caused by a named peril. So if your pipes burst and your stuff gets damaged, you'd likely be eligible for a claims payout.
Renters insurance can typically also help cover the costs of water damage you cause to others. So if you leave the water for your bathtub running too long and it causes a leak in your downstairs neighbor's apartment, your personal liability coverage could kick in to help pay for any damages.
Can you update coverage after you've purchased a policy?
Yes, though the specifics will depend on your insurer. At Lemonade, you can make adjustments to coverage limits or your deductible via the app—although doing so could affect your monthly premium.
You can also add additional insureds, add scheduled personal property coverage to valuable items (we call it Extra Coverage here at Lemonade), update your payment info, cancel a policy, purchase a new policy, and more.
Is Lemonade renters insurance available where I live?
These are the states we currently offer renters insurance in: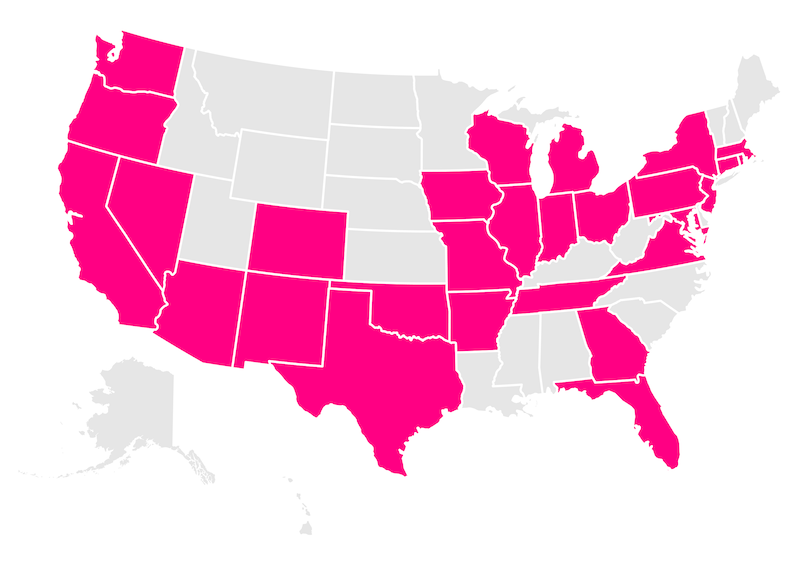 Arizona, Arkansas, California, Colorado, Connecticut, Florida, Georgia, Illinois, Indiana, Iowa, Maryland, Massachusetts, Michigan, Missouri, Nevada, New Jersey, New Mexico, New York, Ohio, Oklahoma, Oregon, Pennsylvania, Rhode Island, Tennessee, Texas, Virginia, Washington, Washington, D.C. (not a state… yet), and Wisconsin.
Still not sure what amount of coverage is right for you? Check out our easy guide to how much renters insurance you need.
A few quick words, because we <3 our lawyers: This post is general in nature, and any statement in it doesn't alter the terms, conditions, exclusions, or limitations of policies issued by Lemonade, which differ according to your state of residence. You're encouraged to discuss your specific circumstances with your own professional advisors. The purpose of this post is merely to provide you with info and insights you can use to make such discussions more productive! Naturally, all comments by, or references to, third parties represent their own views, and Lemonade assumes no responsibility for them. Coverage may not be available in all states.