In our previous Transparency Chronicle, we announced Lemonade's goal to become available to the majority of the US population by the end of 2017. Since then, things have gone a little nuts… There's a ton of stuff to cover, so let's get started.
Milestones are meant to be broken
Last December, based on our initial launch results, we set ourselves a target of having 13,000 customers by the end of 2017. We modeled this based on the rapid growth of our first days in-market. We thought it was aggressive, but doable.
Fast forward five months. On a sunny Brooklyn morning, a young woman named Kelly bought a Lemonade renters policy. Little did she know, but that specific policy had special meaning. Kelly was our 10,000th customer.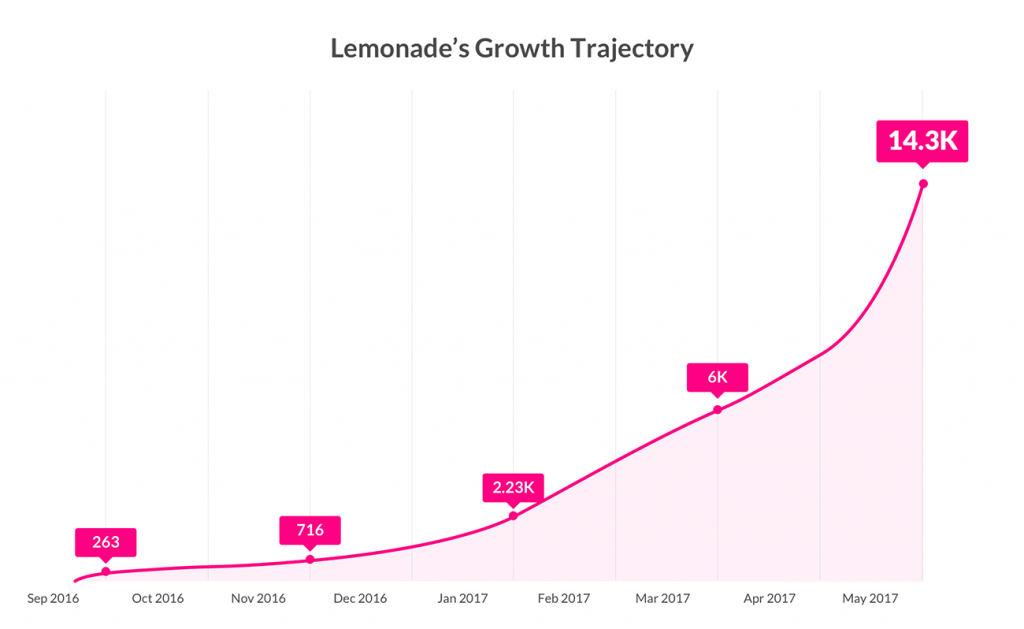 But wait. In the 20 days since, our customer base grew by another 43%, welcoming over 4,300 new Lemonade members to our community.
That means we beat our annual target, 7 months early!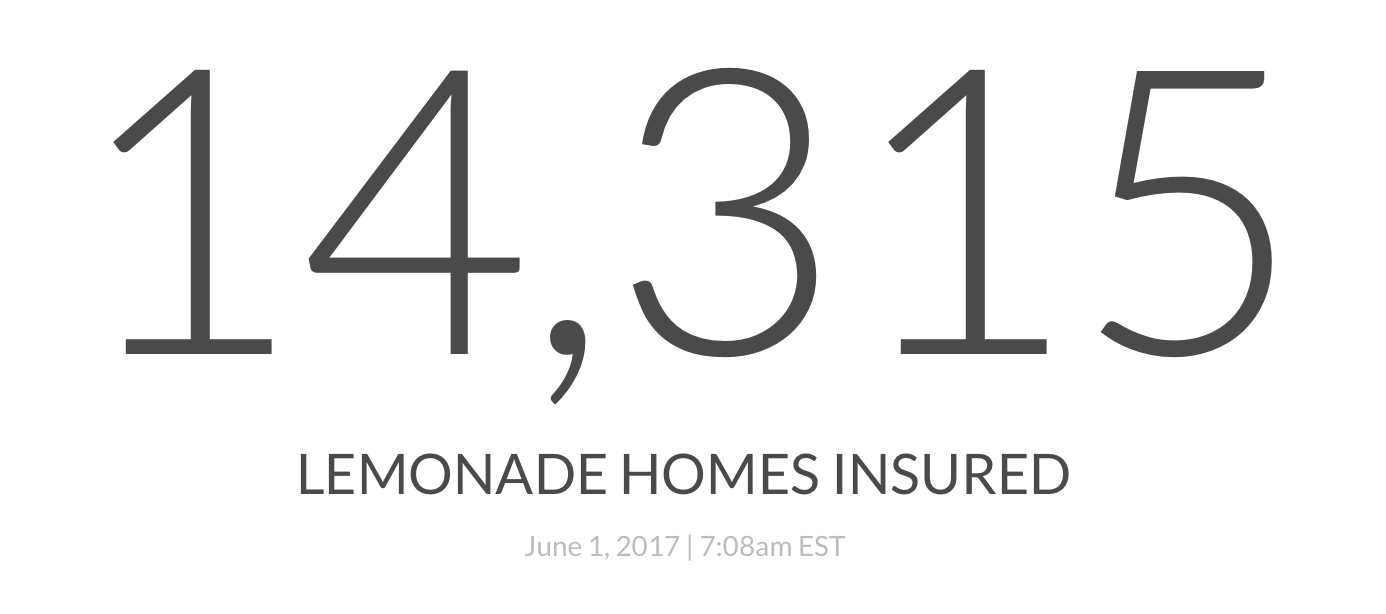 It's not only about how many customers we have, but how fast we're accelerating.
Our weekly sales of new policies is now 60X what it was half a year ago. And growing.
Customers are ditching incumbents for Lemonade
Customers switch to Lemonade from old insurance companies on a daily basis, with 21.5% of switchers coming from GEICO, 20.5% coming from State Farm, 17.1% from Allstate, 10.5% from Liberty Mutual, 5% from Progressive and the rest from companies like Farmers, USAA and others.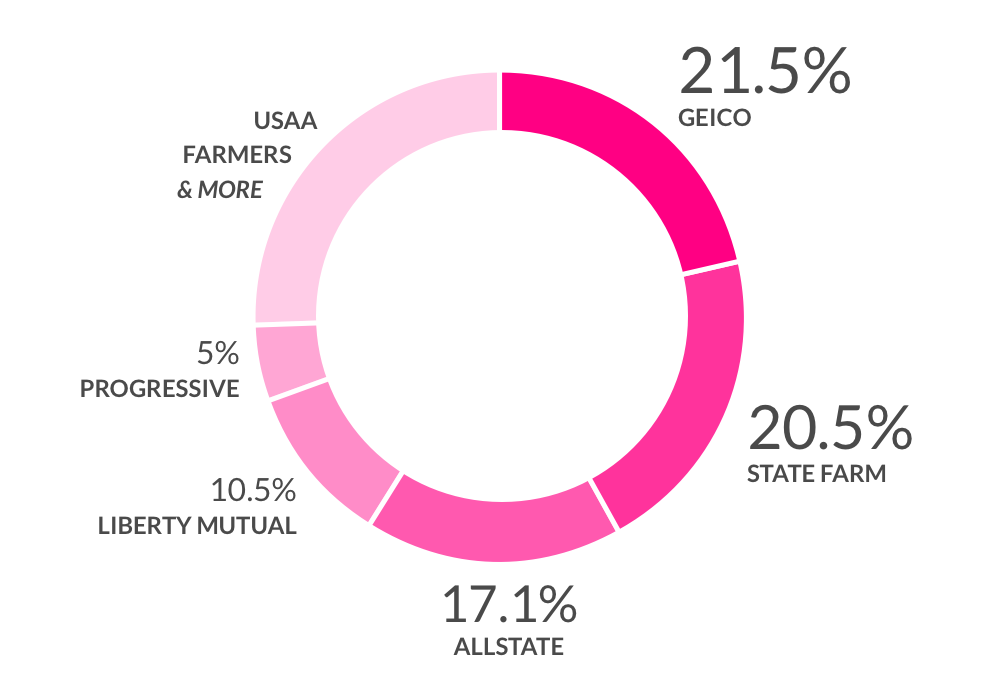 Lemonade members
Looking at our members, we continue to grow among our primary demographic, with 78% of our customers between the ages of 25–45, and mostly urban dwellers. Btw, 2% of our customers are 65 or older.
We also discovered that many of our policyholders are entrepreneurs, freelancers, artists, designers, photographers, and singers, while others work for some of the world's most loved brands such as:

I'd also like to take this opportunity to thank our customers who work for Liberty Mutual, State Farm, Allstate, Travelers, and Progressive. Don't worry guys, your secret is safe with us ;).
Claims, paid instantly!
We handled a total of 117 claims so far and happily paid $143,190 to our insured members. Remarkably, 27% of the claims paid were handled and processed instantly, from start to finish, by AI Jim, Lemonade's chatbot.
One point that we didn't feel right about was the difference in the time it took AI Jim to handle a claim (3 seconds) and the time banks took to move money from our account to our members' (several days). That sucks.
So we dug deeper and found a better way to send money to our members. Instead of wiring funds the traditional way, we now allow our users to receive claim payments directly to their debit cards, instantly!
Thoughts about expansion vs. focus
I discussed the 'local vs. global' dilemma in a recent post announcing Lemonade's nationwide expansion plan.
There are a lot of reasons why tech startups, and new businesses in general, should consider launching in a small, confined market. But, the question of when to break out of that first market and start expanding, is equally important.
We started Lemonade in a single state, but quickly took steps to make sure we don't stay a single state insurance company.
Business expansion, if done right, shouldn't mean defocus. A highly motivated team, coupled with a culture of aggressive execution, can move mountains, fast.
I believe that a business confining itself to a single market for too long will be at risk of becoming numb. Mostly, because local businesses have a different DNA and structure than national or global ones. But it also has to do with the team's skill-set, available capital and the scalability of the product to support multiple timezones, geographies and even languages.
As a US financial organization, we needed to design a system that would allow us to operate in many different regulatory environments and under very different laws. All, while maintaining a unified, seamless user experience.
Changing laws!
When you're a new kind of insurance carrier, launching a new state is tough. Even when the regulators are willing, as was the case in Florida, the law doesn't always oblige.
Insurance laws were written for the old insurance industry, creating barriers for disruptive companies. So when we hit a wall with Florida's law, we worked with the Florida Senate to change it, and it worked!
Introducing the first Lemonade driven legislation. We call it: 'The Lemonade Act'. (Hat tip: #FrankUnderwood)
Underwriting updates
While we're investing in accelerating our growth, we also want to make sure that our portfolio remains balanced (that's insurance-speak for saying: we're taking on the right mix of risks). And so, in the last two quarters, we invested in optimizing our underwriting algorithms, taking a more restrictive approach at first. We then learned, improved and made our system smarter, using the large amounts of data gathered every second by our apps.
For example, we made some algorithm adjustments with the purpose of reducing exposure to elements such as coastal concentration. Unfortunately, this meant turning away a larger number of customers. Declining customers is always painful, but we're determined to build a sustainable business for the long run.
In the following chart, you can see the impact underwriting changes had on our declination rates.
From a coverage perspective, we constantly track some key metrics that indicate the type of customers we're attracting. One of these metrics is Reconstruction Cost. This value determines what the cost would be to rebuild your home from the ground up, should something catastrophic happen to it. It differs from your home's market value because it excludes the value of the land it's built on.
Back in September 2016, we tracked an average of $264,500 in Reconstruction Costs. Today, this number has almost doubled, with our Reconstruction Cost average at around $480,000 per home.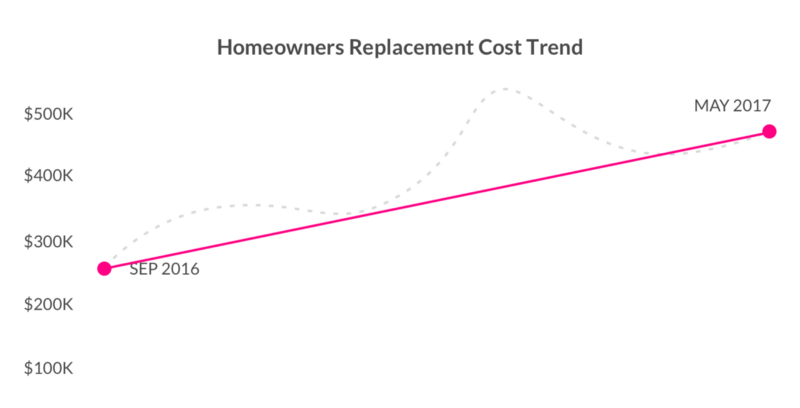 This is important. Why? It hints that our brand awareness and consumer trust is catching on, and that we're starting to climb upmarket. In other words, owners of higher value homes trust us to cover them.
Product releases
With an average of 2.3 product updates per day (including weekends, people!!), I won't even try to list everything we've done lately. Instead, I'd like to focus on two things:
The first is the addition of an Earthquake Insurance option for California renters and homeowners. It's the first time we added an insurance carrier as a partner, and integrated it (almost) seamlessly into our flow. Adding earthquake coverage to your policy is really easy, and will become even simpler with a set of improvements we're pushing soon. I love this integration because it shows that we can easily scale the product and our system to work with other insurers and new products, while maintaining control of the customer experience, from buying policies to handling claims.
The second update is the addition of some new self-serve features that previously required the involvement of our customer experience team. For example: you can now add your landlord, significant other or spouse during checkout.

New states launching soon!
I'm excited to announce that Lemonade is now licensed in 7 new states, and will be launching there soon. Texas, New Jersey, Michigan, Arizona, North Carolina, Virginia, and Rhode Island will join New York, California, and Illinois, where you can already buy a Lemonade policy.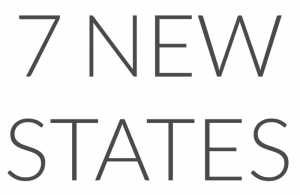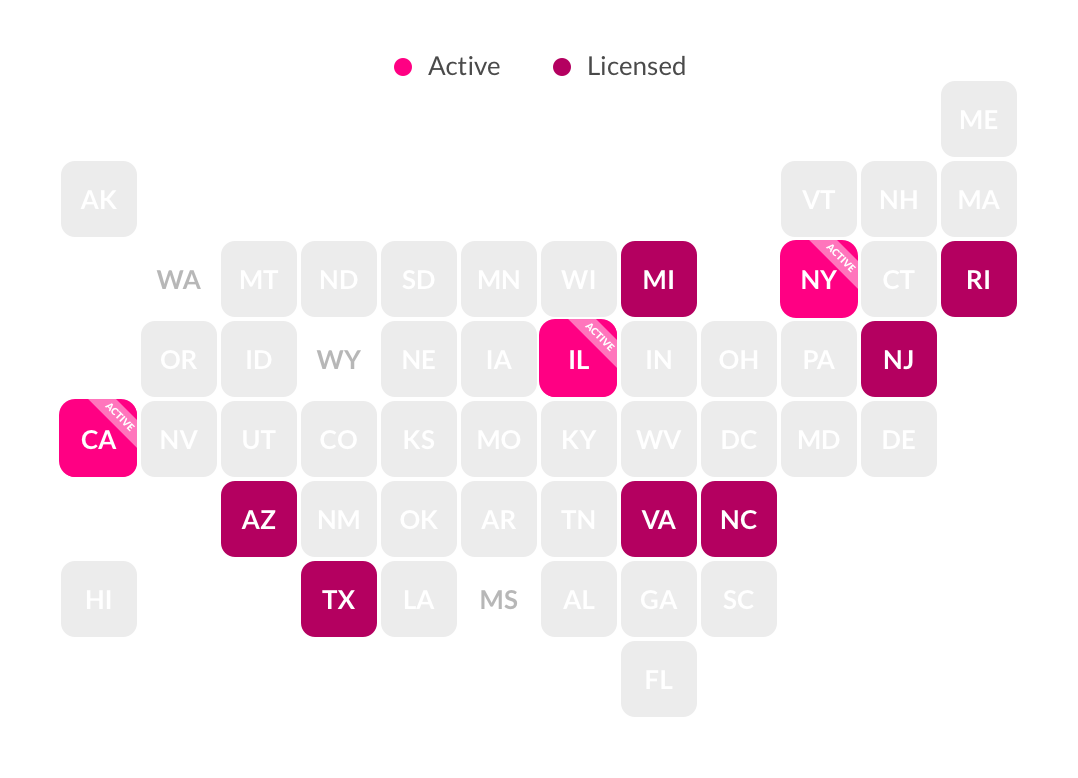 We'll be gradually rolling out in these seven states in the next few months. This brings us closer to our goal of reaching the majority of the US population in the coming months.
Get notified when we launch new states at Lemonade Goes Nationwide.