California Renters Insurance Guide
Get your stuff covered in the Golden State.
California is an incredible place to rent an apartment. With its stunning coastline, stellar food scene, and bustling urban centers, it's no wonder 1 in every 8 Americans resides in the state.
So whether you live in San Francisco, Los Angeles, San Diego, or anywhere in between, you're going to want to make sure you have renters insurance coverage, to alleviate any anxiety around bad things that can happen in California—from your phone getting swiped at Coachella to having your valuables damaged by wildfires.
Getting renters insurance coverage isn't as daunting as it sounds. With Lemonade, you can get a policy in just 90 seconds, starting at just $5/mo (the lowest rate on the market!), with zero paperwork, zero hassle. Best part? Every year, your unclaimed premium will be donated to a charity you choose.
Here's what we'll discuss:
What does Lemonade renters insurance cover in California?
Does renters insurance cover your favorite pair of sunglasses? What about your bike? Or your engagement ring? Does it cover you for anything other than your stuff?
Here's exactly what California renters insurance covers:
Personal Property
'Personal property' coverage protects your stuff, no matter where you are in the world. So if your kitchen table is ruined due to that burst pipe, or your laptop is stolen while you're traveling abroad, renters insurance has your back.
Loss of Use
If your place becomes unlivable due to covered losses (like a fire or windstorm), your 'loss of use' coverage can help pay for a temporary place to stay and basic living expenses such as food, laundry, hotel parking, etc.
Liability protection
If your friend slips and falls while you're hosting an apartment party, you could be liable. So if someone is injured on your property, or anyone on your policy causes damage to someone else's property or stuff, your renters insurance company should have you covered.
Medical Protection
If your friend needs to go to the hospital because of that slip and fall, your medical payments will kick in. Renters insurance covers you if your guests get injured at your place, or if you accidentally people hurt outside of your home as well. Note that your renters insurance does not cover medical costs if you or someone residing with you are injured—only non-residents and guests.
Different people might need different coverage amounts, depending on their lifestyle and situation.
For example, you might have $20,000 worth of personal belongings, so you'll want to get $20k worth of personal property coverage (rather than the $10,000 minimum) to make sure you're adequately covered. Your landlord also might require you to have a certain amount of personal liability coverage.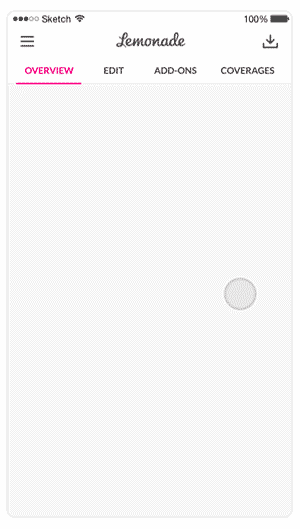 What does Lemonade renters insurance in California protect me against?
Renters insurance covers you and your stuff for damages (or 'perils' in insurance speak), including theft, fire, vandalism, and water damage from things like burst pipes.
Here's a complete list of the perils that are covered under your base renters insurance policy in California:
Fire or lightning

Windstorm or hail

Explosion

Riots

Aircraft

Vehicles

Smoke

Vandalism

Theft

Falling objects

Weight of ice, snow, or sleet

Accidental discharge or overflow of water or steam

Sudden and accidental tearing, cracking, burning, or bulging

Freezing

Volcanic eruption
Take note that there are additional packages that you can tack on to your renters insurance policy to protect against additional dangers, like earthquakes.
At Lemonade, we offer Earthquake Insurance for just a few extra bucks a month. This add-on extends coverage for your stuff for any physical damage by an earthquake event.
Why California renters should go with Lemonade insurance
Truth is, getting renters insurance can be confusing, time-confusing, and flat-out boring. But with Lemonade, it doesn't need to be. You can get a policy from start-to-finish in just 90 seconds, all thanks to artificial intelligence.
Just head to the Lemonade app, answer a few questions, and AI Maya will crunch some numbers and give you a renters insurance quote instantly. Zero paperwork or phone calls required.
If you ever need to adjust your coverage because your landlord asked you to, or realized your stuff is worth way more than you thought, you can do it on the app instantly using Lemonade's Live Policy feature.
And Lemonade's claims experience is instant, too. If anything bad happens, simply chat with AI Jim, our claims handling bot, and quickly tell him what happened. 30% of our claims are approved in just 3 seconds.
Best part? All unclaimed premiums go to a charity you choose at the end of the year.
Rather than making money by denying insurance claims, we take a fixed fee out of your monthly payments, pay reinsurance (and some unavoidable expenses), and use the rest for paying out claims. Then, we return unclaimed remainders in our annual 'Giveback'.
This way, our Lemonaders enjoy amazing renters insurance, and society gets a little push for the better. It also means that, unlike traditional insurance companies, we're not in conflict with our customers, so we're happy to pay claims quickly and with no hassle.
Is renters insurance required in California?
Whether or not renters insurance is required in California depends on your landlord. While there is no federal or state law requiring that you get renters insurance, it is required by law that you comply with your lease. So if those terms include having renters insurance, you need to make sure you're covered.
Most landlords and property managers require you to provide proof of your renters insurance policy before you sign your lease. Sometimes, they'll also ask for proof of insurance each time you renew your lease.
Why? Usually, landlords want to make sure you have enough personal liability coverage within your renters policy. They might also check to make sure you have enough personal property coverage for your stuff.
Your landlord might also require you to list them on your policy as an interested party, so they'll be notified if you cancel your policy. That way, they can make sure you don't cancel your policy right after you provide proof that you have one.
How much renters insurance do I need?
As we previously mentioned, your policy has a few main categories:
Personal property
Temporary living expenses
Personal liability & medical bills
You'll need to choose coverage amounts for each category, your decision process will be different for each coverage type. For example, you should choose your personal property coverage amount based on how much stuff you have, and how much it would cost to replace them.
On the other hand, when selecting your loss of use coverage, consider all of the expenses you could rack up beyond your normal daily budget (such as a place to stay, food, laundry, your commute, etc) if your home becomes unlivable for an extended period of time. Check out our guide to learn more about how much renters insurance you need.
How much is renters insurance in California?
The average monthly cost of renters insurance in California tends to be between $14 and $22 in major cities. How much you pay on renters insurance will ultimately depend on how much coverage you need.
This is what renters spend on premiums, on average, in several major California cities:
How do I lower my renters insurance rate?
There are a few things you can do to lower your premium. First off, you can install some devices in your apartment, like a standard fire alarm and burglar alarm, to lower your risks. Lowered risks equals lowered premiums.
You can also adjust your coverage options to lower your price—for example, the lower your personal property coverage or the higher your deductible, the lower your premium will be.
Just make sure you're not compromising your renters coverage so much that you're underinsured. Because in that case what's the point of a renters policy? Here's where you can learn more about how much is renters insurance.
Also, if you're a California pet owner, be sure to check out Lemonade's California pet insurance guide.
Have more questions about Lemonade? Check out our FAQs.