Everything You Need to Know About German Shepherd Pet Insurance
This talented breed can do it all.
From guiding the blind to chasing down criminals, German Shepherd dogs (GSDs) can do it all. This dog breed is intelligent, hard-working, and loyal, but they're not for everyone. German Shepherds need attention, they require daily exercise and strict training.
If you're a dog owner or considering adopting, we'll give you the rundown on German Shepherd's to see if they're the right fit. We'll cover breed characteristics, personality, cost, common illnesses, and even references to pop-culture. Scroll down to find the freshest pup influencers that'll brighten up your Insta feed!
But, as we know, having a dog isn't always as easy as scrolling through your feed. So before giving the run down on Shepherds, we're going to tell you how to protect your pooch, and explain how pet insurance could help take the bite out of vet bills.
Getting pet insurance for your German Shepherd
Pet insurance helps cover the costs of your vet bills. You pay a monthly premium and in exchange, you can provide care for your fur fam without stressing as much about the costs. With Lemonade pet insurance, pet parents can customize their policy to get the coverage their furry friend needs.
For starters, a basic Lemonade pet health insurance policy includes accident and illness coverage. This will help cover the costs of tests, treatments, and medication if your dog or cat has an unexpected accident or illness.
A basic policy is great for the unexpected things in your fur fam's future, but Lemonade also offers affordable preventative care, designed to keep your pet healthy, and helps cover expenses you're probably already paying for. By adding a preventive care package to a Lemonade policy you'll also get access to live medical chat and be covered for all types of routine care—like your annual wellness exam, checkups, blood tests, several vaccinations, and other routine health care for your pet.
We ask a German Shepherd about a day in their life…
"If you're my pet owner, you should expect lots of fetch and long walks. As a 2 year-old, it takes a great deal of exercise to tire me out. Without physical activities, it's likely that I'll become bored and frustrated. Don't worry, I'm not very picky about what we do. I can train for almost anything: herding stock, assisting people with disabilities, smelling out drugs, or joining the military.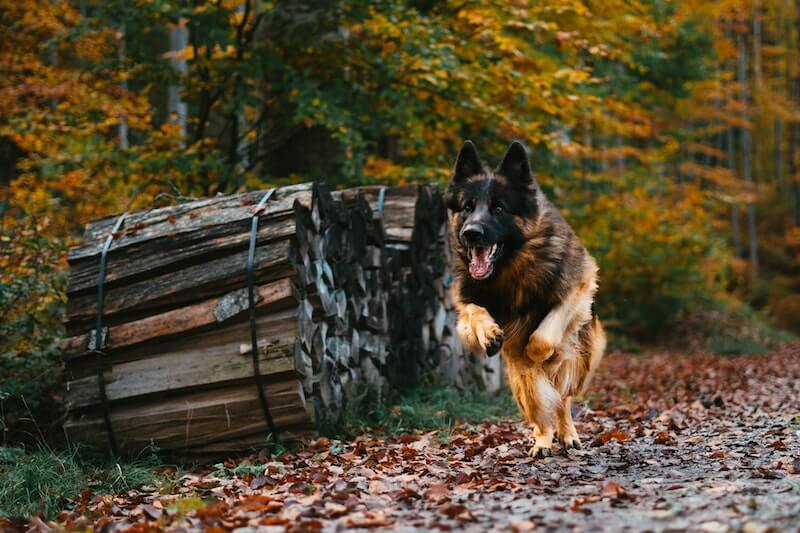 After our morning play time, I'm ready to eat breakfast. Just make sure you avoid feeding me these human foods. If you leave for work, don't be away for too long – I get bored and anxious. I love our midday doggy park trips. Most German Shepherd owners discover the importance of helping their furry friends learn good dog manners and socialize with other pets and humans.
Today might be a vacuum day for you. Sorry… I shed… a LOT. When you fall asleep, I'll watch the house. If anyone breaks in, I'll put my life on the line to protect you. Some people say I'm the best companion dog."
The German Shepherd's personality
Obviously every pup is unique, and it's impossible to predict what kind of dog you'll be bringing into your life. But breeds do have certain tendencies and characteristics. German Shepherds are intelligent, obedient, loyal, curious, and alert.
How much does a German Shepherd cost?
This puppy is on the more expensive side, with dog breeders pricing puppies between $450-$1,900.
During the first-year, you'll spend near $3,500 to get your new friend vaccinations, grooming appointments, and a pet insurance policy. This price drops to $500-$1,500 for each year following.
On average, German Shepherds cost owners around $15,000. But if you plan on spaying/neutering your dog, hiring a dog walker, and boarding your pup once a year, expect to pay anywhere from $47,000-$99,000 in their lifetime.
What are common German Shepherd illnesses?
To decide whether this breed is for you, here are some health problems you may run into. We hope you never see your dog go through these. But if you do, it's always a good idea to be prepared and know the signs.
Before we get into some common health problems your pup might encounter, a quick reminder that Lemonade offers stellar pet health insurance that'll give you peace of mind and keep your four-legged friend healthy. You can get a monthly premium quote from your favorite insurance company in just a few minutes—it's quick, simple, and even a little fun…
German Shepherds are more likely to develop degenerative myelopathy, a progressive neurological disease that impacts the hind legs. If you notice your pooch is limping, losing muscle in their hind legs, or struggling to stand, reach out to your veterinarian to get them checked. While there is no cure, some cases are related to a lack of Vitamin E and can be monitored with supplements.
Exocrine Pancreatic Insufficiency (EPI) is a genetic disease that affects your dog's pancreas. It breaks down cells that are needed for digestion. Dog's with this disease struggle to digest and absorb food which can lead to gas, weight loss, loss of appetite, and diarrhea.
Knee and hip dysplasia are common health conditions in many breeds. If your dog goes untreated, these diseases could cost you $1,500 to $6,000. Since these conditions are inherited, we recommend asking your breeder for certifications from the Orthopedic Foundation for Animals. Elbow dysplasia is less common, but still prevalent for German Shepherds.
Along with other deep chested dogs, this breed is at risk of bloat. Usually, it impacts dogs who rapidly eat large meals, chug too much water, or eat after working out. It is an unexpected, lethal condition that can develop rapidly, so it's important to know the signs. If your dog is excessively salivating, throwing up without vomit, whining when his abdomen is touched and his stomach is distended, get him to the vet immediately.
Like humans, dogs show symptoms in a variety of ways. We suggest calling your vet if your dog starts acting differently, so you never overlook something serious.
German Shepherds in pop culture
Did you know a dog is featured on Hollywood's Walk of Fame? After being rescued in WW1, Rin Tin Tin, became an acting icon with works in film, radio, and television. His German Shepherd co-star, Stronghead, also has a Hollywood star. Celebrities like Cameron Diaz, Jennifer Anniston, and Tom Hanks are proud pet parents to German Shepherds.
Instagram-famous German Shepherds
Nothing cheers us up like our favorite Instagram German Shepherds. Add these photogenic pups to your feed!
Max and Murph are the perfect Long Coat German Shepherd and Golden Retriever duo. When they're not mastering the art of Tik Tok challenges, these bros are getting their beauty sleep.
Follow along to see the most photogenic pics of Charlie. His veterinarian mama can give you all the tips on raising a happy and healthy dog.
Enzo is an up-and-coming detective that never gives up a good-lighting moment. His younger sister, Lilo, loves to learn new tricks and play with her Dino toy.
Jade and Jasper will upgrade your Insta feed. These siblings are social media icons whose videos will melt your heart.
And don't forget!
Your German Shepherd dog is a bundle of cuteness, and you want to keep that pup happy and healthy—without going bankrupt with vet bills in the process. Enter Lemonade's Pet Health insurance, which offers an affordable way to make sure your furry friend can live their fullest life. Get your free insurance quote in just a few minutes, with a dog insurance policy that German Shepherds and their pet parents both love!