How Much Does Renters Insurance Cost?
Hint: Renters insurance costs much less than you think.
The average cost of renters insurance is $18 a month (Value Penguin). And starting for as low as $5 a month (60 bucks a year!), Lemonade renters insurance offers you the peace of mind and confidence that you, and your precious belongings, are covered.
Before we dive any deeper into the topic , are you wondering if you even need renters insurance in the first place? Yes. Yes, you do. (Your mom was right on that one!)
Turns out, renters insurance protects you against a bunch of all too common situations, like your laptop getting swiped from your bag, your apartment catching fire due to a tipped candle, or your BFF hurting himself while cooking in your kitchen and going to the hospital.
TL;DR
The cost of renters insurance is $18 a month but can vary significantly, depending on factors such as your apartment's location, your deductible, and the actual amount of coverage you need.

I

nsurance regulations, and therefore pricing, can differ from state to state.

You can lower the price of your renters insurance policy by installing security devices such as a fire and burglary alarm, or choosing a higher insurance deductible. 
And here's what we'll cover in detail:
The costs of renters insurance – an intro
The cost of renters insurance can vary significantly, depending on your apartment's location, deductible, and the amount of coverage you need.
One of the most important factors to keep in mind when considering renters insurance cost is the insurance company you go with. Lemonade uses AI technology to make insurance way more efficient, enabling renters to score great coverage for incredible prices.
How is Lemonade able to provide these prices? Lemonade works hard to lower fraud costs by aligning interests, and slashing expenses through technology. That makes for a more affordable and delightful experience.
Even so, your Lemonade renters insurance price will depend on a couple of individual factors. So yours might cost $5/mo, or it could cost $20/mo, depending on a few variables we'll discuss below.
Btw, keep in mind that insurance regulations, and therefore pricing, can differ from state to state. Lemonade Renters insurance in Texas might be different from our renters insurance in PA.
Which factors determine my renters insurance cost?
Let's dig a bit deeper into this. Here are the factors that can determine your renters insurance.
1. The location of the property
For obvious reasons, the neighborhood you reside in may affect your renters insurance rate. If you live on the coast, you may be more likely to encounter extreme weather. And as an insurance rule-of-thumb, the more likely you are to file a claim, the more your renters insurance will cost.
But your location could also help lower your price! For example, living around the corner from a fire station could help bring costs back down.
2. Your deductible
An insurance deductible is an amount of money you choose when purchasing a policy that will be subtracted from any future claims payouts. So if your $1,000 watch was stolen, and your deductible was $250, your insurance company would pay you $750.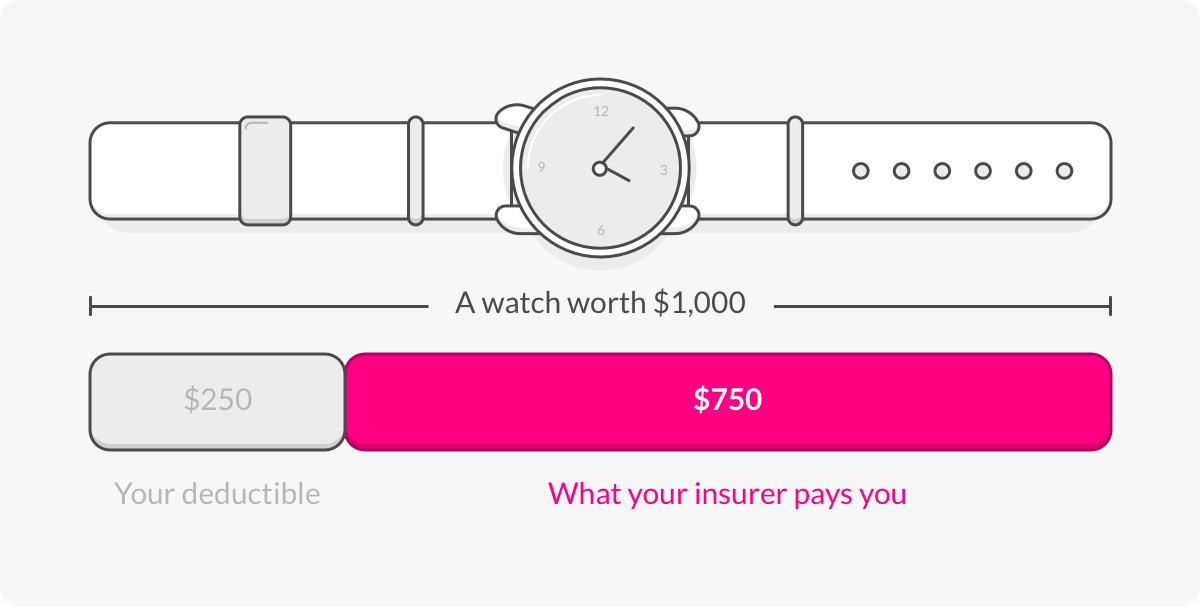 Think of a deductible as your participation in the damage or loss. You're saying, "I commit X dollars to any claim, and my insurance company will cover the rest."
The higher your deductible is, the lower your premium could be, but keep in mind that a higher deductible also means you'll pay a lot more out of pocket in the event of a claim. Different people have different preferences – you'll have to decide what's right for yourself at the end of the day.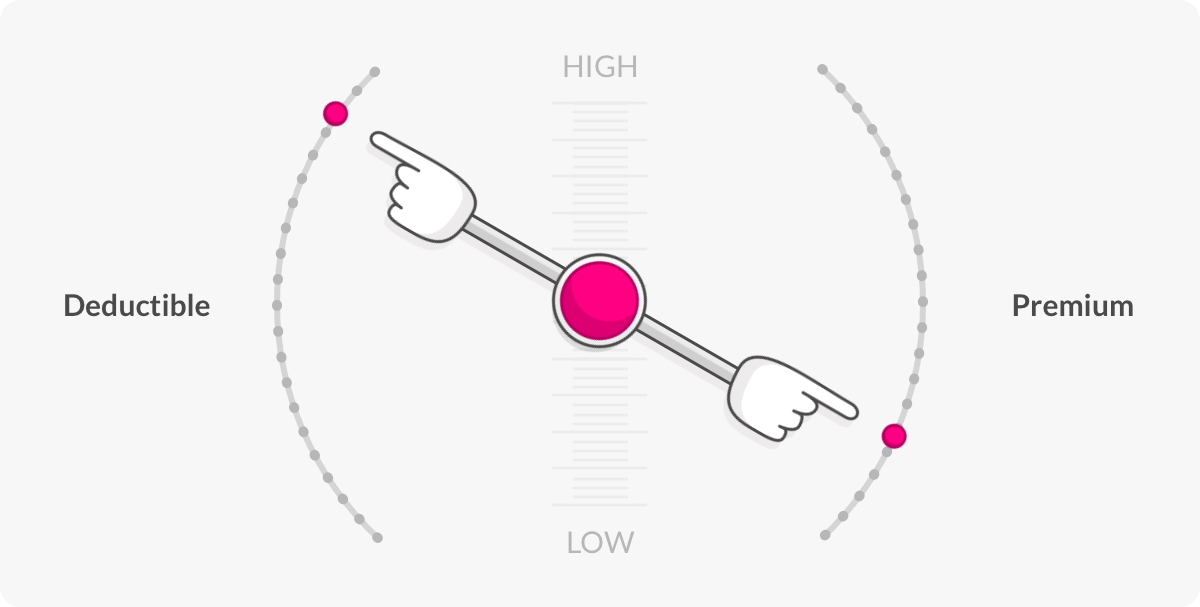 Btw, you can't make a claim for anything lower than your deductible. So if the replacement cost of your item is lower than your deductible, there's no point in making a claim since your insurance company won't be able to reimburse you for anything.
3. The number of your previously filed claims
If your claims history is pretty extensive, meaning you've filed a couple of claims over the last few years, this won't go unnoticed. Even if they were filed with a different insurance provider, your current insurer will know. This means that they'll assume that your increased likelihood to file claims will put them at a higher risk, which in turn they insure against by raising your monthly insurance premium.
4. The amount of coverage you choose
The amount of coverage you choose in each category—like loss of use, personal property, and liability coverage—has an impact on the final price of your premium.
At Lemonade, a basic renters insurance policy starts at $5 a month and includes $10,000 of personal property coverage. You'll probably want to get Extra Coverage for those big-ticket items. And with Lemonade's Live Policy, it's easier than you'd imagine.
So if you decide your personal belongings are worth around $40,000, you'll most likely pay more than if your stuff was worth $20,000. If you're lying awake at night wondering 'how much is renters insurance?', first consider how much renters insurance coverage you'll need, and then you can look into adjusting that premium.
How can I lower my premium?
While monthly prices may cost as much as a latte, adding all of your swag to your policy might leave you looking to lower your price. Luckily, there are some things you can do to help lower your premium.
Security devices.
Your home doesn't need to be 'smart' in order to install some devices that will help to lower renters insurance cost. Start with a standard fire alarm and burglar alarm, and you've already lowered your risks (for additional tips to secure your home, check out this post). And lowered risks equals lowered premiums. Which equals more lattes?
Bundling.
In addition, some insurers might offer you a discount if you choose to buy several insurance policies with them. Bundling your renters policy with other Lemonade products, such as pet insurance, will get you a discount.
Don't forget: You can always update your coverage limits using Lemonade's Live Policy, whenever and wherever, on the Lemonade app with no brokers or paperwork involved.
What a basic renters insurance policy covers
So what are you getting for your $5 a month, anyway? There are more reasons to buy a renters insurance policy than you probably thought. As already hinted to before, a typical insurance policy covers three main areas:

Let's start with personal property coverage. This type of coverage helps you pay for lost or damaged items for a bunch of different scenarios, including fire, lightning, windstorm, hail, smoke, vandalism, and theft, to name a few. More good news? Your personal property is covered outside of your home as well. So if your phone gets swiped while you're paying for your matcha, it'll be covered.
What about temporary living expenses, or in insurance speak, loss of use? These are the additional living expenses you would face if your home is temporarily unlivable. So if an electric fire or water damage from a burst pipe forces you out of your apartment, your renters insurance policy will cover the cost of a hotel and any additional expenses.
And remember personal liability and medical bills? If one of your friends gets hurt in your apartment, goes to the hospital, and then decides to sue you (what a friend, right?), your liability coverage will kick in for both medical payments and legal fees.
What the cost of renters insurance doesn't cover
It's equally important to know what renters insurance doesn't cover. It doesn't cover those annoying things that sometimes happen, like:
Your power, water or heat going out in your condo or apartment in the dead of winter
A place to stay because your apartment got infested with bedbugs (eek!)
Natural disasters such as floods and earthquakes (or man-made catastrophes such as terrorism, war, and nuclear meltdowns – those require either a separate policy or additional coverage)
Your single speed bike after you crash it into a tree, or any other items of considerable value (although you can always add Extra Coverage onto your policy to protect jewelry, fine art, etc.)
Oh, and zombie attacks aren't covered either
Your basic renters policy protects your electronics and appliances against certain "perils," but not against every type of damage. For instance, if your washing machine has an electrical failure your base policy wouldn't help. But if you want to add on those extra protections, you can purchase Equipment Breakdown Coverage (EBC). Also known as Appliance Coverage, this is an endorsement to complement and enhance your renters insurance and provide coverage for many other types of damage.
Rule of thumb: If it's not a listed peril on your policy, it's not a covered loss.
The best part of renters insurance is that you can usually stop and start as you wish. With coverage starting from monthly prices as low as your morning cup of joe, it would be the smart thing to invest that same dollar amount for something much greater than a single caffeine rush – daily peace of mind.
How much renters insurance do I need?
So you've been told you need renters insurance, but aren't sure exactly how much coverage you need…
Renters insurance coverage is kind of like an umbrella. It protects you from a range of bad things that could happen to you and your stuff.
When you sign up for Lemonade renters insurance you'll be asked to pick a coverage amount. This means you'll need to pick how much you'll want your policy to cover in the event something happens. For let's say your bag was stolen—how much would you need back to cover the value of the stolen stuff?
Your renters insurance policy is split up into 4 different coverage areas:
Personal property
Personal liability
Loss of use
Medical payments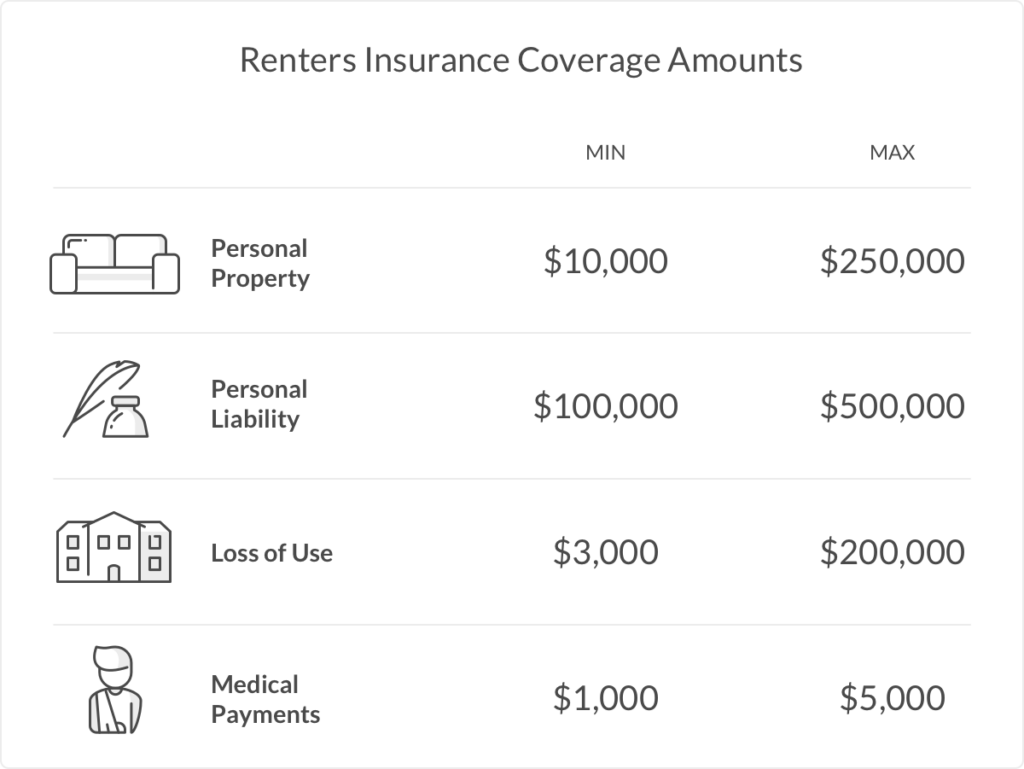 Weigh up how much you think you need in terms of your belongings and lifestyle, and how much you think you can pay monthly. Picking higher coverage will push up your monthly premiums slightly, but on the other hand you don't want to be left without the right amount of coverage in the worst case scenario.
If you're not sure how much your stuff (ie. Personal Property) is worth, here's a good tip to figure it out.
Look around your apartment, and mentally calculate the value of all your stuff. How much are your things worth? Think about clothing, furniture, and electronics, but don't forget about your stuff outside your home, like your bicycle, or that old trumpet you left at your parents' place.
Long story short, you've probably got more stuff than you think…
Follow these simple steps :
1. Walk around your place, and take a video of everything you have
2. Make a list of your most expensive items and estimate how much they cost
3. Figure out how much your bulk items (like clothes) are worth
4. Add this up to determine how much coverage you'll need
Always round up to the nearest $10,000. So, let's say you have $18,000 worth of items, you should pick around $20,000 for your Personal Property coverage.
Standard policies start with $10,000 of Personal Property. Boosting your coverage to $30,000 is usually the safer thing to do, and it's not too pricey.
As for additional coverage – to insure pricier items like jewelry, cameras, musical instruments, bikes, and fine art – you can generally add stuff separately. This is known as scheduled personal property coverage, or 'Extra Coverage,' as we call it at Lemonade.
Still not sure what amount of coverage is right for you? Check out our easy guide to how much renters insurance I need?
Which states currently offer renters insurance?
Arizona, Arkansas, California, Colorado, Connecticut, Florida, Georgia, Illinois, Indiana, Iowa, Maryland, Massachusetts, Michigan, Missouri, Nevada, New Jersey, New Mexico, New York, Ohio, Oklahoma, Oregon, Pennsylvania, Rhode Island, Tennessee, Texas, Virginia, Washington, Washington, D.C. (not a state… yet), and Wisconsin.