Comprehensive Car Insurance
Comprehensive coverage is a type of car insurance coverage that helps pay to fix damage to your car, or possibly replace it, if there are damages from an incident that wasn't a car accident; it's designed to cover things that are out of human control.
Including comprehensive insurance coverage on your car insurance policy means your insurance company may cover things like damage to your car from natural disasters.
Your comprehensive coverage can also have your back if your car is damaged from fire, vandalism, theft, or a falling object (like a tree or a branch), and if you hit a deer or other animal that damages your car.
Here's what we'll discuss:
What does comprehensive insurance cover?
Comprehensive insurance covers the kinds of things you never expect to happen to you, but actually happen all the time. Check your specific policy for any exclusions, but comprehensive coverage usually includes:
Vandalism—like when you get in an altercation in a parking lot and some nice gentleman decides to key your car. Or a creative young artist decides to spray paint her name across your hood. Or a thief damages your vehicle will breaking into it to steal the guitar in your backseat. One note on that last example: If someone breaks into your car, comprehensive insurance covers damage to the car itself, but not theft or damage to your things inside. So that guitar may be covered by renters or homeowners insurance. (BTW, you can bundle these at Lemonade and be eligible for a discount on each policy.)
If your car is stolen, comprehensive insurance would cover theft as well, so you may be paid out the actual cash value of your vehicle if it can't be recovered.
If you hit a deer, or some other animal, the collision damage will be covered by your comprehensive policy.
Ever been caught in a hail storm? It ain't fun. Serious hail storms can cause a lot of damage to your vehicle, but that's covered under your comprehensive policy.
Hail isn't the only climate event covered. Flooding, as well as other natural disasters, are usually covered by your insurer as well.
If your car is hit by a falling object—like a falling tree branch, or a rock that flies from the tire of a passing car—that can also be covered by comprehensive insurance.
If the rock from the passing car cracks your windshield, comprehensive insurance typically covers the costs of repairing or replacing damaged auto glass. This usually involves a deductible, compared to extended glass coverage—another coverage option that also covers damaged auto glass, often with little or zero deductible.
Do I need comprehensive insurance?
In most cases, it's up to you. This will be optional coverage that you'll have in addition to your liability and collision coverage on your car insurance.
You might not be legally required to have comprehensive insurance, but the question of whether or not you need it depends on you and the amount of financial protection you believe you need. Don't forget that if you lease or take out a loan on your car, your lender or leasing company will likely require that you get comprehensive coverage.
If you can't afford a major repair, you'll definitely want to have comprehensive coverage for your car.
Is comprehensive insurance worth it?
It depends.
When deciding if it's worth having comprehensive insurance coverage, consider some factors about your personal circumstances, including:
Where you live
The age and value of your car
How high of a deductible you choose
How often you use your car
Your savings
If the cost of a major repair, or fully replacing your car, is out of your comfort zone to pay out-of-pocket, you'll definitely want to consider including comprehensive coverage on your policy.
Is there a comprehensive deductible if I file an insurance claim?
If your car got damaged during a natural disaster, or in any of the awful or unfortunate scenarios described above, the last thing you want to think about is whether you have the money to cover your comprehensive deductible.
If you are in a state that offers a zero dollar insurance deductible amount for comprehensive coverage, you won't have anything to worry about in the event of a so-called "act of god." Your insurer will either fix your car, or offer you a payout for the value of your car, without any out-of-pocket expenses on your end.
How much does comprehensive coverage cost?
Your comprehensive coverage likely won't cost as much as collision coverage or liability insurance. But keep in mind—if you don't live in a state that has zero deductible rules for comprehensive coverage—that the deductible level you choose will make an impact on your monthly premium. As a general rule, you are charged relative to the level of financial responsibility you take. A higher deductible means you have greater responsibility for your losses.
What's the difference between comprehensive and collision insurance?
Both comprehensive and collision insurance are important supplements to the standard liability coverage your state requires you to have, and they cover different types of incidents. Collision insurance is coverage that helps pay to repair or replace your own car if it's damaged in an accident with another vehicle, or a stationary object (like a fence, highway divider, and so on).
We'll break down some common scenarios to show which insurance coverage could come to the rescue in case you need to file a claim.
When your car gets damaged from a covered accident, these coverages may help pay for the repairs needed to get your car back into pre-accident condition. In the event of a total loss, they may compensate you for the actual cash value of your car.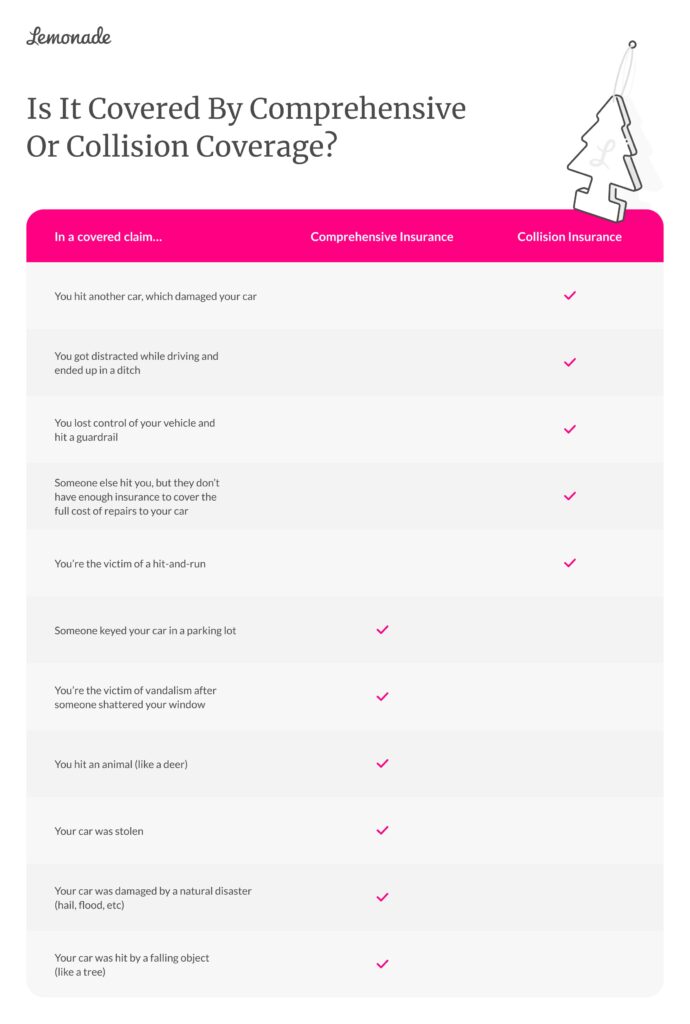 So, wait, what does a "full coverage" policy mean?
Full coverage car insurance is a combination of insurance coverages designed to 'fully' cover you in the event of an accident. This would include coverages that aren't legally required, but that would give you extra peace of mind in many different scenarios.
It's important to understand that it doesn't mean you're covered for everything, nor does it guarantee your claim will be approved. Full coverage car insurance combines various coverage options and endorsements to fully cover you up to any applicable limits you selected. It's a single policy you build with your insurance company to provide the best combination of coverage for you.
If you want to feel fully covered by your Lemonade Car policy, your coverage could include a combination of comprehensive and collision insurance, in addition to bodily injury, property damage, temporary transportation coverage, and extended glass coverage.
It's basically the Tesla Model Y of auto insurance. Keep in mind that deductibles will apply for most of these coverages, and you'll only be covered up to the liability limits you set. 
---
A few quick words, because we <3 our lawyers: This post is general in nature, and any statement in it doesn't alter the terms, conditions, exclusions, or limitations of policies issued by Lemonade, which differ according to your state of residence. You're encouraged to discuss your specific circumstances with your own professional advisors. The purpose of this post is merely to provide you with info and insights you can use to make such discussions more productive! Naturally, all comments by, or references to, third parties represent their own views, and Lemonade assumes no responsibility for them. Coverage may not be available in all states.