What Does Homeowners Insurance Cover?
Mold? Windstorm damage? Flooding? Let's spell out exactly what you're protected against.
Homeowners insurance policies aren't great beach reads. They're often littered with confusing terms and stipulations. As a result, many people don't have a firm grasp on what their homeowners insurance policy actually covers—and doesn't cover.
In this article we'll give you a quick breakdown of homeowners insurance coverage, touching on everything from dog bites to roof leaks and theft.
If you're pressed for time, the handy chart below provides a very broad look at what sort of incidents might be covered by a homeowners insurance policy.

| Event | Usually covered | Sometimes covered | Rarely covered |
| --- | --- | --- | --- |
| Water damage | | √ | |
| Mold | | √ | |
| Roof leaks | | √ | |
| Tree damage | | √ | |
| Theft | √ | | |
| Dog bites | √ | | |
| Termites | | | √ |
If you'd like a deeper explanation of everything that makes homeowners insurance tick, here's what we'll be covering:
What does a standard homeowners insurance policy cover, in brief?
Homeowners insurance typically includes six distinct types of coverage.
Dwelling coverage (Coverage A) relates to your home's physical structure
Other structures (Coverage B) encompasses things like your detached garage, driveway, fence, tool shed, pool, and so on)
Personal property protection (Coverage C) covers your personal property, whether that's your stereo, sunglasses, or sofa
Loss of Use (Coverage D) assists with additional living expenses (like hotel bills) if your place becomes uninhabitable due to a specific peril like a fire or windstorm.
Personal liability protection (Coverage E) applies to bodily injury or property damage incurred by other people (or their stuff) as a result of your actions. It doesn't matter if the damage happens at your home, or anywhere else
Medical payments (Coverage F) helps pay for medical bills, under $5,000 in most cases, pertaining to accidents or injuries guests might have while at your place
Meanwhile, for a closer look at what's not covered by a basic homeowners insurance policy, check out this primer.
What's a "peril"?
In brief, a "peril" is something that happens, causes damage, and is covered under your policy. Here's one major thing to note: Most homeowners insurance policies will not compensate you for damages related to earthquakes. For that, you'll want to look into purchasing separate earthquake insurance.
At Lemonade, Coverage A and B are "open peril." This means that your policy covers your property against property damage, unless the cause is specifically excluded.
Coverage C, meanwhile, is "named peril." That means your policy covers your personal property against a specific list of around 16 things (or 15, depending on where you live). Below is a list of the usual assortment of named perils.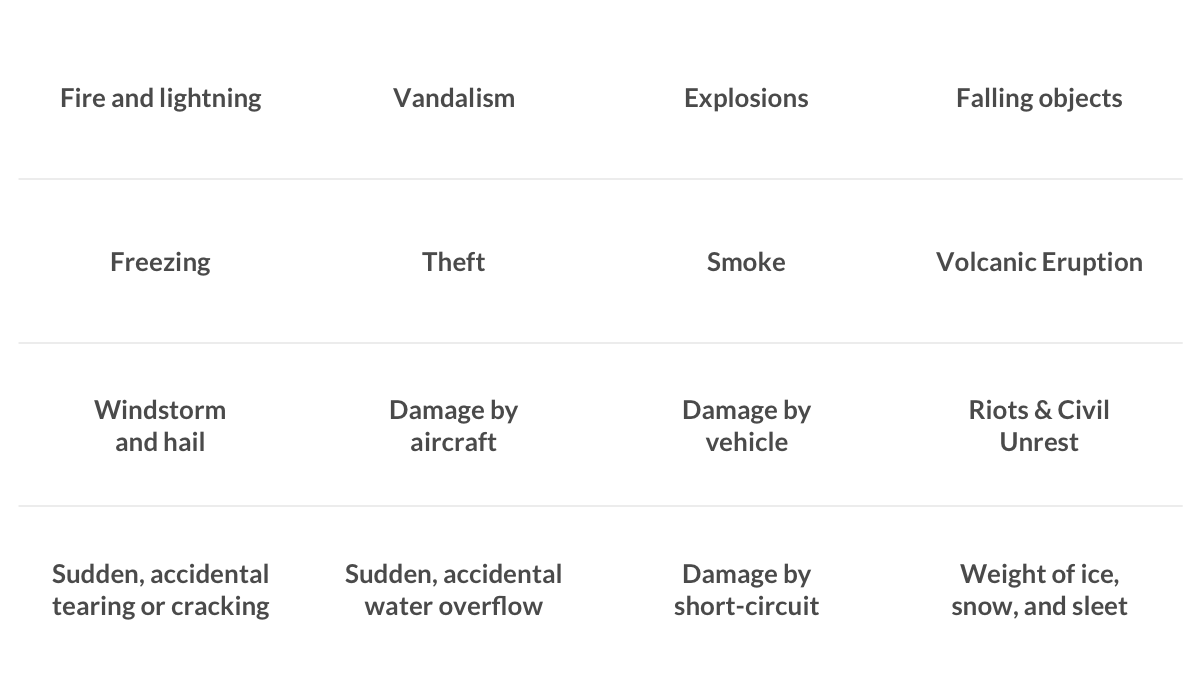 A general rule: When you read your policy, pay close attention to the exclusions from coverage and to the conditions you must satisfy to get coverage. To borrow a lyric from Tom Waits, "The large print giveth and the small print taketh away." (We apologize, but that's the sorry state to which lawyers have brought us all….)
Does homeowners insurance cover water damage?
It depends on the circumstances.
When water damage is covered
Generally, if the cause of the water damage is sudden and accidental, it's covered by homeowners insurance.
For example, if a pipe bursts and ruins all your living room furniture, then the damage to your couch, love seat, carpet, and so on would be covered.
Keep in mind that your policy covers certain water-related damage to the structure of your home and your personal belongings. This doesn't mean that the thing that caused the damage is covered.
If your hot water tank explodes, leaking all over your basement, your insurance would apply to the damages this causes to the basement and anything you have stored down there—it wouldn't pay to replace the hot water tank itself.
You can, however, add Equipment Breakdown Coverage (EBC) to your policy, which will cover you against certain household appliance malfunctions.
When water damage isn't covered
Homeowners insurance doesn't cover water damage when it stems from:
Maintenance issues (like a continuous leak)
Water backup from an outside sewage or drain
Mold, rot, or corrosion
A flood
If you'd like flood insurance, look into purchasing a separate flood policy through the National Flood Insurance Program. Not sure how at risk you are? Check out your community's flood map. For more info on flooding, FEMA's National Flood Insurance Program has a helpful Q&A section.

Does homeowners insurance cover mold?
Again, it depends on the circumstances.
When mold is covered
Mold is covered only if it's caused by a specific peril such as fire, lightning, ice, a burst pipe, and so on. The mold has to be hidden in the walls, ceilings, or beneath floors to be covered. (Some policies offer mold coverage endorsements, which can extend the coverage if you're anxious about mold.)
For example, if your pipe bursts, and that water causes mold, you're covered. The same applies if an ice dam forms on your roof, causing water to drip into your attic and mold to form.
Take note that these situations are only covered if the damage is sudden and accidental. So if your pipes burst, and you didn't do anything about it for a few weeks, that mold won't be covered due to your own negligence.
When mold isn't covered
Cases where mold creeps up over time aren't covered. That gross stuff growing in your shower or underneath your sink? Address it ASAP, because it isn't covered under your policy, as the problem would be the result of negligence.

Does homeowners insurance cover roof leaks?
Guess what? The answer depends on the specifics of the leak! We get into the nitty-gritty on roof leaks here, but below are the highlights.
When roof leaks are covered
Here's the general rule: Roof leaks are covered when they're caused by sudden, accidental events (sound familiar?). If your roof leaks because of falling trees, a windstorm, hail, an act of vandalism, or the weight of ice, sleet, or snow, you're covered.
If a windstorm blows through town, lifting your roofing shingles and leading to a leak in your home's interior—your policy would cover the damage from this sudden, unexpected occurrence.
By 'cover,' we mean your Lemonade home insurance will help reimburse you for damages to your home itself (the mangled roof), as well as for any damages to personal property that was damaged as a result of the leak. For more info on roof leaks and homeowners insurance, consult this guide.
Does homeowners insurance cover tree damage?
It depends on what caused the tree to fall.
When tree-related damage is covered
Tree-related damage is covered if the cause is sudden and accidental. So if a windstorm causes a healthy tree in your backyard to topple and crush your storage shed, your Lemonade home insurance will kick in to compensate for the shed's damage.
If a tree in your neighbor's backyard falls over and causes damage on your own property, rest assured that your homeowners insurance policy will also cover you.

What about tree removal?
In most of the cases above, we're talking about coverage for your property caused by a tree. So if a storm knocks the tree over onto your house, your policy would likely cover the house's damage, plus removal of the tree in question.
But if a windstorm knocks over a tree, and that tree falls but doesn't damage anything in its way—it gets a bit more complicated. In this case, your homeowners insurance would not cover you for the removal of the fallen tree, nor for a replacement of the tree. Tree removal here would only be covered if the cause was a more limited number of perils (which does include fire or lightning).
Does homeowners insurance cover theft?
Yes, your policy covers theft (aka stealing, pilfering, snatching, purloining, unapproved appropriation, and "the ol' five-finger discount").
When theft is covered
Homeowners insurance covers theft both inside and outside your home. So if your phone is stolen in a coffee shop, or someone snatches your bike from your garage, your Lemonade home insurance policy will help compensate you for the loss.
Take note that homeowners insurance covers both stolen items and structural damage to your home caused by theft. So if a burglar damages your doors, windows, or floors, you're covered.
When theft isn't covered
First off, there's generally a limit to how much your insurance company can reimburse you for stolen cash—at Lemonade, it's $200. Therefore, reporting a stolen backpack "loaded with a few books and $300,000 in cash" won't get you very far.
In the case of jewelry, there's also a $1,500 sublimit when it comes to theft. If you want to protect the full value of your necklaces, rings, and gems, consider adding Extra Coverage.
Does homeowners insurance cover dog bites?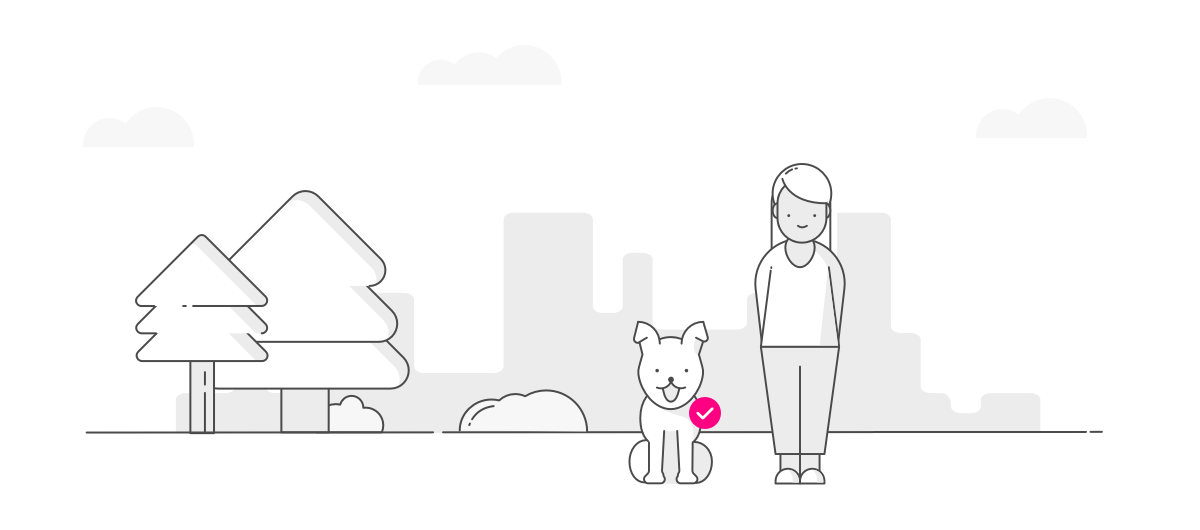 Most of the time, your homeowners insurance will cover dog bites.
When dog bites are covered
Homeowners insurance generally covers you if your dog bites someone inside or outside your home. This would fall under Coverage E (Personal Liability) or Coverage F (Medical Payments). Your policy also covers you if your dog causes damage to other people or their property (not your own).
When dog bites aren't covered
There are three exceptions to dog bite coverage:
Your dog, Sir Grrrr, bites someone who is covered under your policy (because you can't make a claim against… yourself)
Your pup has a prior history of biting
Your dog is categorized as 'high-risk'
At Lemonade, our policies are driven by national insurance data that forces us to exclude certain breeds who have a propensity for biting. Nothing personal here.
Dogs in the 'high-risk' category include Pit Bulls, Staffordshire Terriers, Doberman Pinschers, Rottweilers, German Shepherds, Chows, Great Danes, Presa Canarios, Akitas, Alaskan Malamutes, Siberian Huskies, and Wolf-hybrids.

Does homeowners insurance cover termite damage?
Why? Because termites are usually considered preventable. They don't arise out of nowhere—homeowners are generally aware of a termite problem before they cause serious damage. If you're not sure whether you're dealing with these pests, a qualified inspector can sort that out for you quickly.

Does homeowners insurance cover roof repairs?
Sometimes. Let's look at different scenarios.
When roof repair is covered
As we mentioned earlier, your Coverage A and Coverage B—pertaining to your house plus "other structures" on your property"—are "open peril" coverages. That means you're able to file a claim for any damages, unless the cause is something that is specifically excluded in your policy.
Temporary repairs to avoid further damage are also covered, so save your receipts.
When roof repair isn't covered
Damage that results from the following won't be covered:
Age
Mold, fungus, or wet rot
Wear and tear/deterioration
Neglect
Inadequate maintenance
Birds, vermin, rodents, insects
And, once again, roof repair isn't covered if the damage is caused by flooding or earthquake. For these scenarios, you'll want to purchase separate policies.
To avoid a headache down the road, get your roof inspected every 2 years. You should also replace your roof before it passes its expected lifespan (about 20 years for most roofs).
What's the deal with Personal Liability Coverage?
So far we've mostly been talking about how your homeowners insurance policy protects your property against certain types of damage. But there's an additional, and very important, component to your policy: Coverage E, which comes into play if you're legally or financially responsible for certain accidents on your property or damages that you (unintentionally) inflict on someone else.
In short, here's where Coverage E is relevant:
Someone's injured on your property, and it's your fault
You accidentally cause damage to someone else's property, or their home
Another person listed on your policy—or your pet!—causes damage to someone else
Coverage E may help pay for legal expenses (if you're sued as the result of one of the above scenarios, and need a lawyer to defend you). It may also help compensate for medical payments to injured parties, and for physical damages to property.
Here are scenarios where you'll be glad for your homeowners insurance policy's Coverage E.
It's your turn to host book club, and one of your guests breaks their leg during a heated argument about the final chapter of Eat, Prey, Love
At your friend's baby shower, you're so happy and excited that you don't even notice the glass coffee table you're about to walk into, which is soon more like a "pile of glass pieces on the floor"
Your Shiba Inu gets scared and bites your neighbor's ankle when he's jogging past your house
It's important to keep in mind that there are certain circumstances where your Coverage E is not applicable. Here are a few examples:
The cause of the damage or injury is your automobile—this would fall under the domain of your auto insurance
You intentionally cause damage to someone else or their property (violence is never the answer)
You injure yourself. Coverage E only applies to injuries suffered by other people
You sometimes use your home for business purposes, and it's during the course of such business that the injury, accident, or damage occurred
How do homeowners insurance deductibles work?
An insurance deductible is an amount of money you choose when purchasing a policy that will be subtracted from any future claims payouts.
Think of a deductible as your participation in the damage or loss. You're saying, "I commit X dollars to any claim on future losses or damages, and my insurance company will cover the rest."
When signing up for a homeowners insurance policy, you'll be asked to choose a deductible. For a homeowners policy, these typically range from $1,000 to $2,500. What you're choosing here is your participation (the amount subtracted from a claim) in the event that something happens to your stuff.
Here's how that works in practice:
You chose a deductible of $1,000 when you bought your policy
Later on, you file a claim for a stolen couch valued at $4,000
If the claim is approved, your insurer will pay you $3,000 ($4,000 minus your $1,000 deductible)
Keep in mind, this isn't an annual deductible that you meet—it applies to each claim you file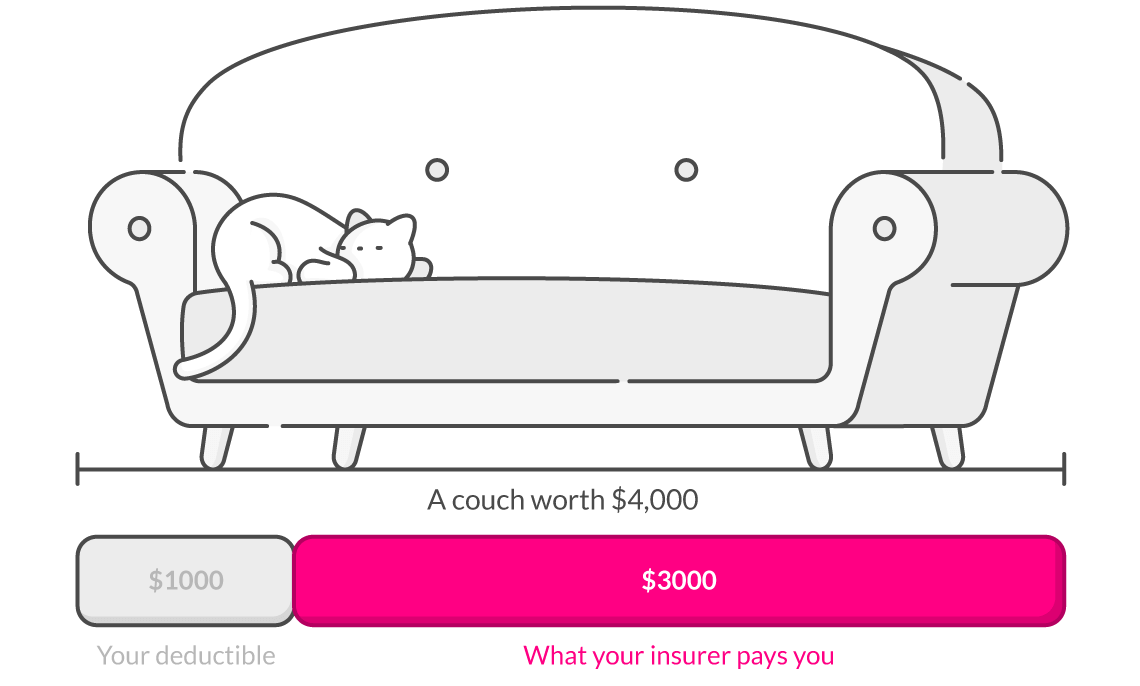 Deductibles exist to make you be a bit more careful with your stuff, and they help keep the cost of policies low for everyone.
So when your claim is approved but you notice there's $1,000 "missing," remember, that's your contribution. You cover the deductible, and the insurance company covers the rest.
How much does homeowners insurance cost?
You'll pay an average of $1,680 annually, or approximately $140 a month for homeowners insurance, according to Value Penguin, but this number can vary pretty widely. How much you pay for homeowners insurance will depend on a number of factors, including where you live, the condition of your home, your deductible, and the amount of coverage you choose. You can read more about the average cost of homeowners insurance here.
| State | Average annual cost of homeowners insurance |
| --- | --- |
| New York | $1,500 |
| California | $1,774 |
| Illinois | $1,355 |
| Texas | $2,554 |
| Arizona | $1,378 |
The easiest way to find out how much your homeowners insurance would cost, however, is simply to get a free quote. Click below to get started!
Which states currently offer homeowners insurance?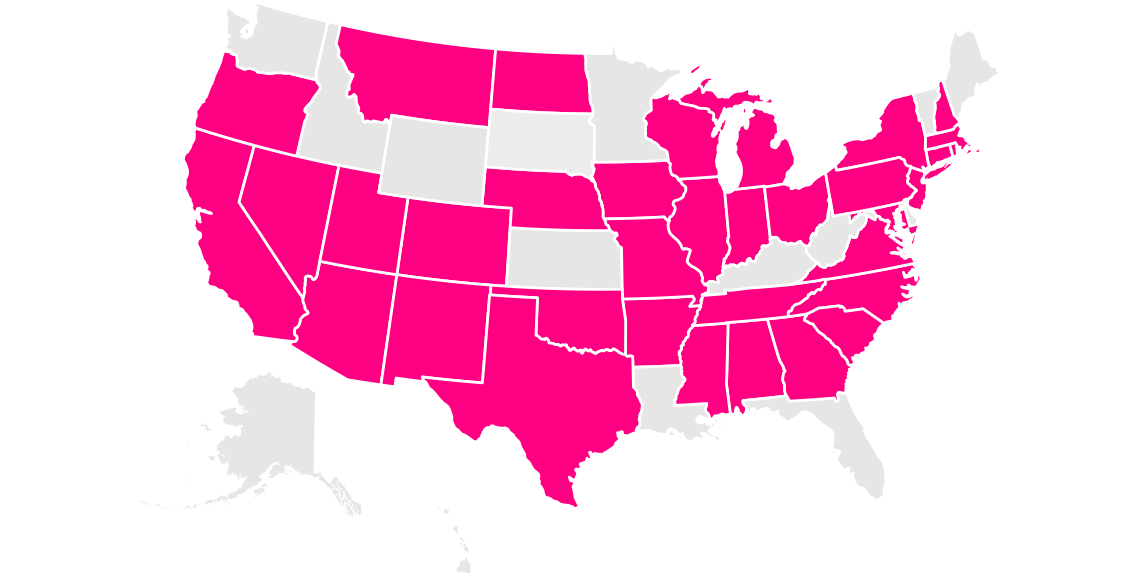 Arizona, California, Colorado, Connecticut, Georgia, Illinois, Indiana, Iowa, Maryland, Massachusetts, Michigan, Missouri, Nevada, New Jersey, New York, Ohio, Oklahoma, Oregon, Pennsylvania, Tennessee, Texas, Virginia, Washington, D.C. (not a state…yet), and Wisconsin.