For Children with Autism, a Service Dog Can Be Life-changing
Four-legged friends can help with social skills and safety.
Maddie always had trouble falling asleep. According to her mother, it was a constant struggle for the 6-year-old, until the family got a service dog: Bear, a German Shepherd/Collie mix.
"We'd walk calmly into her room with Bear at her side," Maddie's mom told me. "Bear slept on the foot of her bed. She felt safe with him there and we all got a good night's sleep."
Maddie was diagnosed with Autism Spectrum Disorder (ASD) at age 3. She usually revved up before bedtime. If she did fall asleep, she'd often wake up a few hours later. That's not uncommon. According to a study in Current Psychiatry Reports, "approximately two thirds of children with ASD have chronic insomnia."
Autism is a spectrum, meaning its symptoms vary from one individual to the next. Some people with autism have greater developmental disabilities than others. Usually, people with autism face social communication, anxiety, and behavioral challenges. The condition is common enough that you likely know someone on the spectrum; the Centers for Disease Control and Prevention note that 1 in 44 children in the U.S. has autism.
What are service dogs for children with autism trained to do?
Service dogs can do everything from opening doors and turning lights on and off to retrieving and delivering dropped items, which is beneficial for children with mobility issues. For children with autism, these dogs serve as companions and keep them safe. One study found dogs have a positive effect on an autistic child's emotional state, and motivate them to interact with others.
"That proved to be true for Maddie," her mom said. "When she takes Bear out for a walk or to the park, other kids come up to her and ask her about Bear. She's made a few friends that way, which is heartening to see because before Bear she didn't have any friends. Bear definitely boosts her confidence."
Peace of mind
Some children on the spectrum are prone to wander off, unaware of dangers like nearby traffic. It only takes a few seconds for a caregiver to look away and lose a child. That's where a trained service dog comes in. Some dogs are physically tethered to children, which slows the child down and keeps them in place. The dogs wear a simple harness with a rope attached to the child.
Staying calm
Next time you pet a dog, notice the sense of calm that washes over you. While that fuzzy feeling is common for nearly everyone who nuzzles up to a pup, it can be especially pronounced for children suffering from sensory overload or anxiety.
If your child is about to have a meltdown, a service dog can soothe the unrest and help them stay calm. Gently petting a dog can reduce blood pressure and lower cortisol levels. (Cortisol is the stress hormone, meaning being around a dog quite literally lowers stress.)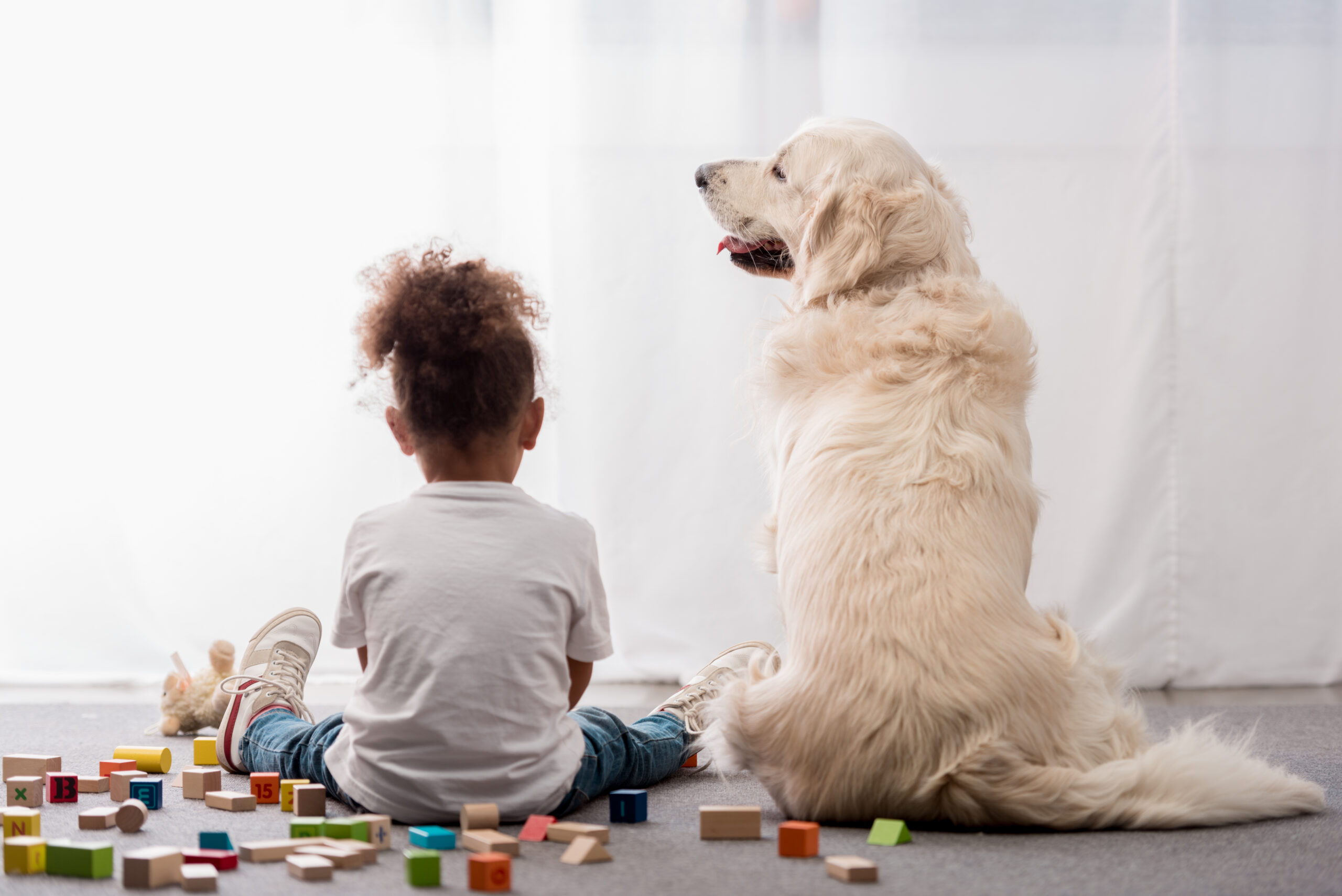 Curbing repetitive rituals
Some children with autism repeatedly rock back and forth, jump, spin, and engage in other repetitive behaviors known as "stimming." A gentle touch from a paw can interrupt these behaviors.
Building verbal skills
A number of children on the autism spectrum experience speech delays. "We noticed Maddie talked to Bear more than she did to others," her mother said. "She didn't talk until she was almost 5. We got Bear when she turned 6; she chats with Bear more than anyone else."
Learning responsibility
Caring for a dog teaches responsibility. Depending on where your child is on the spectrum, you can assign them specific tasks, suited to their abilities—from brushing them to feeding them to teaching them tricks like giving a paw or rolling over.
Getting a service dog
If you Google "service dogs for children with autism" you'll find an overwhelming number of nonprofit and for-profit companies.
Here's what you'll need to do to navigate the process:
Select a company that's trustworthy. Unfortunately, there are scams out there. The Americans with Disabilities Act doesn't require certifications or ID from service dog companies. Ask friends and people who work with children with autism if they have any recommendations.
Show proof that your child is on the autism spectrum. Some organizations will ask to assess your child themselves in order to determine their needs.
Choose a company that lets you participate in the training. Integrating a service dog into a child's routine is a family affair. A service dog's skills can only be refined in the home setting, with the assistance of professionals.
If you have any pets at home, they must be dog-friendly. Some service dog organizations require that the service dog is the only dog in the household.
Buy a service dog vest. It's not required, but it will usually get your trained pup into stores, schools, and restaurants without much trouble.
"Having a service dog in Maddie's life has made a difference," her mom said. "She doesn't struggle as much anymore. We all are grateful for Bear."
Work with a trainer
Getting a service dog from an agency takes time. Often these dogs are bred specifically to be service dogs. It can take anywhere from two to four years from applying to bringing home your service dog. Many of these companies breed specific dogs such as Golden and Labrador Retrievers.
A new study published in the journal Science found that a dog's personality is shaped by its environment, not just by the breed. If you want to expedite the process, you might consider adopting a dog from an animal shelter and working with a specialized trainer who will tailor the dog's abilities to your child's needs.
"Because autism is a wide spectrum, it's best for potential adopters to discuss their family's individual needs with the staff at the animal shelter to find the best match," Marissa Sunny, dog trainer and Lifesaving and Care Supervisor at Best Friends Pet Adoption Center in West Los Angeles, said. "At Best Friends, we offer a matchmaking program to help families with all needs find a dog that will be a good fit for their home and lifestyle."
The difference between service, therapy, and emotional support dogs
People tend to use these terms interchangeably, or incorrectly. Here's the actual distinctions.
Service Dogs. A service dog has undergone intensive training and "is considered medical equipment in the eyes of the law," according to Sunny. "Service dogs must perform tasks to mitigate the handler's disability."
Therapy Dogs. A therapy dog undergoes in-depth training. "They are used as a tool in assisting people other than their handler by providing emotional support," Sunny said. "They work in hospitals, schools, therapy offices, and courtrooms."
Emotional Support Dogs. An emotional support dog is used as part of a prescribed treatment plan. "They are not required to go through training or any evaluations," Sunny said.
Before we go…
According to the Americans with Disabilities Act service dogs are specially trained to assist a person with disabilities in their tasks and in daily life. For a child on the autism spectrum, a service dog can help a child become more independent.
Any pet parent can understand that a four-legged companion can add love and companionship into their lives, but for a child with autism, a dog can be life-changing.