When it comes to renovating your home, it's a marathon, not a sprint. And you don't need to sacrifice all of your savings, either. Smaller, more affordable projects can really refresh your home's overall appearance.
We've collected 19 straightforward home renovations, improvements, and upgrades to sink your teeth into. We'll take you room-by-room so you can imagine your home transforming before your very eyes—and we'll break down all the material and labor costs, too.
And hey, since you've invested all that time, energy, and money into your home… we'd be remiss if we didn't mention that Lemonade offers amazing homeowners insurance to protect your home, your valuables, and a whole lot more, starting for as low as $25/mo.
Now, let's get renovating:
Your home's exterior
Your kitchen
Your bedroom
Your living room
Your bathroom
Your home's exterior
Admit it: When you pull up to a house you've never been to before, you judge it just a little bit. First impressions also count when it comes to your home's value. Plus, upgrades to your home's exterior can have a high return on investment if you're planning on putting your home on the market anytime soon.
Paint the home's exterior: $3,000
Giving your house a fresh coat of paint every seven to ten years will keep it pristine and properly protected from the elements. The exact price of painting your home will depend on whether you hire a professional (which we definitely recommend!), the material and size of your home, and if your home is multi-story or ranch style. For example, stucco will typically cost less than brick to paint.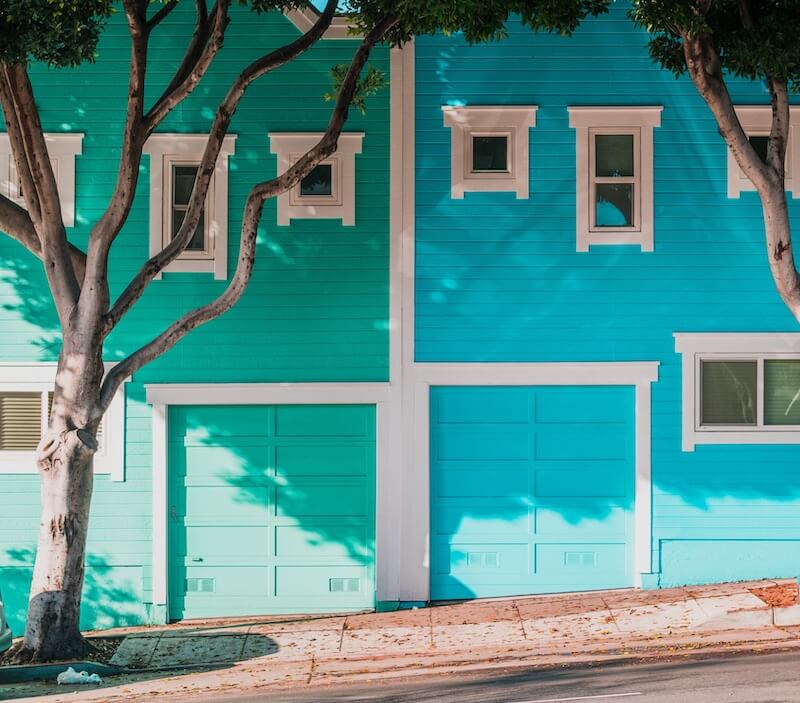 Also, keep in mind that your community might have specific guidelines regarding colors you might be able to paint your home. Painting your home hot pink (like #FF0083) might raise your neighbor's eyebrows and get you a visit from the local city council.
Resurface your driveway: $1,500
Over time, your driveway will suffer from exposure to the elements. If your driveway has a number of fairly shallow cracks, (no deeper than two inches) resurfacing is a great way to have it looking brand new without replacing the whole thing (which could cost up to $15,000).
Resurfacing requires digging a couple of inches down into the currently laid asphalt, and then repouring fresh asphalt on top. It costs around $2.25 per square foot to resurface your driveway, so resurfacing a standard, 640-square foot driveway will cost you just under $1,500. Think of it like giving your driveway a facelift.
If your driveway is less than ten years old and only has very minor cracks, you can prevent further damage and create a finished look by opting to sealcoat, which means pouring a thin layer of liquid sealant onto your driveway; this only costs around $300. Think of sealcoating as giving your driveway a facial at a reputable salon.
Upgrade to energy efficient windows: $600/window
Energy efficient windows are double or triple-paned, which means that there are two or three layers of glass between the inside of our home and the outside world. These windows prevent your home's heating and air conditioning systems from working overtime, and keep your home's temperature as comfortable as possible.
Buying new windows is not cheap—you could qualify for a small tax break!—but by swapping out single-paned windows with an energy efficient alternative, you can save over 10% annually on your electricity bills while shrinking your carbon footprint. (FYI, there are a bunch of easy ways you could lower your electric bill while also protecting the planet.)
If replacing all your windows doesn't fit with your budget, start with replacing just a few windows in rooms you spend a lot of time in.
Budget option: Paint your door for around $30
Over time, your door might be sporting some cosmetic issues like worn, cracked paint, or more structural issues, like damage to the door jamb, rot, or cracks in the door itself. If you need to repair your door, it will cost you around $200, and a new door will cost you upwards of $1,000, but if your door is in tip-top physical shape and simply has a lackluster paint job, that's an easier fix.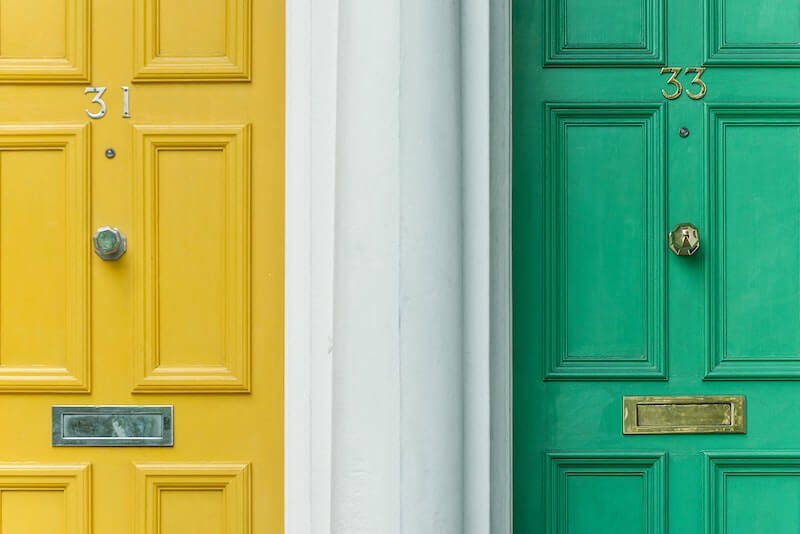 Pick up a can of acrylic or latex-based paint from the hardware store, and go wild! A bright red door (a là Elizabeth Arden), or a mediterranean turquoise could be just the thing to inject your home's exterior with a bit of life. If you're more of a minimalist, refinishing your wooden door or choosing a neutral beige or navy blue paint will give your home a sophisticated touch.
Your kitchen
Cooking, eating, cleaning, talking—the kitchen is really the beating heart of your home. A full kitchen remodel can cost upwards of $20,000, but you don't need a totally new kitchen to make the most of your space. There's a lot you can do with just a couple thousand dollars. You'll inevitably be spending a lot of your time in your kitchen, so you might as well enjoy it. Bon appétit!
New sink: $60–$2,000
Now this is where the magic happens (and by magic, we mean dishes). A new sink can be a focal point for your kitchen, adding a modern or retro touch depending on what you're going for. Opt for a double-basin chrome sink with a pull-out faucet, or choose a farmhouse-style sink with a deep basin and tons of rustic charm.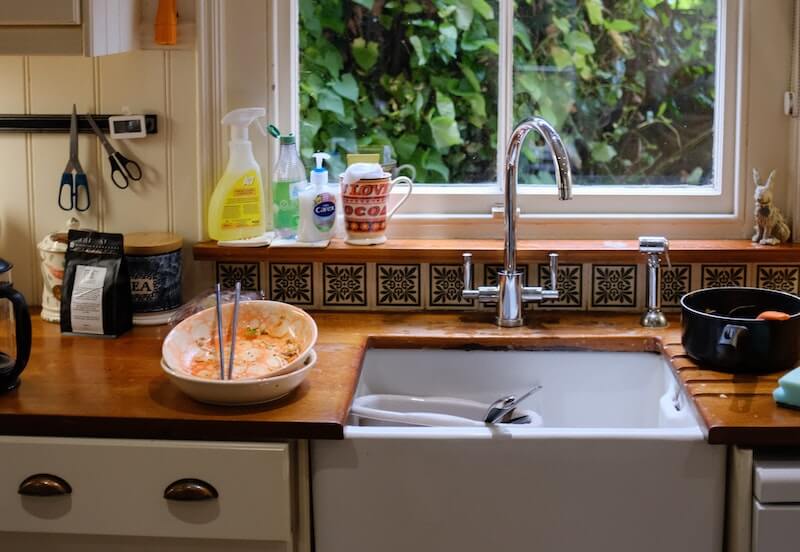 If you're swapping out an existing sink, it is going to be more expensive to choose a totally different model of sink (if you want that farmhouse sink to replace your current double-basin model, for example). Think about your specific needs: Do you wash lots of big pots? Do you soak dishes often? Do you want a dedicated space to wash fruits and vegetables?,
Word of advice: Don't sink lots of money into this project before you've given it some thought.
New countertops: $1,900–$4,200
When it comes to countertops, there's something for everybody. Go the classic route with quartz, marble, laminate, or granite, or choose something a bit unexpected: recycled glass, wooden butcher board, or futuristic stainless steel.
Depending on the material you choose and how many square feet of counter space there is in your kitchen, the total cost of new countertops will vary pretty widely. Marble will cost you significantly more than granite, for example. When crunching the numbers, be sure to include an extra $10–$30 per square foot for installation.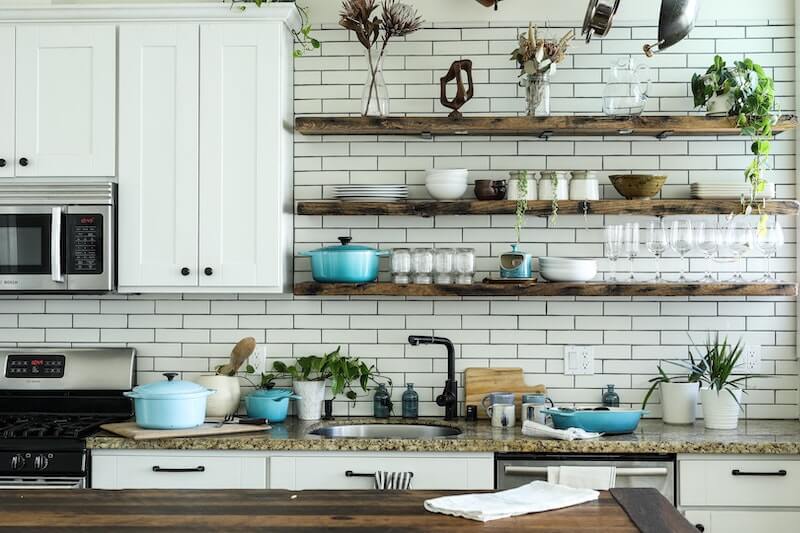 Backsplash: $1,000
A kitchen backsplash is a panel of stone, tile, or metal that is installed along a wall, with the primary purpose of protecting the wall from, you guessed it, splashes. A backsplash adds interest and texture to your kitchen. Popular materials for backsplashes include ceramic, porcelain, glass, metal, and stone.
Depending on the layout of your kitchen, you can choose to use a backsplash throughout, or choose a designated spot to let your backsplash shine (behind your sink or stove, for instance).
Ceramic tiles can be as low as $2 a square foot, with stainless steel costing as much as $20. For installation, you'll need to add around $30 a square foot.
Budget option: Paint your cabinet pulls for $10
Replacing your kitchen cabinets with custom cabinetry can easily set you back $30,000. But painting your cabinet pulls could be just the thing to give your boring old cabinets some extra extra punch.
If you're feeling handy, you can remove the cabinet pulls yourself and spray paint them outside or in your garage. If you're ready to get your hands dirty, but don't have the skills to uninstall and reinstall the pulls, no worries! Simply take some painter's tape and tape up a large area around and between the pulls (be generous with the tape, you don't want any of the pigment to get on your cabinets themselves).
Your bedroom
Your bedroom is the first thing you see when you wake up in the morning, and the last thing you see before you drift off to dreamland. Make it a relaxing oasis with a few small upgrades.
New carpet: $1,320
Trust us, your feet will thank you. If you enjoy the look of wall-to-wall carpeting, installing a fresh shag will give your bedroom a fresh, clean, and cozy look.
Synthetic carpet goes for $3–$6 per square foot, with installation tacking on an extra $1–$2 per square foot. That means recarpeting a typical 220 square foot primary bedroom will cost you anywhere from $880–$1,760.
Install a ceiling fan: $250
There's nothing better than a gentle breeze caressing you to sleep on a hot summer night. A ceiling fan is an energy efficient and pleasant alternative to ice-cold AC.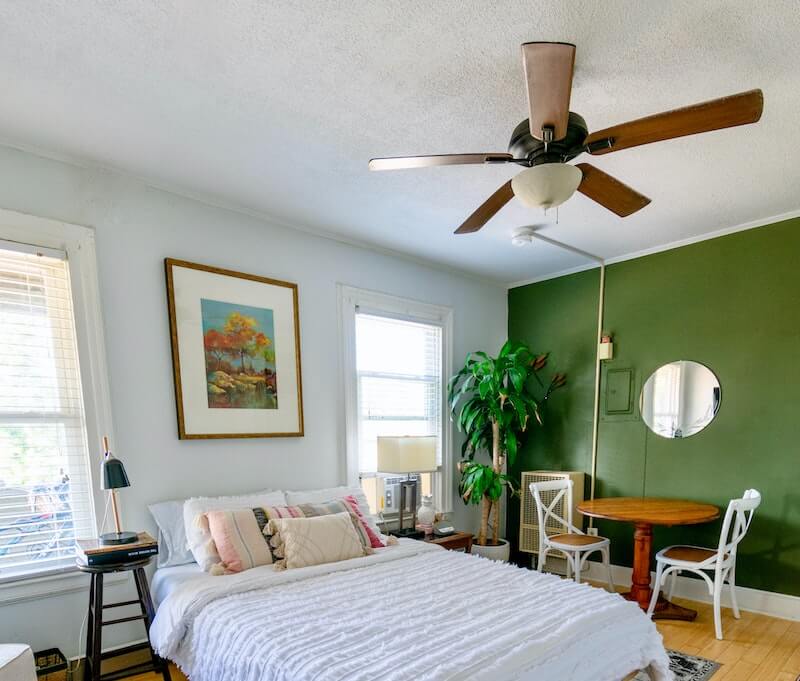 A ceiling fan and installation costs will set you back somewhere between $150–$350, but installing a ceiling fan could end up saving you money in the long run by cutting down on air conditioning costs. Blasting the AC costs around $0.36 an hour, with a ceiling fan only costing around $0.01 an hour.
Budget option: Hang a full-length mirror for $100
There are dozens of inexpensive mirror options available online, for any budget, in any style ranging from minimal, sleek, and eclectic.
Your living room
Whether you're binging Mare of Easttown solo or hosting an epic Settlers of Catan tournament, your living room needs to work for you. A few subtle changes could make a big impression on the heart and soul of your home.
Install crown molding: $1,225
Crown molding has been in style since the ancient Egyptians, and is a classic way to create elegance and structure to your living room by creating a trim between your walls and ceiling. On the more budget-friendly end is foam crown molding, with other materials like PVC, wood, metal, and plaster also being popular options.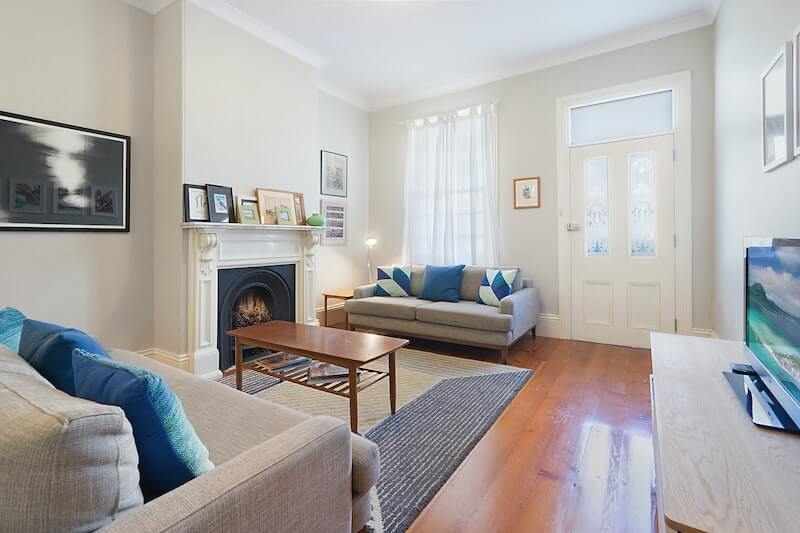 The average living room is 16 by 20 feet, meaning that the perimeter is just around 72 feet. Depending on the material, materials for that size space will cost somewhere between $500 and $1,150, with labor adding an extra $200 to $600, bringing the average cost to right around $1,225.
Refinish hardwood floors: $350 (for one average-sized living room)
Installing brand new hardwood flooring can easily cost you upwards of $10,000, but your existing flooring might just need a little TLC.
When you hire someone to refinish your hardwood floor, they will move your furniture, sand the wood to wear down any remaining varnish and remove minor imperfections, and apply a coat of varnish to bring shine and character back into your floor. The varnish takes around 24 hours to dry so you'll either have to cordon off the space (to your fur fam safe, too!), or sleep elsewhere for the night.
The type of varnish will have an effect on the overall appearance of the floors. Water-based varnishes add coverage and shine without changing the color of the wood; an oil-based varnish will eventually add a deep amber color to your floors.
Refresh your fireplace: $1,100
Extreme heat, water leaks, and routine wear and tear can take a toll on your fireplace. This can lead to unsightly damage and be just downright dangerous. Hiring a professional to reseal and paint your fireplace will let you enjoy toasty fireside evenings for many years to come.
Budget option: Add a wallpaper accent wall for $200
Inject your living room with a dose of personality with fun, easy-to-install wallpaper. There are a wide variety of wallpapers available online on Etsy, Flavor Paper, and Minted.
Measure the wall, find the pattern of your dreams, and peel your way to an almost instant transformation.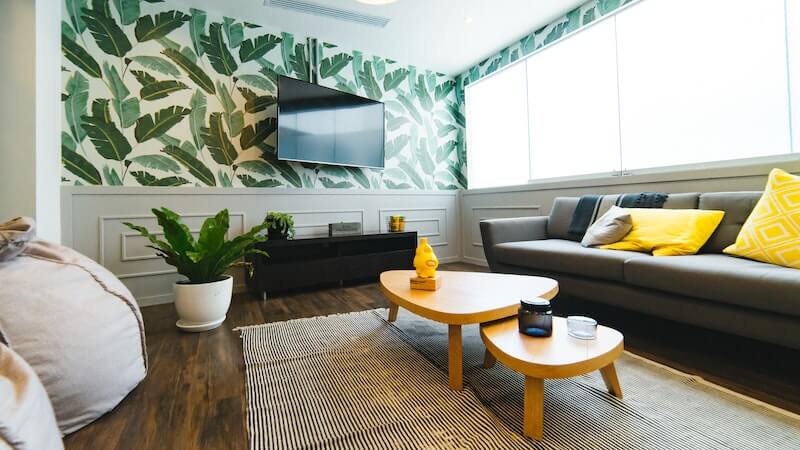 Your bathroom
You probably spend somewhere between 30 and 60 minutes in your bathroom every day. Shouldn't it be a pleasant experience? A full bathroom remodel can easily cost over $10,000, but some minor adjustments can make a big difference.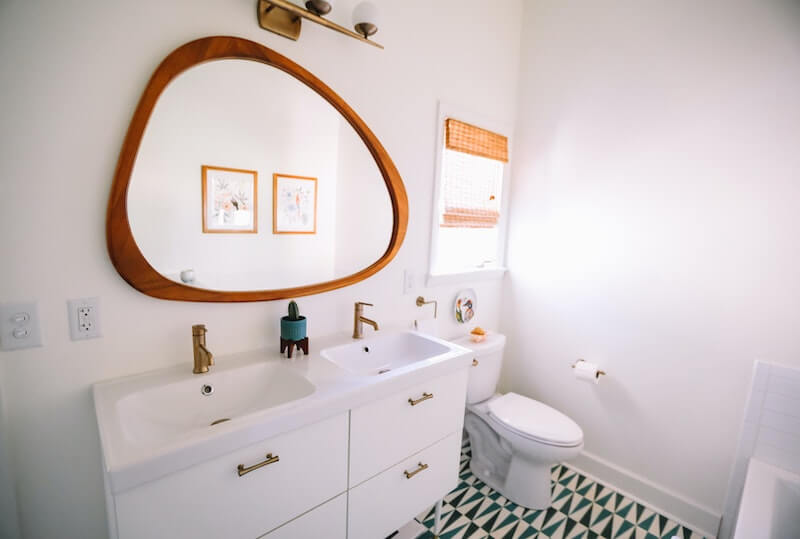 Retile the floor: $2,000
Your bathroom gets a ton of daily traffic and is exposed to lots of moisture and humidity, making it a perfect environment for nasty mold to grow and cracks to form. While regular maintenance is crucial for keeping your bathroom looking fresh, every few years you might want to invest in retiling your bathroom.
High-end natural stone and porcelain tiles are beautiful, but will cost you a pretty penny—up to $20 a square foot. Looking to save money? Opt for a ceramic option, which can cost as little as $1 a square foot.
With installation costs, retiling averages around $12.50 a square foot; retiling an average-sized, 160-square-foot full bathroom will cost you just around $2,000. (For reference, most half bathrooms average around 20 square feet, meaning retiling your water closet could cost you as little as $250.)
Replace your toilet: $600
It's the best seat in the house. Doesn't it deserve an update?
Find a make and model that matches your aesthetic and the planet's environmental needs. A state-of-the-art heated, music-playing, built-in-bidet, light-up Japanese model can cost you up to $10,000. A full-on compost toilet will cost you over $1,000, but a low-flush option could help save you money, while you're doing your small part to save the planet. In addition to trimming about 20% of your total toilet water usage, a low-flush toilet can save you around $100 a year on your water bill.
Refinish your tub: $450
Replacing your bathtub could easily cost you thousands of dollars, requiring new plumbing and major bathroom remodeling, but refinishing your tub could be just the thing to freshen up your at-home spa experience. You can also have a bath liner installed over your existing tub as a mid-priced option for around $1,000 to $3,000.
Refinishing your tub involves sanding down the surface, and painting or spraying down a new, shiny layer. The process helps to repair minor cracks and prevent larger ones from forming. This helps keep your tub in tip-top shape for decades to come.
When refinishing your tub, you can opt to keep the same finish you had before, or choose a different color to mix things up a bit. Refinishing your tub could be DIY, but we recommend hiring a professional. Sanding down fiberglass without proper equipment is the opposite of a spa experience. It can be super dangerous if you don't know what you're doing.
Budget option: Replace the faucet for $100
Switching out your faucet is a quick way to elevate the look and feel of your bathroom. Go for sleek chrome, vintage bronze, or matte black to transform the look and feel of your bathroom in a pinch. You can also choose among a variety of handles—experiment with a knob, lever, joystick, or touchless option.
And don't forget…
Whether you're a DIY master, or you are just starting to explore the world of home renovation, you want to be sure to protect your handiwork with the right amount of homeowners insurance coverage. Your homeowners insurance helps protect your home, your valuables, and a whole lot more. Get the inside scoop on coverage here, so you can get the right policy for you. Or, go ahead and apply for a quote for homeowners insurance with Lemonade.
BTW, if you love interior design and organizational hacks, be sure to check us out on Pinterest.