7 DIY Storage Hacks to Maximize Your Space
Create your perfect urban oasis.
Let's be real, you're not Mary Poppins, so you can't invent space that doesn't already exist. Do it yourself, or DIY, 3 letters that seem to be everywhere, could be the answer to all of your space woes.
Doing it yourself is nothing new, but in this same-day-delivery era, we expect everything to arrive magazine-ready. DIY embraces going back to basics, and has the added bonus of letting you feel a sense of pride because you actually made something!
According to the Journal of Consumer Psychology, the more effort we put into creating something, the more we value and cherish the item. This concept is known as the "Ikea Effect," and studies show people are prepared to pay more for an item they helped build themselves.
We've uncovered the most common room-by-room pain points for those living in small apartments, and have some cheap solutions to help create the perfect urban oasis — no matter where you live.
Here's what we'll cover:
How to hack a home office
You might spend your 9-5 in a spacious open-plan, but while bringing your laptop home to follow up on some emails is easy, balancing it on a stack of magazines where it reaches an outlet is not.
This DIY closet desk makeover by The Cofran Home transforms an unused closet into a chic office space. It also creates a brand new feature in your home, while giving you some extra closet space for your stuff. Although not everyone has a spare closet to makeover, this DIY project shows you how to build a set of shelves, and desk area, which you can install anywhere in your apartment.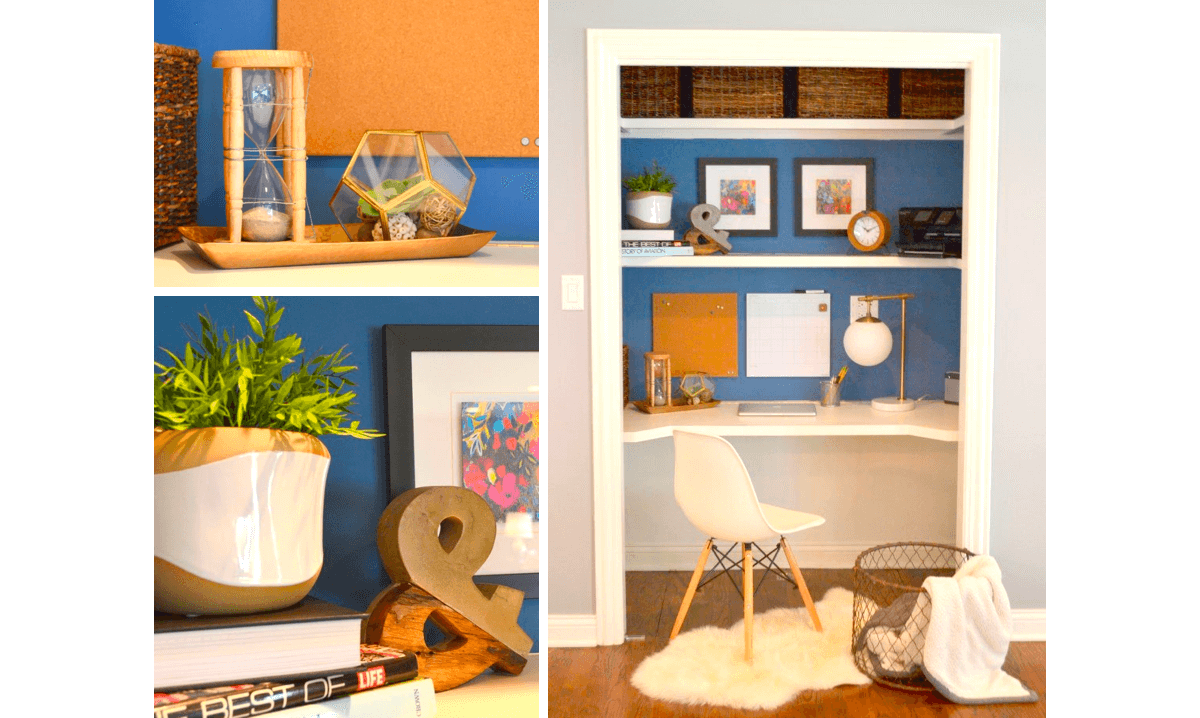 Bonus tip: Separate your relaxation space (ie. bedroom) from your working space. According to Harvard's Division of Sleep Medicine:
"Keeping computers, TVs, and work materials out of the [bed]room will strengthen the mental association between your bedroom and sleep."
How to hack a disorganized kitchen
If limited cabinet space is leaving your kitchen counter cluttered with mugs, coffee equipment, and the instapot your mom bought you, you're going to need to find a way to create space for a cutting board when it's your turn to cook dinner for friends.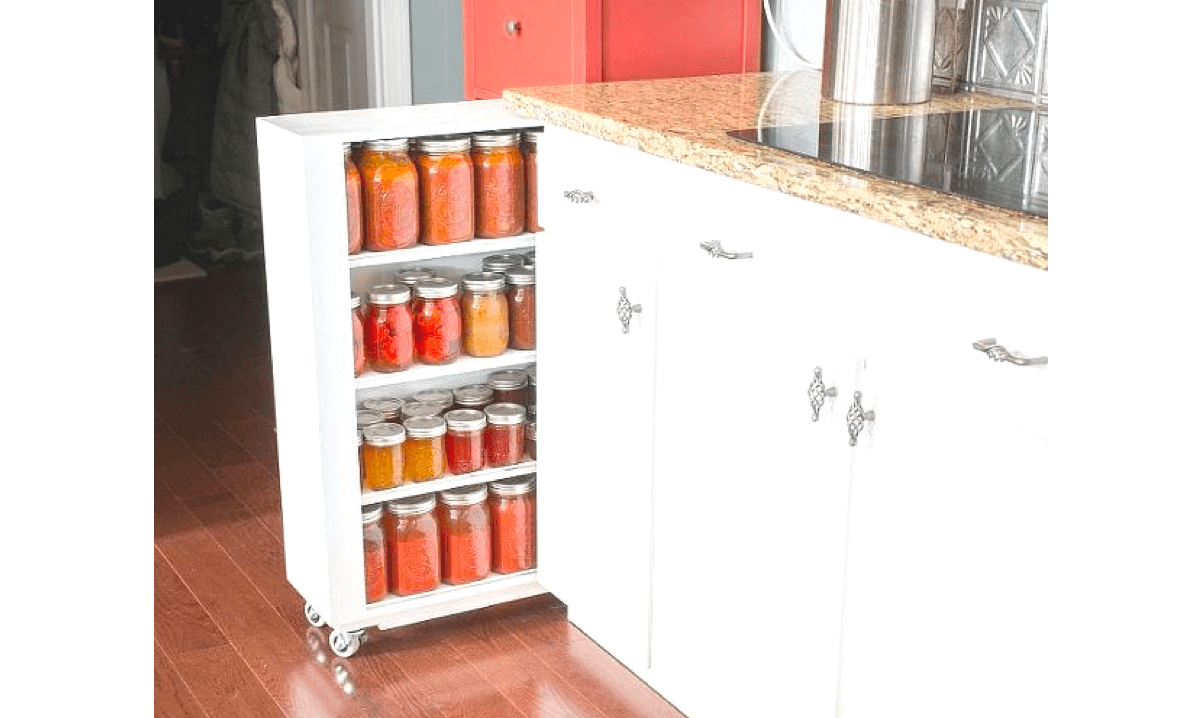 The solution? Create a rolling shelf enclosure out of 1/2 inch plywood made to measure jar space. This DIY rolling jar storage by The Navage Patch is super simple and cheap, and gives the appearance of an adult, organized kitchen. Most of the items you need for this project are found in your local hardware store, and if you're renting, you can take it with you when you leave!

How to hack a coffee corner

Some DIY storage hacks are practical, but other hacks just spruce up the place and impress your friends. This vintage coffee bar by Nur Noch definitely does latter — all you need is two pallets, a wooden board, and a bit of paint.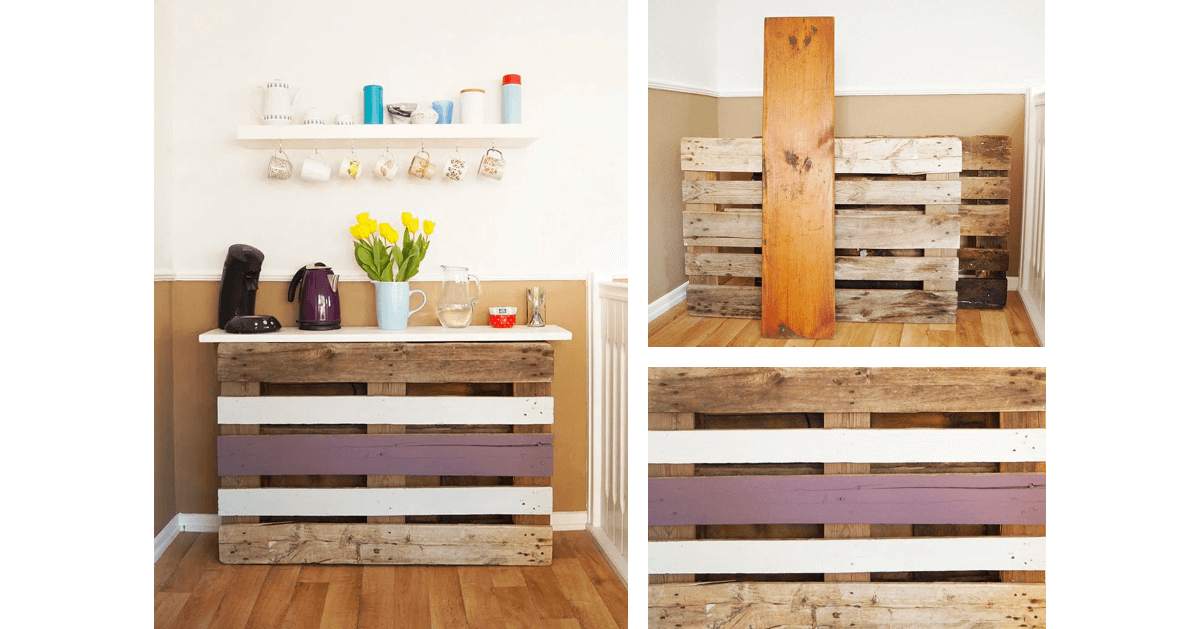 This project won't cost you a dime, and you'll only need 3 materials. Play around with the paint to match the design vibe of your apartment, and add shelves above the coffee bar, to finish off this fun, unique coffee corner.
How to hack a laundry nook
Apartments on the smaller side are notorious for teeny tiny laundry areas, if you're lucky enough to have a laundry space at all. It's easy for this room to become dumping grounds for dirty clothes and linen, but it's better not to treat the floor like a bottomless hamper.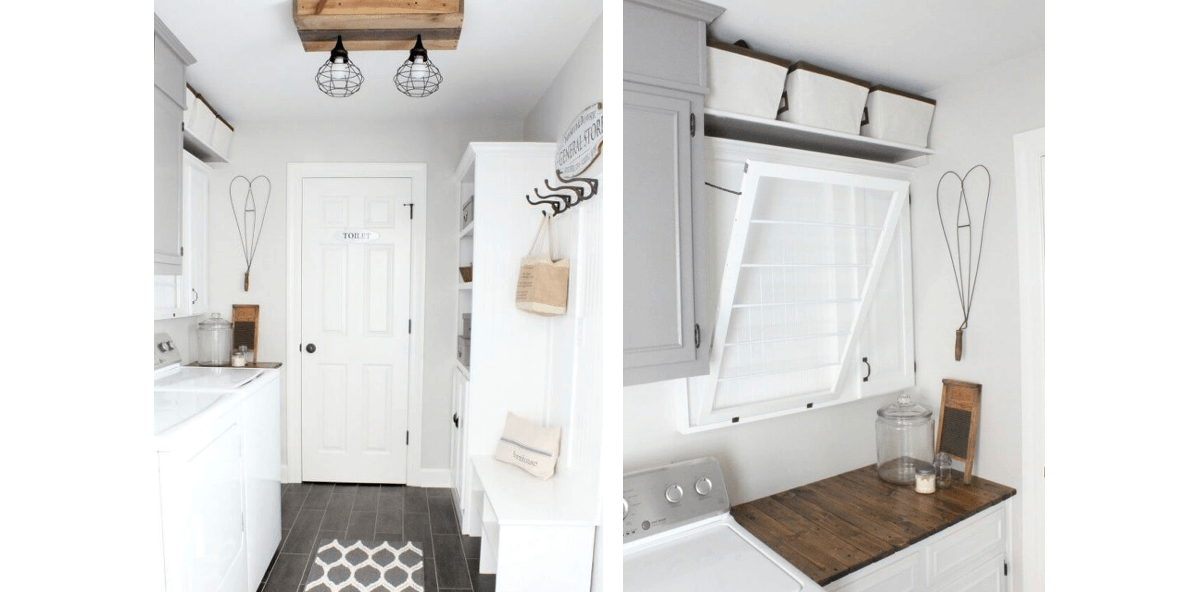 Doing laundry might not be your favorite way to spend a Sunday afternoon, but since you'll probably spend some prime time in there, it's definitely worth making the most out of it — even if you're renting. Take some pride in your laundry area with an affordable facelift. This vintage inspired laundry room by Noting Grace is brought to you by some easy and clever repurposing of items. When polished off with some super cute decor, you'll be excited to show off this room in your home.
Btw- you can choose to add as little or as many aspects of this makeover as you like.
How to hack a home garden
We've all been there — daydreaming about that picture-perfect ground floor apartment with a gorgeous outdoorsy deck and budding vegetable garden. But if you're on the 4th floor with no balcony or garden to be seen, it's probably just a fantasy. And it's a shame, because plants aren't just pretty, they're also linked to positive well-being, and can also reduce toxins between rooms.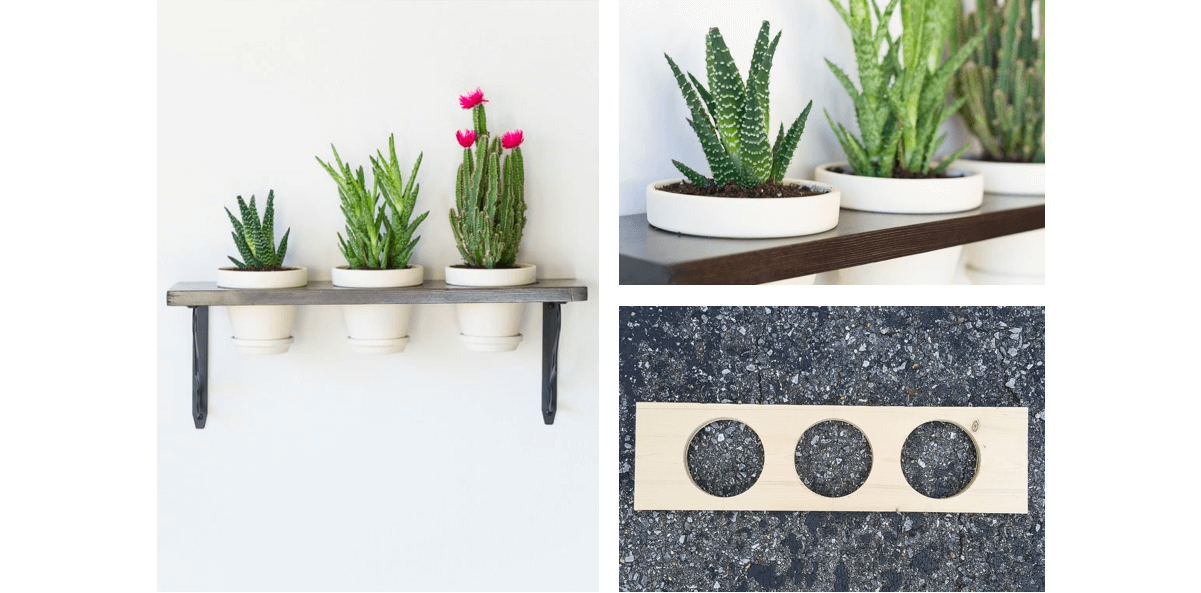 But you don't need a balcony or garden to create a small garden oasis in your home. There are tons of ways to create an indoor garden, no matter the size of your home. Try this hanging indoor garden by Brittany Goldwyn which is actually suitable for a kitchen, bathroom, or any other space you want to bring some green vibes to. Not only does this DIY project not take up any counter space, it's also an eco-friendly way to grow your own herbs. For the project, you'll need to saw holes into wood, so you'll need to prepare yourself with all of the necessary equipment.
Bonus tip: Fill empty jars with pebbles, soil, moss, or small plants for mini gardens you can place around your home.
How to hack home entertainment

When your friends are on their way over, do you find yourself rushing around, trying to find places for everyone to sit? Even hosting a dinner party of 6 can be tricky when it comes to seating your guests.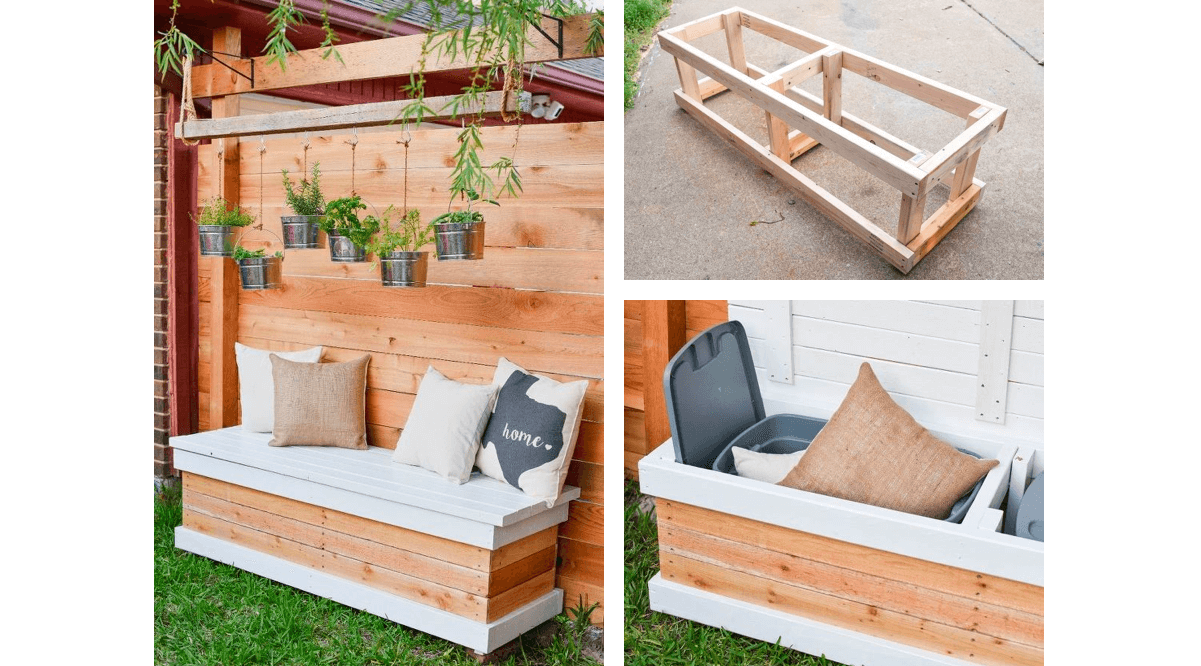 DIY to the rescue! Try creating a seating area that also works as a storage space. Check out this DIY bench by Our Handcrafted Life. It's a great way to utilize your space and get some bonus storage! This project needs some pretty serious tools, so if you're not a natural with wood, you'll need to get someone to help. It's the perfect addition to a small outdoor area, or in your small living room.
How to hack small storage
Let's talk shelves… must-haves for any apartment lacking space. They're a great way to shelve your storage issues while taking up zero floor space, and minimal wall space. But instead of opting for the same boring shelves every store is selling, get creative!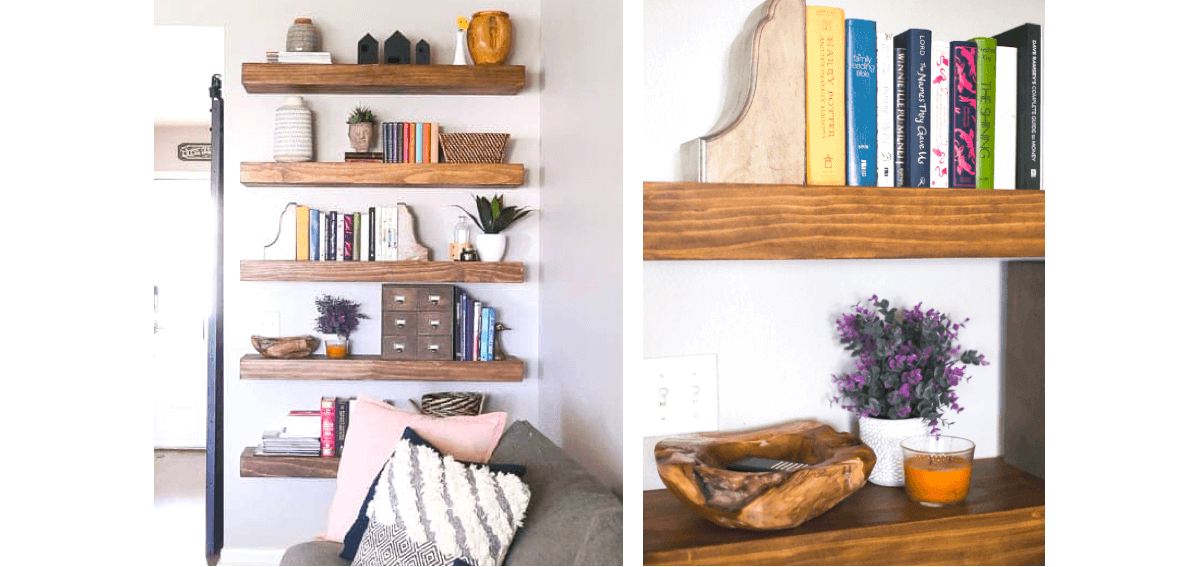 It's surprisingly easy to build your own set of shelves. All you need is a drill and some wood boards. This DIY floating shelves by Love & Renovations will create a sense of individuality in your home. Play around with the color, to make it your own. To achieve these perfect set of shelves, you'll need wooden pine boards, a drill, and paints to dye the wood.

Embrace D-I-Y

DIY is a healthy way to escape the stress of everyday life, and tap into the creativity you never knew you had. Whether you own your own home, or are just renting for a couple of months, the place you live should feel like yours. So no matter where you live, it's easy to put your own unique touch on things.