The Ultimate Guide to Car Insurance
It's not that hard to become a car insurance pro. Let's roll!
Life is a highway, and we know you want to ride it all night long. But driving can be dangerous—even if you're the most cautious person.
Car insurance helps cover you in the event of a crash, a smashed windshield, an unexpected collision with a rogue antelope, and so much more. With the right Lemonade Car coverage, you'll be cruising in secure comfort. Consider us a backseat driver (except, like, not an annoying one).
Car accidents can be incredibly stressful and even tragic, but your policy is there to help as much as possible. Depending on your specific coverages, a single claim could cover a variety of things: damage to your own vehicle; injury to others or damage to their property; temporary transportation options if your car's being repaired in the shop; and a whole lot more.
We'll get you up to speed with the basics of car insurance in no time. Here's what this article will discuss:
What does car insurance cover?
What does car insurance not cover?
Who is covered by your car insurance policy?
How can you customize a car insurance policy?
How much does car insurance cost?
What is car insurance, anyway?
Car insurance is a collection of coverages designed to protect you and your car when you're on the road, parked, or in your driveway. Sometimes that might mean paying for damages you incur if someone rear-ends you on the highway. Sometimes it means covering your car from physical damage—the proverbial piano dropped from an upper story window, or an oak tree crashing through your moonroof.
Depending on your policy, car insurance will also kick in to cover injuries sustained by yourself or someone else. Every state requires that you carry at least a minimum car insurance policy to drive, but you'll probably want to include additional coverages to protect against the perils of the road. We'll get into those details in a bit.
What does car insurance cover?
All car insurance policies have two types of coverage: liability coverage and physical damage.
Liability coverage refers to coverage in the case of bodily injury or property damage to other people (or their stuff) as a result of your actions. In other words, it kicks in when you're at fault and thus liable for damages. This coverage would help pay for repairs to someone else's car, as well as for medical bills if they're injured in an accident. Liability coverage would also protect you if you're sued following a crash.
Physical damage coverage protects your car if it gets damaged. This part of your policy is a little complicated, since it has a few moving parts.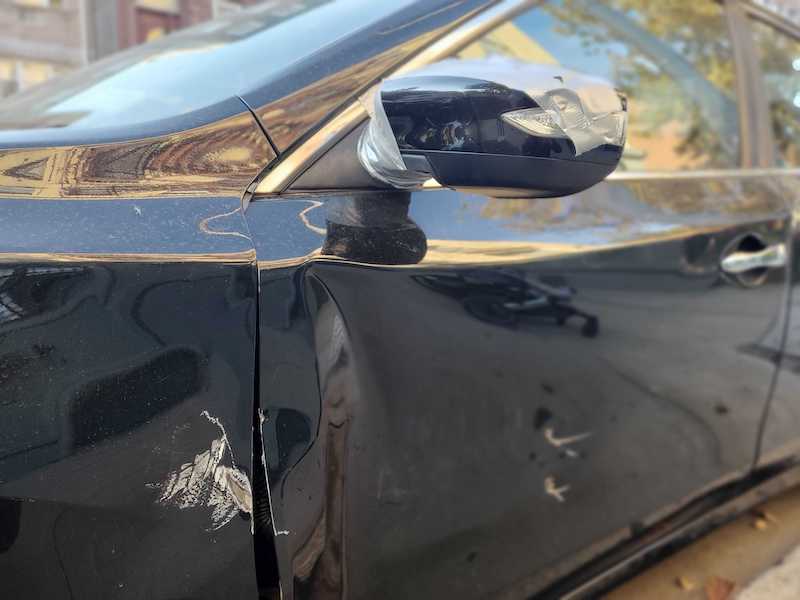 Keep in mind that a very basic car insurance policy won't include all of these coverages. With Lemonade, it's not one-size-fits-all—you can customize your policy! That way, you don't pay for something you don't need. We'll help you pick the right coverages when you sign up.
Let's break down some other coverage options you might add to your policy.
Collision coverage
Hit another car? If you've been in a collision, this coverage pays for the repairs to your vehicle. Collision coverage kicks in for all kinds of crashes where your car sustains damages.
Comprehensive coverage
Comprehensive coverage pays for repairs from damage caused by things you can't control, like weather events, theft and vandalism, hitting an animal, falling objects (that piano!), and fire.
Temporary transportation coverage
You're still going to need to get around while your car is in the shop. Temporary transportation coverage reimburses you for public transportation, a rental, or rideshare while your car isn't driveable. A Lemonade Car insurance policy limits the daily reimbursement and number of days you can use this benefit (so don't expect to rent a Jaguar for a year while your 1986 Honda Civic is in the garage).
Extended glass and windshield coverage
Got a crack or ding in your windshield, sunroof, side view mirrors, or elsewhere? If it's not fixed promptly, it could spread, create a spiderweb of cracks, and eventually require a total replacement. Because that's more expensive than just a small repair, Lemonade Car offers an optional glass endorsement with a lower deductible (or no deductible at all, depending on your state).
Uninsured/underinsured driver coverage
Uninsured or underinsured driver coverage protects you if you're in an accident with an at-fault driver who either doesn't have any insurance or doesn't carry enough insurance.
Medical payments/Personal Injury Protection (PIP)
Depending on where you live, you might be required or given the option to add MedPay and/or PIP to your policy. Both these coverages generally cover you and your passengers for medical bills and PIP can even cover you for lost income.
What does car insurance not cover?
A Lemonade Car policy offers a lot of coverage, but there are several things that would exclude a claim from being covered, like:
A car or driver that should've been listed on your policy and wasn't
Damage from racing (seriously, dude? you're a grown-up)
Nuclear waste-related damage
Malicious or intentional damage
Wear and tear on your car from normal driving
Freezing
If you're using your car to earn money for ridesharing with Uber, Lyft, etc., and get in an accident
Damages to custom parts over $1,000 (think the kind of add-ons you'd see on Pimp My Ride)
Crazy stunt driving, like leaping between skyscrapers in Abu Dhabi
FYI: Any damage or theft to items inside your car aren't covered by car insurance. That includes if someone smashes your window and grabs the MacBook in your back seat.
The good news, though, is that a Lemonade Renters or Homeowners policy would have your back in those instances, so your Lemonade Car policy would cover damage to the car, and your home policy would cover you for the stolen items.
Who is covered by your car insurance policy?
Your policy covers all listed cars and drivers (you can add up to seven drivers to your Lemonade Car policy, though these additions may likely affect your premium). Keep in mind that you're required to include members of your household on your policy, regardless of how much they drive.
That means spouses and any licensed or permitted children in the household under 19 must be listed on your policy. And if your second cousin lives in your basement, you have to list them, too. That way, if they borrow your car on a grocery store run and get in an accident, it's covered.
What if you let other people drive your car—a friend Suzy, your nanny, that co-worker who really wants to take your Mini Cooper for a spin—will they be covered by your policy? Yes! But they won't be covered if they should've been formally listed on your policy: if they live with you, or if they drive your car regularly.
How can you customize a car insurance policy?
Depending on what state you live in, your car insurance requirements will differ. Many states only mandate liability coverage; others will require medical payments, personal injury protection, or coverage for un- or underinsured drivers.
It might be tempting to go with the bare minimum policy, since it'll certainly be cheaper on a month-to-month basis. And if you never actually have to use your car insurance, it might work out for you. But to truly be a protected driver, you're likely going to want to include extra coverage to your basic policy.
In insurance-speak, we call these endorsements, or riders. That's a fancy way of saying you can pick and choose which you'd like to include on your car insurance policy—opting for comprehensive coverage, for instance, or extended glass and windshield protection.

You'll also be able to set and adjust your policy's limits and deductibles.
Limits on car insurance policies
A limit is the maximum amount an insurer would pay out in a covered claim, and you can set different limits for your different coverages. For example, if you pick a limit of $25,000 per person for PIP, that's the maximum your insurer will pay out for one person's medical bills after an accident.
If you pick higher limits, the insurer takes on a greater risk—they might end up paying out a lot more in the event of an accident and a claim. Therefore, your monthly premium will be higher if you have a high limit on your policy.
Keep in mind that the limits for repairs to your car after a comprehensive or collision claim are the actual cash value (ACV) of your car. Why? If your Jeep is severely damaged it would only be worth repairing up to its actual cash value. So Lemonade would pay for repairs up to this amount of money, but if the cost to fix your car exceeds the ACV, we'd declare it a total loss, and replace the car instead.
Deductibles and a car insurance policy

A deductible is the amount you pay out-of-pocket before insurance coverage kicks in. With a Lemonade policy, it could be anything between $250 and $2,000. (Extended glass coverage has no deductible in most places, but some insurers require a $50 deductible.) Choosing a higher deductible will generally result in lower premiums, since it means you'd be responsible for more of the initial costs in the event of an accident.
Your deductible is applied to every claim you make. So if you get in an accident that results in $5,500 in damages, and you have a $1,000 deductible, your insurer would likely compensate you $4,500.
How much does car insurance cost?
Various factors influence your premium: your driving record, the type of car you have, where you live, and so on. Plus, Lemonade Car is built around a location-based app that helps reward safe drivers. Here's a bit more on car insurance pricing, as well as additional info on how our app works.
How can I get car insurance?
It's extremely easy (and dare we say fun?) to apply for a Lemonade Car policy online. Just click the big pink button below to get started.
If you want more answers about what's covered by your car insurance policy first, check out our article about car insurance coverages here.
Now drive safe, keep your eyes on the road, and start saving!