How We Got Here: Dan & Charishma
From New York to LA: This couple found bliss in Playa Vista.
Did you know that millennials are around twice as likely to use their mobile devices in their househunting search than older baby boomers are? According to Investopedia, 58% of millennials first discover the place they want to buy via their smartphone or tablet.
For the latest instalment of 'How We Got Here'—a series that celebrates Lemonade renters who became Lemonade homeowners—we check in with Dan, Charishma, and their Insta-famous puppy Boomer. This lovable trio found the perfect condo in Playa Vista, California (and yes, they found it via a neighborhood Facebook group).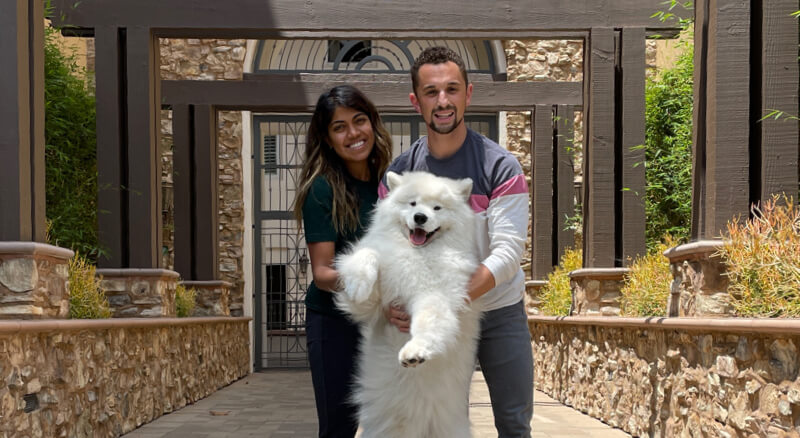 Names: Dan and Charishma
Occupations: Dan works at a global ad agency; Charishma is an engineering consultant
Location of Home: Playa Vista, California (in west Los Angeles)
Price of new home: $1.065 million
Square footage: 1,760 sq feet
From New York to LA
Many Americans moved or relocated in 2020, but for Dan and Charishma, the decision had nothing to do with the pandemic. They had long dreamed of leaving New York City— where Dan worked the corporate 9 to 5, and where Charishma was finishing her PhD —for California. And when they both got jobs in the picturesque Los Angeles neighborhood of Playa Vista, the decision was easy. While the planned community is of modest size, it's home to a Who's Who of eclectic businesses, from Electronic Arts and TOMS shoes to Snoop Dogg's marijuana-focused business, Merry Jane.

After a 9-month trial period during which they rented in Playa Vista, they decided to take the plunge. Dan and Charishma loved the fact that they could live and work in the same neighborhood, commuting without spending half their lives in a car.

"Avoiding legendary LA traffic was a huge plus," says Dan. "We later fell in love with the community, as it's very walkable and has a good mix of retail, restaurants and HOA [Home owners Association] community centers: gyms, pools, etc. It's also super dog friendly. There are three dog parks and pretty much everyone has a dog".

Everyone in Playa Vista might have a dog, but it's unlikely that their dog is as well-known as Boomer, Dan and Charishma's fluffy white Samoyed. With 1.8M TikTok followers, 200,000 Instagram followers, and 150,000 YouTube fans, their pup—nicknamed a 'Landcloud' for fairly obvious reasons—is a bonafide canine celebrity.
The search
Playa Vista has become intensely popular in recent years, due to its proximity to so-called Silicon Beach (LA's version of Silicon Valley). It's family-friendly, less than 2 miles from the (actual) beach, and a tech paradise—Google's campus is on the doorstep, and Facebook and YouTube both have outposts in the neighborhood.
Given all of that, it's little surprise that prices are high, and available housing stock is rare. May 2021 listings on Zillow, for example, turned up a 3-bedroom condo for $2.3 million, and a 4-bedroom house for just under $2.4 million.
Dan and Charishma began their search with their friend and real estate agent Meredith Schlosser, who showed them a unit that was part of a four-story condo building.
"We really fell in love with it, but didn't have enough money at the time," Dan explains. They were "super bummed" when someone else snapped up the condo—and basically no other properties in their range were available in the small Playa Vista neighborhood.
Frustrated, Dan turned to Facebook, and posted a call in a neighborhood-based group: Hey everyone, I know you probably wanna list your property in the spring, and it's January—but we really want to buy…
Luck prevailed and one couple responded to their message… and offered the parallel unit they initially wanted—off-market, and so without the intense bidding competition that exists when a unit is publicly advertised.
The place ticked all the right boxes. It had gorgeous high ceilings and an open floor plan, plus it had multiple stories, which made the condo feel larger overall. There was enough space to chase Boomer in circles, and their pup's needs were crucial to any decision. The couple closed on the condo about a week before Covid-19 upended daily life in the US.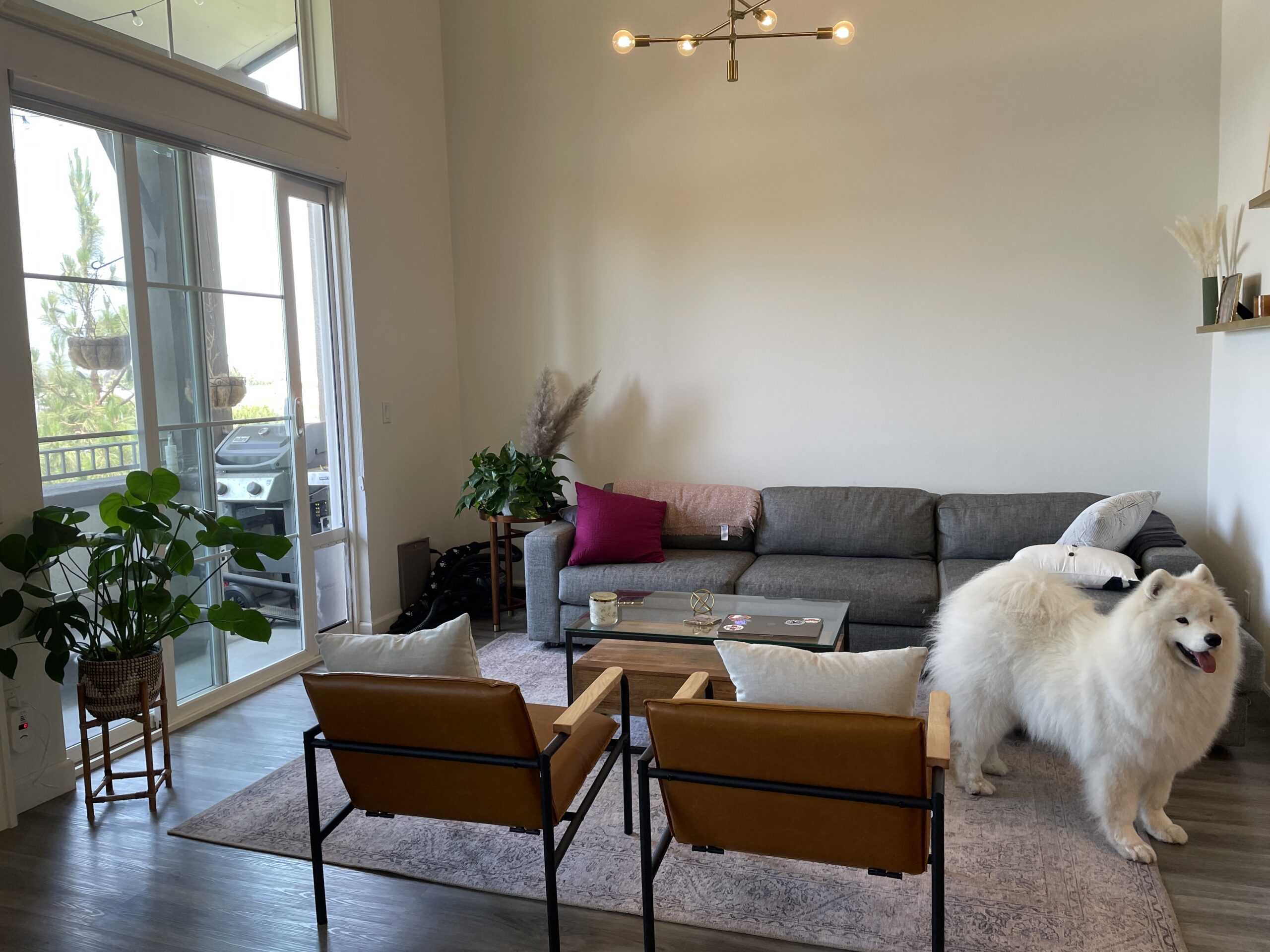 The deal
The condo cost $1.065 million. Dan and Charishma had been saving up for a decade in order to be able to make the 20% down payment on a property in this price range. (Most available places in Playa Vista were well above budget.)
They enjoy the benefits of being in the condo community, where community services—like trash, building maintenance, and security—are handled for them. There are some negatives of course, like having to pay HOA fees, which can be a big added expense over time. "Certain condo buildings can have a wide array of arbitrary rules, although we were lucky to avoid that with ours", says the couple.
Not to say buying a home wasn't overwhelming, from navigating different mortgage types to contemplating LA's high taxes. "There were a million ins and outs but luckily Meredith [Schlosser] was there for us," says Dan.

There were still unwelcome surprises. The couple had no idea their closing costs were going to be so high. "It actually pushed us back a little bit more and put as much as we wanted on our downpayment". (Closing costs include things like the attorney fee, home inspection, homeowners insurance, and property tax.)
A bit of advice
The California way of life has definitely charmed these two ex-New Yorkers. Their new view lets them peek out at downtown Los Angeles and the Santa Monica mountains.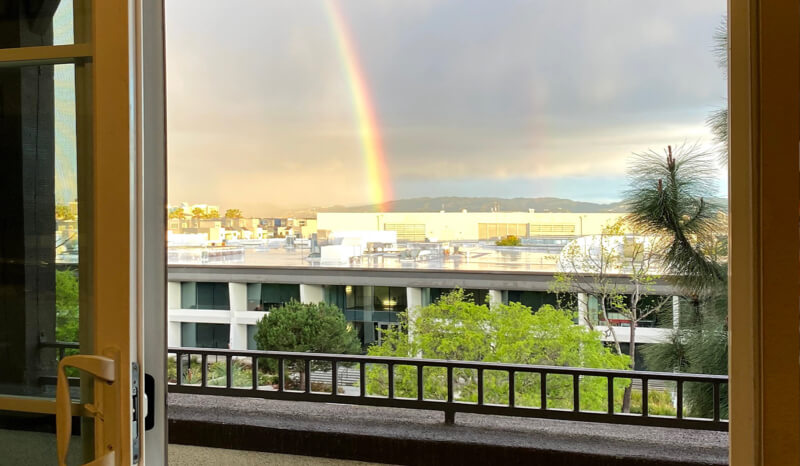 The timing worked out well for Dan and Charishma, but for anyone currently hunting for a house, they suggest being patient. "The prices are so high right now so it's all about knowing when the right time to buy is," Dan says. "There's no point buying at a super inflated price. It's worth it, financially, to continue renting and wait for the right place to come along."