How We Got Here: Panar & Pablo
First-time homeowners find a gem in an up-and-coming Houston neighborhood.
We all know the cliches: Millennials love oat milk lattes, texting, and mid-century modern furniture. And, increasingly, they also love buying houses—recent studies suggest that those between the age of 22 and 39 make up about 38% of the home buying population in the US.
So welcome to How We Got Here, a series that takes you along on the millennial home buying journey from Lemonade renter to homeowner. Ever wonder how people save up to afford their own places? Want to learn from the mistakes they made along the way? Or are you just interested in peeking inside an interesting stranger's home? We've got you covered.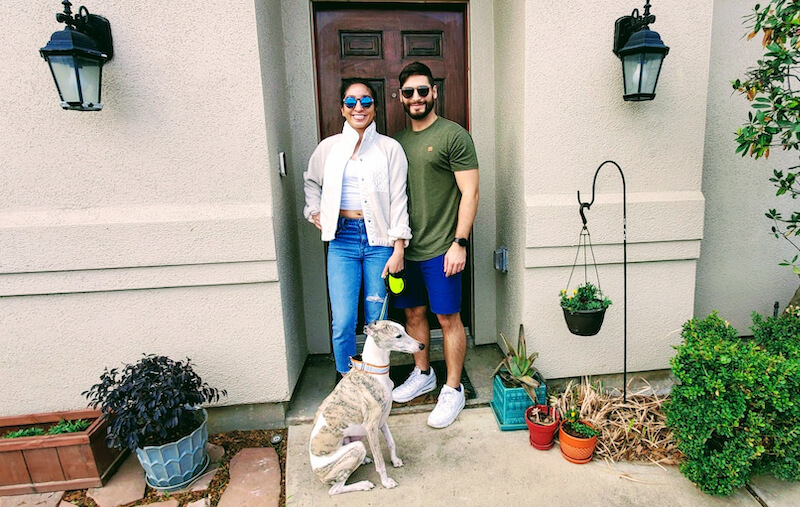 Names: Panar, 30, and Pablo, 32
Occupations: Lab manager at a startup (Panar) and financial accountant (Pablo), both in the oil & gas industry
Salaries: $72,250 and $81,600
New home: A 1,460-square-foot, two-story home in East Downtown Houston (aka EaDo)
Purchase price: $250,000 (in August 2020)
Typical value of homes in the same zip code as of March 2021: $147, 977 (estimated to rise 7.2% in coming year)
Tired of moving…and moving…and moving
Prior to buying their new home, Panar and Pablo found themselves relocating nearly every year since 2014. Partly this was because they couldn't settle on what sort of living situation they wanted—but they also kept encountering landlords who hiked the rent beyond their means, forcing them to start all over. That's a whole lot of cardboard boxes, security deposits, and U-Haul rentals.
"We lived in the suburbs, about 20 minutes from downtown Houston, for several years," Panar explains. "I finally convinced Pablo to move closer to town—where you get less, for more money…because I was young and wanted to be in the 'cool' area."
Eventually, committing to a property that they actually owned just started to make financial sense. "Even though we'd be spending money up front," Panar reflects, "[at least] we wouldn't just be throwing it all away on rent."
Easier said than done. Even if the couple could afford monthly mortgage payments, plus property taxes and other expenses, they had to first come to terms with that tricky barrier to homeownership: the dreaded down payment.
Saving up to take the plunge
First-time homebuyers have a variety of options available to them, although there are some downsides.
Certain programs allow for very modest down payments, but come with extra fees or penalties. In Panar and Pablo's case, they found that their steady credit scores and salaries made them ineligible for many programs designed to give first-time buyers a leg up.
There was one that they did qualify for, but it had a catch: A 3% down payment was tempting, but the couple was scared off by the hefty interest rate attached to the loan. "We wanted to put more money down so that our monthly payments wouldn't be as high," Panar says.
After a few years of stashing away a bit extra from each biweekly pay check, they estimated that they could afford what amounted to a down payment of 7.5%, around $20,000. Not a small sum, but not an impossible one, either.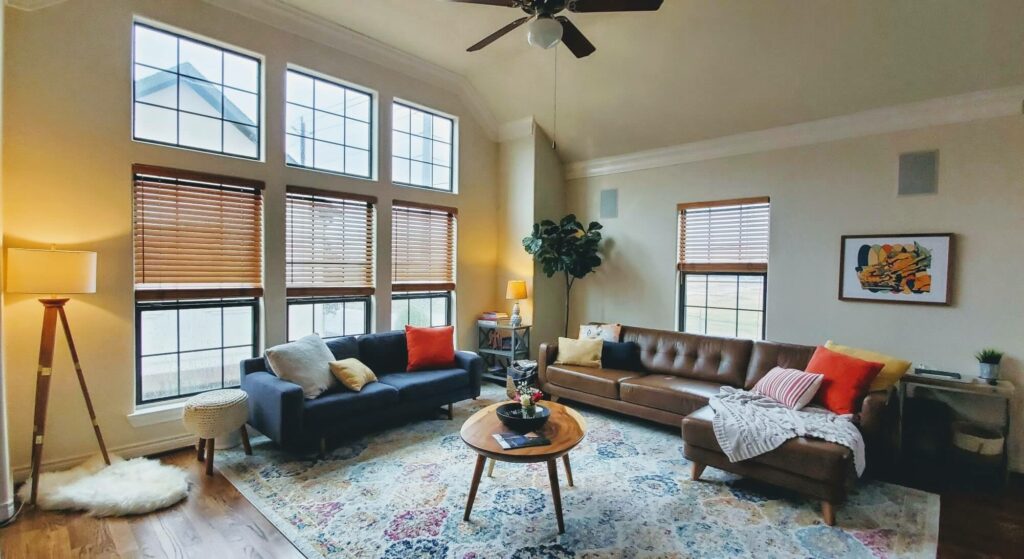 Making a wish list, and then making sacrifices
The couple had a few major points on their bucket list: A surplus of natural light. A 2-car garage that could, importantly, fit vehicles side-by-side (to avoid the annoying "car gymnastics" if one person had to run an errand). At least three bedrooms and two bathrooms. A nice outdoor space. And proximity to downtown Houston.
In the end, they didn't get everything they were hoping for… but certain features made up for what they had to sacrifice. "The key was when we stepped upstairs and saw the open concept living and dining area—high ceilings, and flooded with natural light," Panar recalls. "We immediately knew this was the one!"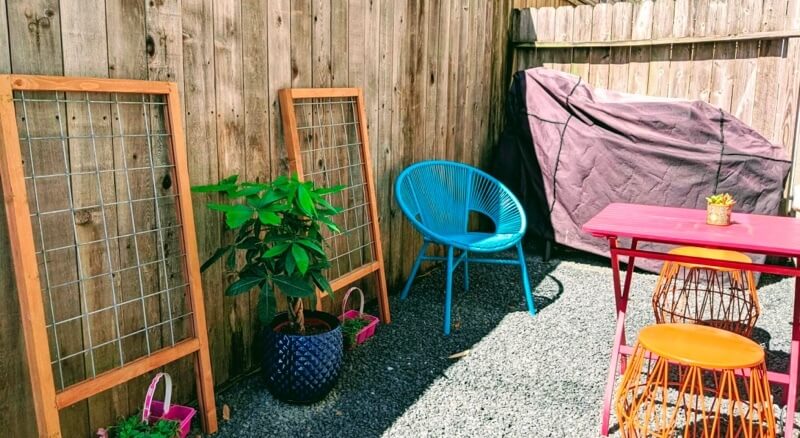 Their backyard is modest, and not connected to the house. And while they don't have to share a single bathroom, their house has only two bedrooms, not three… but they've put that second bedroom to good use, making it "work triple-duty as an office, guest room, and workout room." That's solid pandemic-era ingenuity.
Investing in the near future
Panar and Pablo's new neighborhood in East Downtown—or EaDo, in hip brokerspeak—is in a state of flux. "It's very urban and an 'up and coming' area, which is to honesty say that it's gentrifying," Panar explains, "a historically Hispanic area with a ton of warehouses."
If you scope out their street on Google Maps, you'll find what appears to be a huge vacant field across from their home. All that dormant land will be converted into what's being called the East River project.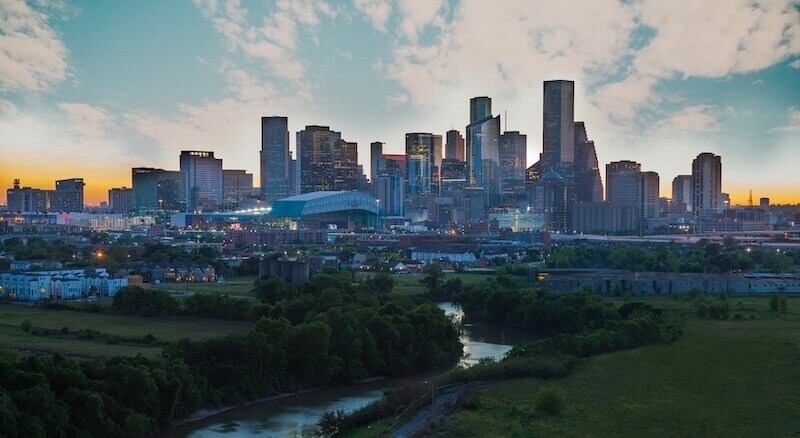 "It's basically 150 acres of land that they'll be turning into shops, apartments, offices, gathering spaces, museums," Panar enthuses. "There's already a drive-in movie theater there."
"It's also along the banks of the 'Buffalo Bayou' in Houston," she explains. "On the west side of downtown, the Bayou has a ton of hike-and-bike trails and open green spaces, and they're going to connect to that and continue with that outdoor culture on the East side of downtown—where we bought."
The couple's hope and expectation is that, by moving to the area early, they'll be able to take advantage of rising property values once the neighborhood is fully developed.
What they would have done differently…
If the couple could offer one piece of advice to prospective first-time homebuyers, it might be: Don't let anything slip through the cracks during your home inspection, even if it seems minor.
"There were lots of things that weren't caught, or that we thought weren't a big deal, that ended up being more of an issue," Panar says. "I wish we'd found our own inspector instead of just using the one our realtor suggested—and that we fought more for the seller to pay for issues that were found."
Those issues included the house's exterior, composed of stucco (a difficult material for a Texan climate), which would cost the couple thousands out-of-pocket; a cracked sink that ended up leaking; and run-down appliances that had been shoddily repaired. "All these little things add up," Panar says.
"I was pretty tired of the home search at this point, and just excited to have it be finished, so that's why we might have let some of these things slide."
Remember: What you skip over today might come back to haunt you tomorrow.
The upsides of homeownership
For Panar and Pablo, owning their home was both a financial and psychological improvement. "I love that I'm not just throwing money away to someone else every month," Panar admits. "Even if we sold the home for a slight loss, it still wouldn't equal what we'd lose every year paying rent."
And even though homeownership can get expensive—repairs, of course, are now their sole responsibility—it's worth it for the sense of pride, and the freedom to call their own shots.
The couple's first joint task when they moved in was to re-do their cabinets together ("hard and tiring," Panar says, but now "it's one of our best memories together"), and other DIY projects have been equally rewarding.
"I love that we can just change anything we want if we don't like it," Panar says. "We feel more proud of what we have."
And the crown jewel of their new place? That would be the dining room, which is a light-filled space decorated with bar accessories and family heirlooms—and a photogenic setting for any Zoom meetings, as the couple continues to work from home during the pandemic.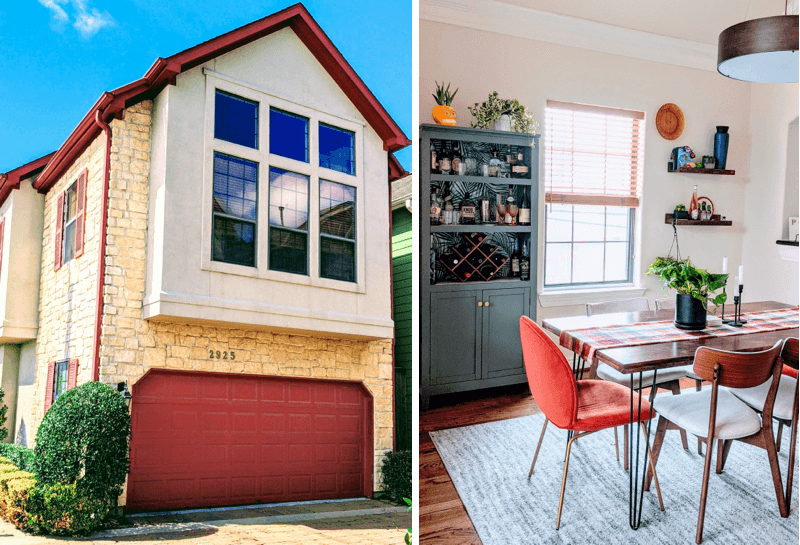 Next stop?
So now that Panar and Pablo have found their dream home, they're ready to put down roots for the next several decades, and they look forward to passing this home on to their grandchildren and great-grandchildren.
Just kidding.
"We're already contemplating leaving for a bigger place on the same street," Panar laughs. "We don't regret buying this home at all, since we're building equity instead of throwing money away on rent….We do want to be able to keep this—or the next!—house and rent it out, so we can have passive income."
Dream a little dream
While their East Downtown two-bedroom might not be a forever home, it's great for the moment. And the homebuying process has certainly gotten the couple thinking about what the future might hold.
A decade from now, Panar says, there might be a child in the picture. Maybe they'll have moved out of the Lone Star State—to "California, or the East Coast…or Australia!"—and then returned to be close to extended family. Perhaps Austin might be a good fit, she muses…
Unfortunately, Panar has no idea what sort of house she could see herself living in ten years down the line.
Kidding, again. This newly minted homeowner clearly has a vision, down to the small details: She's thinking tall, vaulted ceilings with exposed wooden beams; four bedrooms and three bathrooms; an area for workout equipment; a backyard that's large, but not so large that maintaining it would take forever…
We wish this young couple—and their elegant doggo—the best. We'll have them covered, wherever they go.
Interested in getting Lemonade Homeowners insurance yourself? Click the button below to get started.