How We Got Here: Steven & Morgan
After saving diligently during lockdown, this couple took the plunge.
The coronavirus pandemic certainly can't be said to have any silver linings. But over the past 18 months, those who have been lucky to continue working may have found that they've been able to save more than ever.
For nearly one-third of millennial first-time homebuyers, the coronavirus pandemic helped them put away the money needed for a down payment, according to Redfin. Before the pandemic, employed Americans were able to save around 7 cents to every dollar they made. Post-pandemic, that amount has soared to 27 cents.
For the latest installment of 'How We Got Here'—a series that celebrates Lemonade renters who became Lemonade homeowners—we check in with a couple who were able to leverage quarantine as a way to be more frugal.
Steven and Morgan (plus their cat Mordecai and dog Rigby) were renters in midtown Sacramento before heading to homeownership in the suburbs. Their new place is nestled in Lawrence Park, a small neighborhood packed with great schools, playgrounds, and nature.
Names: Steven, 26, and Morgan, 30
Occupations: Flight instructor (Steven) and UX.UI developer (Morgan),
Salaries: $30,000 and $68,250
New home: 1,200 square foot home with a large front and back yard in Lawrence Park, a suburb of Sacramento
Purchase price: $365,000 (in August 2021)
Typical value of homes in the same zip code as of 2021: $364,476, according to Zillow (Lawrence Park home values have gone up 29.5% over the past year)
A comfortable situation takes a turn
Steven and Morgan lived and rented together for about two years before they bought their first home. The couple paid $1,250/month for a one-bed, one-bath apartment in a fourplex building in midtown Sacramento. A tiny balcony facing the street was a favorite spot; private parking was also a perk.
The building, which hails from around 1905, was taken over by a new owner during their rental tenure. His arrival brought all sorts of new and onerous rules—like a limit on how many indoor plants his tenants could have. "We didn't even use our balcony much, because we kept so many potted plants out there," Steven recalls. "There was no room for us!"
Quarantine means there's not much to spend money on
Both Steven and Morgan have tended to be careful about their finances, and they already had decent shared savings when they married back in 2019. "We've always been pretty good about budgeting and putting a certain percentage of our pay checks into our savings," Steven says.
Though he lost his bartending job early in the pandemic, Steven was eventually able to find a new gig as a flight instructor shortly after the initial lockdown ended.
"We actually saved a large chunk of our down payment during the pandemic, despite being out of work for a part of it," he says. "We didn't go out like we used to, so every month we saw our savings account grow and grow." Eventually, they had rustled together enough—around $18,000—for a modest down payment.
A buying frenzy
On paper, Steven and Morgan's budget technically maxxed out around $400,000—but $365,000 was as much as they really wanted to spend, to avoid stressing out about being able to cover monthly mortgage payments. That wiggle room was also helpful, Steven says, considering that his own month-to-month paychecks can vary.
For Steven and Morgan, the start of 2021 felt like the right time to buy. Interest rates were as low as they'd been in years, and houses were still generally affordable.
But the biggest obstacle for Steven and Morgan was the sheer number of buyers in the market versus the amount of available inventory. Competition was fierce. Countless potential buyers from the San Francisco Bay Area had realized they could purchase a house further afield, work from home, and still end up saving money.
That's led to buyers driving up prices of some homes: excessive demand and very limited supply, according to Ryan Lundquist, a certified residential appraiser in Sacramento. In March 2020, the median home price in the Sacramento region was $440,000. In 2021 it jumped to $529,500.
A welcoming oasis on a rainy day…
Because the market was so wild (houses generally only stay on the market for around seven days), Morgan and Steven looked at around a dozen properties a week. They knew that if they liked a place, they'd have to make a competitive offer that same day.
In the end, they made offers on three different places. One of the first they fell for was a fixer-upper, but the price and location weren't right. After a competitive offer, they weren't accepted… but found out later the house had sold for significantly less than what they offered.
But then came the three-bedroom in leafy Lawrence Park that they would end up purchasing.
"We knew this home was 'the one' as soon as we stepped inside," Morgan recalls. "It was a nasty, rainy day the first time we saw it, and we just felt so warm and welcoming when we entered. The original hardwood floors really spoke to us, and the kitchen—our most-used room in the house—was such a nice upgrade from our little apartment."
Once they'd agreed to put in an offer, their real estate agent, Gaea Suilvan (an old bartending coworker of Steven's) helped walk them through the entire process.
She gave them great tips that they immediately put into action. For example, she told them how to make their offer look as enticing as possible—including by offering a super short escrow. (Usually the escrow process takes between 30 and 45 days, but an escrow can be completed in a much shorter time frame.)
Another tip was to write a letter to the sellers to increase their chances. "Our letter (with our offer) was signed anonymously so that no potential prejudice could be involved in the seller's decision," says Steven.
Renting versus buying
Upgrading to home ownership has meant only good things for this couple, despite Steven having to sacrifice his dreams for a big garage. For Steven and Morgan, the best thing about owning versus renting is enjoying their space fully without having to check with a landlord about every little change and upgrade. It has, however, proven to be a bit more work to keep up a 1,200 square foot home with a large front and backyard, as opposed to a 500-square-foot one-bedroom with neither.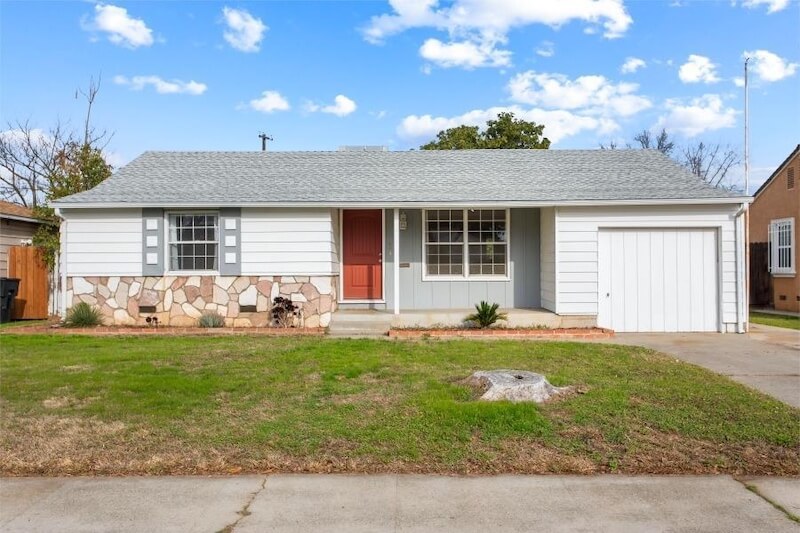 They also appreciate the investment potential. "We often check what Zillow estimates our house is worth, and it has grown considerably just in the past four months," Steven says. "In addition, houses around ours have been selling for more than we bought ours for, and they're generally smaller houses with smaller yards."
The backyard is their favorite place to spend time. "We feel incredibly lucky to have so much outdoor space," Steven explains, and the couple is trying their hand at a vegetable garden. It's a far cry from their rental days, when they had to share a tiny balcony space with all the plants their landlord wouldn't let them keep inside.
Despite it being what they consider a 'starter home,' Steven and Morgan have no plans to move anytime soon. Real estate prices in the area may well continue to rise, so it makes sense to stick around for a while; if they do move, they imagine they'll keep this property and earn passive income by renting it out.
Ultimately, the space, the freedom to do as they like without consulting the landlord, and the suburban quiet has been a welcome surprise. "On our first night," Steven says, "we probably got the best sleep we'd had in months."