We Went To San Francisco's New French Restaurant for Dogs
Chicken-skin waffles with coconut charcoal flan, anyone?
There's a newly opened restaurant in San Francisco's Mission district that serves French-inspired pastries, customizable takeaway food plans, and even a bougie $75 three-course tasting menu. The twist? It's all for your four-legged friend.
It might seem like satire, but Dogue, as it's known, is a real place, serving real food to real dogs.
The restaurant concept began to develop when chef-owner Rahmi Massarweh and his wife Alejandra met their first dog Grizzly, an English Mastiff.
Like many pet parents, the two found themselves doing everything they could to keep their canine pal happy and healthy. Rahmi used his experience as a professional chef trained in classic French cuisine to craft a fresh, whole-foods diet for Grizzly. A few years (and several dogs) later, Rahmi began to offer meals for clients and their pups.
When Massarweh later decided to open a full-blown, French-inspired restaurant, it was only right to call it Dogue—which means "Mastiff" in french. "Believe it or not the city of San Francisco was, despite all misconceptions, very easy to work with," the chef told us. "The state of California, on the other hand, has a very strict licensing and permit system, because I'm directly impacting animal welfare. So we worked closely with a doctor and an agent of the state to complete the necessary licenses—seven licenses, to be precise—over the course of four months."
"If I was a builder, I'd build something for my dogs," Massarweh told Lemonade. "If I was a painter, I'd paint something. Since I'm a chef, I want to cook for them."
Sure, it may seem more than a bit indulgent to treat your pet to haute cuisine—especially when you can't even predict if your pup will want to sit still for the entire meal. But for today's pet parents, splurging on the fur fam isn't uncommon. In a recent Lemonade-commissioned survey of 2,000 pet parents, around a third of pet parents said they'd indulge their animal companions with raw pet food or pet-friendly baked goods and desserts (31% and 28%, respectively).
So while the surge of interest in Dogue may partly be due to the media-friendly novelty—a French restaurant! for dogs!—there are undoubtedly ordinary pet parents who might be considering a date night with their pooch.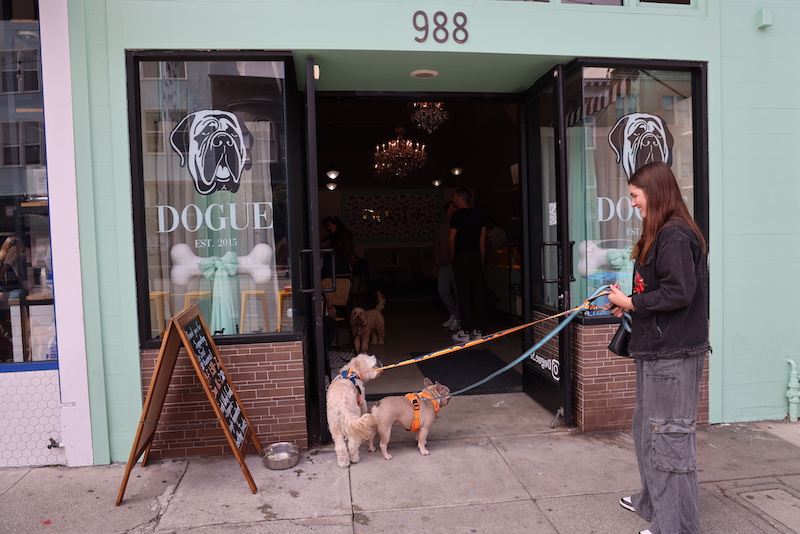 This past weekend, I headed over to see what all the fuss was about. I brought along my sister, as well as two discerning companions: Annie (a 7-year-old Labradoodle) and Phoebe (a 3-year-old Frenchie).
The space was boisterous and upscale, with lots of dogs and dog parents coming in to scope out the scene and buy to-go patisseries. Admittedly, a huge percentage of the diners were either pet influencers or journalists, so it'll be interesting to see the sort of crowd Dogue attracts once the initial buzz has worn off.
Our meal kicked off with a pair of Dogguccinos, basically a haute version of the Starbucks Puppuccino. One was dubbed "Ebony," the other "Emerald"; both Annie and Phoebe were in creamy heaven.
Afterward, we embarked on the 3-course tasting menu, which is available on Sundays. (While the $75 price tag may cause you to wince, the restaurant allowed my two dogs to split it, making the price a tad more reasonable.) I wasn't able to get a full review out of the pups, since they don't speak much English, but I managed to guesstimate some ratings based on their facial expressions.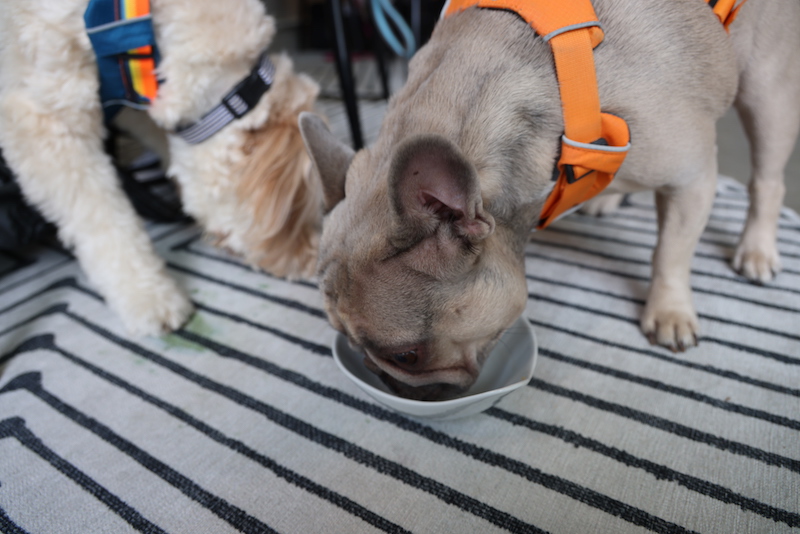 The first course—pastured chicken in a mushroom-infused bone broth—was a solid 10 out of 10. That was followed by an experimental chicken-skin waffle with coconut charcoal flan (7/10) and rounded out with grass-fed, filet mignon steak tartare, paired with a quail egg and brussels sprouts (let's say 9/10).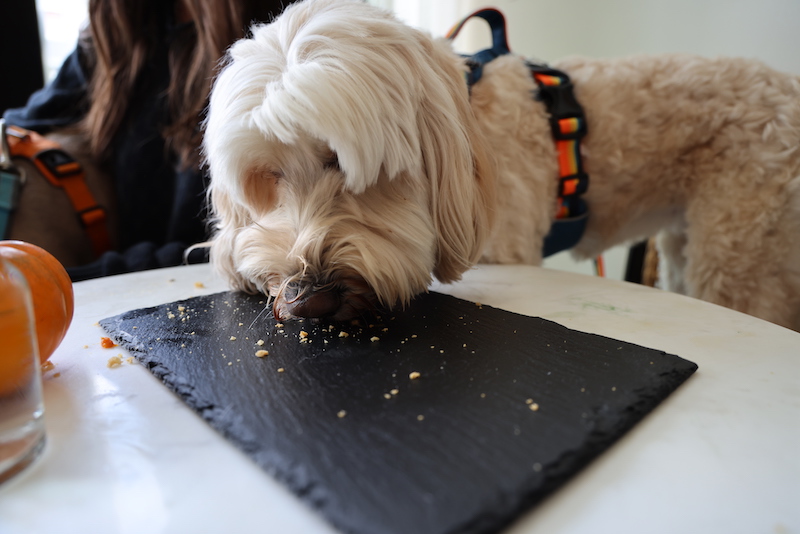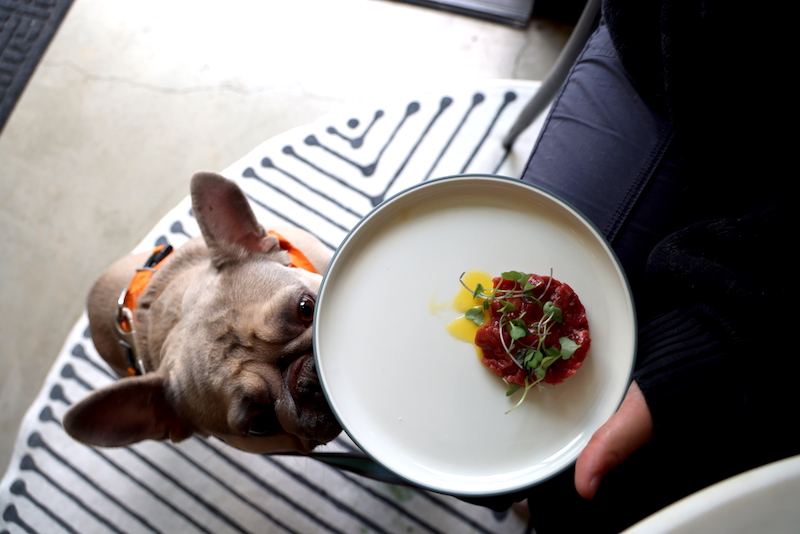 If you're not looking to spend $75 on a multi-course meal for your dog, that is… perfectly understandable. (After all—wink, wink—you could put that money toward pet health insurance.) But Dogue also offers some slightly more economical takeaways, including dog-friendly treats for $15, incorporating highbrow ingredients like green spirulina, beetroot powder, and—vegans be warned—wild antelope heart.
There are also bespoke meal plans for those looking to elevate their dog's diet at home, ranging wildly in price—from $3 to $95 per meal—depending on factors like age, breed, allergies, and so on. But if you want to spend $0 simply peeping some cute pups and delicious pastries, simply check out their Instagram.
So will Dogue, the restaurant, stand the test of time? That's anyone's guess. But I can say that at least two furry diners left this offbeat establishment with their tails wagging.