2022 Pet Ownership Survey: Costs, Trends, & More
The findings can help you become a more informed pet parent.
We don't have the technology to access a direct line to our pets' minds, to listen in on their deepest thoughts, needs, and concerns. But what if you could understand where you and your pet measure up compared to thousands of loving pet parents and their furry friends?
Well, we're here to help.
A recent Lemonade-commissioned survey, performed in collaboration with market research firm OnePoll, looked at 2,000 pet parents—split evenly between cat and dog owners. It reveals some compelling insights on modern pet parenthood (here's more on the methodology details).
From budget concerns to medical needs, trends, and more, we're here to break down the data so you can be savvier when it comes to caring for your pet.

Budgeting for your pet
Owning a cat or dog can get expensive. In our survey of 2,000 pet parents, pet owners, on average, spend $276.40 on their furry pals each month, which translates to more than $3,300.00 annually.*
However, despite that sort of financial commitment, only half (52%) stated they have a designated budget for their pets (those who do set aside an average of $308/month for their pet's needs.*) Budgeting also varies by geography—a majority of respondents in the Northeast (60%), Southeast (59%), and the West (53%) have a monthly pet budget, while only 40% of those in the Midwest and 32% in the Southwest do so.
It's interesting to note that the vast majority of people (98%) tend to go over their overall budget, with nearly two-thirds of pet parents (63%) going over budget often or always. Admittedly though, four of five surveyed pet parents admit they "don't care" if they go over their pet's budget limit (79%).
The TL;DR? As you might guess, pet parents would go to great financial lengths to keep their pets happy and healthy.
Now, what causes cost-conscious pet parents to go over budget? The top expenses noted include:
Pet care, like pet sitters, or dog walkers (37% of those surveyed)
Emergency vet visits (35%)
Family vacation with a pet, including travel or hotel costs (33%)
Upgrading a pet's home situation (33%)
Taking care of annual or ongoing medical needs (33%)
Throwing a birthday party/pet celebration (28%)
Dog vs. cats
Canine and feline friends are worth every penny, but when it comes to costs, who comes out on top?
The research found that 45% of all pet owners think dogs are more expensive than cats; 13% think cats are more expensive than dogs; and 42% think they're both equally costly.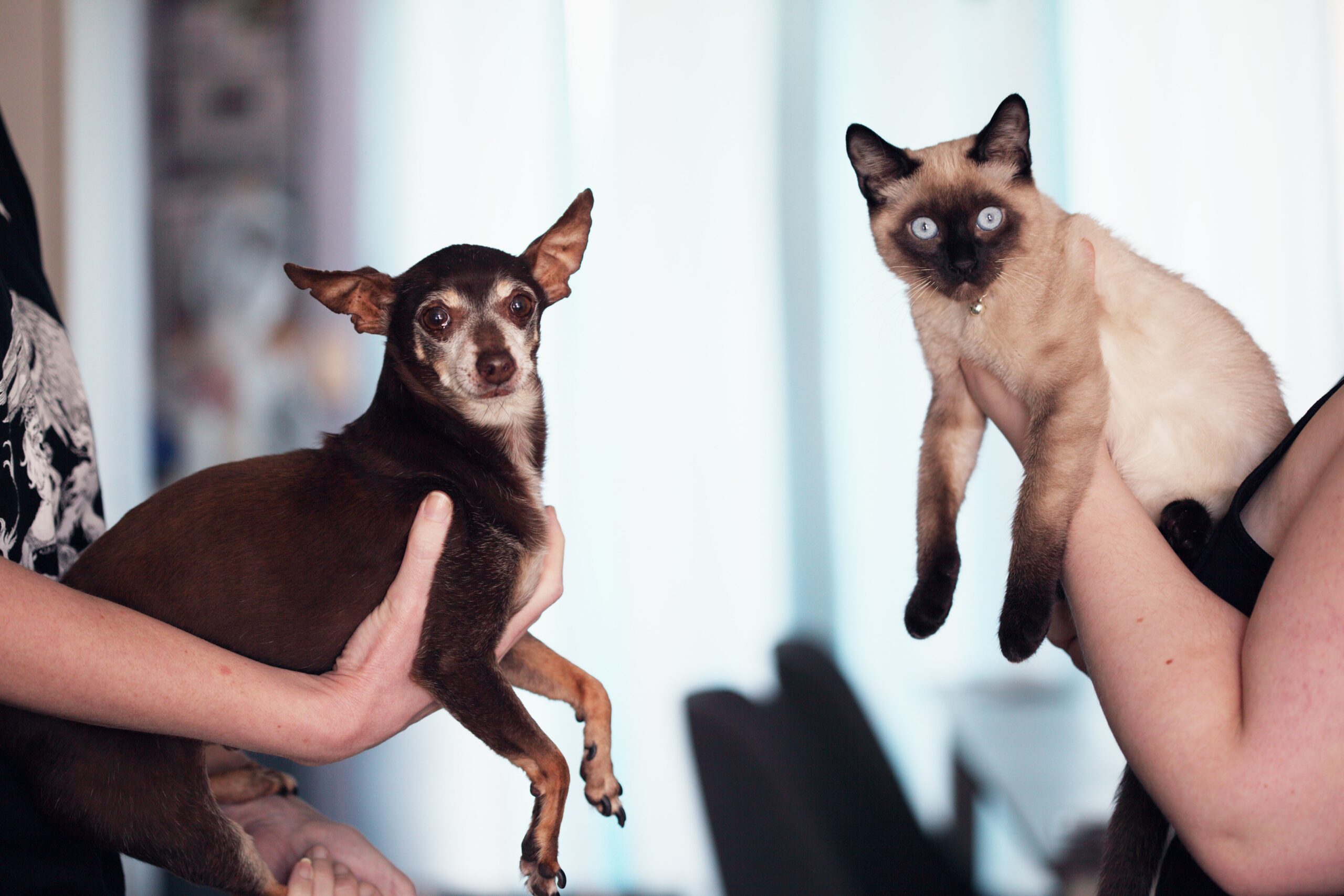 Respondents think dogs are expensive because of their pricey:
Food (54%)
Vet checkups (52%)
Medicine (50%)
Grooming (46%)
Cleaning products (38%)
On the other hand, people think cats are pricier due to:
Food (41%)
Vet checkups (40%)
Bedding (38%)
Cleaning products (38%)
Grooming (38%)
In reality, for those surveyed, spending is pretty similar regardless of whether the pet is a cat or dog.
| Monthly spending | Percentage of surveyed dog parents | Percentage of surveyed cat parents |
| --- | --- | --- |
| $51–$100 | 18% | 17% |
| $101–$200 | 18% | 18% |
| $201–$300 | 16% | 14% |
| $301–$400 | 13% | 14% |
| $401–$500 | 10% | 9% |
| $501–$600 | 5% | 6% |
| $601–$700 | 2% | 4% |
| $701+ | 6% | 6% |
Spoiling your fur babies
As pet owners know, we understand it's not only kibble and kitty litter we spend our money on, but also fun extras to keep our pets happy, healthy, and stimulated.
For the record, 3% of surveyed pet parents spend over $1,000 a month on their pets. That's a lot of catnip and dog sneakers.
When splurging on their pets, pet parents are known for going all out (unless you're in the Southwest, where more than a third, or 38%, of respondents have never splurged on these items). Those we surveyed said they'd indulged their furry friends in some of the following luxe goods:
All-natural pet food (38% of those surveyed)
Raw pet food (31%)
A modified home, like a "catio" (29%)
Pet-friendly baked goods and desserts (28%)
Pet tech, like a smart collar (25%)
High-end dog or cat bed (25%)
Roughly one in five respondents have also splurged on things like CBD supplements (24%), pet portraits (23%), pet DNA testing (23%), interactive pet toys (22%), subscription toy boxes (22%), or a stay in a pet hotel or spa (21%).
And when it comes to celebrating a canine or feline birthday party, over a third of pet parents are in on the fun:
37% celebrate with a pet-friendly treat
33% buy their pet a birthday present
28% have thrown a joint birthday with other pet friends
But despite pet parents investing in fun stuff to spoil their four-legged-children, the research shows that more than half (55%) don't have an insurance policy for their furry pals, citing cost as the main challenge (41%).
While pet insurance isn't as flashy as a deluxe catio, or a dog talking button set, it's one of the best ways to spoil your pet.
Let's break it down.
Pet insurance by the numbers
Pet insurance, like the coverage offered by Lemonade, typically covers unexpected costs related to accidents and illnesses, saving pet parents from having to pay hefty veterinary bills on their own. We wanted to get an inside look at how pet parents think about and use their pet insurance coverage.
The results were a bit shocking. More than half of pet parents stated they do not have insurance—and nearly 1 in 5 (17%) of those without insurance said they didn't even know such policies existed!
And again, those in the East seem to be more prepared—a majority of respondents in the Northeast (57%) and Southeast (53%) have insurance, while only 46% in the West, 31% in the Midwest, and 26% of the Southwest do.
Of those who have insurance, two in five pet parents (41%) realized they needed to purchase an insurance policy for their pets from the day they got them, while the same number listed an emergency visit or surgery as the top reason they got a pet insurance policy in the first place.
Out of the 45% of surveyed pet parents whose pets do have insurance, they researched an average of three different policies for their furry companions before selecting the best match, proving that finding the right fit for your fur fam might require a bit of research.
We're a bit biased, of course, but we're confident that signing up for Lemonade Pet is fast and easy. Apply today to see if it's the right coverage for your fur fam.
"There's no doubt that bringing a pet into your home can add immense unconditional love, but it's important to understand they do come with a cost."

Dr. Stephanie Liff, vet health expert at Lemonade
Veterinary costs by the numbers
Unfortunately, two in five (42%) respondents have gone into debt because of their pets' emergency needs.
Procedures and care can get expensive. According to our results, in some cases many pet owners over- or underestimate how much veterinary care actually costs.
Here's how our surveyed pet parents' costs estimations compare to reality.
For more routine care, surveyed pet parents were right on the money, or even overestimated the actual costs. 38% of pet parents believe that wellness exams cost from $101–$500, when in fact, the exam portion of an exam (before vaccinations, etc.) will likely only set you back around $50.
Over a third of users (34%) believe that vaccinations will set pet parents back over $100, though your pet's jabs generally won't exceed $50.
When it came to larger, more invasive procedures, though, survey results showed that pet parents, in general, tend to underestimate what their bills might look like.
41% of pet parents think something like dental work costs between $101 and $500, while in reality, a routine dental cleaning, on average, costs somewhere between $500–$1,000, with more complicated dental procedures costing up to $3,000.
A third of surveyed pet parents think expensive cancer treatments (31%) and surgery (33%) cost as little as $501 to $1,000, when in reality, some dog or cat surgeries can easily cost $5,000+, with a full round of cancer treatments setting pet parents back over $10,000. (Only 85 surveyed pet parents, a mere 4%, correctly estimated that cancer treatments could cost this much.)
Understandably, pet parents don't want to think about the unfortunate and upsetting possibility that their fur baby might require expensive veterinary care. This may be one of the reasons why many people underestimate the cost of care—a combination of lack of awareness and wishful thinking.
"Whether it's a routine vet visit, food, toys, or an emergency surgery, pets have financial needs that can add up," stated Dr. Liff. "Being prepared and knowing your options, whatever that looks like for an individual owner, is crucial to have in place before there is an issue that becomes a heavy financial burden."
Here's a comparison of what our surveyed pet parents estimated various procedures would cost, and what typical price ranges actually are.
| Treatment | Survey estimate | Actual cost |
| --- | --- | --- |
| Wellness exams | $101–$500 (38%) | $45–$55 |
| Bloodwork | $101–$500 (38%) | $120–$300 |
| Vaccinations | $100–$500 (34%) | $15–$50 |
| Dental work (cleaning & surgeries) | $101–$500 (41%) | $500–$3,000 |
| Surgery | $501–$1,000 (33%) | Up to $5,000+ |
| Cancer treatments | $501–$1,000 (31%) | Up to $10,000+ |
Before we go…
By shedding (no pun intended) a light on how pet parents think, spend, and behave, we hope we've helped you better understand how to care for your pets.
Don't want to be part of the majority of American pet parents who don't have an insurance policy for their furry friend? Signing up is quick and easy—and it's a great idea to get a policy in place when your pet is a puppy or kitten, and not facing any pre-existing conditions. Get started now by clicking the button below!
---

*(Pet budget: $308 (per month) x 12 = $3,696 annual budget limit
Pet monthly spending: $276.40 (per month) x 12 = $3,316.80 annual spending)
Survey methodology:
This random double-opt-in survey of 2,000 pet owners was commissioned by Lemonade between August 1 and August 10, 2022. It was conducted by market research company OnePoll, whose team members are members of the Market Research Society and have corporate membership to the American Association for Public Opinion Research (AAPOR) and the European Society for Opinion and Marketing Research (ESOMAR).