Everything You Need to Know About Labradoodle Pet Insurance
A quick look into whether a Labradoodle is right for you.
Mixing a famous companion dog with one of the smartest dogs? That might be the best idea of the 21st century. Labradoodles can please any family with their energy, loyalty, and affection.
If you're a dog owner or considering adoption, we'll give you the rundown on Labradoodles to see if they're the right fit. We'll cover breed characteristics, personality, cost, and common illnesses—as well as some Labradoodle cameos in pop culture, and some great Labradoodle influencers to add to your Instagram feed.
But, as we all know, having a dog isn't always as easy as scrolling through your feed. So before giving the run down on Labradoodles, we're going to tell you how to protect your pooch, and explain how dog insurance could help take the bite out of vet bills.
Getting pet insurance for your Labradoodle
Pet insurance helps cover the costs of your vet bills. You pay a monthly premium and in exchange, you can provide care for your canine or feline fur fam without stressing as much about the costs. With Lemonade pet insurance, pet parents can customize their policy to get the coverage their furry friend needs.
For starters, a basic Lemonade pet health insurance policy includes accident and illness coverage. This will help cover the costs of tests, treatments, and medication if your dog or cat has an unexpected accident or illness.
A basic policy is great for the unexpected things in your fur fam's future, but Lemonade also offers affordable preventative care, designed to keep your pet healthy, and helps cover expenses you're probably already paying for. By adding a preventive care package to a Lemonade policy you'll also get access to live medical chat and be covered for all types of routine care—like your annual wellness exam, checkups, blood tests, several vaccinations, and other routine health care for your pet. Get a quote for the best pet insurance plan for your furry friend.
We ask a Labradoodle about a day in their life…
"When my pet parent wakes up with a smile, I'm the happiest Australian labradoodle. If they woke up on the wrong side of the bed, you can bet I'll do everything I can to cheer them up. I can't let them be sad during our morning game of fetch.
I'm a family pet, so I love playing with children. They can keep me healthy and busy—as long as they're not sneaking me a bunch of treats. I can't resist a good snack!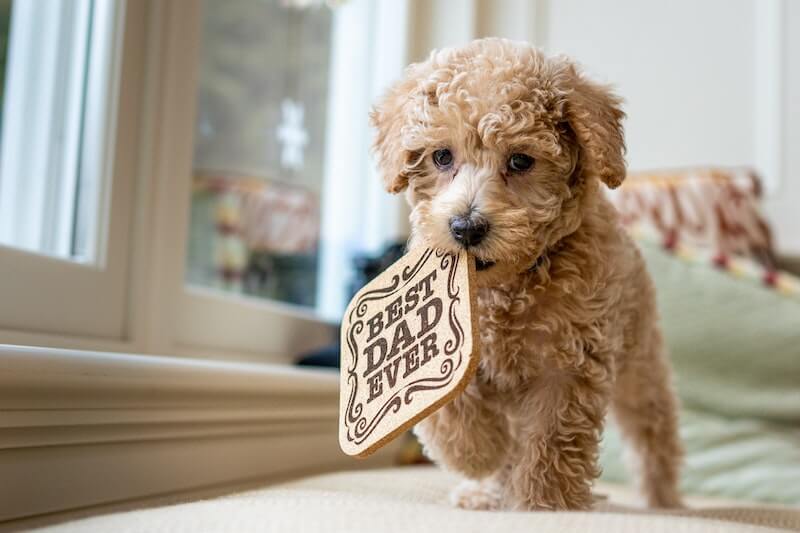 In the afternoon, I get to go to the doggy park, aka the best place ever. My pals and I chase and race each other the whole time. I never run out of energy. And definitely let me join in on all of your fun outdoor activities like walks, runs, swims, and hikes!
I'll be honest: A few of my Labradoodle friends have serious temperament issues. I guess not all breeders respect our health and may cut corners to make an extra buck. My pet papa got me from a reputable breeder, so I'm healthy and happy. I highly recommend doing the same."
The Labradoodle's personality
An urban legend says that people buy dogs that reflect their personalities. If you're a people pleaser, a Labradoodle is perfect for you! These loyal dogs will always cuddle you when you're blue.
Obviously every pup is unique, and it's impossible to predict what kind of Labradoodle you'll be bringing into your life.
As a crossbreed, your dog might have any combination of Poodle and Labrador Retriever traits. If they're more poodle, they'll be smart, quiet, and timid. Lab dominant traits include being hypoallergenic, athletic, and rowdy.
How much does a Labradoodle cost?
This popular mixed breed comes with a price tag. The cost of a Labradoodle pup can be between $500 and $3,000; prices may vary depending on which breeder you use and the quality of the parent dog breeds.
Labradoodle puppies are expensive for a couple of reasons. They require extra health testing to protect their lineage and bloodline. Dog owners with allergies tend to love Labradoodles for their low to non-shedding qualities. If you want a new puppy that's good at being loyal and playful, has high energy, loves to play, and is easy to train, you might consider paying the extra cost.
Adoption is also a great option! You can give a needy dog a home and pay a cheaper price. IDOG, a nonprofit dog rescue, has foster homes all across the country. They specialize in Labradoodles and Goldendoodles that are owner-surrendered and show up in shelters. Doodle Rescue Collective Inc. uses volunteers who rescue Labradoodles and Goldendoodles throughout the US and place them in foster homes.
When it comes to buying or adopting a Labradoodle, be very careful. Only buy from a reputable breeder. Sadly, some breeders take advantage of the Labradoodle's popularity while neglecting important health and temperament issues.
During the first year, you'll likely spend nearly $3,000 to get your new friend dog food, vaccinations, groomer appointments, and pet insurance. This price drops to around $2,000 for each year following.
On average, Labradoodles cost owners around $22,000 over their lifetime. But if you plan on spaying/neutering your dog, hiring a dog walker, and boarding your pup once a year, expect to pay anywhere from $71,000 to $188,000 over their lifetime.
What are common Labradoodle illnesses?
To decide if this breed is for you, we wanted to share some health problems you might run into. We hope you never see your dog go through these. But if you do, it's always a good idea to be prepared and know the signs.
Before we get into some common health problems your pup might encounter, a quick reminder that Lemonade offers stellar pet health insurance that'll keep your Labradoodle happy and healthy. You can get a quote in just a few minutes—it's quick, simple, and even a little fun…
Elbow and hip dysplasia are common in many breeds. If your dog goes untreated, these diseases could cost you $1,500 to $6,000. Since these conditions are inherited, we recommend asking your breeder for certifications from the Orthopedic Foundation for Animals.
Since Labradoodles have long, floppy ears that trap moisture in, they can easily get ear infections. This condition is easily treated, but dangerous if left untreated. So, it's important to know the signs. Watch out for swelling, dark discharge, and a bad odor. We recommend regularly using ear cleaning solution to prevent infections.
Epilepsy is an inherited condition that causes seizures. Labradoodles will usually show signs of this disease during their first few years of life. If your dog is seizing, make sure to prevent him from injuring himself and call the vet immediately.
While most dogs have allergies, Labradoodles are extra sensitive. Allergies can fall into food, topical, and contact categories. Food allergies can usually be treated with a diet change. If your dog is reacting to pollen and dust, the vet might recommend medication or environmental changes. Your Labradoodle can also be allergic to certain beddings, shampoos, and powders. Your vet's suggestions will vary based on what type of allergy your dog has, and what their living environment is like.
Progressive Retinal Atrophy is a hereditary disease that eventually leads to blindness. We suggest you ask your breeder about the parents' eye histories to avoid this condition. You can suggest both a DNA test and a certification from the Canine Eye Registry Foundation.
Your Labradoodle might also be prone to a common condition called hypothyroidism. It's a disorder referring to an insufficient amount of thyroid hormones. To check for this one, watch out for signs like weight gain, hair loss, dry skin, and epilepsy.
Like humans, dogs show symptoms in a variety of ways. So you never overlook something serious, we suggest calling your vet if your dog starts acting differently.
Labradoodles in pop culture
If you cried in A Star is Born, you probably noticed that Jackson, played by Bradly Cooper, had the sweetest dog named Charlie—a Labradoodle who stood by Jackson in his last moments, demonstrating the dog's devotion to his owner.
Fun fact: While Labradoodles aren't recognized by any major breeders, the breed is listed in the Oxford English Dictionary and appears in an Australian version of Monopoly. That counts for something, right?
Instagram-famous Labradoodles
Nothing cheers us up like our favorite Instagram Labradoodles. Add these photogenic pups to your feed!
Ramsey is BFFs with his Bernedoodle sister, Lovey Kate. He adores holiday and birthday photo shoots—especially when he's getting spoiled with new toys. Hit the follow button to see this doggy model rock his new fits.
From road trips to baby playdates, Ziggy finds every way possible to sneak a cute pic. He may destroy plants or steal your socks, but he'll do it in style. Check him out to add real adorableness to your feed.
Puppy lovers should go follow Mabel right now. She shares all the best pics of her siblings. You can see all different Brasken Labradoodles that will bring a smile to your face.
Who loves rainbows? Gracie will fill your feed with color. When she's not posing with her influencer friends, she's finding the coolest wall art for her insta background. Gracie is definitely worth a follow.
And don't forget!
Your Labradoodle dog is a bundle of cuteness, and you want to keep that pup happy and healthy—without going bankrupt with vet bills in the process. Enter Lemonade's Pet Health insurance, which offers an affordable way to make sure your furry friend can live their fullest life. Get your free pet insurance policy quote in just a few minutes, with a dog insurance policy that Labradoodles and their pet owners both love!