Susan Alexandra and Lemonade Join Forces for Rescue Pets
Q: What's bright pink, chic, and charitable?
Susan Alexandra's colorful, beaded designs have been sported by everyone from Gigi Hadid to Pete Davidson. No matter who's wearing them, Alexandra's signature style is hard to miss.
"When I walk into the store, or my own home, I'm always excited to see the things that are so funny and so ridiculous," the designer tells us. "The more over-the-top, the better."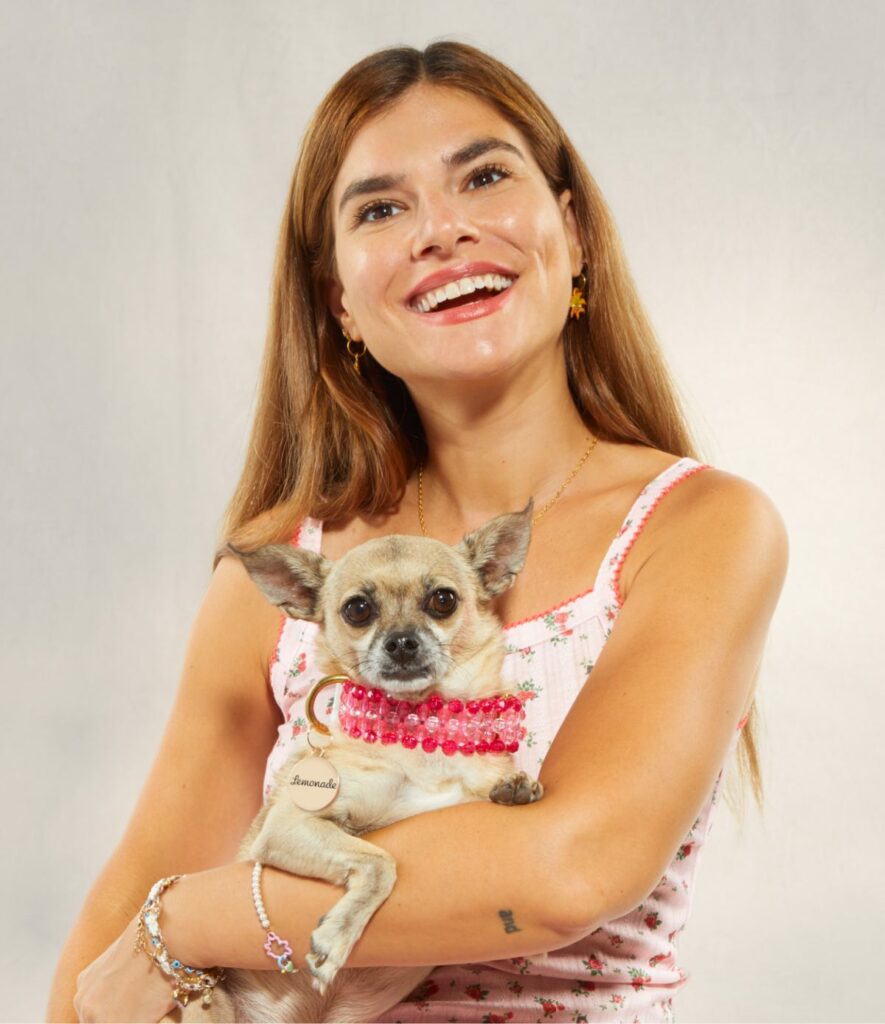 Her charms, necklaces, tote bags, and other bedazzled accessories have an upbeat, in-your-face energy that is instantly recognizable. Where else would you find a fused-glass menorah with a whimsical watermelon motif, or a beaded handbag that looks like a psychedelic jellyfish?
The fashion designer is a pet parent to rescue dog Pigeon— "he's my total muse, my absolute muse," she says—and animal causes are dear to her heart.
That's why Lemonade was so excited to partner with the buzzy designer on a limited-edition series of pink-and-white beaded dog collars, with all proceeds benefiting New York City rescue pets.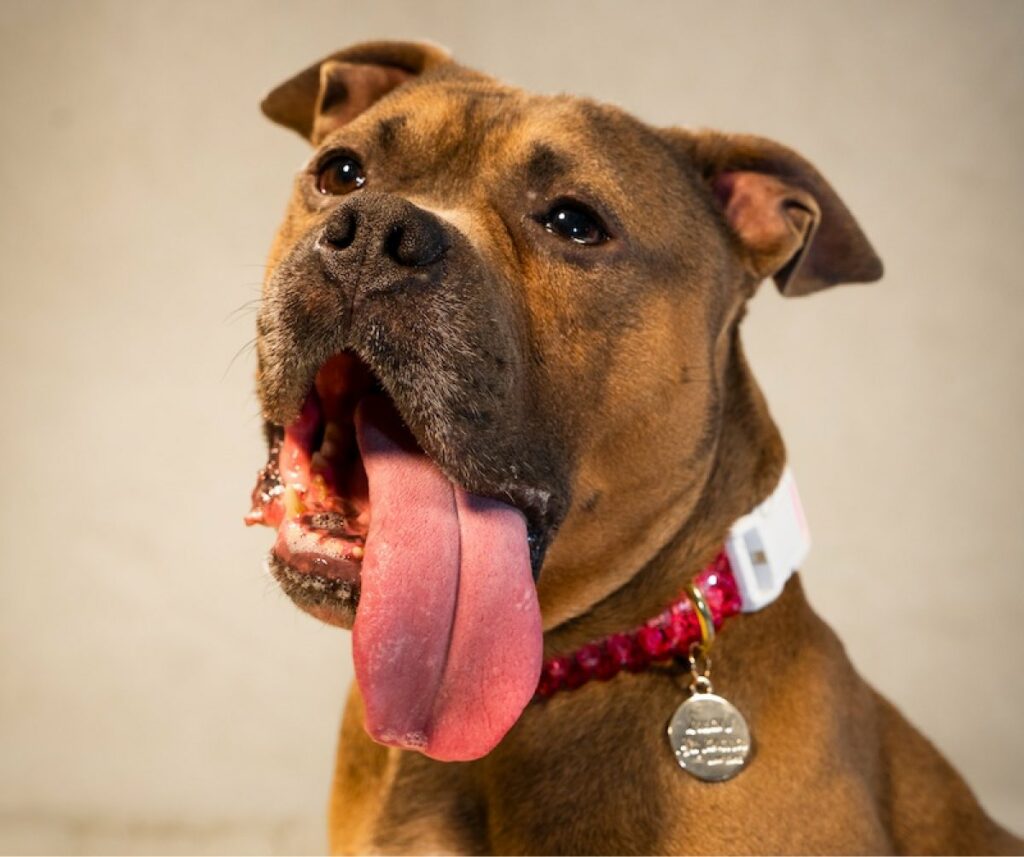 A chance meeting at Alexandra's Soho store planted the seeds for this one-of-a-kind collab, which developed over several months. Our teams knew we wanted to create a distinctive pet collar, suitable for both dogs and cats…but simply producing something eye-catching and covetable wasn't enough.
Enter Muddy Paws Rescue, a NYC-based foster organization that is now one of Lemonade's Giveback partners. The organization has often leveraged social media to find forever homes for pets, and they've seen first-hand how great photos and portraits of dogs can help them get noticed.
On an afternoon in September, Lemonade's creative team helped stage a fashion shoot with some of Muddy Paws' fosters, including Prince Caspian (a bully mix with "a big heart, a big head, and lots to love") and Kazoo ("a dog who's just going to want to have fun with you every single day").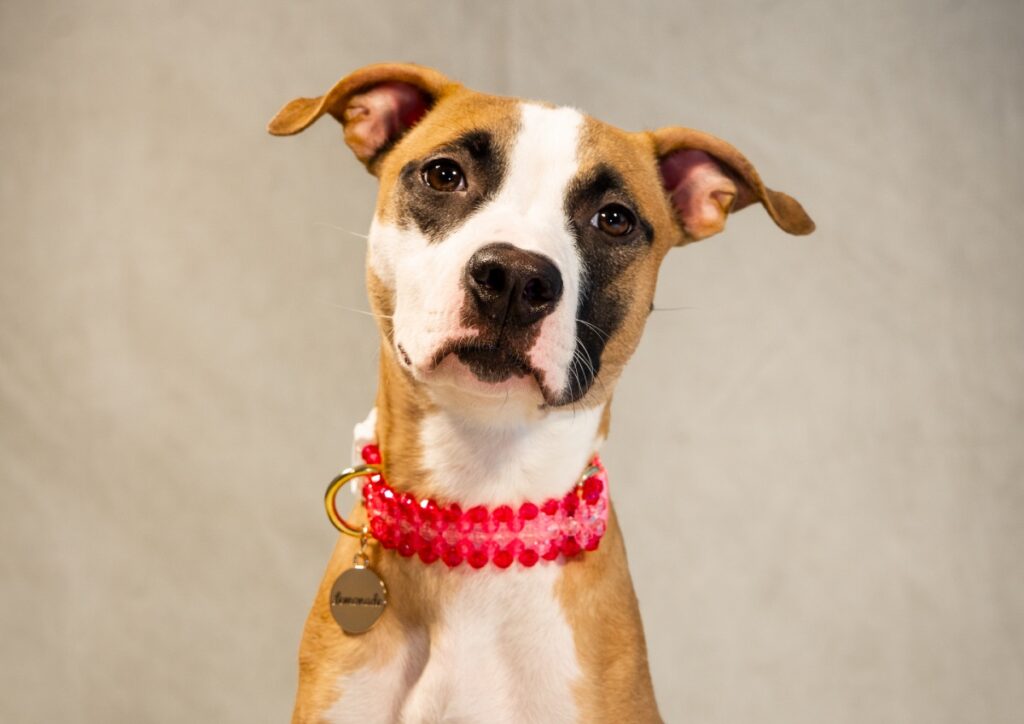 Many of these canine models have already been adopted, but there's no shortage of lovable, loving dogs who are in need of new parents.
And remember: Fostering or adopting a pup could literally change your life. Just ask Susan Alexandra.
"Pigeon has brought so much connection to my life," Alexandra gushes of her rescue dog. "I realized really quickly when I adopted him that I needed to have fabulous leashes and collars for him. Like, there's no way he could just have a standard, out-of-the-box collar.
I started making pieces for him, and then I [thought]: We should probably open them up to the world. So Pigeon has expanded my whole business, just by being himself—and he doesn't have any idea."
Visit Muddy Paws to find your new best friend (and possible business partner). Or if you're looking to give your own pet a dash of pink glamor—while supporting a good cause—check out the limited-edition Susan Alexandra X Lemonade collab.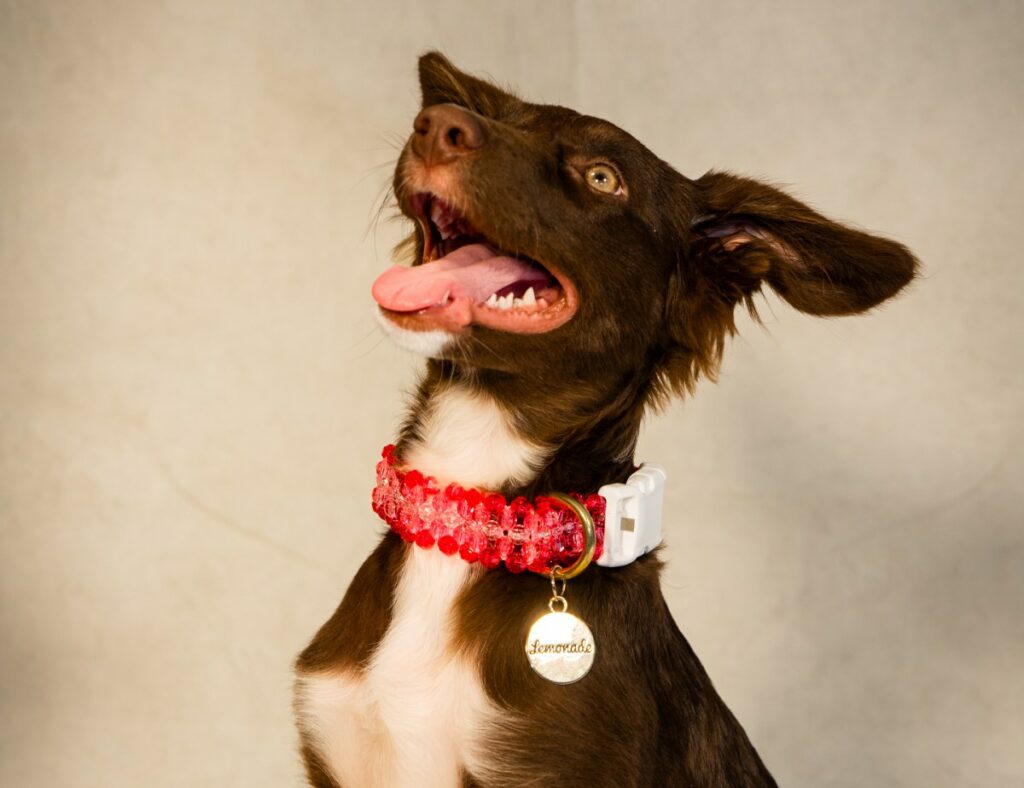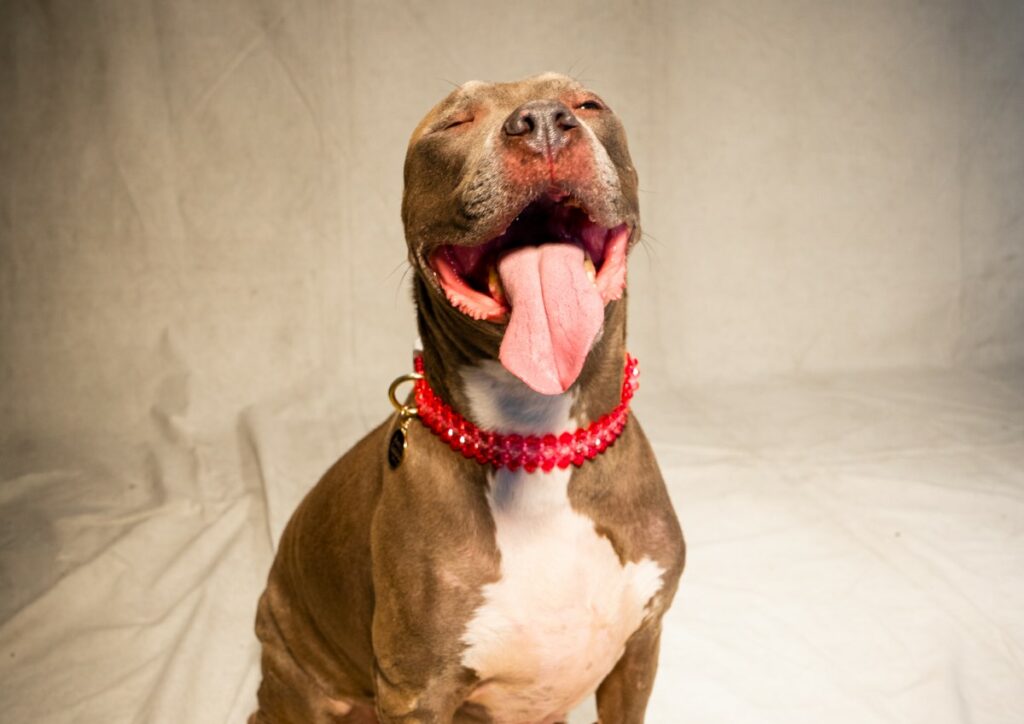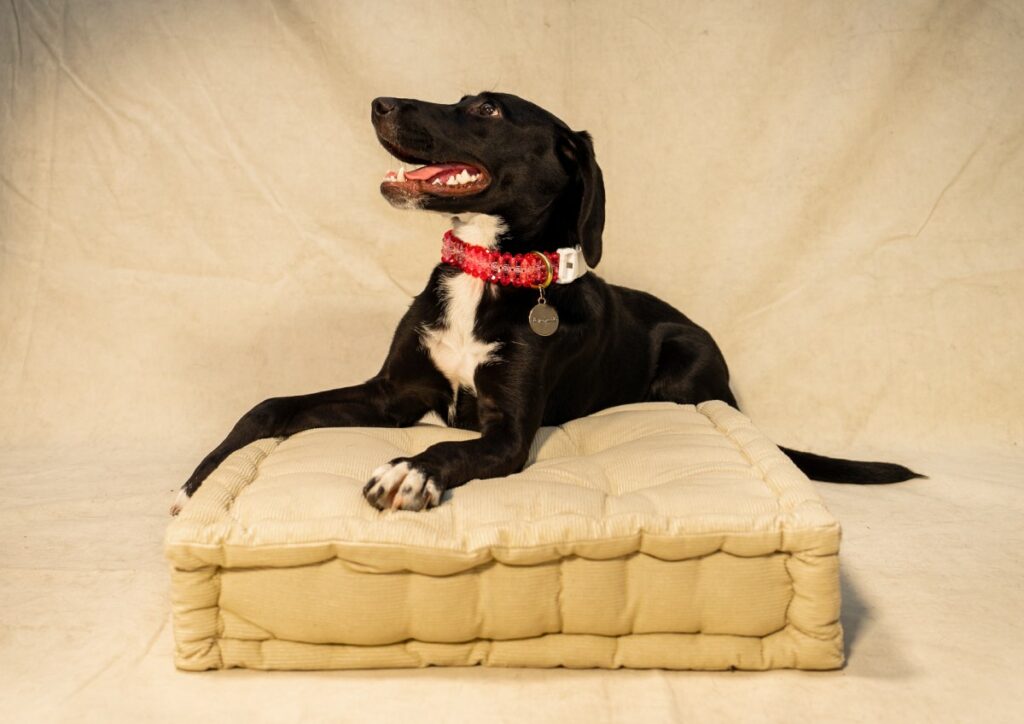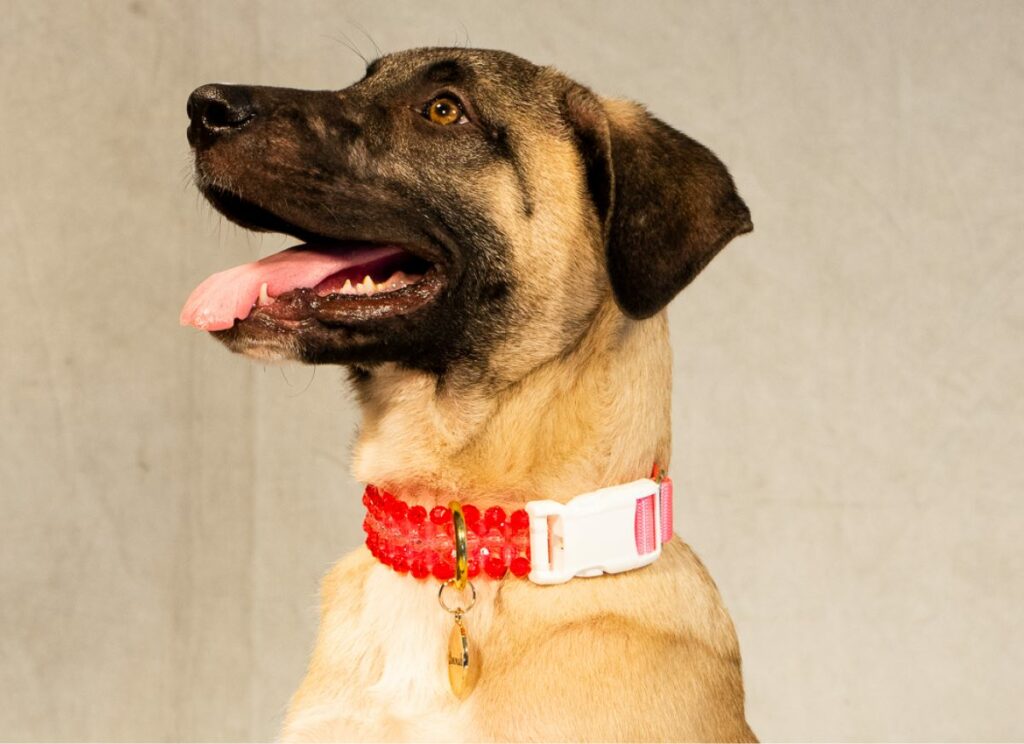 And after you've gotten your pup hooked up with this limited-edition collaboration, don't forget to give them the gift of pet health insurance, too. It only takes a few minutes to get a quote for your best friend.