Put your paws on the crystal ball, purr or bark deeply, and help us gaze into what the future holds for our pets…
Will 2022's chicest dogs all be rocking the equivalent of canine Fitbits? Will you get a private office again—and will your cat be able to come to work with you? Are Bernedoodles set to challenge the French Bulldog's ubiquity?
We dug deep into our pet-related tomorrow, with some keen insights from Lemonade's in-house vet Dr. Stephanie Liff, and some thoughts from a few animal brands we love.
A dog named Bill?
We crunched some numbers and cross-referenced the names of pets we insure against the 711 distinct human names of Lemonade employees. 60% of employee names are also used as the names of insured cats or dogs.
This could point to a surge in popularity when it comes to pet parents giving so-called "human names" to their furry friends—even if some haters think this is a horrible idea.
A look at our top names for insured dogs and cats also points to a surge in popularity when it comes to pet names that could easily be given to human babies.
While Luna is still the #1 name for both dogs and cats in the Lemonade Pet family, here's what's trailing just behind.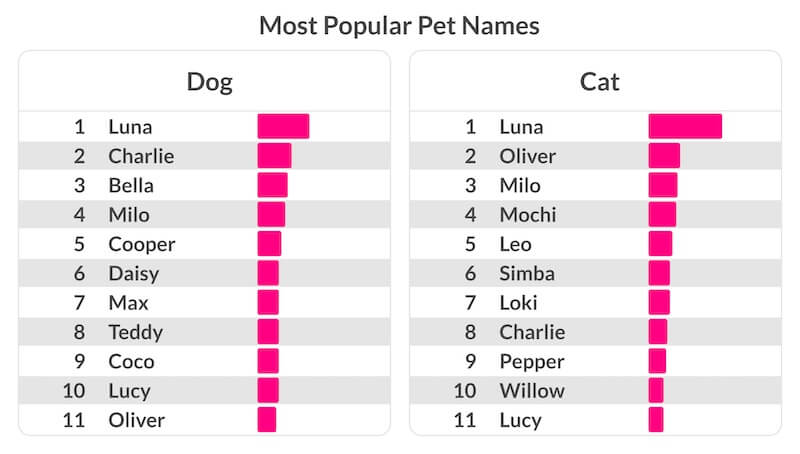 While a human baby named Pepper, Mochi, or Simba might draw a few double takes, most of these names are "species-neutral." That said: There's not a single "Amanda" in sight.
Pets in the office?
For a certain (privileged) portion of the labor force, 2021 was the year of remote work. That really altered human/pet relations: midday runs to the dog park were a possibility, as well as Zoom conference calls with a cat curled in one's lap.
Now that some employers are returning to hybrid in-office models—with a wary eye on Omicron—will they be more flexible when it comes to pet policies? And in the wake of the so-called 'Great Resignation,' will the chance to bring your dog or cat to the office be a perk that workers demand?
Personality screening
"We hope more offices will adopt an individual approach to their pet policies," says the team at Cat Person, when asked to reflect on the future of animals-at-work. "Rather than approving one animal over the other (dogs vs cats, for instance), offices could issue pet personality screeners (similar to looking for roommates on Craigslist). Employees could note whether their pets are house broken and if they get along well with other cats and/or dogs. Then perhaps pets can be approved on an individual basis, versus their general species."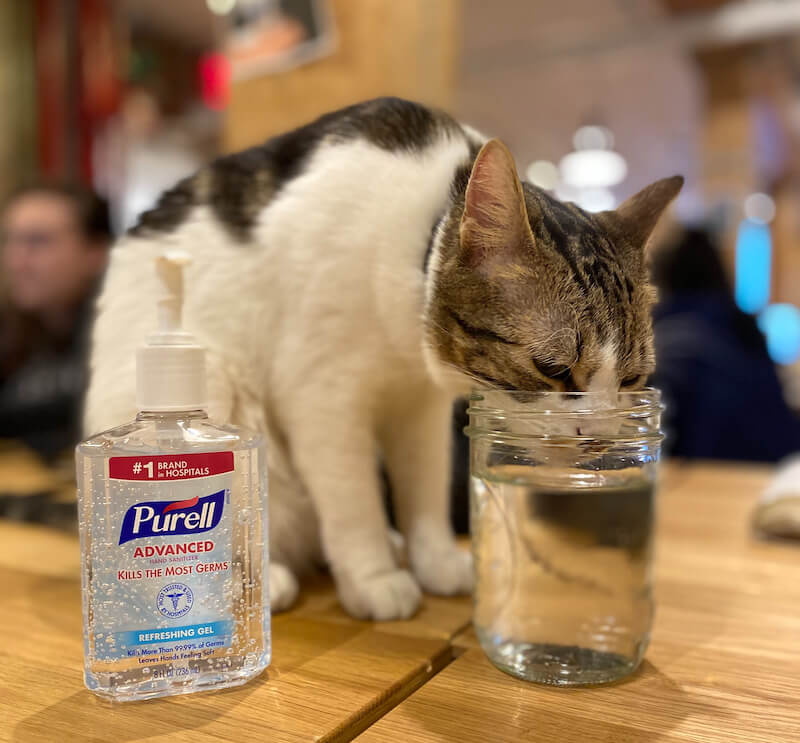 An end to the open plan?
In addition to becoming more open-minded about what animals are allowed to come to work, the brand also suggests employers can take more radical action.
"Before pet policies are officially expanded, we wonder if a prerequisite may be to first reconsider the open office plan," they say. "To mirror the privacy and productivity some employees have enjoyed at home versus the work office, floor plans with more offices and smaller break out rooms may see a resurgence in popularity.Bringing your cat to work will seem more doable since they'll have a safer, smaller space to get used to."
Cruelty-free accessories
Simply put: In 2022, pet parents might start thinking twice about killing a cow to make a bag for their dog.
"We find our community is not exclusively vegan, but when they are making choices for products they aspire to, they see a vegan option as a bonus and not as a compromise," says Tennille Teague, founder of JUST FRED, a line of cruelty-free dog accessories.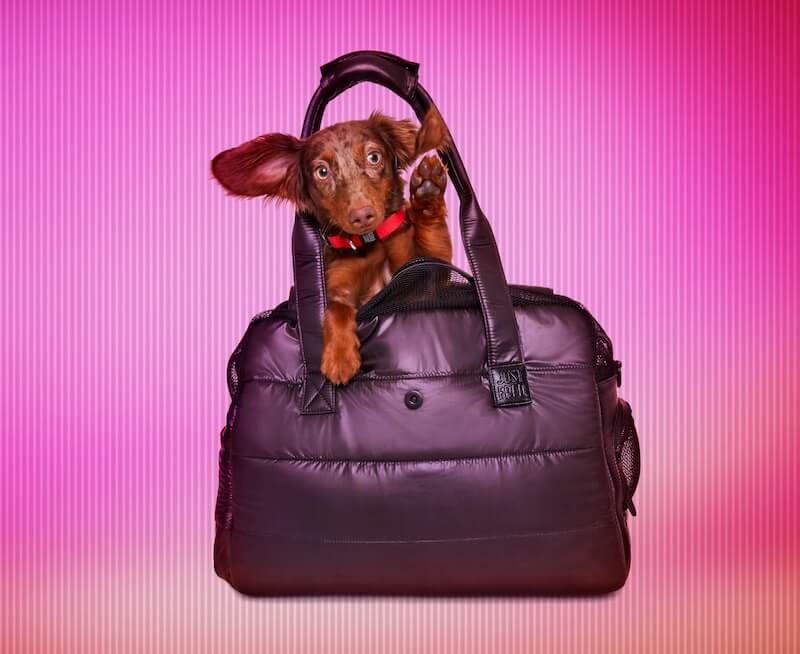 "We see a continued growth in craving accessories for your pet that reflect your own personal style and values," Teague adds. For 2022, the brand is contemplating cactus "leather," which "doesn't require large-scale water irrigation, and produces a luxurious feeling and long-lasting material."
21st-century wellness
In 2022 and beyond, pet parents will be able to further harness the powers of science and technology to keep their furry friends healthy and happy. Let's take a look at a few areas.
CBD
Dr. Liff sees a lot of potential in CBD, legal since 2018 and available in many forms: "The safety profile is pretty strong," she says, "and the efficacy—especially for mobility [issues] and seizure control—has been very promising."
Wearables
"Wearable devices including Fi, Whistle and Tractive are able to provide pet owners with real-time data about pet patterns and health parameters," Dr. Liff says. "Over time this data may lead to more proactive protocols for wellness and earlier intervention and better outcomes."
Biomarkers and DNA
"The most innovative and important work is in the lab in the form of biomarkers, which are different lab assays that can be measured to predict certain diseases—hoping to create earlier detection, intervention, and better outcomes," Dr. Liff explains.
"This innovative medicine has been available to vets for a while, but there is expansion—with companies like AnimalBiome—to providing direct to consumer access to some of these biomarkers to create greater access, and subsequently a larger pool of very useful data to manage disease."
Dr. Liff also cites the direct-to-consumer accessibility of pet DNA testing—via companies like Embark and BasePaws—which help screen for certain markers that might indicate future disease vulnerability.
Bougie pet food, delivered
If you want fancy, health conscious pet grub delivered straight to your door—now is your time.
"These diets are tasty, complete, and balanced, so I think the trend will remain," says Dr. Liff of subscription-based, direct-to-consumer brands like Cat Person or Farmer's Dog. "I think we'll see an expansion of shelf-stable products with human grade ingredients. 
"On the financial side, this sector has attracted a lot of investment—what used to be 3 or 4 big players is now 10-15 different companies doing very similar things.Some traditional pet foods have suffered from supply chain issues and quality control concerns, which has also enhanced the interest in these small-batch type of companies."
Rise of the 'Cat Dad'
Citing a legacy of passionate men who love cats—from Ernest Hemingway to Snoop Dogg—the team at Cat Person says they are "seeing more and more men publicly own their 'cat dad' status." 
They point to contemporary cat dad icons like Sterling "TrapKing" Davis ("he's leading the charge for trap-neuter-release [TNR] in predominantly Black neighborhoods throughout the Atlanta area"), as well as a popular crop of 'adventure cat dads' who use social media to highlight how they "take their feline sidekicks on snowboarding and surfing adventures around the world."
"Maybe it's the rise in awareness of toxic masculinity and the broadening definition of masculinity that's prompted a surge in proud cat dads," the Cat Person team proposes. "Or maybe we can simply thank TikTok for allowing more cat dads to instantly share their love for their favorite felines. But whatever the trends that are creating an environment where more men are proudly owning up to the fact that cats are cool—we're here for it."
Will the adoption boom continue?
According to Chewy, 1 million pets were adopted in 2021, with over 60% of animals in rescues or shelters finding their forever home. Definitely something to wag your tail about.
But what does 2022 have in store?
We asked our friends and Giveback partners, the Society for the Prevention of Cruelty to Animals International (SPCAI).
Since July 2021, they noted, the CDC has suspended the import of dogs from over 100 countries, which SPCAI expects will continue into 2022—sadly preventing hundreds of animals from being matched with new parents, or from being reunited with their human companions after their military service overseas.
In addition, the SPCAI suspects that with fewer people working remotely, we will see pet adoptions slowing down in the US.
Bullish on bulldogs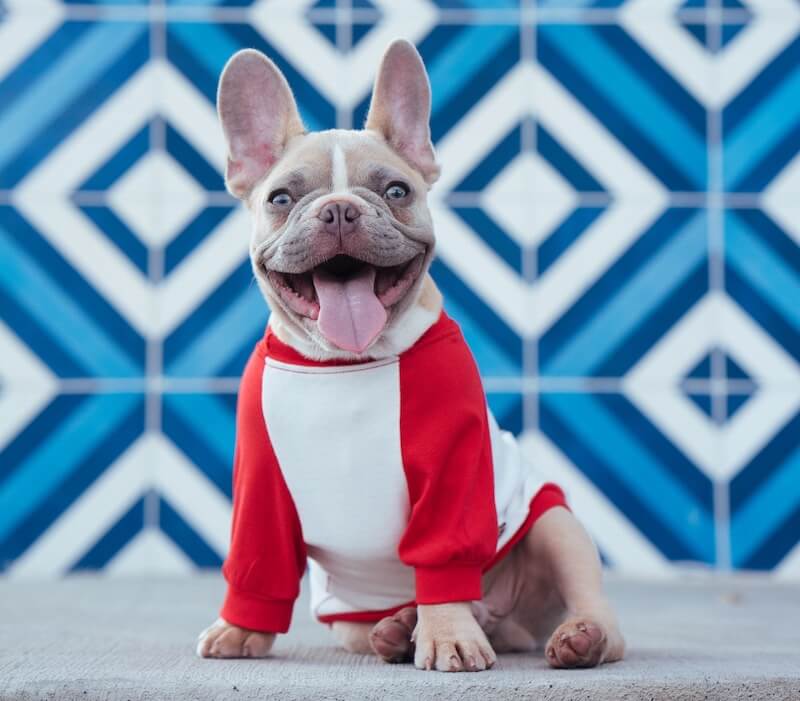 By Dr. Liff's reckoning, the French Bulldog officially bested the Labrador Retriever, claiming the title of Most Popular Breed in 2021.
"I anticipate they'll remain #1 in 2022," she mused, "But Bernedoodles and Shiba Inus are having a moment…"
In terms of our own Lemonade Pet community, the Goldendoodle is the most represented dog breed.
Pets, streaming & on screen
2021 saw the release of PAW Patrol: The Movie, as well as Clifford the Big Red Dog and the documentary We Don't Deserve Dogs. But who will be the pop culture animal champions of 2022?
We're looking to Bluey, an animated children's show from Down Under that follows the heartwarming antics of a family of Australian Blue Heelers. Season 3 (hopefully) drops in the US sometime next year.
The American Kennel Club describes the Blue Heeler (aka the Australian Cattle Dog) in a way that suggests they're not an easy fit for many real-life fur fams. If a Blue Heeler "isn't challenged," they write, "he easily becomes bored and gets into mischief."
More animals—not enough care
Dr. Liff points to a general shortage of veterinary professionals compared to the number of pet parents and their furry friends. As a result, she predicts a rise in alternative options—telemedicine, urgent care, and ER clinics—to take care of a volume of animals that traditional practices aren't able to attend to.
"There are just about 90,000 vets in the US, and not all of them work in companion animal care," she explains. "There continues to be a surge in pet ownership and a shortage of providers of care. This trend will drive up wait times and limit access to care, which ultimately is not good for pets or their families. Additionally, I think it will create a significant increase in costs, as the field tries to attract and retain talent to provide care."
This is as good a time as any to remind you that Lemonade Pet insurance can help take the bite out of hefty bills your pet might face following an accident or illness.
Make 2022 the year your fur fam finally gets covered with Lemonade Pet.
Sign Up Now