Is Pet Insurance Worth It?
The benefits of a financial safety net for your furry friend's vet bills.
When Allison A. went to the vet a couple years ago, she got the dreaded news no pet owner ever wants to hear: Her twelve-year old Toy Poodle had cancer. Listening to all of the confusing (and costly) options the vet gave her to treat beloved pooch Bella got her thinking.
Should she have gotten pet insurance when her fur babes were just puppies?
After all, she was well aware that an animal's health could be unpredictable. Only three years before Bella's cancer diagnosis, Allison's feisty seven-year old Chinese Crested was diagnosed with liver disease—a non-curable illness that meant endless pills and frequent vet visits. 
Allison was the proud parent of three dogs. Her eight-year old dog Bo hadn't been illness free, either. A visit to the emergency vet when Bo was just four led to an emergency neutering surgery and some hefty vet bills.
Allison had heard a lot about pet insurance in recent years, but was skeptical to embrace it after receiving some very high price quotes from big-name pet insurers.
Was pet insurance even worth it, she wondered?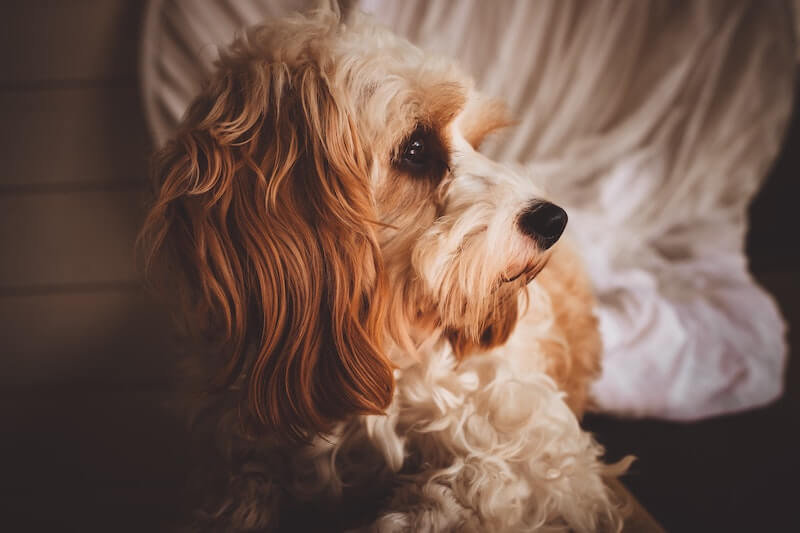 You may be able to relate to Allison… Perhaps you have a furry friend of your own, and one big surprise vet bill left you second-guessing your financial ability to care for them. Or maybe you just adopted a gorgeous tabby kitten or a shelter puppy (congrats!) and want to make sure they have a safe and secure future, even though they're young and healthy at the moment.

Either way, don't stress. We've got you covered, and we'll run through everything you need to know—from costs to veterinary opinions—when it comes to deciding whether pet insurance is worth it for your fur fam. (Spoiler alert: It probably is!)
The cost of owning a pet
It's no secret that providing a safe and healthy life for your pets can be pretty expensive. From pet food, to vet check-ups, to grooming costs, and all those adorable little toys and treats that make them so happy… the numbers start to add up.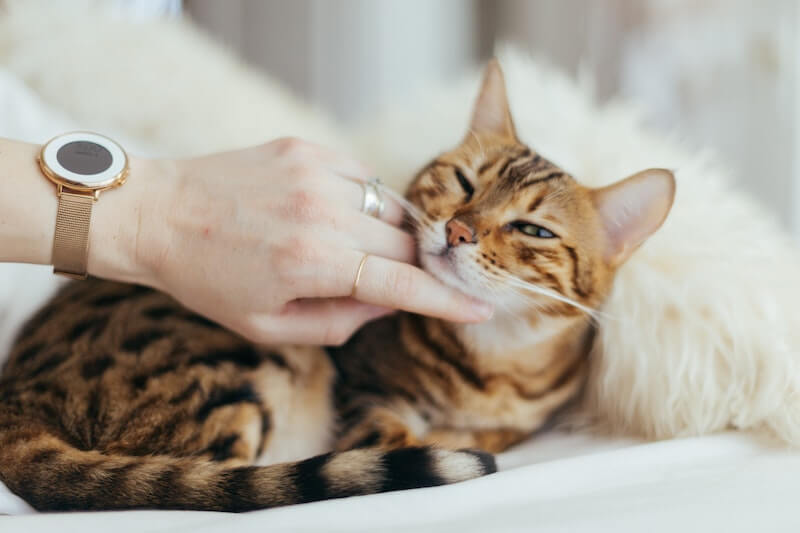 And that's not including all the extra costs that could be factored in if your pet BFF accidentally eats some toxic food or tumbles down the stairs and breaks their leg.
A study conducted by the People's Dispensary for Sick Animals and reported by CNBC predicts that the lifetime cost of owning a cat comes in at a whopping $21,917 to $30,942, with a dog costing you a staggering $27,074 to $42,545 over their lifetime. And that's before you even think about paying for college!
We kid, we kid. But even without higher education to worry about, your fur babies are a serious investment. Also keep in mind that some of the biggest costs you might face, like emergency medical procedures, generally arise with no advance warning, giving you little time to save up in advance.
The cost of going to the vet
If you do end up at the vet, how much is a check-up or serious medical care going to set you back? It's important to note that the costs for various pet procedures can differ for many reasons—with the main factor being where you live.
For example, blood tests will likely cost more for a domestic short-hair cat in Brooklyn than for a Siamese cat in Ohio. This all has to do with relative local costs of veterinary care.

That being said, these costs can rack up no matter where you live. Pawlicy Advisor estimates that the average price for something like an x-ray or routine care check-up can top $250, while a hospital stay or emergency surgery can take you into the thousands.
How a pet health insurance policy can help
When deciding if pet insurance is worth it for your fam financially, it may help to see it as an investment for the future. First, you'll want to consider the costs you'll have to pay out-of-pocket without an insurance plan.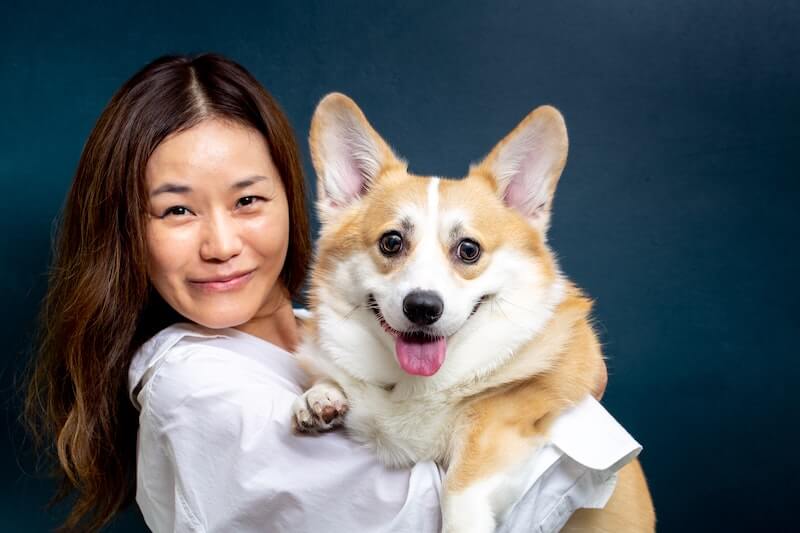 Let's meet Kim, a hypothetical pet parent. After noticing her five-year Corgi, Fancy, isn't acting his normal self and looks a little bit bloated, she takes him to the vet where he's diagnosed with GDV (Gastric Dilatation-Volvulus), a serious stomach ailment. Fancy's vet recommends immediate surgery.
The Pet Health Network estimates that a surgery for this particular life-threatening emergency ranges anywhere between $2500 and $5000. Ouch.
But what if Kim can't afford this procedure? With little to no warning that this was going to happen, she hasn't saved up nearly enough. And Kim's vet tells her that the only other option beyond surgery is euthanasia. It's a pet parent's worst nightmare: Having to chose between their pet's life, and their own financial stability.
Cue pet health insurance.
If insured, Kim would only have to shell out a small deductible—that she picked when buying her policy—and her portion of the plan's co-insurance. The remaining bill would be completely covered. For the average pet parent with a deductible of $250 and a 90% co-insurance, this surgery would cost a fraction of what it would without a pet health policy.
Does pet insurance make sense? Can I find an affordable policy?
Pet insurance indeed makes a lot of sense, especially if your cat or dog is confronted with the need for major medical procedures or surgeries. And affordable policies are easy to find through Lemonade's app.
If your cat or dog never faces a serious medical bill, that's lucky! If you've been paying for pet health insurance the whole time, it might look like that was wasted money. But just consider the alternative, and how relieved you'd feel if something had gone wrong—with your insurer coming through with a payout of thousands.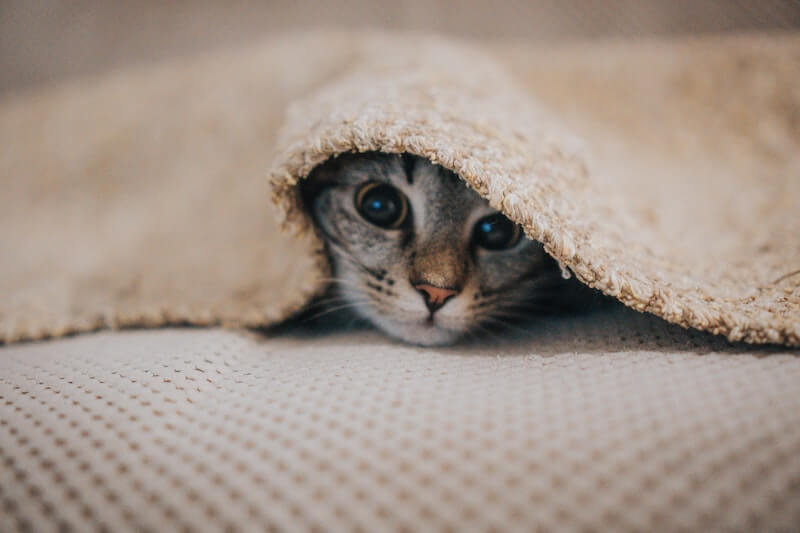 If you're stuck deciding whether pet insurance costs make sense for your current (or growing) fur fam, it may be helpful to think about what pet insurance doesn't cover, and what all this could mean for your budget if you do opt for a policy.
There are a number of things a basic pet policy often won't cover, such as grooming fees or dental care, but the main exclusion you should have your eye on if you want the best deal is pre-existing conditions.
No policy will cover costs associated with care for a health issue your pet already has. You won't be denied coverage altogether, you just won't be able to make claims on treatments related to that pre-existing condition.
That's why it's most worth it to enroll your furry friends in a policy when they're just puppies and kitties and have the fewest health problems. Doing so will score you the lowest pet insurance premium possible and ensure your fluffiest family member is covered when disaster does strike.
Pro tip: Lemonade lets you sign up when your pet is as young as 8 weeks old! In fact, we offer a Puppy/Kitten Preventative package, which covers things like spaying or neutering and microchipping, so your sweet baby can start off life on the right paw. Plus, our accidents and illness base policy covers a whole lot.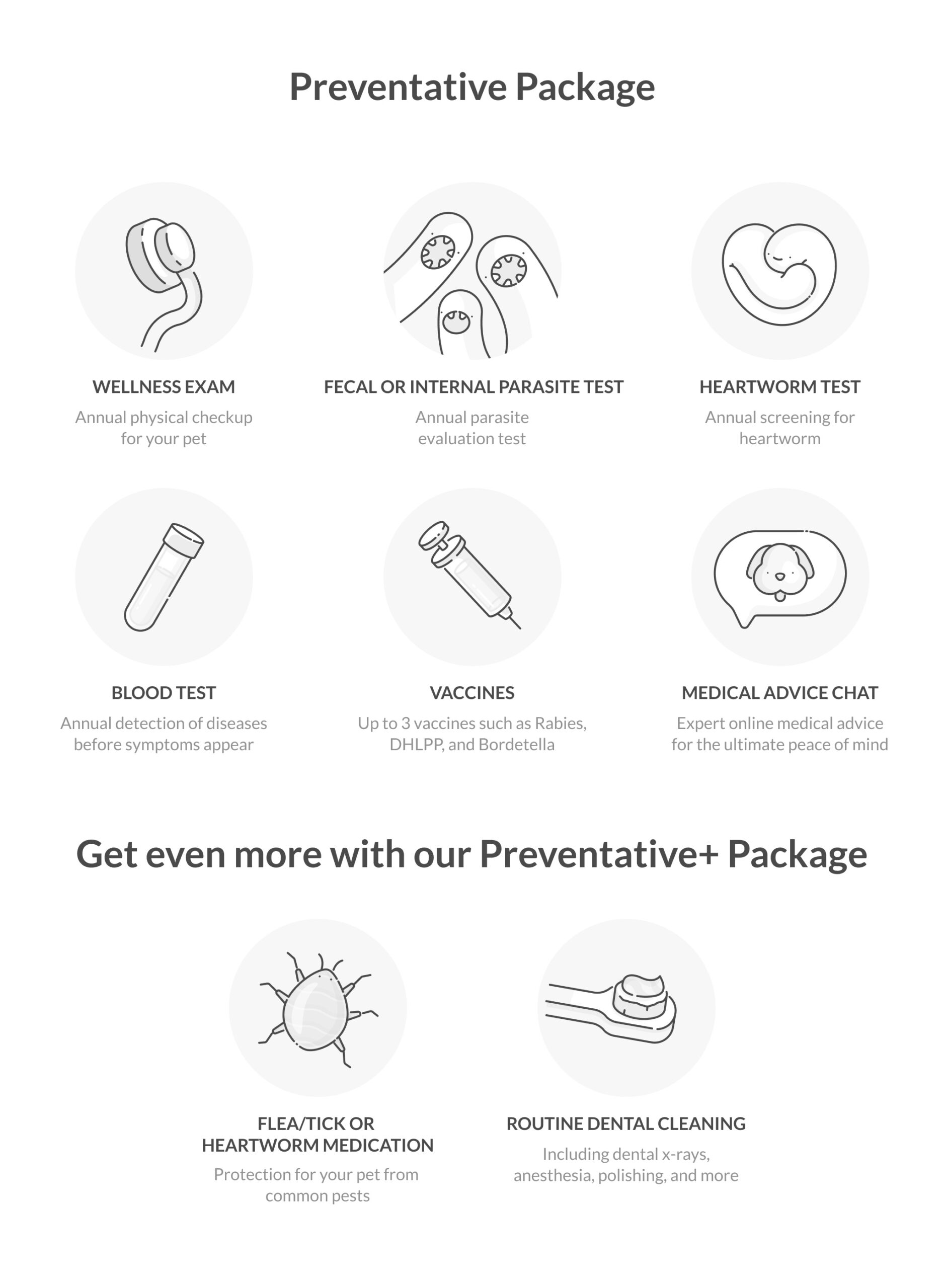 Do vets recommend pet insurance?
While we can't speak for every vet, it's fair to say that many do recommend pet insurance.
Lemonade's own Vet Consultant Stephanie Liff puts it this way: "I always tell my clients that I want to remove financial anxiety from their medical decisions." She says that at the end of the day, "insurance helps [pet owners] know they can afford any medical issues that arise in the future."
Now we know what you might be thinking: Is it really worth it to pay a premium for years… only to never make a claim?
Depending on which pet plan and add-ons you pick, you'll find your pet's insurance actually works a lot like human health insurance, in that you'll find yourself using it often—not just when there's a major medical calamity or a huge pet medical bill.
Along with covering emergencies such as an ear infection, broken bones, or hip dysplasia, Lemonade's pet insurance also offers Preventative and Preventative+ packages, which actually cover routine visits and medical tasks, just like your human health insurance does. Lemonade pet insurance also offers a vet visit fee, physical therapy, dental illness, behavioral conditions, and end-of-life and remembrance add-on. Customize your coverage, and you'll find your pet insurance provider reimbursing you frequently for things such as wellness exams, bloodwork, and standard vaccines to help keep your pet healthy.
But along with providing worth by financially covering your furry friends for the basic pet care they need and all the disasters in between, there's one greater reason vets recommend pet insurance policies to their patients: simple peace of mind.
And don't we all just want to sleep easy knowing our dearest (and fluffiest) family members are covered if disaster strikes?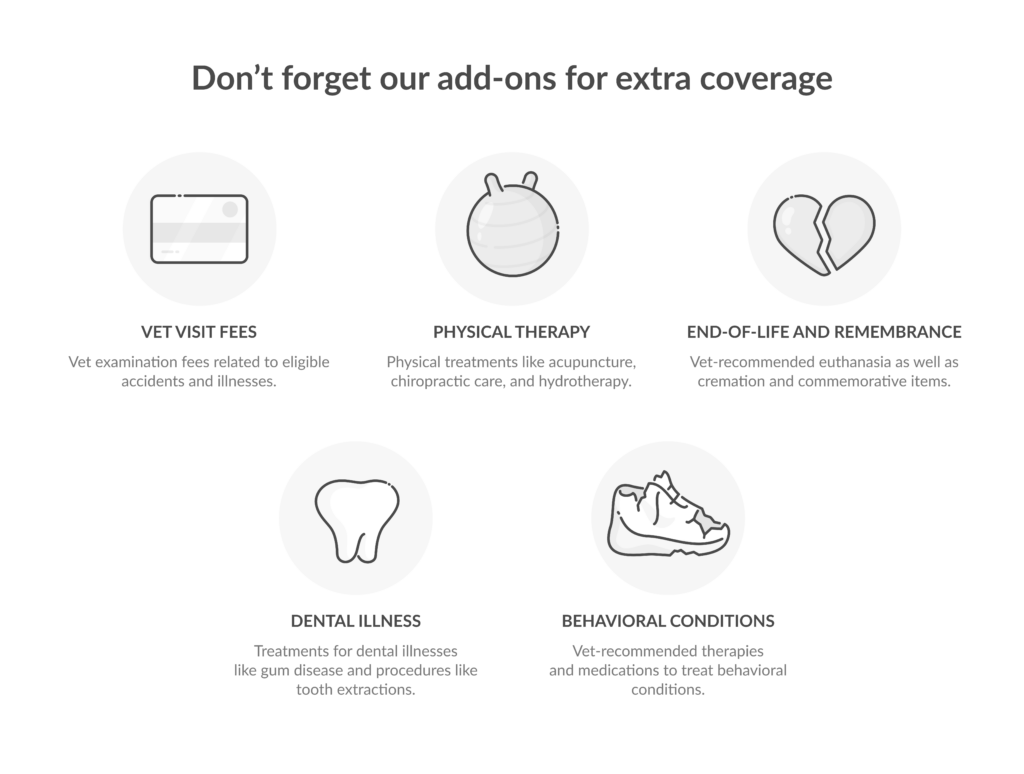 Get covered, feel good
Below, we'll dive into Lemonade's pricing advantages compared to our competitors. But there's also something special that sets our pet health insurance apart from the rest…
It's called the Giveback program. A portion of leftover money that doesn't go toward claims is donated to charity partners you choose when you sign up.
Those include organizations like the ACLU and March for Our Lives, but we've also added non-profits that focus on animal welfare, including the SPCAI and PAWS.
Finding pet insurance for your fur fam
Just like your family's health insurance, you'll want to make sure you're picking the right policy for both your personal and financial needs. Our fur babes are members of our family, after all!
At Lemonade, we know that choosing the right pet plan means a price that works for you. That's why our monthly premiums start at just $10, with a variety of add-on plans to choose from, so you can perfectly tailor your pet's best policy. We're also proud to say we're the only pet insurer allowing you to bundle home and renters policies with a pet policy to score a sweet discount. Plus, renters insurance can come in handy when it comes to some pet-related mishaps.
Lemonade uses artificial intelligence and machine learning to sustain a lower overhead. We keep prices low, and pay claims fast.
Not to brag, but when we ran a comparison of pet insurance quotes between Lemonade and five other main competitors, our monthly premium prices came out below average for both dogs and cats.
For example, the average monthly cost of a pet policy for a two-year old short-hair cat in Brooklyn is $25. Lemonade's premium cost for this fur babe ties for the lowest at just $14.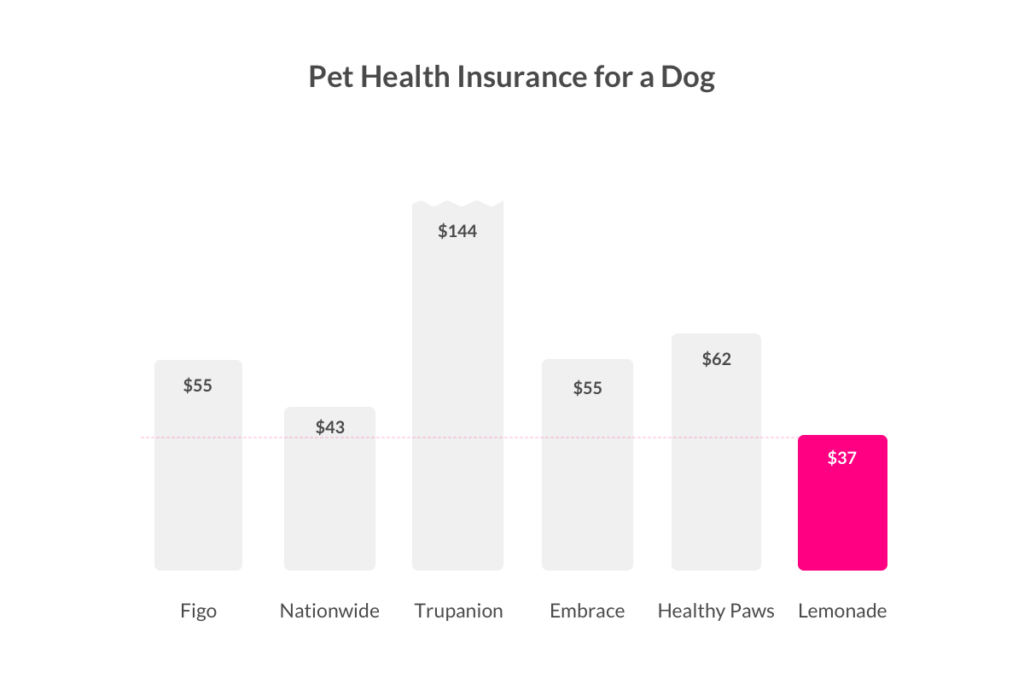 And what about man's best friend? The average monthly cost for a two-year old lab in Brooklyn's pet policy was $66… with Lemonade, getting that same pup covered would only cost $37/month.
You're an excellent pet parent, and you deserve to know that your pet has a safety net if anything happens to them. You'll find yourself grateful for having signed your cat or dog up for health insurance well in advance… rather than full of regrets if misfortune strikes.