I'm at the Scene after a Car Accident…What Should I Do?
Lemonade Car's post-accident checklist
If you've just been in an accident and are still at the scene of the crash, we've got the tips to help keep you from saying "I wish I'd done that…" tomorrow. At Lemonade Car, your safety is always our top priority, but especially right now, so follow these tips to safely take care of all the details.
Here is a 7-step checklist that you can follow to help you cover your bases before leaving the scene. Following these steps carefully now could make for a smoother claims process further down the road.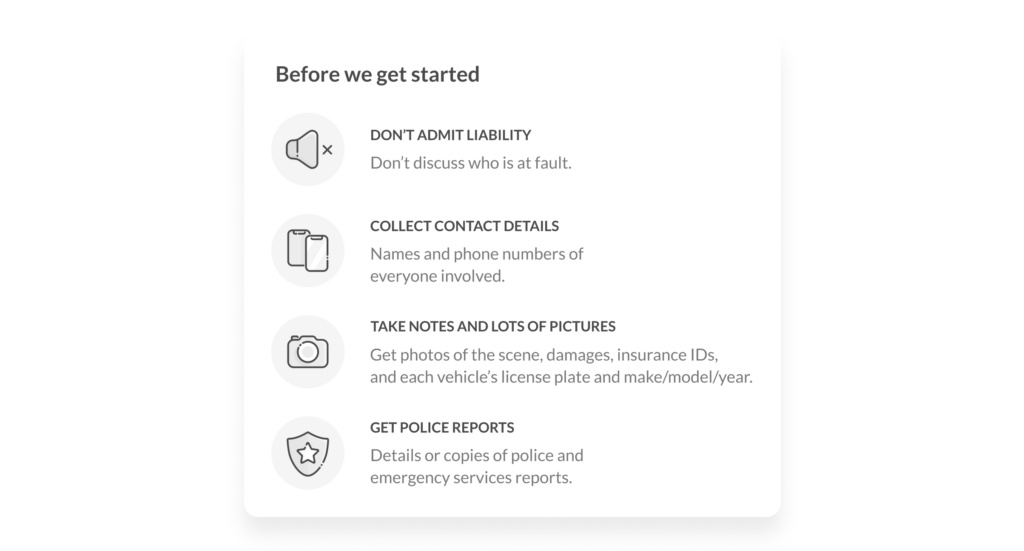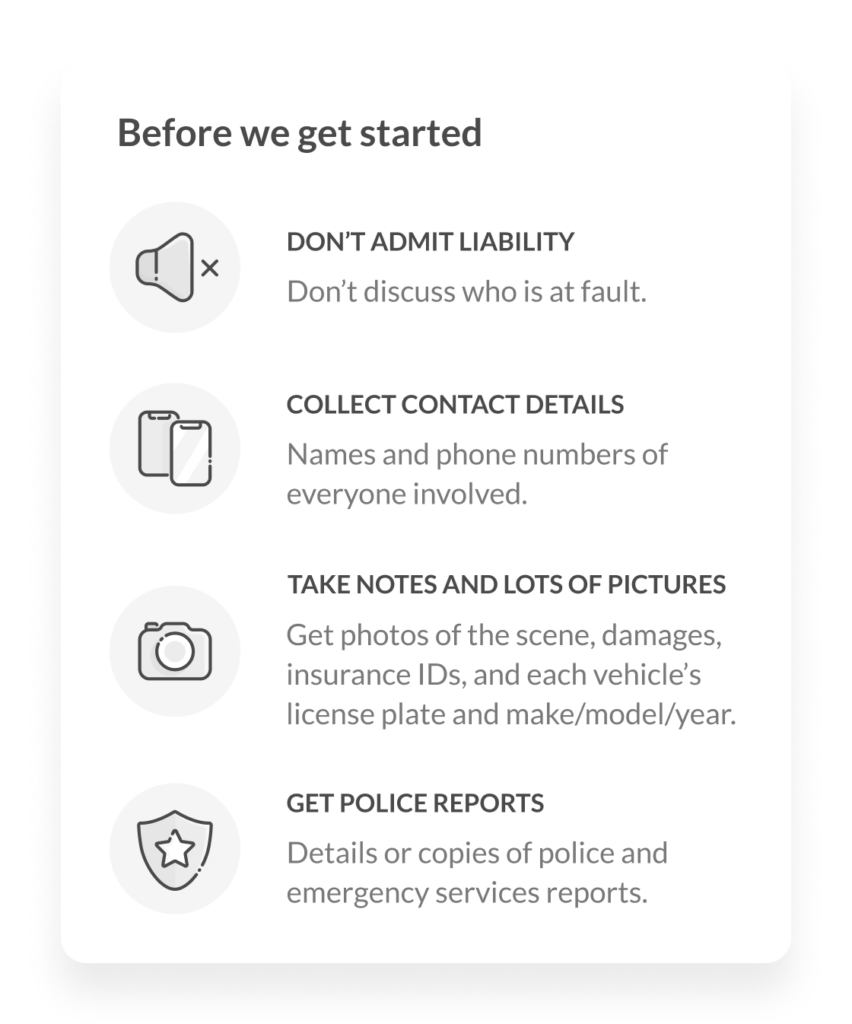 1. Stay calm and don't admit fault
We know—"staying calm" is easier said than done, but taking some deep breaths can help you assess the situation and remember what next steps to take.
You may be feeling a lot of emotions at this moment—shock, fear, even anger—but it's important not to discuss who's to blame for what just happened. Discussing liability now could make it more difficult when you're filing a claim later.
2. Check for injuries
Check in and make sure everyone involved is OK (including people in the other car). If anyone is injured and requires medical attention, call 911 immediately.
Keep in mind: Even if you feel fine right now, there's a chance that once the shock wears off later—even tomorrow—you might notice pain that you didn't have before the accident. This could be things like a headache or neck pain from whiplash, or a fractured bone from the impact of an airbag. Get your injury checked out by a medical professional as soon as possible after the crash.
3. Get off the road
If possible, immediately move everyone and your car to a safe, well-lit location on the side of the road. If the people or the cars involved stay in the road, this may lead to more accidents and a more dangerous situation for everyone involved.
But if you can't get off the road, turn on the hazard lights and make sure everyone keeps their seatbelts on.
4. Call the police
Filing a police report and requesting the police report number are important steps to take after a crash, whether or not you plan on filing an insurance claim. It may seem more convenient to take matters into your own hands than to involve the police, but even for a minor accident it's better to have documentation on hand that sorts out what really happened.
Say Bobby, the captain of the rival team in your intramural dodgeball league, accidentally rear ended you at a stop sign leaving a heated tournament. He offers in good faith to exchange phone numbers, telling you it'll be better to just handle things driver-to-driver and that he's happy to pay for the repairs.
Bobby might be acting friendly at the scene, but he may deny any involvement later. Getting an official police report can better protect you and make for a much smoother claims process, especially if what felt like a minor ding turns out to be a smashed tailgate on your Ford F-150, and a strained back from the impact that puts you out for the season.
5. Take photos
Use your phone to take pictures of your car, the other cars involved, and the scene of the accident.
Wondering what's the best way to capture car damage in a quick photoshoot? Glad you asked! You just need to take four pictures of each car involved. Take a picture of each corner of the car from around six feet away. (That's about the length of a yoga mat, or the width of a king-sized bed).
Keep in mind: It's important to make sure you capture the full license plate of each car involved in at least one picture.
After you've got the cars covered, it can't hurt to take additional photos for further context. Snap pics of nearby mile markers, street signs, or intersections—these could all help during the claims process.
6. Exchange details
Before the other driver leaves, get their car insurance information (including the policy number) and driver's license number, at the bare minimum.
If possible, getting their full name, contact information—like a phone number, license plate number, and a photo of their driver's license—can be super helpful for filing a claim.
But if you're the victim of a fender bender, the other driver might have sped off before you could get their details (the dreaded hit-and-run). Look around for any witnesses or surveillance cameras and jot down the details. Things like a witness' driver's license information or photos of businesses next to where the accident occurred could help your car insurance provider identify the other driver.
7. Contact your car insurance company
Notify your car insurer as quickly as possible after a car crash and be ready to provide the information you've collected from the scene of the accident—like photos of the vehicles, and a police report. When you drive with Lemonade Car, you can easily start filing your claim on the Lemonade app.
This may feel overwhelming. But don't worry, at Lemonade Car we're here to assist you with each step of the claims process. For starters, if your car isn't driveable from the scene, we could send a tow to get it to a nearby repair shop. Just make sure you've included collision coverage on your Lemonade Car policy.
Once you're in the Lemonade app, click the 'Report a Crash' icon, and answer a couple quick questions. Depending on the level of your car's damage, you'll have the option to select a repair shop that Lemonade has had positive experiences with in the past or to add in the details of the repair shop of your choice.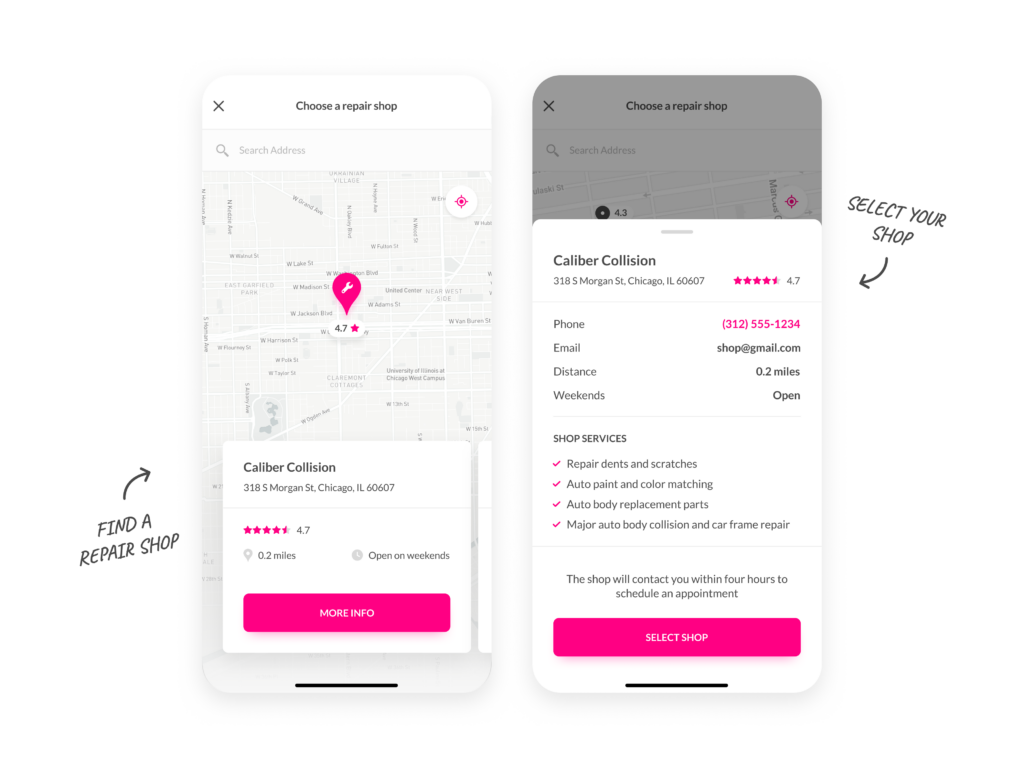 Before you go…
Getting in a car accident sucks, but Lemonade Car combines the power of technology and human empathy to provide you with the best support in the aftermath. Our chatbots and real-life advocates work round-the-clock to ensure great coverage and super fast claims resolution, so you can feel protected behind the wheel.
Need to file a claim after a car accident, but want some guidance before you get started? We've designed the digital claims process for Lemonade Car to be as intuitive as possible, but we also get into the nitty-gritty of each and every step here.