The Lemonade Car Claims Experience, Explained
High-tech + human empathy = the best claims process imaginable
The weird thing about insurance is that, when you're riding along smoothly, you don't have to use it. You don't even have to think about it.
But the reason you have a car insurance policy in the first place is to protect yourself against things like accidents, vandalism, theft, extreme weather, and other perils. And if those things do befall you or your vehicle, you're going to want to file a claim.
Let's take a look at what this entails, so that you can be calm and confident during the claims process. Here's what we'll discuss:
What can I file a car insurance claim for?
A Lemonade Car policy can help cover you for damage to your car caused by accidents, vandalism, extreme weather, fire, falling objects, and a whole lot more. (Or for your liability if you cause damage to someone else or their vehicle.)
But your level of protection—and what you're protected against—depends on what sort of policy you build for yourself (and any other drivers you include on your policy). Lemonade's totally customizable coverage lets you pick and choose how you build your policy— from your state's bare minimum to all the bells and whistles.
Let's say lightning strikes (literally) and your sizzled car needs to be replaced. You'd be able to file a claim for this, if you have comprehensive coverage on your policy.
Or maybe you're taking a back road to avoid heavy traffic in Holmes County, Ohio and a rock from an oncoming horse-and-buggy cracks your windshield. If you're protected with the extended glass coverage add-on, you could file a claim and get your windshield repaired with little or no deductible.
In short: Your specific protection, and what you'll be able to file a claim for, will depend on how you tailor your policy when you get a quote.
What should I do before filing a car insurance claim?
In the immediate aftermath of your car being damaged or stolen, you might be a bit shaken up (if you're reading this from the scene of a car crash, check out our post-accident checklist of what to do before you leave).
After you ensure that you and anyone else involved in the incident are safe and secure, it's a good idea to do the following (or you can already get started on filing your claim in the Lemonade app):
Write down as many details as possible that you remember about the incident—like what happened, where it happened, and if anyone else was involved.
If other people or vehicles were involved, compile any details that you collected about them, or the details you might have collected from any witnesses or surveillance cameras at the scene.
If your car was damaged, take clear pictures of each of the four corners of your car from six feet away, in addition to some close ups of the damage, as close to the time of the incident as possible. (Ideally you'd do this at the scene where it happened, before moving the vehicle.)
Review the coverages, deductibles, and limits that you included in your Lemonade Car policy so you know what you can file a claim for (and what you can't).
How do I file a car insurance claim at Lemonade Car?
Glad you asked! We designed the digital claims process for Lemonade Car to be as intuitive as possible. But below, we'll get into the nitty-gritty of each and every step. Keep in mind: It may not all be relevant to your individual case, so you can definitely skip ahead as needed.
If you have a good handle on things, feel free to skip below to learn more about what to expect after you file a car insurance claim.
Step 1: Head to the Lemonade app
When you're ready to file a claim, head to the Lemonade app. (And make sure you have permissions and location services enabled.)
Once you're in the app, there are different avenues you should take depending on the situation you're in. Let's take a spin through the options:
Select the 'Roadside Assistance' icon on the top left of the screen for things like being stuck on the side of the road with a dead battery or a flat tire. Then we can send out the cavalry—on us, with Lemonade's Roadside Assistance—to help with things like jumping your battery, or installing the spare tire that's sitting in your trunk.
Select the 'Report a Crash' icon in the top center of the screen if you were just in a crash and are still at the scene. This could be any kind of crash, from a collision with a deer (or an inanimate object), to being the victim of a fender bender, to a multi-vehicle pile up at an intersection.
Select 'File a Claim' further down on the right (in bright pink) for any scenario where your car was affected—like if you were in a crash but already left the scene, your windshield got cracked in a hailstorm, your catalytic converter was stolen in a parking garage near "the Horseshoe" on Buckeye game day, or a local street artist decided to tag your car without your permission.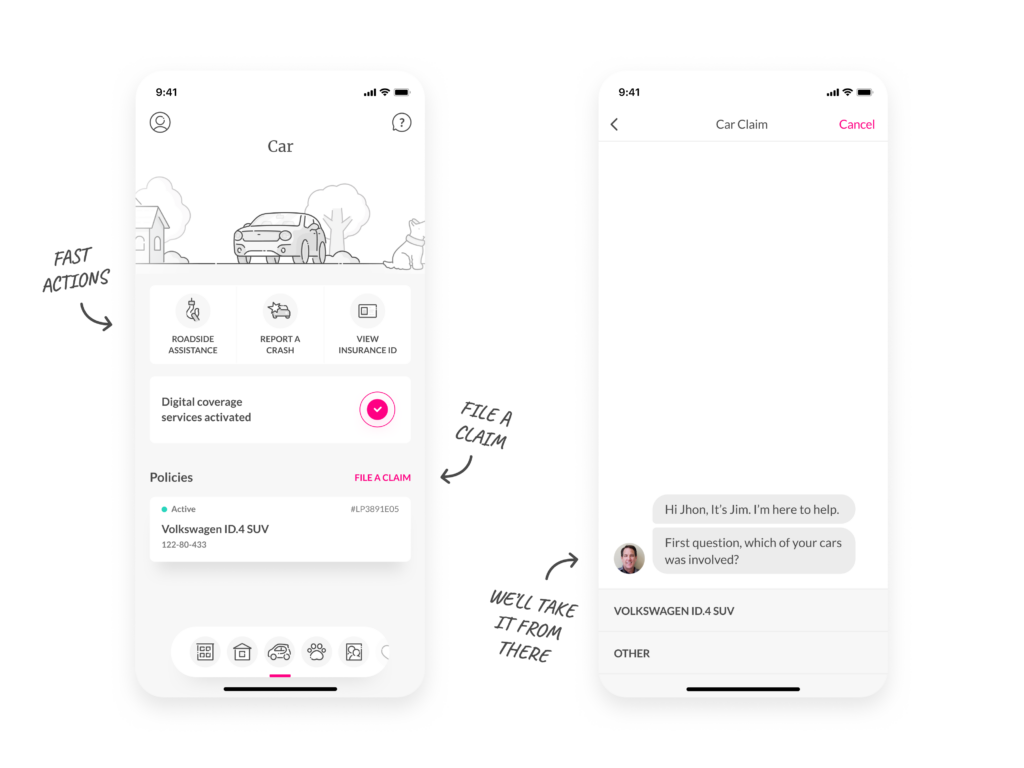 Keep in mind: Services like towing after an accident are not included in the roadside assistance program, but you could have it covered if you included collision or comprehensive coverage on your policy (which are separate coverages BTW; you can check out the differences here). Make sure to enable permissions and location services on the app to be eligible for the roadside assistance services that we provide free of charge.
Step 2: Meet AI Jim
Once you select an icon, you'll meet our claims expert, AI Jim, who will be your chauffeur through the claim filing process.
He'll start off by requesting some details—like which car on your insurance policy was involved and confirming the best phone number to reach you. In the case of a crash, we'll need to know a bit more about the situation—like if anyone was injured. After a few quick questions he'll ask you to sign a pledge to verify everything you tell us about your claim is truthful and honest.
A few notes on filing your claim
Take a deep breath. There's no big rush here. Since AI Jim is a bot, he won't get impatient if it takes you a while to gather the info you need.
If you make a mistake when entering your info, you can always go back and correct your response by tapping on the pencil icon in the right-hand corner of the chat bubble.
Step 3: Record and submit a short video
For just about any claim, besides stand alone glass damage, we'll ask you to explain exactly what happened in a short video. It should only take about a minute (and it's a lot easier than typing out all that info). Be casual—pretend you're talking to a friend—and let us know the details of what you're submitting a claim for, such as what, when, and how it happened.
You won't need to share photos of the car damage just yet, but it doesn't hurt to have them on hand already. Your video is completely confidential; we'll only use it in order to review your claim.
Step 4: Tell us about the damage to your car
If your car was damaged, we'll ask you some more specific questions about it. We'll want to verify things like if the car is still driveable, if some of the doors aren't opening, or if any child car seats were damaged.
Then you'll be able to tap and identify which parts of your car were damaged using an interactive graphic.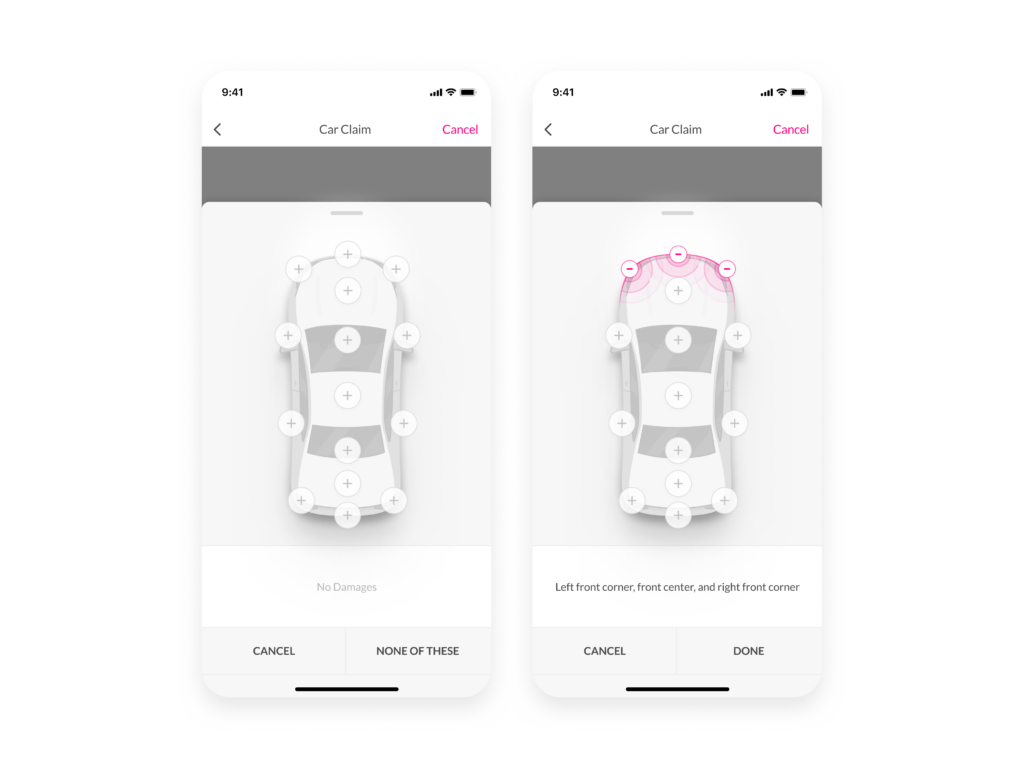 Step 5: Send some close-up photos of your car's damage
If your car was damaged, upload as many photos as you need to help us clearly see the damage to your car, and the accident scene when relevant.
Make sure to snap photos of all the areas of your car you marked as damaged in the previous step. We recommend that you include both close-ups and shots taken from a few feet away.
AI Jim will give you two photo collection options to choose from in this step:
Opening your camera via the app and snapping photos in real time
Selecting photos from your phone's gallery (if you already took photos at the scene of the accident, but waited until you got home to start filing your claim)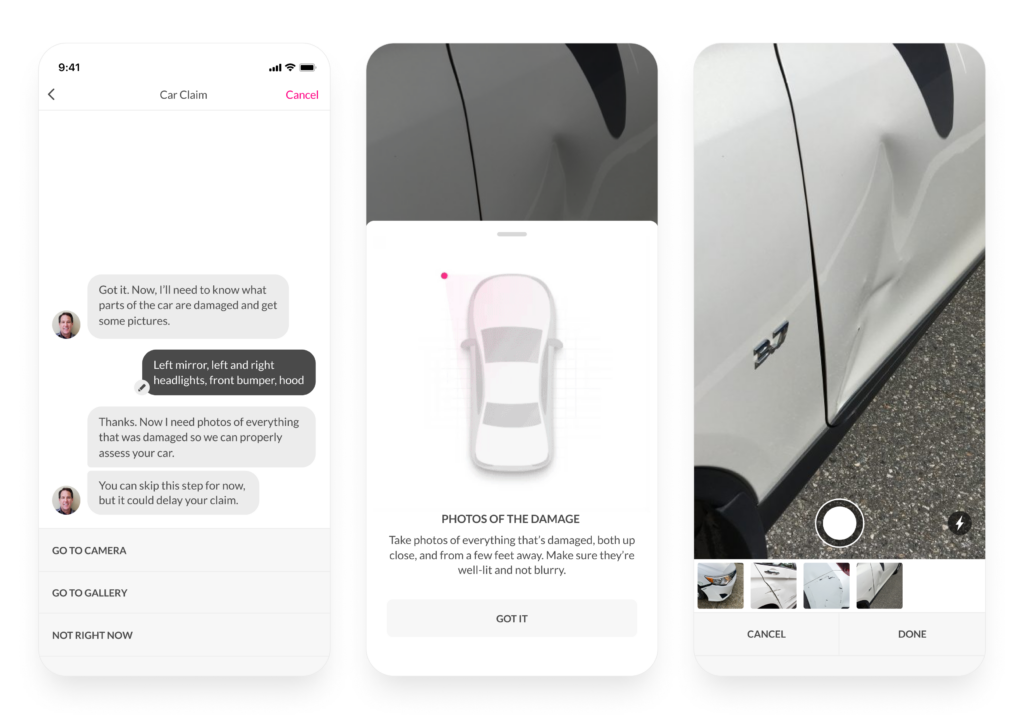 Step 6: Capture the bigger picture
After snapping some close-ups of the damage, you'll need to literally take a step back so we can see the bigger picture of the situation. The app will guide you as you take a few more photos—five, to be exact—that capture all the different angles of your car, and one of the odometer while the engine is turned on.
This 360° view will help give us the full picture of your car's damage and condition.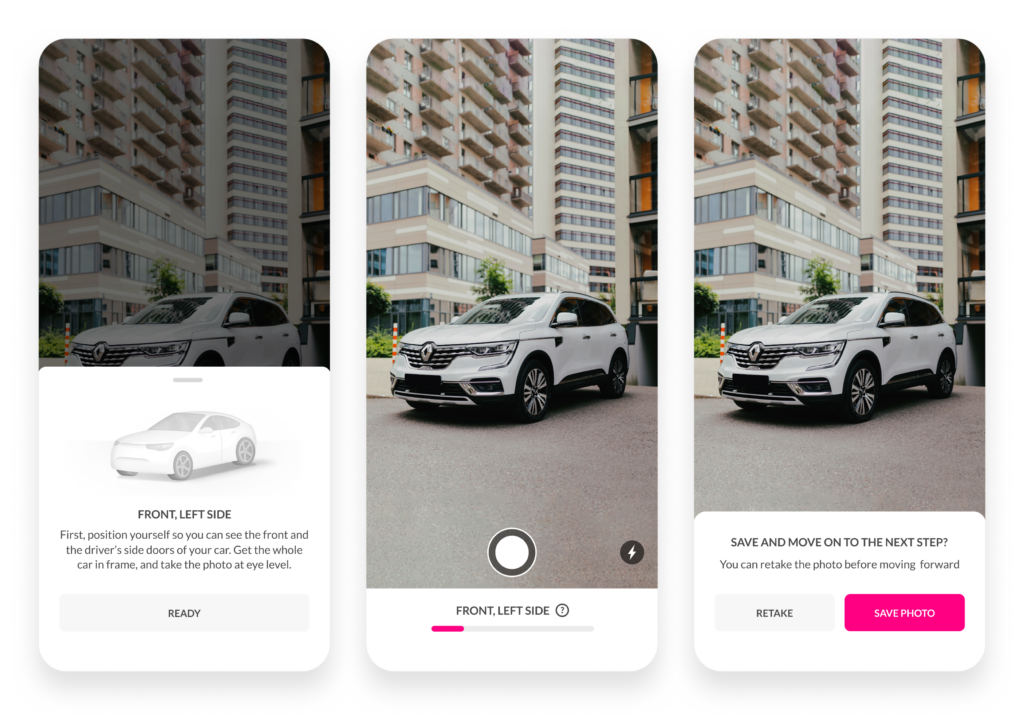 Don't sweat the details, we'll guide you through snapping and saving each photo individually, and you can retake each photo as many times as you need before saving it.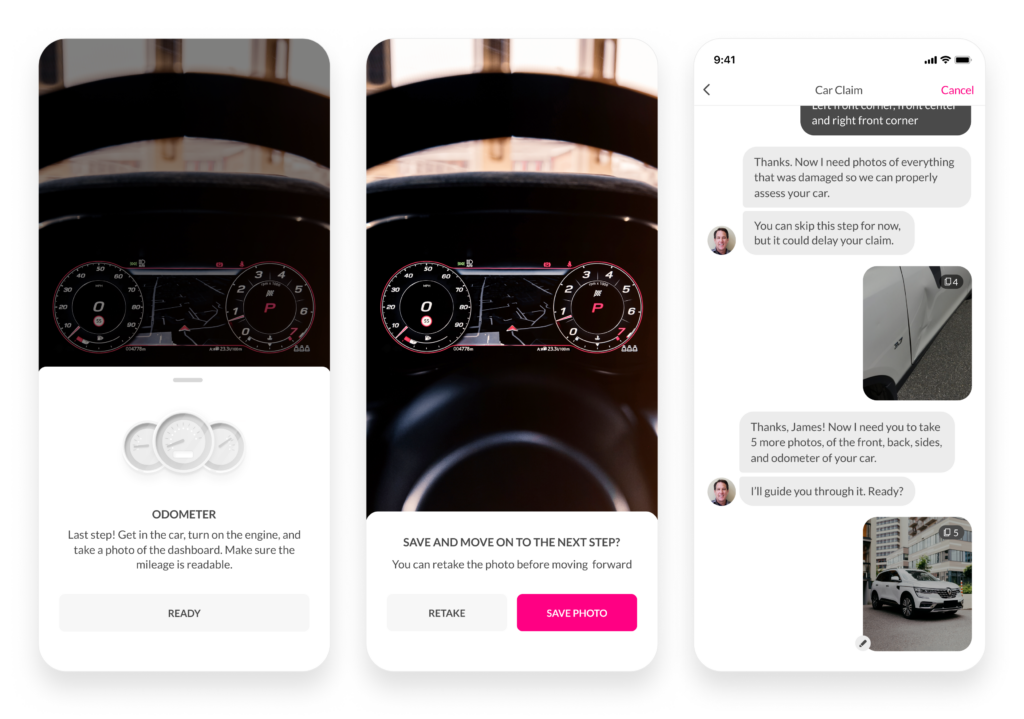 We built this process to make reporting your car's damage as easy and intuitive as possible. That said, if we still don't get all the photos we need, a (human) claims pro will follow up directly to sort things out once you've filed your claim.
Step 7: Tell us about other cars and people involved
If you were in a multi-vehicle accident, AI Jim will request some details about the other cars and drivers that were involved, like:
The cars' license plate numbers and makes
The other drivers' full names and phone numbers
Photos of the other vehicles involved
Photos of the other drivers' licenses and insurance IDs
Some of these details won't be mandatory to share right away, but not including them could delay your claim.
Step 8: Scan your police report
If the police were involved at any point (and they definitely should be after a crash), get a police report and include it in your claim. You can choose if you want to share photos of the police report or enter specific details manually—like the incident number, precinct, and officer name.
Step 9: Finish up
If your car isn't road-worthy, we'll ask you where it's parked so we can help you tow it to a repair shop.
Next, you'll see a full summary of the information you've provided. Before you submit your claim, check to make sure all of the information is accurate.
Then you'll be asked to enter your bank account information, so we know where to send the money if your claim is approved.
What happens after I submit my claim?
Once you submit your claim via the app, you'll be paired up with one of Lemonade Car's trusty claims adjusters to help you with the rest of the process (at Lemonade, we pride ourselves on having an empathetic approach, and we refer to our insurance adjusters as "claims advocates"). Unlike AI Jim, they're 100% human.
There are a lot of moving parts in the claims process, especially after a crash—like contacting other drivers and witnesses, coordinating car repairs, and possibly picking up a rental car.
The Lemonade insurance advocate handling your claim will be your guide through the next steps that you'll need to take.
Contacting other drivers involved and witnesses
If you submit a claim for an accident that involved other people and/or vehicles, Lemonade will take care of contacting the other drivers that were involved, and any witnesses whose contact information that you provided.
It's important to provide as much information as you can about the other drivers that were involved in the accident while you're filing the claim. But don't worry if you don't remember every last detail before you click submit. You'll have the opportunity to share more details with the claims advocate by email or over the phone after submitting your claim.
If you didn't get enough—or any—details about the other drivers, all is not lost. Try to provide contact details of any witnesses from the scene of the crash, or names of businesses near the scene who may have security cameras outside.
Organizing repairs to your car
If your car was damaged, it will need to be repaired or replaced, depending on the level of damage. Getting your car to a body shop as soon as possible (even before submitting your claim) is an important step to determine the damage from the crash.
You'll have the option to take your car to a shop of your choice, or to a shop that Lemonade has had positive experiences with in the past. If your car is undriveable, we can help you get it towed there.
It can be tempting to stick with the repair shop you've used in the past. Why change things up now if you've happily been taking your 2016 Toyota Corolla down the street to Dean's Body Shop for 6 years and counting? Just keep in mind: You'll need to coordinate the drop-off, pick-up, and updates on the status of the repairs with the shop directly.
The process is a bit smoother if you opt for a shop that Lemonade has had positive experiences with in the past (we'll provide you with a list of nearby vendors). We can help monitor the repairs from start to finish and can guarantee the quality of the repairs.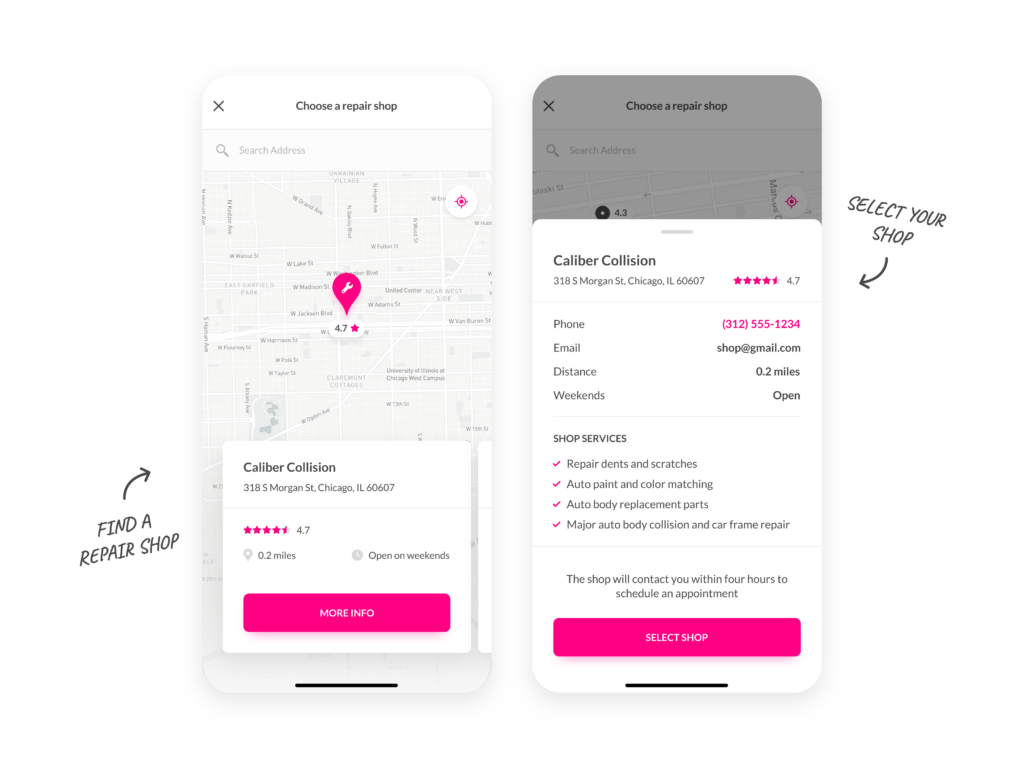 Even though we will help pay for the cost of repairs on your damaged car directly to the repair shop for a covered incident, you'll still need to pay the deductible that's listed in your policy. Also, once your car is ready, you'll need to pick it up.
For more minor damage—like a cracked windshield—we'll put you in contact right away with a representative from a glass repair company that we've had positive experiences with in the past to get details on the damage and to schedule repairs.
Compensating you if your car is totaled
There's a chance your car is damaged beyond repair, or that it's cheaper to replace it than to repair it. If the cost of repairs exceeds a certain percentage of the value of the car—in many states the limit is set between 60% to 80%—the car can't be fixed by your insurer and is considered "totaled" or a "total loss."
Total losses can be declared at the scene of an accident, or after the cost of repairs has been evaluated by an adjuster or body shop.
At Lemonade Car, we will tow your car to a shop to check out the damage—or straight to the salvage yard—if we think it's a total loss. If an appraiser comes to the same conclusion after a thorough examination, we'll calculate how much your payout will be, minus your deductible, based on the actual cash value (ACV) of your car.
Securing a rental car
While your car is in the shop for repairs or an appraisal after it's damaged, you might need another way to get around.
If the accident wasn't your fault, and the claim is going through the at-fault party's insurance company, you'll be given a rental or other form of temporary transportation, regardless of your own insurance coverage. But if you want to err on the side of caution, include temporary transportation coverage on your Lemonade Car policy—it could come in handy after an accident. To get this add-on, you'll also need to carry both comprehensive coverage and collision coverage.
With temporary transportation coverage you could be covered for transportation expenses like rideshares, public transportation, bike sharing, or a rental car for up to 30 days while your car is being repaired or appraised.
After you choose which covered transportation method will work best for your needs, you'll need to coordinate the logistics—like booking, pick up, and drop off for a rental car—and pay for the costs upfront. Then we can reimburse you up to your daily limit. But if you get a rental from a rental car provider that Lemonade has had positive experiences with in the past, we'll be able to cover the costs upfront (up to your daily limit, which you can generally choose to be $40, $50, or $60 per day, but will vary by state).
Keep in mind: Temporary transportation coverage won't cover things like gas or additional insurance coverage for your rental car. You should also factor in the taxes and fees of your rental car when calculating the daily rate.
Medical expenses
If you or your passengers get hurt from an accident in your car, we want you to focus on recovering—not stressing over your medical bills. Your health and safety are top of mind for us while you're going through the claims process.
When you include the medical payments coverage add-on (MedPay for short) in your Lemonade Car policy, it can help pay out for medical expenses after a crash—up to the coverage limits you chose when getting an insurance quote, and without a deductible. This could be for things like ambulance fees, hospital visits, and health insurance co-pays—or for funeral services (in a worst case scenario).
Keep in mind: MedPay coverage doesn't extend to the drivers or passengers of another car that were involved in the accident. If you're at-fault in a car accident that injures someone outside your vehicle, that falls under your bodily injury liability insurance.
Before you go…
Winding up with a damaged car (or having your car stolen) isn't something anyone looks forward to, or even anticipates. But Lemonade Car strives to make the process of filing a claim as painless as possible.
Our great coverage and super fast claims resolution don't stop at Lemonade Car though. Did you know we also offer renters, homeowners, and pet health insurance? Not only will you become eligible for our bundling discounts, but you can also manage each of your Lemonade policies through the same app you use for Lemonade Car.