Trailer Insurance
Basic trailer insurance covers your trailer in case it gets damaged in an accident—by natural disasters, vandalism or other similar perils—where coverage applies.
Depending on your trailer and its purpose, you can add additional coverage, such as roadside assistance and total loss replacement.
What is considered a trailer?
Generally speaking, a standard-trailer is a non-motorized vehicle that is being towed by your car or truck.
There are also many types of trailers, such as utility and travel trailers. What's a utility trailer? Imagine you're giving your beautiful garden a makeover and want to bring in new soil so it can flourish. You might use a utility trailer to transport the soil: a vehicle without a roof but with enclosed sides, so your precious goods won't fall off.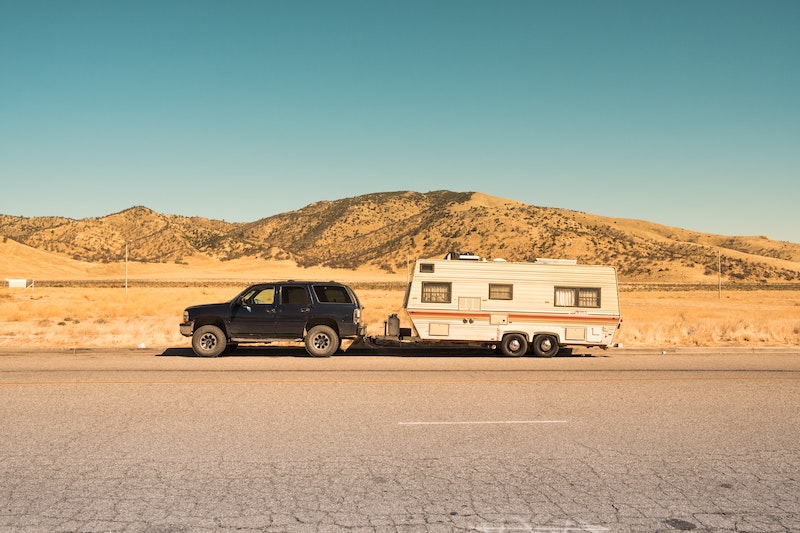 Some vehicles might seem like trailers, but actually aren't. And then there's the classic American recreational vehicle (RV)! Certain RVs are trailers, but not all of them. Don't get a headache—we'll spell this all out shortly.
What's an RV?
An RV is a tiny home on wheels. Picture yourself driving off into the sunset, living every nomad's dream. For insurance purposes, RVs are divided into two categories: the non-motorized and the motorized kind.
All non-motorized RVs—the type that are pulled behind a car or other vehicle—are classified as trailers: travel trailers, fifth-wheels, or pop-up campers are all types of non-motorized RVs.
Motorized RVs are not classified as trailers, however. Motorized RV can include either class A (motorhomes), class B (campervans) or class C (RVs).
Being self-sufficient and powered by your own motor comes with slightly different insurance needs and criteria.
Is your non-motorized trailer covered under existing insurance?
The good news is, in the case of a covered car accident, your standard auto insurance policy will come in handy. It already covers you in case you cause injuries to others, or damage their belongings, while using your trailer.
Picture this—you're back out of a parking spot in your Toyota, which has a vacation trailer attached to it. However, you underestimate the length of your trailer and collide with the front of another car, leaving a huge dent. Your car insurance will have your back, given that it was your trailer, and you were towing it with the car you own (meaning, rental trailers may not be covered by your auto insurance policy).
However, there's a big but: Your auto insurance's liability coverage won't apply to any motorized vehicles (this means your motorized RV, which we discussed a bit in the previous section).
What's covered by RV insurance, then?
As we've discussed, motorized trailers—including recreational vehicles (RVs)—aren't covered under your standard auto insurance policy. You would have to get distinct RV insurance for your vehicle from an insurer other than Lemonade.
If you do purchase insurance for your RV, here's the sort of coverages you'll likely be able to include. Keep in mind that regulations and options might vary from state to state.
Bodily injury liability + property damage liability
This coverage applies if you accidentally injure others or damage their belongings while driving your RV. The insurer will cover medical costs, or costs of replacing damaged third party items up to the limit you've selected for your policy.
Important: As already mentioned before, separate liability coverage is only necessary (and mandatory!) if you own a motorized RV. Your travel trailer is already insured against liability claims under your auto insurance policy.
Collision coverage
Collision coverage has your back if your RV gets damaged during an accident/a collision—whether it's by another vehicle, a tree or even a road sign. So if you've gotten into a small (covered) accident with another car, which resulted in a bunch of nasty scratches on your beautiful RV, this would be covered if you have collision coverage.
Good to know: If you finance or lease your vehicle, you'll typically be required by your lender to get collision coverage (in addition to the mandatory liability coverage!).
Comprehensive coverage
With this coverage, your precious RV is protected against vandalism and natural disasters such as fire and smoke, flooding, lightning, wind and hail, landslides, plus damage caused by wild animals.
Medical Payments
This coverage applies to cases during which you, your family members or passengers get injured in a road accident (we hope that will never happen!)—your insurer will jump in to cover medical bills.
Uninsured/Underinsured Motorist (UM/UIM)
If you get into an accident caused by an uninsured or underinsured driver who cannot pay for damages your trailer sustained or medical treatment for your own injuries, this coverage will kick in. The coverage might also play a role in reimbursing you in case you were a victim of a hit-and-run incident.

Note: The requirements for this coverage vary quite a bit from state to state, and certain states might refer to UM/UIM by a slightly different name.
Any extras I can add?
If you want to upgrade your RV insurance coverage further, there are plenty of options available.
These include but are not limited to:
roadside assistance
replacement costs for your personal belongings (in case your stuff and not only your trailer gets damaged during a covered event)
vacation liability (if someone gets injured in your RV while it's parked somewhere)
expenses for hotels and transportation (if your RV breaks down far from home, and you need a place to stay)
total loss replacement (in cases your RV gets totaled)
How much does RV insurance cost?
There's no one-size-fits-all answer.
Instead, the price of your RV insurance depends on several factors, such as the type of RV (coverage for motor homes tends to be more expensive than insurance for one of the other models), your driving history (the number of accidents you've been involved in so far) as well as personal coverage needs and potential deductibles you've selected.
In addition, prices fluctuate between different states and regions. Again, Lemonade Car does not currently offer RV insurance.
Another factor to consider when it comes to how much you'll have to shell out, is how often you actually use your trailer—meaning if you're a full time RVer you'll have to pay a larger sum compared to owners who take their RV for a ride a couple of times a year.