Bicycle Insurance, Explained
Great news: Bike insurance is way less complicated than you'd expect! Bad news: Bike theft is super common.
No matter how old you are, getting a new bike makes you feel like a kid discovering independence for the first time. Speeding down the street feels like flying, and a shiny new bike is better than just about anything.
Insuring your bike can give you that same magical feeling. Okay, maybe not the day you get your policy… but if you file a claim for your favorite pair of wheels, insurance can get you back in the bike lane in no time. And it turns out bike theft is really, really common. (On that note, here's a handy guide to preventing bike theft in the first place.)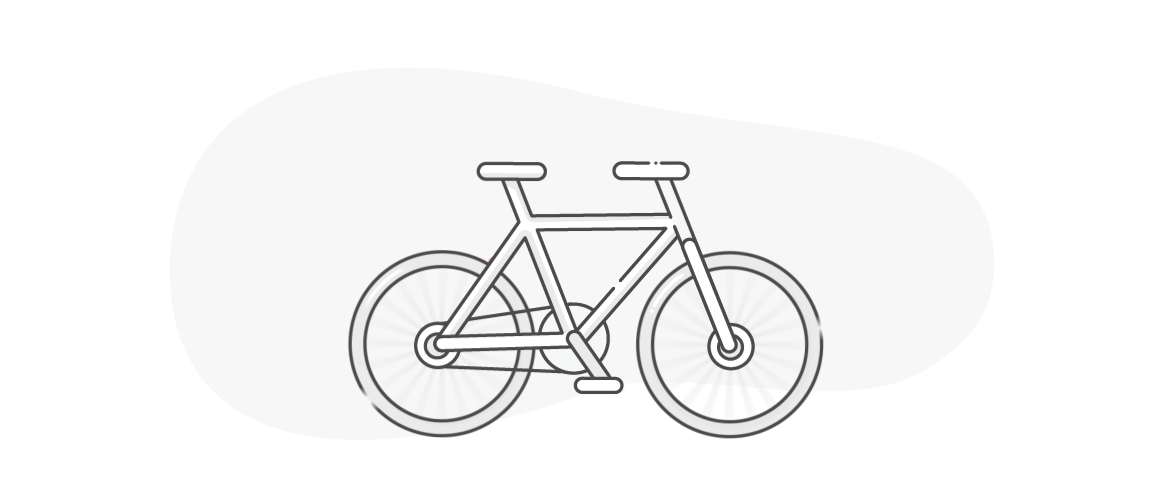 Why is bike insurance important?
Just ask Levi, a Claims Experience Advocate at Lemonade. Levi estimates he handles 15 bike-related claims each month:
"Bikes are stolen all the time because they're usually left alone outside, and they make their own getaway vehicle. Even expensive locks are being defeated, so bike insurance is your last line of defense."
According to the National Bike Registry, more than 1.5 million bicycles are stolen every year. Considering how likely you are to have your bike stolen, insuring it seems like a no-brainer.
Last year, more than 3,400 bikes were added to Lemonade policies, and 1,300 bike-related claims were filed (92% of these were theft!). We crunched through the data and numbers, and it turns out you're at highest risk for bike theft in the summer. We also filtered out your most burning questions about bicycle insurance – and we've got answers.

Insuring your bike is important—and it has never been easier!
Here's what we'll answer:
What's the best way to insure a bike?
What types of loss/damages are covered?
Will adding Extra Coverage for my bike affect my premium?
Who's covered?
What do I need to insure my bike?
How do I add Extra Coverage for my bike to my policy?
What's the best way to insure a bike?
Great news! Insuring a bike is easier than you'd expect, and there are several options to make sure you're getting the right coverage.
One quick note for e-bike riders before we start. Certain types of e-bikes can be covered under your renters or homeowners policy! Your e-bike is eligible if it's pedal-assist, meaning that your legs are needed to pedal the bike, and that the motor only helps you along. Your e-bike is not eligible if it is self-propelled (i.e. a motor does all the work for you); or if it has an option to turn a self-propelling function on or off, probably using some sort of switch. If your e-bike allows you to toggle into a 'full-throttle' mode where you don't need to pedal in order to move, then it's not eligible.
Okay! Now, there are three quick ways to insure your bike:
1. Lemonade Renters or Homeowners insurance for your bike
For starters, your bike is fully insured with a standard renters or house insurance policy. These policies include personal property coverage, aka contents insurance, which protects your stuff, including your bike. This coverage recovers the cost of your stolen or damaged stuff, for a bunch of different scenarios. More specifically, it's covered for the 16 named perils, or the bad stuff that can happen to you, listed in your policy.
A basic policy starts with $10,000 of personal property coverage, which you can tailor to fit your lifestyle. Your bike is probably worth way less than that minimum threshold, but remember that your personal property also includes other high ticket items, like your phone, laptop, jewelry, and Xbox. Calculate how much your stuff is worth to make sure you have the right kind of coverage.
With Lemonade, your bike is covered at home, and everywhere else. So if someone steals your bike while it's locked outside of Trader Joe's, you're covered! If it wasn't locked, that'd be considered negligence, and your insurer might not cover you in this case.
Keep in mind that if you need to make a claim on an item, you'll get the value of that item, minus your deductible. (What's a deductible? It's the amount subtracted from your claim in the event that something happens to your stuff. When signing up for a renters or homeowners insurance policy, you'll be asked to choose a deductible. They typically range from $250 to $2,500.)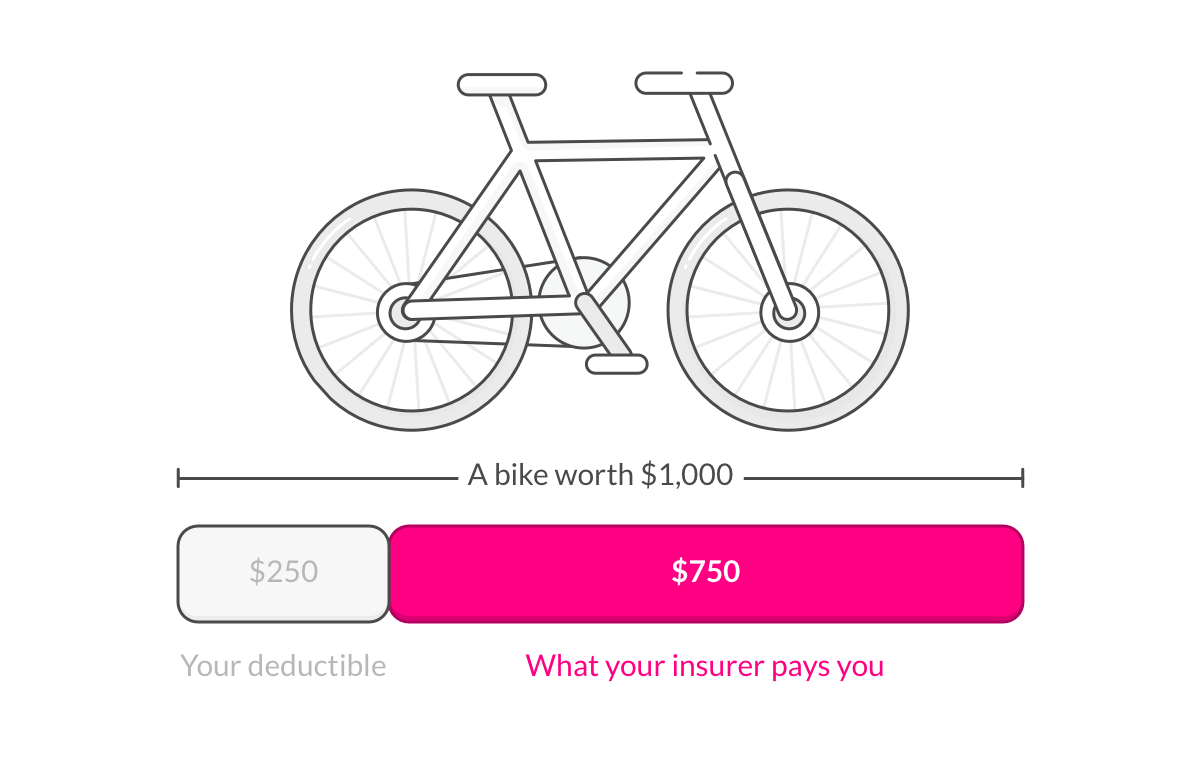 But if you just spent a ton on a new set of wheels, even a contribution of $250 can feel like too much. That's why many of our Lemonaders add Extra Coverage for their bicycles.
2. Extra Coverage for your bike
TL;DR, Extra Coverage, also known as scheduled personal property, covers your bike for theft, damage, and accidental loss, as well as other 'perils.' Different companies might use different language to describe exactly what they cover, so make sure to read through your policy.
If you have Extra Coverage, you're covered for everything listed on your base policy, plus additional types of accidental damage. The only things we won't insure with Extra Coverage would be normal wear and tear, damage from vermin, and nuclear fall out.
The best part of scheduling? If you file a claim and it's approved, you won't have to pay a deductible! Generally, a scheduled item is paid one of three ways:
We pay to have it repaired good as new
If the item can't be repaired, we pay to replace the item with the exact make/model listed
We pay you the full scheduled amount. That's why it's important to make sure the item price is accurate when you buy Extra Coverage
If a bike is a part of your everyday routine, knowing it's covered for pretty much everything will provide some serious peace of mind. But if you also use it professionally, you might need something beyond Extra Coverage.
That's because only your personal items are covered under Extra Coverage. While you can't schedule personal property coverage for things that you use for your business, your base policy can cover items you use for professional reasons up to a certain amount, for 'named perils.' So if you're a professional bike rider, a one-person-delivery-service, or one of the kids from 'Stranger Things,' Extra Coverage can't help you here.
If this is the case, go ahead and look into velo insurance (velo is French for bike… sounds like this is getting fancy).
3. Velo Insurance
A helicopter airlift will never be necessary on your morning commute, but if you have an accident while riding in high-level races, your homeowners insurance won't be able to help. That's where specialty bicycle insurance would come in.
These policies will cover you for theft, damage, and more, but they'll also cover the cost of emergency situations on bike courses, as well as medical expenses that result from bike-related accidents.
Since it's such a specialized option, it's certainly not for every biker—and FYI, velo insurance like this isn't something we offer at Lemonade. But it is an option out there if you're a more serious cyclist who needs next level protection.
What types of loss/damages are covered?
Lemonade Base Policy
Lemonade Extra Coverage
Specialty Velo Insurance
Cosmetic damage
No
Yes
Yes
Basic wear & tear
No
No
No
Theft from your home
Yes
Yes
Yes
Theft outside of your home
Yes
Yes
Yes
Crash damage*
(If you didn't cause the crash)
Yes
Yes
Yes
Crash damage
(If you caused the crash)
No
Yes
Yes
Type of replacement
1 of the 3 listed above, minus deductible
1 of the 3 listed above, without a deductible!
1 of the 3 listed above, minus deductible
Medical payments
No
No
Yes
Racing coverage
No
No
Maybe
*Crash damage with a motor vehicle
A standard renters or homeowners policy is probably all you need to safely insure your bike. But if you'd like to double down on which insurance is right for you, compare your options:
Will adding Extra Coverage for my bike affect my premium?
Yes, it will. The price of insurance can vary significantly, depending on your home's location and the amount of coverage you need – so adding a bike to your policy will increase what you're paying each month. (Btw, here's a behind-the-scenes guide to renters insurance prices.)
Who's covered?
With Extra Coverage, your bike is covered wherever it is, and regardless of who's riding it. If you don't opt for Extra Coverage but want to share your bike with bae, you've got options too.
Once you're married, you're considered related, so you're both automatically covered under your renters or homeowners insurance policy.
Adding your spouse to your plan is easy, and it won't cost you a dime! They'll be considered a "Named Insured," which is insurance speak for someone who is implicitly included in the policyholder's plan.
If you're living with a significant other you share your bike with, add them to your insurance policy as an 'additional insured.' Because if something happens while it's in their possession, it'll only be covered if they're on your policy.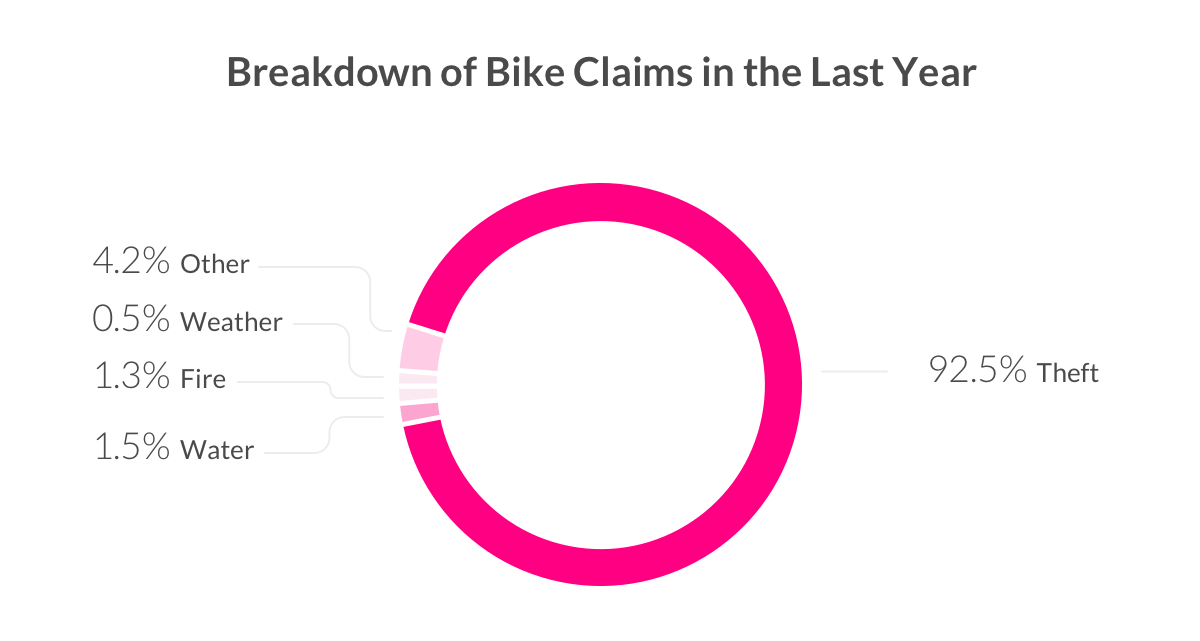 What do I need to insure my bike?
If you're just insuring your bike with a base renters or homeowners policy, you don't need any documents to get covered, but you do need to provide them if you end up filing a claim.
So in case bad luck strikes, we recommend keeping a digital copy of receipts in your inbox, or in the cloud of your choice. Don't forget your accessories, too. You probably have a basket, phone holder, bell, and if you haven't invested in a good lock yet – make sure you do!
If your bike goes missing, you'll end up claiming more than just the bike itself. If you have Extra Coverage, you should include the cost of any accessories that are permanently affixed to your bike. Don't worry, items like your helmet or lock are still covered under your base policy.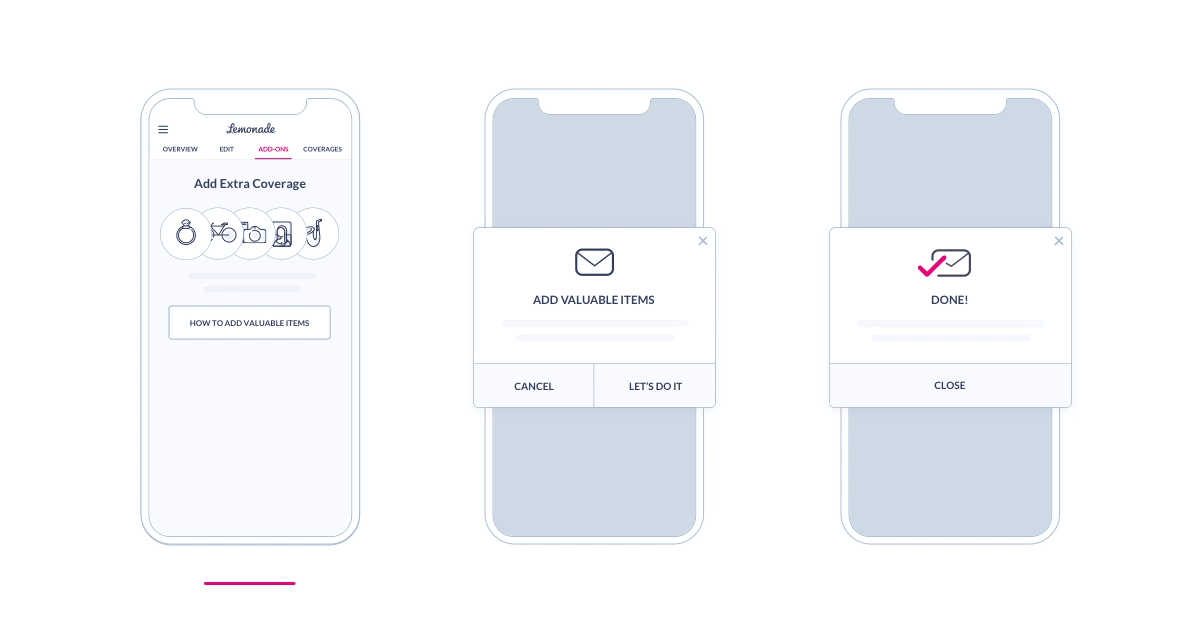 If you want to add Extra Coverage for your bike, be ready to provide this documentation:

How to add Extra Coverage for your bike to your policy
Adding Extra Coverage for a bike to your Lemonade policy is simple. Make sure you download the Lemonade app. It'll take you a minute, so just follow these steps:
1. When you're getting your Lemonade policy, tap 'Activate Extra Coverage.' If you already have a policy, head to the Lemonade app and tap the Extra Coverage button under 'Add-Ons'
2. Open up the email you get from Maya, and click 'Add Extra Coverage'
3. Go through the flow, and send over a picture of:
– Your bike taken on the day you upload it
– The receipt
– Your bike with the receipt
If you don't have a receipt we can also accept a screenshot and link to a retailer selling the same item, along with your bike's serial number and model number.
4. Our Underwriting team will get back to you, and let you know the status of your request via email! Btw, you can always add on more items later.
A couple of notes here:
Lemonade offers temporary Extra Coverage for 14 days while you get all your docs in order, or if you need to email someone for a receipt.
To get temporary coverage, make sure to answer 'Yes' when AI Maya asks if you have any valuable items. Then, select which items you'd like to insure under Extra Coverage in the Lemonade app.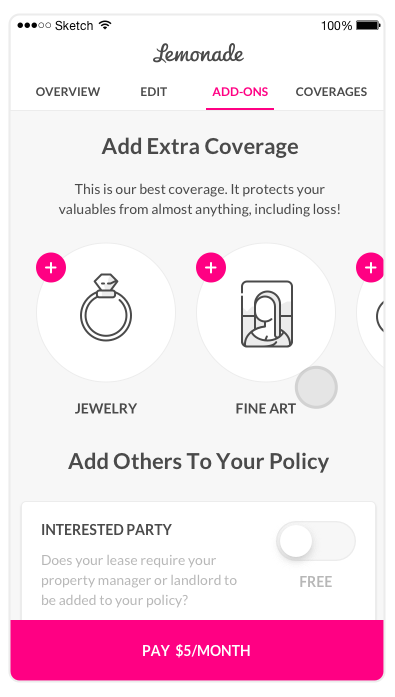 Provide a guesstimate of the value of your bike, and Lemonade will automatically grant you temporary Extra Coverage! (In the unlikely event of a claim, you'll still need to prove it existed, what it was worth, and that you had it when you bought the policy.)
This will give you time to send over the necessary info and for our Underwriting team to review it. Don't forget, this temporary Extra Coverage will last for 14 days, so try to submit your info by then. If you can't, you can still add on the Extra Coverage yourself after it expires.
Here's a guide to everything you need to know about Extra Coverage. Have more questions about Extra Coverage? Open up your Lemonade app, and ask AI Maya. Or shoot an email over to [email protected], and our CX team will get back to you as soon as possible.
Bike drop
If your bike gets stolen will you ever see it again? If you register your bike with the Bike Index there's a chance it could be recovered! This free, nonprofit bike registry has helped recover over $9 million of stolen bikes.
It's easy to register your bike at bikeindex.org, just include the serial number and a couple of photos of the bike that make it easy to identify as yours. That way, if your bike does get stolen, your registration allows police and local tipsters to get in touch with you if they find your ride.
A good bike lock can only get you so far when it comes to preventing bike theft. The reality is, bikes get stolen… a lot. The good news? That's why it's important to insure your bike. Proper coverage can make that terrible day a whole lot better.
Insuring your bicycle is more important, easier, and more affordable than ever! Using AI and machine learning, Lemonade's insurance policies are much lower than the industry average. See for yourself!