E-Bike Insurance at Lemonade, Explained
We're excited to begin offering coverage for Class 1 and 3 electric bikes!
If you're an e-bike rider, you've probably noticed that it's pretty damn hard to get insurance for your trusty cycle. The majority of renters and homeowners insurance companies simply don't cover electric bicycles.
We listened to our customers, and have now made some tweaks to our regulations at Lemonade, opening policies up to certain classes of pedal-assist e-bikes.
Eligible models can now be added to a Lemonade renters or homeowners policy as 'scheduled personal property'—what we simply call Extra Coverage. If you have a Lemonade renters or homeowners policy, your e-bike—if it's an eligible model—is already covered against a specific set of named perils, like theft. Extra Coverage gives you extra perks though, like coverage against additional perils, plus a $0 deductible.
Whether you're a hardcore daily commuter or a weekend warrior, it's a big deal for electric bicycle fans, so get excited!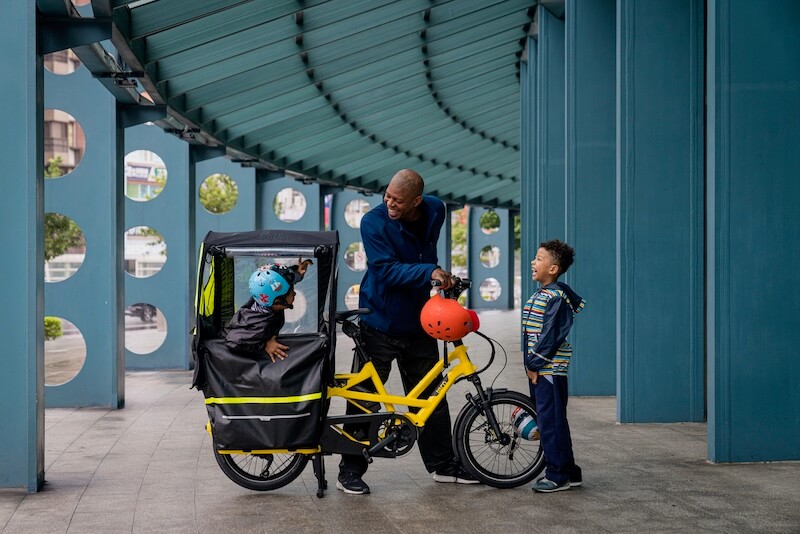 Here's what we'll be discussing:
What types of e-bikes are eligible for Lemonade's coverage?

How do I apply for coverage? What does it cost?

What sort of damages will my bike be protected against?

Would my electric bike be insured against theft?

Is my electric bike insured against damage from a crash?

What isn't covered by my e-bike insurance?

What are some common misconceptions about electric bikes?

Is an e-bike really worth the cost?
What types of e-bikes are eligible for coverage?
Lemonade covers "pedal-assist" bikes, and only models that do not have a throttle option. So which sorts are eligible for this new coverage?
Pedal-assist means what it sounds like—that a battery-powered mechanism in the bicycle assists you while you're pedaling. That battery might be removable, or it might remain attached to the frame… it doesn't make a difference in terms of coverage eligibility.
Now, there are certain types of e-bikes that have a throttle, included what's known as a "full throttle mode." In that mode, the bike is self-propelled—you'd be able to zip along without pedaling at all. If you live in a city like New York, you've probably seen a lot of delivery folks speeding about on these.
These types of bikes are not eligible for coverage, since they're basically classed as motorized vehicles. Neither are electric motorcycles, however cool they are, or mopeds, or models that mix pedal-assist modes with throttle options, like these.
Also, note that your bike isn't eligible if you use it for your job, or to generate income. So if you use your electric cycle to deliver for Seamless, or if you work as a bike messenger around the city, your ride would not be eligible for Lemonade coverage.
Here's a quick checklist to determine if your ride is likely to be eligible:
It requires some degree of pedaling at all times
Your state doesn't require a driver's license to operate it
It does not have any throttle option—'full throttle' or otherwise
It's classified as a Class 1 or Class 3 e-bike (check your manual, look online, or ask the dealer you bought it from). Class 1 bikes have an "assisted speed" of up to 20mph, while Class 3 bikes reach 28mph. What they have in common is the lack of a throttle. Class 2 bikes—like any of the models sold by Rad Power Bikes—do have a throttle, and therefore would not be eligible for our coverage.
How do I apply for coverage?
Just a reminder: Your eligible e-bike—provided it's a "pedal-assist" type without a throttle—is already covered against certain perils, including theft, as part of your basic renters or homeowners policy. But adding Extra Coverage will also protect your wheels against many other possibilities, including accidental damage or loss.
Adding Extra Coverage to your policy is simple, and can be done at any time—either when you sign up for a renters or homeowners insurance policy for the first time, or in the middle of your policy term. You can start the process through the Lemonade app. You'll need some basic documentation—like a receipt from the retailer who sold you the bike.
"If you look through any forum online, you'll find a lack of answers on how to insure your e-bike…I reached out to Lemonade for renters insurance as they seemed to be progressive, and I'm happy to say they openly listened to the intricacies of this newer category in the market—and were willing to adjust how to insure people partaking in this new lifestyle."

Sean Smith, Tern Bicycles
Another bonus with Extra Coverage? On your base policy, you have to pay a deductible when you file a claim. But your Extra Coverage items have a $0 deductible, which is pretty sweet.
What damages does electric bike insurance protect against?
Once again, a basic renters or homeowners insurance policy automatically covers your e-bike against a set group of named perils, like theft. But that basic policy won't cover every unfortunate thing that could befell your bike.
If eligible for Extra Coverage, your electric bike would be covered against a huge array of unfortunate circumstances. It's actually easier to itemize the handful of things that aren't covered, which include damages resulting from insects, war, nuclear hazards, wear and tear, or what's called inherent vice.

Extra Coverage has your back for almost every other scenario. Here are a few common examples:
Accidental loss (aka, mysterious disappearance). Let's say you have your e-bike on the subway train and hop out at the Times Square stop—forgetting to bring it with you. While your insurer would have to wonder where your head was at, this would be covered by your policy.
Coverage against any accidental physical damage, including that which results from crashes (see below for more on that). But this also includes cosmetic damage, like if your pristine steed gets a huge scratch on it, or if a garbage truck backs up over your ride and mangles the frame.
Is my e-bike covered against theft?
Yes, it is already protected against theft under our basic renters or homeowners policy. (Keep in mind that adding Extra Coverage will score you extra protections against stuff like accidental damage or loss, though!)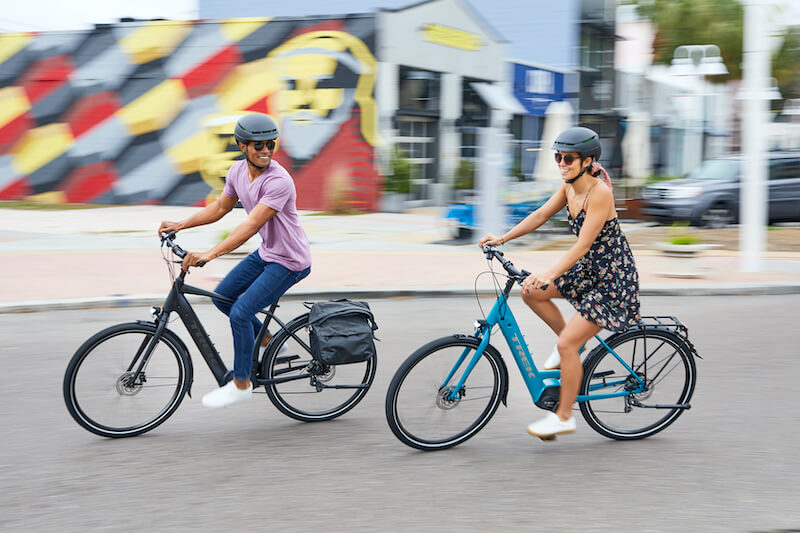 With a base policy you're covered against theft regardless of whether your e-bike is chained up in your front hallway in Brooklyn, or locked in front of a coffee shop on a trip to Austin or Los Angeles. (And, you know…everywhere else, too.)
Is my e-bike covered against accidental damage from a crash?
Yes, damages to your scheduled bike would be covered if you're in a crash—it doesn't matter whether you caused the accident, or someone else did. Ride safe out there, regardless, and wear your helmet for peace of mind!
What isn't covered by Lemonade's insurance?
Your policy (even if you add Extra Coverage) won't cover you for normal wear-and-tear, like worn-down brake pads, bald tires, a rusted gear shifter, or other spare parts. In other words, your e-bike wouldn't be covered from things that result from it simply getting old; your insurance policy isn't akin to an extended warranty.
As we mentioned above, a small number of events also wouldn't be covered even if you have Extra Coverage: nuclear hazards, war, insects, and inherent vice.
You also wouldn't be compensated for any medical payments you might personally incur after an accident. That said, your basic renters or homeowners policy would potentially cover medical payments to a third party, like a pedestrian, whom you injure while riding your bike.
What are some benefits of e-bikes, and some common misconceptions?
Sean Smith has been with Tern Bicycles for a decade, beginning as the company's creative director. Tern makes popular, high-end, Class 1 and Class 3 e-bikes.
"Misconceptions usually boil down to assumptions around whether e-bikes are 'cheating,' or if they actually do give the benefit of real exercise," Smith says. "This one's pretty straightforward: e-biking is exercise, and exercise is good for you…
"E-biking burns about the same number of calories per hour as brisk walking—more if you're hauling around the kiddos and cargo. And since e-bikes let you climb hills and ride long distances without burning out, riders tend to ride further and way more often than conventional cyclists."
"Let's not forget the benefit of both physical and mental health for you and your family in this equation," Sean Smith says. "I can't emphasize enough of how e-bikes can change lives for the better."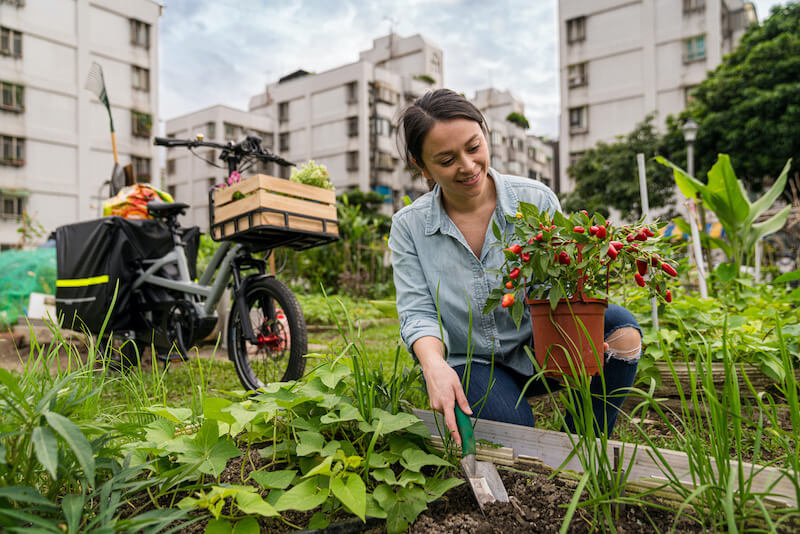 Tern thinks of its cycles as car replacements—a way to meet everyday, long-distance needs without a gas-powered motor vehicle.
"The health benefits of e-biking gets supercharged when it is your primary mode of transportation," Smith adds. "All of the tasks you would typically do by car instantly become health-boosting bursts of exercise when you e-bike instead. Plus, if you have kids, they'll grow up seeing the benefits of a healthy, active lifestyle, which is something we'd all love to pass down to future generations."
Is an electric bike worth the cost?
There are certainly options available at a price point below $2,000—here's a rundown of some (keep in mind that this list includes some Class 2 e-bikes, which would not be eligible for our coverage).
Trek offers a range of electric bikes that don't have throttles. Looking to go hardcore trail riding and have $13,000 to spend? Check out their E-Caliber 9.9 XX1 AXS…On the more economical end, they've got the entry-level Townie Go! 7D, retailing at around $1,500.
Many of the more tricked-out models that Tern sells—including ones designed to safely and easily transport multiple kids—can top out anywhere from $4,000 to $6,000. That's quite a bit more than most regular bikes or mountain bikes, of course, even the lightest and fanciest ones.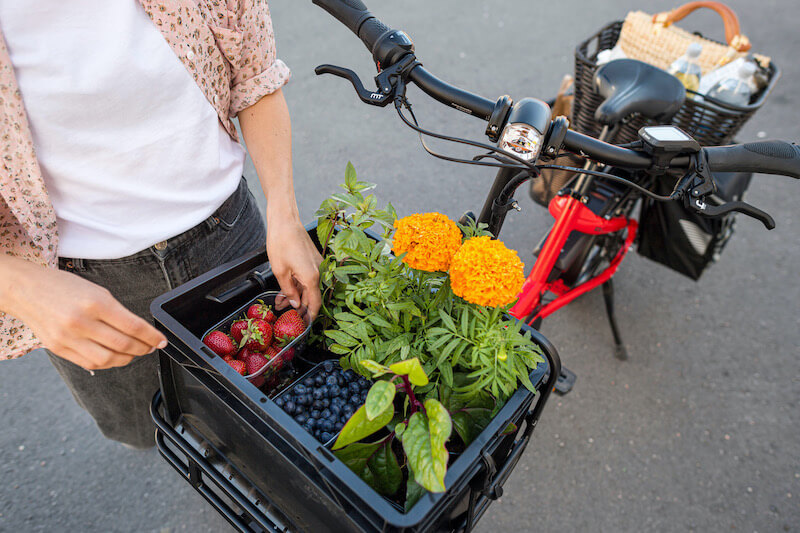 And that would indeed be a lot to spend if your biking habit involved short rides to the park once or twice a week. But if you're looking to radically change how you get around, it's important to take a macro view.
"Operating costs are how much you have to spend to run a vehicle, and are usually calculated per mile," Smith says. "Ownership costs are long-term costs associated with owning the vehicle."
So far, so good…
"As it turns out, both the operating costs and the ownership costs for e-bikes are dramatically lower than those for cars. If you're looking for ways to trim your budget (and who isn't?), e-bike ownership is something to consider," Smith explains. "We have a ton of riders replacing their second cars with an e-cargobike, and now we have a new generation of people forgoing their primary cars once they've gotten a taste of the lifestyle and all that it offers."
Let's get rolling!
Purchasing a $4,000 electric bicycle for daily use is a big investment—and all the more reason to protect your electric wheels with Lemonade's Extra Coverage.
If you don't currently have renters or homeowners insurance with Lemonade, you can get started here. And if you do have a policy, applying to add Extra Coverage for your electric bike is simple and easy—just sign in to the Lemonade app and choose the Extra Coverage option under the 'Add-Ons' header.