How To Stay Safe by the Pool This Summer
All the fun, none of the bad stuff.
Swimming pools are the best. But like other fun things—we're looking at you, trampolines!—they can be really dangerous without proper precautions.
Whether your pool is in-ground or above ground, here are 6 potentially life-saving measures you can take to stay safe.
Install a swimming pool fence
A swimming pool without a fence is an accident waiting to happen. There's a reason pools, in insurance speak, can be what's called an "attractive nuisance"—and without a fence, that attraction can be tragic. (To purchase Lemonade homeowners insurance, for example, your pool would first need to be properly fenced and protected.)
A proper gate for your pool is both child- and pet-proof. The gate should open outward—away from the pool itself—and it should be both self-closing and self-latching. Some states require a fence of 5 feet, or even 6 feet, tall.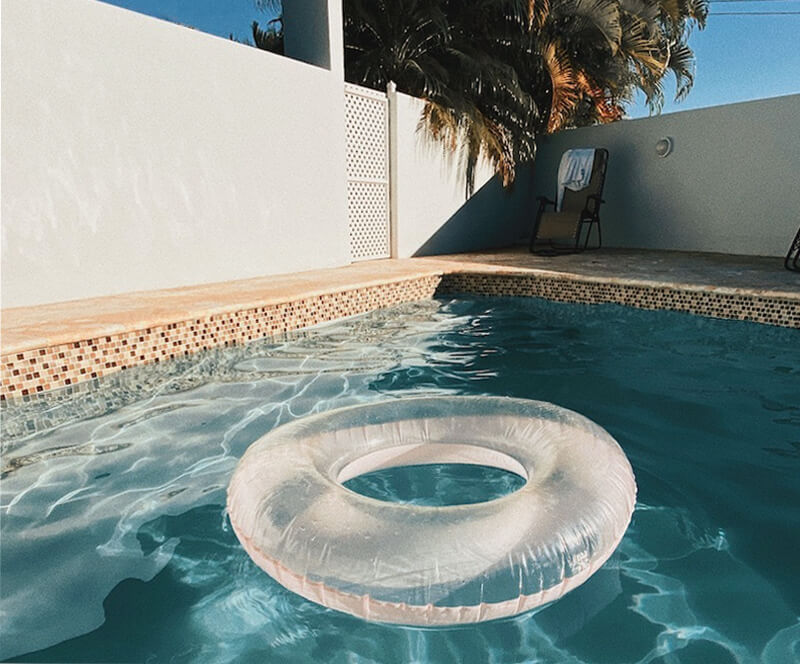 Fencing is a common-sense measure for any household with a swimming pool, but it's especially vital if there are young children around (your own, or your neighbors!). Kids move fast, and they're curious risk-takers—not a good combination when you've got an unfenced body of water nearby.
BTW, if you want to be properly insured, your homeowners insurance company will require fencing around your pool. And you might want to consider eliminating other elements that are known to lead to accidents, like diving boards, which your insurer might not cover. Whether your homeowners insurance covers your swimming pool in some capacity depends on your policy and what state you live in, so be sure to inquire.
Want an added layer of protection? Install an alarm on the fence gate so that if there's any chance someone has managed to open it you'll be immediately notified. You can also install an underwater swimming pool alarm system which notifies you if anyone jumps in the pool. They cost a few hundred bucks, but they might save a life.
Cover your pool (literally)
In addition to a fence you should also install a rigid safety cover. These are often motorized, so you won't have to throw your back out every time you use it.
These are helpful to keep the pool clean during winter and off-seasons, but should especially be used during swim season.
Make sure the cover fits exactly over the pool; loose corners could provide the perfect spot for a child or pet to sneak under. If that thought stresses you out, hire a pro to take a look and make sure your pool cover is properly fitted.
Store pool chemicals in a safe spot
Proper pool maintenance often involves harsh or harmful chemicals like chlorine. Keep all pool chemicals locked away during pool season and don protective gear when you're handling them.
Keep life-saving equipment close by
When it comes to swimming pools, size really doesn't matter. Whether you've got a modest above-ground or an epic pool with a 10-foot deep end, you'll always want to keep rescue equipment close by. A life ring or life hook should be easy-to-spot and accessible. Have an up-to-date first aid kit with all the essentials; you can buy a ready made one, or assemble it yourself using the Red Cross's advice.
And having some basic skills for emergencies is also a huge plus. American Red Cross, fire departments, hospitals, and private tutors offer CPR certification courses. A CPR course isn't only something you should do if you have a swimming pool—it's a great skill to have in your back pocket.
Never take your eyes off the pool
Let's say you're hosting an 8-year-old's birthday party at your in-ground pool. There are tons of adults around—but they're chatting, grilling, getting a fresh beer from the cooler, or sunbathing. Everyone assumes that everyone else is keeping an eye on the kids, when it's quite possible that… no one is.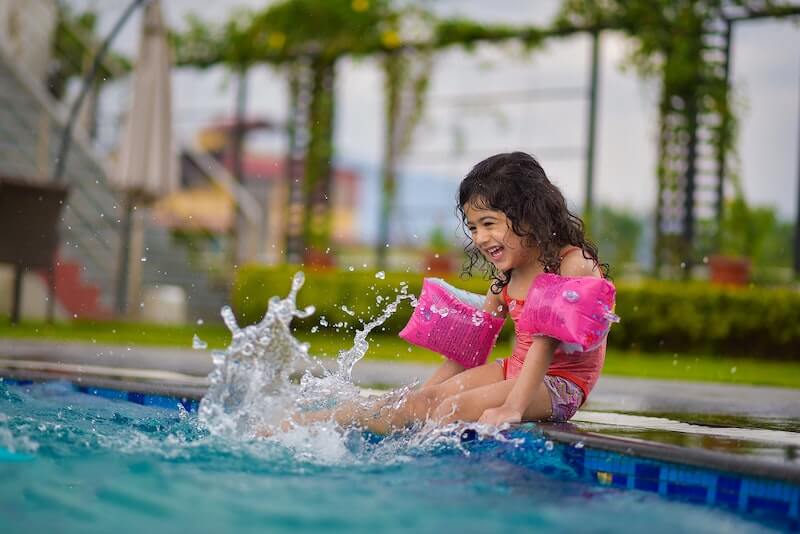 Here's an unpleasant fact: Kids who are drowning don't generally splash around wildly or yell at the top of their lungs. The process is much more subtle, and even silent.
This is why it's important to assign a designated 'water watcher' who has their eyes on the pool during a given shift. This person should have a designated tag—like a laminated badge on a lanyard—which will identify them as the 'water watcher' and remind other adults not to distract them.
Establish 'Pool Rules'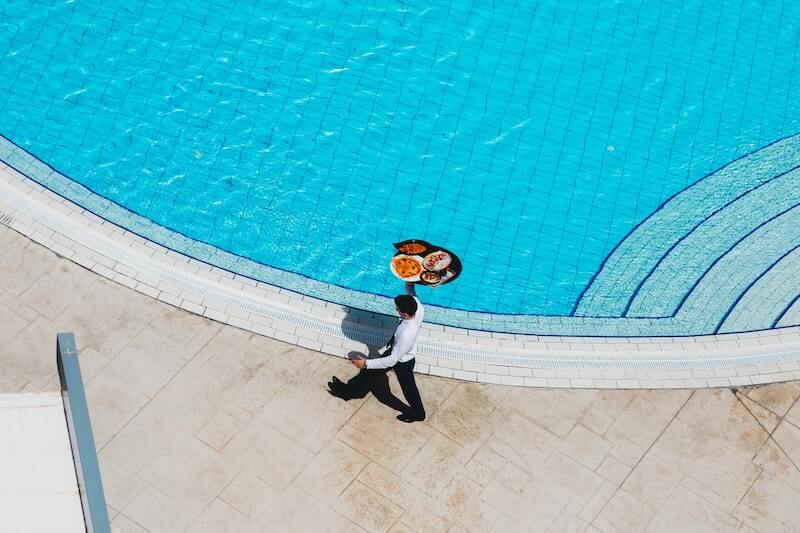 Standardize what behavior is acceptable around the pool. Put limits on roughhousing, for instance, or make it clear that running around the pool is forbidden. Does an adult need to be nearby before your teenagers take a dip? Is the 7-year-old allowed to use the diving board? Setting specific expectations and limits will remove any guesswork, and help keep everyone safe.
What if your pool is no longer worth it?
Maybe you're thinking about selling your house in the future, and figure that the pool might be more of a liability than a bonus. Or perhaps you're finding that you only go swimming a handful of times over the summer, and all the upkeep—not to mention the potential safety hazards—just aren't worth it.

If so, you could always say goodbye to your pool entirely, and use the reclaimed backyard space for something else. As HomeAdvisor notes, "an inground unit can be extracted for $9,000 to $19,000, or filled in for about $5,000."
A note on your pool and your homeowners insurance
Whether your pool is covered by your homeowners insurance depends on your policy and the state you live in, so be sure to confirm the specifics.
In some cases, physical damage to your pool itself would be covered, but not personal liability pertaining to the pool (for instance, if someone slipped and fell while cannonballing into the deep end). This is the scenario with Lemonade's own homeowners insurance.
Other homeowners insurance companies might have different regulations. Some states exclude that liability coverage for pools but offer policyholders the option to add it back on for an extra cost. But in other states, that's not an option, so any accidents or injuries that happen around your pool would be your own responsibility.